1.1K Views
Best Toys and Accessories for Rescue Dogs
September 29th, 2021 12:00 AM
We're committed to finding, researching, and recommending the best products. We earn commissions from purchases you make using links in our articles. Learn more here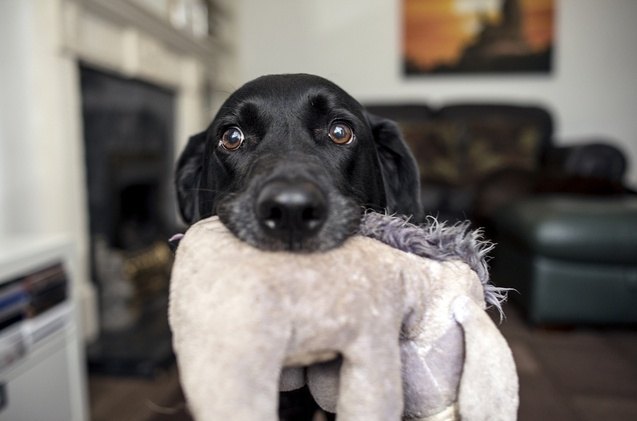 You've just adopted a dog and you want to make sure he feels welcome in your home. Before he arrives, make sure you have these toys and accessories.
You've made a life-altering decision. You've adopted a dog. But not just any dog. You've brought a rescue dog into your home and you're all going to live happily ever after, right? Yes! But don't assume that lots of love, treats and regular mealtimes are the only magic needed to transform a scared and anxious pooch into becoming a comfortable member of your family. It's going to take a lot of time, patience and even a little strategy to win this skeptical pup over. So, what do I mean by strategy? It starts with building his self-confidence and comfort levels and that's where the right toys and accessories can help.
While you may think of them as fun little extras, these play tools can be so much more than that. For example, my rescue dogs didn't know how to walk on a leash and more importantly, they didn't know how to play. They couldn't just cut loose and have fun without constantly stopping to see if I was cool with what they were doing; this is where the right toys came in. For my gals, finding something tasty they could look forward to gnawing on all afternoon was the "chill pill" they needed to relax and refocus their anxiety away from their surroundings.
Here are 10 dog toys and accessories that are sure to help make your rescue dog's transition into your family go as smoothly as possible.
1. Editor's Pick: Chuckit! Indoor Ball
Although your new family member may be super timid and spooked by loud, outdoor sounds, it's still important he work in a little daily exercise. What better way than with a rousing game of indoor fetch? And before you say it, with the lightweight Chuckit! ball and launcher, your home will never have to look like World War III. The multi-layer ball is made with soft, textured chenille fabric so while it's durable, it won't damage walls or furnishings. And because it uses a special Bounceflex Core Technology, it delivers a low, controlled motion that won't ping off hard surfaces when thrown. It's an ideal way to give your nervous pooch some fun one-on-one time and help boost his confidence.
2. Runner Up: Frisco Sherpa Cuddler Pet Bed
Your new family member needs his dedicated safe space and a good quality dog bed is a great route to go. Unlike bulky crates that take up room and aren't a long-term solution for smaller quarters, a bed can be placed wherever you like and easily moved when company arrives. An ideal option for rescue dogs is this Frisco Sherpa Cuddler with bolsters that provide a sense of cozy privacy. The deep, padded sides and edges are perfect for dogs who like to stretch out and use the bolster as a headrest. And if you have multiple pooches like me, it's a fun way for them to curl up together without sliding off the bed. A plush, polyester fiber-fill body and machine washable cover make it easy to clean. The dimensions of this product are 21" in length, 21" in width and 7" in height – the sleeping area is 14" by 14".
3. Best Durable Toy: Classic Kong
Life can be tough for dogs and sometimes they need a toy that can help them work out their frustration. Enter the classic Kong. This pooch fave has been around for decades and is made of all-natural rubber so you know it's safe, super durable and up to the most aggressive chewer. This ultra-versatile toy is great for pooches that suffer from separation anxiety. Its hollow core can hold treats, peanut butter or any tasty soft spread that resonates with your new buddy. Fill it up and you'll keep him so busy licking it out that he won't even notice you were gone. A staple for any pet parent's toy arsenal.
4. Best for Stress: Thundershirt
If your dog is super anxious around new experiences such as car rides or vet visits, if he goes into panic mode during thunderstorms and fireworks or simply frets constantly when you're away, a Thundershirt may be the solution. This calming aid is made from a soft, durable fabric with Velcro closures that your pet can wear like he would a vest or harness. Just slip it on when you know a stressful situation is coming and the patented design will hug your dog's upper torso to provide constant, gentle pressure and help prevent hyperventilating. Available in sizes for the smallest Chihuahua (XXS) to the largest Mastiff (XXL), this patented calming aid is even recommended by dog trainers and veterinarians as an effective means to help alleviate stress-related behaviors. To boot, it is machine washable, so you don't have to worry about it getting dirty – cleaning it will be a breeze.
5. Best for Anxiety: Puppy Cuddle Pal
Who doesn't love something warm to cuddle when they're experiencing a new and scary environment? The Puppy Cuddle Pal is a great toy option for when you need to soothe an anxious pooch. Hidden inside its plush body is a removable packet of super safe buckwheat that can be easily heated in the microwave. In just 30 seconds your pet can be snuggling in for the night with a warm and comforting toy that mimics the presence of his littermates. It's ideal for pups that have been weaned too soon or older dogs that can benefit from a little added warmth in their bed. The Puppy Cuddle Pal's soft, flat shape allows him to chew away till his heart's content, or just lay across its soothing surface and snooze. What's more, Cuddle Pal is super easy to clean – all you have to do is remove the buckwheat pouch and machine wash and dry the toy to make it good as new.
6. Best Calming: Sentry Pheromone Dog Calming Collar
What if calming down an anxious pooch was as easy as fitting him with a pheromone-infused collar? This Sentry Good Behavior calming collar for dogs does just that by releasing the same scent mother dog's produce when they're trying to calm and soothe their puppies. The lavender-chamomile scented pheromone is released continuously for up to 30 days and is clinically proven to help calm your dog during stressful times such as travel, being left alone or during thunderstorms. It's an ideal way to calm your pooch regardless of his size or age.
7. Best for Snuggles: SmartPetLove Snuggle Puppy Toy
For pups weaned too soon, sleeping through the night (even as he gets older) may be an issue. What if you could re-write history and give him back the security he missed out on? Well, this SmartPetLove Heartbeat Plush toy dog is the next best thing. For stressed-out pooches that need a little extra physical comfort, this soft, stuffed toy delivers. Not only is its plush surface ideal for cuddling, but buried within is a cozy heat source that replicates the warmth of his mom and a battery-powered heartbeat. Your little guy will be calmer and sleep more peacefully when he thinks he's nestled in among his littermates. Included is the stuffed pup, three heat packs, a snuggle blanket, teething aid and of course, the heartbeat device. This clever plush toy comes in various colors and it's machine washable on gentle cycle – what's not to love about it?
8. Best Slow Feeder: LickiMat Soother Slow Feed Mat
Anxiety and nervous tendencies can come out in a variety of different behaviors for rescue dogs. Two of the most common ways dogs show anxiety in their behavior are incessant licking as well as eating too quickly. The LickiMat Soother Slow Feed Mat helps anxious and nervous rescue dogs feel soothed by licking a safe surface. It can also help dogs who have been taught that they need to eat quickly so their food isn't taken to slow down their eating.
The LickiMat Soother and Slow Feed Mat is recommended by vets and trainers. The textured mat makes it difficult for a dog to quickly eat whatever food or treats you put in front of them, forcing them to slow down. It can also help to reduce your pet's anxiety as licking releases endorphins for dogs- the LickiMat offers a safe alternative for your dog to lick. It is made with environmentally safe materials that don't contain silicone and can help with your dog's dental health, too!
9. Best Interactive: Busy Buddy Calming Toy
Even the most stressed pooch can benefit from a little aromatherapy and these super durable rubber chew toys deliver big-time. A soothing, light chamomile scent is released each time your dog chomps down on this hard-wearing toy. So, he's not only able to work out his frustrations while giving his teeth and gums a good cleaning, he's able to "Zen out" a little as the delightful essence of chamomile is released. For dogs who need a little more incentive to engage, this Busy Buddy Calming Toy also features a hollow core that can be stuffed with some of his favorite treats or dry foods. Whether its kept tucked inside the special dog toy bin or is tossed around in the backyard, it's a great stress-buster for anxious pooches. It comes in small and medium size to suit pooches of different ages and breeds.
10. Honorable Mention: Canine Coddler
Weighted blankets are all the rage with humans, but did you know they can also deliver soothing relief to a stressed-out pooch? Particularly for dogs that suffer from separation anxiety or become frantic during fireworks, thunderstorms, car rides or when meeting new faces. Canine Coddler's 46-inch by 38-inch blanket features a removable, washable cover and non-toxic PVC pellets that add weight and provide calming comfort to a tense or frightened dog. This soft, gentle pressure is called "deep-touch therapy" and it effectively mimics the feeling of being held, thereby releasing serotonin in the brain for a greater sense of well-being. And never fear, your pint-sized pooch won't get lost beneath this blanket. It's sized for both large (over 50 pounds) and small (under 50 pounds) dogs.
What does it mean when a dog is a rescue?
When a dog is called rescue, it means that they have been rescued from a bad situation in life and given a second chance at a happy life with a new family. Rescue dogs have often been abandoned by their owners, either at the shelter or picked up as strays, and sometimes they come from abusive and neglectful situations. A shelter or a rescue organization then finds them a new home, making sure that they get a better life with their next family.
How long before a rescue dog feels at home?
Every dog is unique, and a lot will depend on their personality and previous history. If the dog has been severely neglected and abused, it might take them a long time to relax and feel safe in a new home – the same goes for dogs that are naturally skittish and wary. In most cases, however, it will take a rescue dog 6 to 8 weeks to get used to new owners and their new home.
How do I settle my rescue dog at home?
Patience is key – just take it slow. Make sure that the environment is calm and create a predictable routine so your new pet feels comfortable and at ease, as stress and surprises are the last thing a rescue dog needs when it's rehomed. Another important thing is to shower your pet with love and positivity – they need to associate you and their new home with positive things, so use praise, treats, and lots of affection to help your pet acclimate to the family.
Do dogs forget about their previous owners?
It is difficult to know what dogs think and how they think, as well as translating their thought processes into something we as humans could relate to. But as far as memories go, experts' opinions and pet owners' experiences both lead to conclusions that dogs can remember things. While their memories won't be like ours, they can retain associations to events and people. If their previous owners were abusive or neglectful, they might be scared or aggressive towards people that remind them of their owners (e.g. dogs that are afraid of men or women specifically). What's more, dogs can recognize their owners even after years have passed – nothing like dog loyalty and love!
Is it safe to adopt a rescue dog?
It is perfectly safe to adopt a rescue – not only that, but it's great in so many ways. Rescue dogs are often vetted for good health, can know tricks and commands, and can already be potty-trained before coming to your home. However, it doesn't mean that you shouldn't take precautions and be careful when adopting an adult dog that comes from an abusive past situation. Always talk to the rescuers that had the chance to spend time with the dog and can tell you if they are properly socialized and if they have aggressive tendencies. Be careful when introducing a rescue dog to other pets, young children, or strangers until you know them better – something might trigger them, remind them of their abusive past, and cause an adverse reaction.

Mary Simpson
Sharing space with three seriously judgy Schnoodles and two felines who prefer to be left alone. #LivingMyBestLife
More by Mary Simpson
Published September 29th, 2021 12:00 AM