1K Views
December 6th, 2021 12:00 AM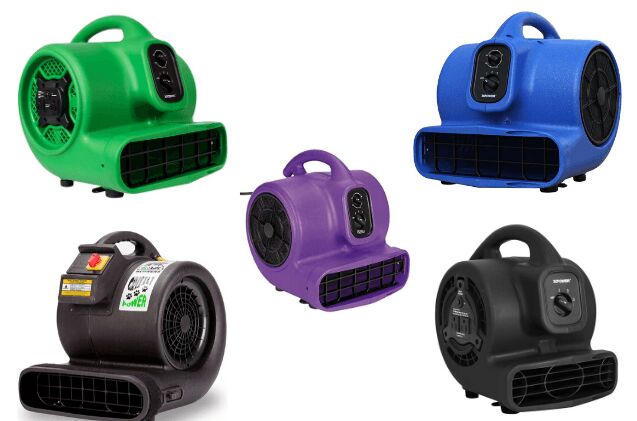 Dog cage dryers are not just for groomers – these devices can allow you to dry your pet's long coat fast and with ease in the comfort of your own home. Read on to learn more about how they work and which would make a good choice for your budget and needs.
Why is grooming important for dogs
Coat grooming is an unavoidable chore for many pet owners around the world. Styling your dog's long fur and making it appropriate for different seasons is a must, as it ensures both comfort for your pet and neat appearance. It is also an important part of health and hygiene for your furry companion. Breeds that have plenty of hair and a thick, long coat, need to have regular trims and brushing, in order to prevent matting, heatstroke, fleas, and other nuisances that happen when you neglect their grooming needs. The same thing goes for washing your pet – no one likes a stinker in the house! But what about the drying? Whether you are a professional groomer or a caring owner, you will still face that same old obstacle – what is the best, fastest, and easiest way to dry your dog's long coat? Letting time and air dry it naturally is not the safe option, and regular, human-use hair dryers are simply not that efficient and produce too much heat. Well, we can present a nifty solution – dog cage dryers.
Why do I need a dog cage dryer?
Dog cage dryers are a fantastic accessory to have at hand whenever you are bathing your dog. Their unique and high-quality design makes it easy to thoroughly dry the coat in minutes – something you can never do with a regular towel. And even if your dog is fidgety and reluctant to be dried, a cage dryer will solve that issue too. These are a great solution and a big helping hand for all professional groomers and can be equally efficient for regular home use.
These gadgets can be mounted on a dog wire crate and used to dry your dog's coat fast – often without the use of heat. Brands today offer modern solutions that don't require the use of hot air: these dryers only draw the room -temperature air and dry the hair in a natural and fast but safe way.
Today we are guiding you through the market of the best dog cage dryers, showing you our hand-picked selection of the most efficient models. We will also share some important tips and insights, showing you the very best aspects to keep an eye out on. Because when it comes to your pet's hygiene and comfort, everyone deserves only the best solutions – both you and your four-legged friend. So here are the best dog cage dryers- just read on to find the perfect match for your budget and needs.
1. Editor's Choice: XPOWER X-430TF Multi Cage Dryer
This is a high tech design to start off our list, and will perfectly cater to all you groomers out there. It is designed for balanced, low-speed multi cage drying for all small to large breed dogs, and makes this process very easy and efficient. Important to notice is the reduced noise, as this quality induction motor will produce up to 40% less noise than the usual designs. It features a three-hour time control and uses up to 3.8 amps of power on its highest setting. You can dry up to three cages simultaneously and also control the flow into each. If you are on the lookout for professional, low power usage, high-efficiency cage dryer, look no further. This is as good as it gets.
2. Runner Up: B-Air Grizzly GP-1
This Grizzly "air mower" is a versatile gadget that found itself perfect for the role of cage drying. A basic, straightforward design, this dryer excels in its role and will be good for both grooming and home use. Its 1 horsepower motor boasts great power and 3-speed settings and draws 9.8 amps on a high setting. It has a high-quality roto-molded polyethylene outer casing, which is very durable, and also has 3 different angles of airflow, allowing you to easily adapt to any situation. Additionally, for a secure placement, this nifty cage dryer boasts an anti skid-rubber feature.A great solution for many different situations, which will immensely speed up the drying process.
3. Customer's Choice: XPOWER P430-AT
This XPOWER dryer really packs a punch and delivers all the necessities – and then some! A high power, low usage utility dryer will be a great option for both home and professional use. It features the standard "snail" design, with a highly durable casing. It boasts some nifty details such as 3-hour timer, 4 different drying angles, 3-speed settings, and dual thermal protection. This is one of the lighter dryers on the market, weighing in at about 16.3 lbs. Another great addition is a built-in power outlet, allowing you to plug in some utilities, or simply charge your phone while you are working. You can also save some power, as this dryer only draws about 3.8 amps on the high setting. And when you're not using it to groom your dog, you can utilize this versatile little gadget wherever forced air is needed, e.g. for drying carpets, walls, furniture, car interiors, and more. Efficient, sturdy, and well designed.
4. Best Compact: B-Air Pet Dryer Airmover
This dog cage dryer is a reliable, lightweight, and powerful little gadget that allows you to quickly and easily meet all your drying needs. It is also very easy to carry around, making it great for groomers who attend shows. It has a great little ¼ HP motor that has a good output and will deliver plenty of air through the added duct. It has no heating elements and uses the room temperature air, making it even safer to use. It has a low 2.3 amp power usage. A nifty little solution for every aspiring groomer out there!
5. Best Lightweight: XPOWER P-80A Mini Mighty
A whole lot of power packed in a mini dryer is what the P-80A is all about. A powerful, lightweight dryer that will satisfy both groomers and those looking for something suited for home use. It only draws 1.2 amps, but produces 600 cubic feet of airflow, with its 138 watts. It features four different angles for drying, 3-speed settings, and weighs only 7.9 pounds. XPOWER once again adds its trademark feature, a built-in power outlet that allows you to easily charge all your utilities. This cage dryer boasts an ETL/CETL safety certification and has a 1-year manufacturer's limited warranty.
6. Best Quiet: Master Equipment Force Cage Dryer for Pets
Master Equipment offers one of the more balanced designs on the market, with all the design features done just right. It is very quiet, which caters to pets that are easily scared. It also has a medium temperature setting and a 3-hour timer as well as 3 different speed settings. The rubber feet at the bottom will allow you to choose between 4 unique angles for different drying needs. It uses room temperature air for the best and safest result and also boasts a lot of positive reviews from groomers around the world. And that means a lot!
7. Best Options: B-Air VP 25
Great for any circumstance, this versatile cage dryer features a ¼ HP, 900 CFM output, and uses 2.1 amps on a high setting. An added power outlet allows you to connect more utilities, more dryers, charge your phone, listen to music, and so on. There's no shortage of options with this design!
8. Best Professional: XPOWER Pro Finisher Brushless DC Motor Professional Grooming Dryer
Now here is a unique solution for all your cage drying needs! Just when you thought the design couldn't be more evolved, this professional design appears. This standing cage dryer is a really different experience, but equally efficient. Mounted on a height-adjustable, wheeled stand, this dryer dries from above, and its 1/4 HP motor with up to 300 CFM of airflow power will be more than sufficient for all your needs. For easier adjustment, this cage dryer can be tilted 180-degrees and rotated 360-degrees.
9. Best Portable: MOUNTO Mini Dryer
Small – but powerful. This MOUNTO dryer has multiple uses and can be great for cage drying too. Its ⅓ HP motor will dry in no time, will draw 800 CFM, and it also has 3-speed settings. Its small size and weight make it portable, which is great for any length of air ducts, and great for groomers too. Additionally, its heavy-duty roto-molded housing will survive any bumps that might happen. It too comes with a pre-installed power outlet, which is great for groomers as it allows them to attach all the needed utilities.
This dryer comes equipped with a wheel kit and a durable handle for easier moving, and can be stackable for easier storage. Once again, this dryer can be used for other purposes than dog grooming – the size and portability of this cage dryer make it perfect for use in small spaces such as cabinets, closets, etc.
Do you need a dog cage dryer?
Every owner knows that when it comes to drying off your pet, time is of the essence. But most of the usual, basic methods just don't cut it. They either take way too long, are not safe for your pet, or simply won't dry their coat out thoroughly. And all of these can be an issue, especially when it is not summer. While hygiene is imperative throughout the entire year, and washing is a big part of it, sometimes it is still just too tricky. Especially if you own a dog with a long coat – in such cases drying off can really take way too long. And you wouldn't want to let it dry on its own, that is too risky and can affect your pet's health.
On the other hand, regular human-use hair dryers are simply not efficient for thick dog fur, and can even be dangerous to use, especially if your dog is a small breed. Hair dryers produce a lot of heat, and can potentially cause burns, discomfort, or heat stroke if you are not careful enough. And that is why a dog cage dryer is really a fantastic choice. This one gadget can solve all of these issues in a timely, efficient, and safe way.
So how does a cage dryer really work? Well, a cage dryer can be specially designed to fit a wire crate or a cage, or already come as a part of it, as a pre-attached dryer. These are the rare and pricey, professional versions of this accessory. But the general design is simpler, although still quite ingenious. A basic cage dryer is a modern device that is designed to be attached to a cage or a wire crate, and to transfer warm, dry air into it through a set of hoses. There are various designs out there, and safer, advanced models will use simply the room temperature air in order to safely and quickly dry your dog's coat. There are also those that produce heat and will provide an even faster result. But these versions require more attention, a carefully regulated temperature, and a roomier cage.
Contrary to popular belief, dog cage dryers are safe for general use – as long as your cage is not too cramped, or the heat too strong. Luckily, most brands today have advanced designs that make things safe and easy to use. And another benefit of a dog cage dryer that is worth mentioning is convenience! That's right, a dog cage dryer will make the whole drying process so much simpler and quicker. We all know that our pets won't really be willing to endure soapy baths, and equally so the towel drying. Some of them can get mischievous, fidgety, and restless, making the whole process that much more difficult. Well, if you opt for a cage dryer, you will quickly put all of this under control. Putting your pupper in a crate for the duration of the drying will make them still and compliant, and give you a hands-free approach while the dryer completes the process! As you see, it also makes it that much easier for you as well.
So if you groom your long-haired pet home regularly and want to make things easier for both you and your four-legged friend, investing in a dog cage dryer can be a great idea.
Dog cage dryers in professional grooming
Needless to say, dog cage dryers are an enormous helping hand for all professional groomers and owners who attend dog competitions. When you want your furry friend to look their absolute best, you really want every help you can get. And this one is the biggest! Groomers often need to work fast and with style, and sometimes with several dogs in line. Well, with some of the cage dryer models, you will have the opportunity to use three or even more drying hoses at once, and that means you can dry three dogs in separate cages – at the same time. This makes for a world of difference when the schedule is tight and opens up the way for so many opportunities. Moreover, this drying process will make your dog's coat look fresh and shiny, a much better result than the old-school towel or hair dryer methods. And when the judges come out – this really makes a difference.
In case you own a small dog grooming business or attend dog shows regularly, dog cage dryers are a must in your arsenal of gadgets.
Features to look for in dog cage dryers
Not all dog cage dryers are the same, and different designs can completely change the way you use one. Still, a few of the crucial elements remain the same and these are the ones to look for in all dog cage dryers. As always, you want to find the perfect solution for your needs, so take notice of any special perks and features that might be useful for you specifically. If you are opting for basic home use, a simpler model will suffice. Likewise, if you are looking for something professional, then be ready to invest in a more advanced model.
Noise level
With all those mechanisms and bits and bobs, cage dryers are of course bound to be a little bit noisy. You need to remember this. Luckily some brands offer noise reducing solutions, while other models are simply not that noisy to begin with. Still, keep in mind that this might have an effect on your dog or your environment. In professional grooming, a cheaper, noisier dryer might scare the dogs. And if your pup is easily scared, consider investing in a high end, quieter model. It is certainly worth it.
Drying method
This is another important aspect to keep in mind. As we mentioned, different designs will operate with different drying methods. Depending on the size of your pet and the size of your cage and work environment, you want to choose accordingly. A dryer that generates heat is generally not good for small breeds and small spaces but will be ok for professionals who work in large environments. For basic home use, a dryer that takes the room temperature air to dry a dog will be the best and safest solution.
Temperature regulation
An important feature that all dog cage dryers need to have is temperature regulation. Eliminate the option of causing discomfort to your pet by making sure that the model you are buying has all the necessary controls that allow you to precisely dictate the method of drying and the temperature output.
Are cage dryers safe for dogs?
Cage drying is somewhat of a controversial topic – while some swear by it, others are concerned about the safety of this grooming method. The truth is somewhere in between, however, it all boils down to this – cage dryers are safe when used properly. It is crucial that the cage dryer is made up to standards (to avoid risk of malfunctioning) and that it is used in a way that doesn't endanger a dog (e.g. heated dryers can overheat your pet if you use them for too long). Of course, it goes without saying that you should supervise your dog while using a cage dryer, as many mishaps happened precisely because dogs were left alone during the process.
How to use cage dryers properly?
The cage dryer should use ambient or room temperature air and be attached to the dog's crate: some are attached with hooks and grips, others have tubes and nozzles. You should avoid heated air as it can cause overheating in dogs or even burn injuries in some cases. Once your ept is comfortable in the crate with the dryer, turn it on and let it work its magic. If your pet seems anxious about the flowing air, offer praise and reward to keep them relaxed during the grooming process.
Is a dryer good for dogs?
Dryers are a necessary part of a dog's grooming routine, especially for dogs with thick fur that can't be dried naturally with that much ease. Regular blow dryers for dogs can be a good solution for some pets, but for dogs that are skittish or have a challenging coat, a cage dryer is a much better option. It will thoroughly dry the coat, much faster than a handheld dryer, and the process is less stressful for most dogs, so it's no wonder many groomers prefer it.
We are committed to finding, researching, and recommending the best products. We earn commissions from purchases you make using the retail links in our product reviews. Learn more about how this works.

Angela Vuckovic
A proud mama to seven dogs and ten cats, Angela spends her days writing for her fellow pet parents and pampering her furballs, all of whom are rescues. When she's not gushing over her adorable cats or playing with her dogs, she can be found curled up with a good fantasy book.
More by Angela Vuckovic
Published December 6th, 2021 12:00 AM