339 Views
November 22nd, 2021 12:00 AM
We're committed to finding, researching, and recommending the best products. We earn commissions from purchases you make using links in our articles. Learn more here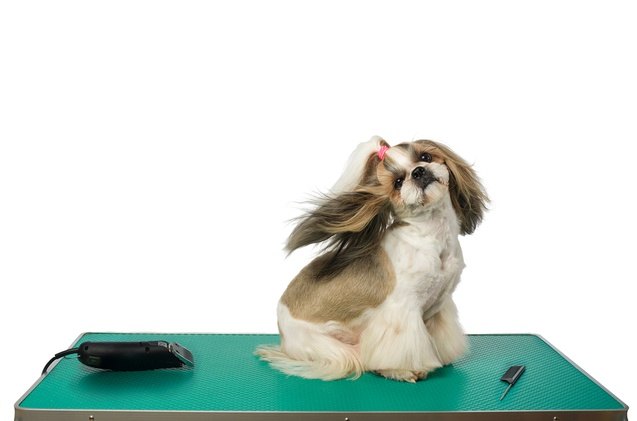 Dog grooming tables are both for professionals with dog grooming businesses and pet owners that groom their own dogs. There are some crucial differences, though, so read on to find out which dog grooming tables fit your requirements–and budget, too!
If you want your pooch clean, tidy, and looking his best, you'll have to groom him regularly. From combing and hair trimming to bathing and nail clipping, there are plenty of steps in a canine beauty routine that you'll have to go through before your pet will be all dolled up and ready to dazzle at the dog park. Needless to say, the process of dog grooming isn't always easy and convenient for most pet parents, so they often leave their pets at the hands of the professional at grooming salons. This isn't cheap, though, and considering that grooming has to be done on a fairly regular basis, it can quickly add up. That's why pawrents who want to save money or have pooches that are not keen on being groomed by strangers have to go the DIY route instead–and groom their pets at home, paw to tail. However, to make the job easier for you and the experience easier on your four-legged companion, you'll have to invest in some dog grooming gear, from the basic accessories such as hair and nail clippers to more expensive equipment such as dog grooming tables.
Why do I need a dog grooming table?
For many dog owners, dog grooming tables are not an essential part of the grooming equipment, but if you want to protect your back from unnecessary strain and speed up the process of grooming your dog, you'll definitely want to invest in a grooming table. While the name makes them sound straightforward (and plain) dog grooming tables are essentially grooming workstations with different accessories designed to help you throughout the process, whether you're drying your pet's hair, trimming their nails, or anything in between. Both the elevated surface and accessories meant to help you keep your pet still during the grooming session are certain to make grooming your dog a much easier task!
Of course, not all dog grooming tables will suit your needs. Some are more heavy-duty and meant for people that are looking to do dog grooming on a professional scale, with different doggos coming and going on the table each day. Others are made more compact and budget-friendly to be of use for occasional grooming a pet pawrent does at their home- there is a design for dogs of all shapes and sizes. To help you find the type of grooming table that will fit your needs the best, we've rounded up dog grooming tables with best reviews and price-to-quality ratio. Any of these will give you great value for money, whether you have a small grooming business or simply want to keep your pooch in top shape–read on to find out which is the right choice for you.
1. Editor's Choice: Flying Pig Dog Grooming Table with Arm
Portable yet suitable for heavy-duty use, this dog grooming table combines convenience and durability into one. Made with rust-resistant stainless steel and a sturdy frame that can support dogs up to 330 pounds, this workstation can suit the needs of professionals and home users both. The non-slip textured surface of the table keeps your pet safely still, and the adjustable arm with a noose and a loop is ideal for restraining rowdy pooches for their grooming session. And as a bonus, there's a roomy storage basket underneath the table so you can keep all your grooming essentials in one place and on hand.
2. Runner Up: Master Equipment Pet Grooming Table for Pets
The unusual circular design of this pet grooming table allows it to rotate for 360 degrees, giving you access to your pet even when they are being stubborn and refusing to move. The non-slip rubberized surface and the built-in loop make sure that your dog is safe and still when you groom them. As this grooming workstation has no legs, you can use it on any flat surface you like – from desks to cupboards. The 18-inch diameter makes this grooming table suited for small dog breeds. Available in purple, black, and blue.
3. Best Budget: Yaheetech 32/36-inch Pet Grooming Table
Sturdy, practical and cheap, this dog grooming table is a great choice for pawrents on a tight budget. Foldable for easier storing and better portability, Yaheetech grooming workstation offers everything you need to groom your pet at home. The anti-skid, water-resistant surface is easy to clean and keeps your pooch in place and the scratch-resistant plastic feet will keep your floors protected from damage. The grooming arm's height can be adjusted to best suit your needs, and the two grooming loops will ensure that even squirmy dogs stay in place while you groom them. To boot, this budget-friendly grooming table also has a storage basket underneath to keep your towels, combs, scissors and other equipment close by. The maximum load capacity for this dog grooming table is 220 pounds and the tabletop area measures 36".
4. Best for Large Dogs: Bonnlo Pet Grooming Table
With a heavy-duty stainless steel frame and H-bar arm, Bonnlo dog grooming table is a good choice for strong dogs- it will support up to 330 pounds of weight and comes in 3 sizes: 32 inches, 36 inches, and 45". The no-slip surface is resistant to scratches, as well, so you don't have to worry about your new workstation looking raggedy after a few months of use. The under-table storage is super practical for keeping your grooming accessories at hand and your workstation organized and tidy. Foldable and portable, this is a great grooming table for dog shows or home use – it can even be suitable for a small dog grooming business. Another plus is that it is super easy to set up (tools are not necessary for installation): it will take some force to unfold for the first time, but after that it will be smooth sails.
5. Best Basic: Go Pet Club Pet Dog Grooming Table with Arm
If you're on a tight budget and don't need bells and whistles such as motorized systems, this affordable grooming table will be just the thing for you. Designed for pet owners rather than professional groomers, this grooming table is portable, foldable, and costs well under $!00. However, don't let this fool you into thinking that the table is flimsy – the strong goal post style legs with rubber capped feet make it sturdy and prevent slipping (as well as damage to the hardwood floors). The aluminum adjustable grooming arm with clamp will keep your dog securely tethered and as you can customize its height up to 40", it can be tailored to fit your dog's specific size. The tabletop is 30" which offers plenty of spaces for small and medium dog breeds.
6. Best Wash Station: Furesh Elevated Folding Dog Bath Tub and Wash Station
In case you don't need a professional grooming table for your small pupper, but your back would certainly appreciate you doing the washing, combing, or trimming at an elevated height, this collapsible dog grooming table is the perfect compromise. Designed to serve as a grooming and bathing station all bundled up into one, Furesh Elevated Folding Dog Bath Tub and Wash Station will keep your pet at a height of about 35 inches so you won't have to strain while you bathe and groom them. Fully portable and collapsible, the frame is made from stainless aluminum tubing, whereas the basin is made of marine-grade PVC. There are two pockets on the sides, so you can stash your pet's beauty supplies such as combs, shampoo, clippers – so they'll be easy to reach while you're grooming them.
Meant to be used by dogs (or cats) that weigh up to 40 pounds, Furesh Elevated Folding Dog Bath Tub and Wash Station comes in grey or blue and it is ideally suited for toy, small, and even some medium dog breeds. The basin will support up to 130 lbs, however, so it can be filled with water while your pet is inside it. And as an added bonus, this dog grooming station comes with a 2-year manufacturing warranty.
7. Best Portable: Nova Microdermabrasion 32 Inches Pet Dog Grooming Table
Adjustable, practical, and easy to store away when not needed, this grooming table is a great choice for your at-home grooming needs or a pet owner that wants a portable grooming table to take with them on dog shows. The grooming table features a soft, non-slip, and waterproof tabletop surface that will keep your pooch steady while you groom them, and the adjustable arm with a security leash loop and sturdy buckle tethers them in place. Underneath the table is a removable mesh basket that can be used to keep the supplies and grooming accessories handy and help you streamline the whole grooming process. The tabletop measures 32" and the maximum capacity is 250 lbs – realistically, though, it is best suited for small and medium dog breeds because of the dimensions of the table.
8. Best Hydraulic: puppykitty Z-Lift Hydraulic Pet Grooming Table
With a good value for money, this hydraulic pet grooming table will exceed your expectations. Suitable for personal use and small grooming business, this dog grooming table boast a clever and convenient design, including rubber-capped feet and waterproof non-slip surface. Adjustable with the help of a hydraulic pedal, the table's height can be set as low as 21 inches with a maximum height of 36 inches to make sure every position is comfortable for the groomer.
9. Best Grooming Arm: Polar Aurora Pingkay Dog Grooming Table
The bone-shaped table top is not just cute- it's static-free and skid-resistant for easier maintenance and improved safety for your pet. And that's just one design feature that's impressive about this table – the clamp-on adjustable grooming arm with security nylon grooming noose is great for keeping your pet safely tethered during the grooming session. This compact and portable workstation has everything that a pet parent could need – and it costs well under $100–a price hard to beat in the world of dog grooming tables. The maximum weight capacity of this foldable grooming table is 250 pounds, and it comes in 3 sizes: 32", 38" and 46".
10. Best Splurge: Flying Pig Professional Electric Lift X Style Grooming Table
If in doubt, why not just go for the best of the best? Aimed at professional users, this dog grooming table is a perfect fit for grooming salons and grooming businesses. With unparalleled stability, durability, and convenience of use, this grooming workstation ticks all of the boxes for pros: from wheels and leg levelers to X-style structure. Flying Pig Professional Electric Table will lift pets up to 220 pounds of weight.
Types of dog grooming tables
While the very name dog grooming table sounds pretty straightforward, you'd be surprised at the design differences that exist within the category. A grooming table is supposed to be a workstation for a groomer, whether for professional or personal use, and it will dictate the design variations–it should be tailored to the needs of the user, and there are, after all, many different types of users and requirements in the world of dog grooming. However, the basic types of dog grooming tables can be split into 3 main categories:
Folding dog grooming tables
Folding or adjustable grooming tables are inexpensive, compact, and suitable for personal and occasional use. The main idea behind these tables is that they are easy to store away when not needed- as they boast a foldable design- and they come in a variety of heights and sizes to suit the needs of your dog and your own. If you have a tight budget or don't plan on using a dog grooming table frequently, this affordable option will probably be the best choice for you.
Hydraulic dog grooming tables
Hydraulic dog grooming tables provide the best value for money. Sure, they are a tad bit more expensive than folding tables, but they offer way more in terms of durability and practicality and can be suitable both for personal use and small dog grooming businesses. These dog grooming tables let you use a foot-operated hydraulic pump to adjust the height of the table so you can use the same setup for different breeds and dog sizes. They are ideal for pet owners that have more than one dog, dog groomers that have a small-scale business, or people who want to groom their own dog and invest in a high-quality workstation that will give them years of use.
Electric dog grooming tables
The most expensive type on the list and the one best-suited for the needs of professional users, lift grooming tables or electric dog grooming tables, offer adjustability at the press of one button. These dog grooming tables work by relying on an adjustable chassis mechanism that is powered by electricity and controlled remotely–you can just click and have this table ready in seconds for a Bernese Mountain Dog after it was set for grooming a Yorkie. This is why this type is so great for professional use–no hassle and unparalleled adjustability.
What to look for in dog grooming tables
Dog grooming tables can be expensive and it's needless to say that you want to make sure everything is perfect before splurging on one–but even when you're going for the most affordable option, you still want to get the best bang for your buck! In addition to choosing the right type to accommodate your needs, you'll have to pay attention to other factors, as well, including:
Size
Your dog's breed and size are important to consider when you're buying a grooming table for them–you want something that will be large enough to fit them and still be high or low enough to make sure that the process is comfortable for the groomer, AKA you. Some tables come in fixed sizes meant for certain dog breeds, and others can be adjusted to fit a variety of dogs–be sure to double-check the dimensions and adjustability potential before buying.
Restraints
Even well-trained dogs should be restrained during grooming–it takes a second for a pooch to jump off a table which could result in a serious injury, so it's better to be safe than sorry. This is why dog grooming tables come with arms and appropriate restraining accessories. The grooming table arms can be regular or H-bar arms–both have their pros and cons but their main function is to hold the harnesses, loops, and nooses that are used to keep a dog still while you groom them. Your choice of restraints will be influenced by how big the dog is and how much he moves during the process–the options vary from loops for petite pooches to sturdy harnesses for large and strong breeds.
Ease of maintenance
Regardless of whether you use a dog grooming table only to groom your pet or have multiple pooches on it throughout the week, you'll want something that's easy to clean. Look for tables with removable mats or those that don't have far too many nooks and crevices where hair and dirt could get lodged in.
Ease of storage
If you're not planning on using a dog grooming table professionally, you'll probably want it set up just occasionally, so it doesn't take up room in your home when it's not needed. In this case, you should go for foldable or collapsible grooming tables that can be disassembled with ease or just folded to a fraction of their size for convenient space-saving storing.
Convenient design
When you're getting a dog grooming workstation, the main objective is for it to be functional and practical to use- and some of them feature different perks that make them stand out in terms of their convenience. Shelves and storage space for dog grooming accessories and equipment such as clippers, combs, towels, dog cosmetic products, and the like built-in directly into the design of the grooming table could be a nifty addition if you want a permanent setup that makes sure everything you need for a grooming session is at the tips of your fingers.
Sturdiness and safety
The grooming table should be robust enough to hold your pet's weight for the time you're grooming him–so flimsy and light constructions are out of the question as you don't want the whole thing collapsing under your dog. Go for heavy-duty, well-made grooming tables with additional safety measures that ensure everything is up to standards, such as rubberized feet to keep the table in place and a non-slip table surface to ensure your pet doesn't slide around while you try to get his haircut right.
What size grooming table do I need for my dog?
Grooming sizes come in a few standard dimensions, ranging from 18" to 48" in length of the tabletop. You should pick the size according to the size of your pet (or simply go for the largest if you will groom multiple dogs and want to make sure that any pooch will be comfy on it). There should be enough room for your pet to lie down, sit, and stand on the table so get out your measuring tape, get your pet's measurements and start calculating.
How do you keep a dog still while grooming?
Squirmy dogs and dogs that have not gone through basic obedience training will probably have trouble being still on a grooming table – and that's the last thing you need when trying to clip their hair, comb them, or groom in any other way. While most dog grooming tables have non-slip surfaces and a tethering loop that will keep the dog in place throughout the grooming session, sometimes it's not enough. Try cheering and praising your pet and giving them a treat when they're on the table so they associate grooming with positive things – or try calming chews or supplements if they are restless because of anxiety.
How do I get my big dog on the grooming table?
Unlike petite pooches you can simply pick up and place on the table, big dogs can be more of a challenge. The key aspect here is safety, so make sure that your pet can get on the table without risking injury – many pet owners use ramps or pet stairs to provide access that doesn't include jumping, propping your pet up, or lifting a dog that's too heavy. If your pet needs encouragement to get on the stairs and climb their way to the table, use treats and praise to coax them – it never fails!
We are committed to finding, researching, and recommending the best products. We earn commissions from purchases you make using the retail links in our product reviews. Learn more about how this works.

Angela Vuckovic
A proud mama to seven dogs and ten cats, Angela spends her days writing for her fellow pet parents and pampering her furballs, all of whom are rescues. When she's not gushing over her adorable cats or playing with her dogs, she can be found curled up with a good fantasy book.
More by Angela Vuckovic
Published November 22nd, 2021 12:00 AM