439 Views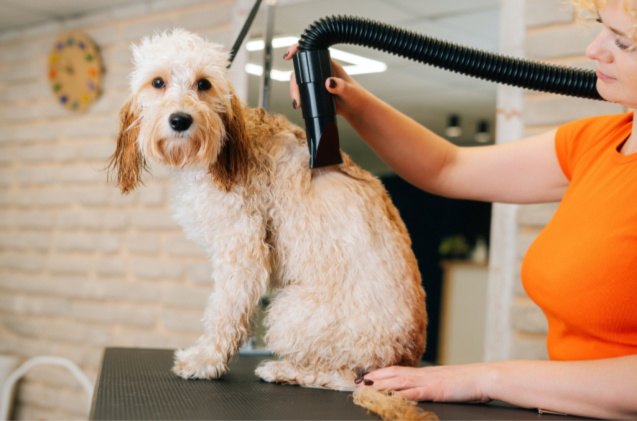 Taking care of your pet's hygiene is a big priority, but it can be a struggle. Even when the bath time is over, another challenge begins – getting them dry. It can be tedious, time-consuming, and stressful if you don't have the right tools. But these nifty dog blow dryers are made to tackle this task specifically and make the process of drying less stressful both for you and your pet. Both handheld and classic, dog blow dryers are portable, powerful, and easy to use. Take a look at our selection of some of the best dog blow dryers on the market – and make the tedious task of drying your pet after a bath a literal breeze!
Editor's Choice: uahpet Handheld Pet Dryer for Dog
When it comes to grooming your pooch, a lot can depend on a good quality blow dryer. In these cases, speed and versatility are of the essence, and this unique handheld portable dog blow dryer can be of great help. It has a unique tubular design that is ergonomic and makes it easy to hold and operate - as well as to carry in your bag. And blow drying your pet is made so much easier with this great design. The dryer features a smart temperature control which is pet friendly, as well as an increased airflow speed of up to 50 m/s, resulting in quicker blow drying. The noise is reduced as well, so your pet won't be scared. And the end result is a healthy, fluffy coat with zero damage to hair, and above all – a happy doggo!
Pros
Easy to pack and carry
Great handheld design
Several attachments included
Smart temperature control
Cons
Might not be very quick for large dogs
Runner Up: WINNIE HOME Dog Dryer
Here is a design that won't leave you disappointed no matter the size of your pet or the thickness of their coat: this powerful blow dryer features an impressive 3.2 hp motor that will make blow drying a quick and thorough process. It also has an adjustable temperature level, ranging from 35 to 55 degrees Celsius, and speeds from 10 to 65 m/s. All this gives you a lot of adjustability, so you can tailor the performance depending on the breed and size of your dog. The noise levels have been reduced greatly, and the design has been embellished with a number of nifty features such as a heat-protecting grip, a carry handle, and anti-skid bottom. Easy to use, very efficient, and totally modern, this dog blow dryer offers everything you might need!
Pros
Thorough design
Powerful motor
Easy to carry
Three special nozzles
Customer's Choice: CHAOLUN Professional Dog Dryer
Pros
Solid, by-the-book design
High-powered motor
Easy to carry
Cons
Might be a bit challenging to store
Best Heavy Duty Dog Blow Dryer: DOPICT Grooming Pet Dryer
If you want the best blow dry experience for your dog, you will definitely need a powerful drying unit. When the power is high, the drying is quick and good. This powerful unit ensures that with its high-quality, 3200W, 4.3 hp motor – this also makes it a great dryer for large dogs with plenty of hair on their body. This design also features a great set of controls, with adjustable airflow and temperature. And don't worry about the noise: even though the motor is powerful, the noise levels have been skillfully reduced – this unit runs between 55 and 70 decibels, which won't scare your pet. Another great addition is the 4 nozzles that come with the dryer, allowing you to fully tailor the experience to your pet's needs.
Pros
Fantastic motor
Great set of advanced features
Durable and thickened filter
4 nozzles included
Cons
The hose could be just a little bit longer
Best Grooming Dog Blow Dryer: PETNF Upgraded Dog Dryer
All amateur pet groomers who want to spruce up their pets at home can benefit from a quality dog blow dryer. This classic portable design offers you a lot of great and tested features that make it ideal for home grooming. It has a reliable 3.2 hp motor with adjustable temperature levels and wind speeds, a thickened filter for long service life, and greatly reduced noise levels. It is easy to carry around the home thanks to its light weight and nifty carry handle. However, the best feature is the great set of end fittings that make grooming a breeze: you get 4 unique nozzles that will allow you to make the cutest pet hairstyles. For a grooming session at home, it can't get better than this!
Pros
Great durability
Reliable motor
Thickened filters
Low noise levels
Best Handheld Dog Blow Dryer: KUUBIA Dog Hair Dryer
Tackling a restless and very wet doggo can be quite a challenge, especially with a bulky blow dryer in tow. And that's when handheld designs such as this one really come in handy (pun intended). This unique design combines a hair brush and a blow dryer into one, resulting in a fantastic handheld dryer that will exceed your expectations. It has a decent high-powered motor that is silent and offers 3 heat settings as well as overheating protection. A unique removable filter allows you to quickly remove any built-up animal hair or dust. The dryer itself is very light, being roughly 15 ounces, and it is great to bring with you on your travels as it fits in any bag or backpack. Best of all, it doubles as a brush: whilst you are drying, you can detangle the pet's hair and get rid of that pesky loose hair. A great 2-in-1 portable design!
Pros
Doubles as a sturdy brush
Low noise motor
Great ergonomic handle
Easy to store and carry
Cons
Not powerful enough for thick fur
Best Fast Dog Blow Dryer: shernbao High Velocity Professional Dog Dryer
All dog owners know that speed is essential when doing tricky tasks such as washing and drying your pet. And thanks to this very powerful dog blow dryer, the process will be lighting fast! The secret is in its high-powered dual motor with 6.0 hp of force. With the adjustable wind speed and temperature, you can really cut drying time in half. Of course, this dual motor brings two thickened filters and a ton of power, so be ready for a powerful experience. The body features a unique and ergonomic shape, partly due to the two motors, which makes it a bit too bulky, but nothing too serious. Of course, it's also a bit noisier which might be an issue for those very sensitive dogs, but this is usually not an issue. This great dog blow dryer is ideal for large breeds that have a ton of hair!
Pros
Incredible and powerful motor
Cuts drying time in half
Stable
Best Portable Dog Blow Dryer: iPettie Portable High Velocity Pet Hair Dryer
To make things infinitely easier, portable dog blow dryers offer you much more maneuverability, versatility, and simplicity, all without sacrificing any power or efficiency. This design from iPettie really combines all of these features into one very good product. It boasts a reasonably powerful motor, which ensures 3 heat and 3 airflow settings, allowing you to adapt to your pet's size, breed, and coat length. Its nifty, 2-in-1 design combines the hair dryer with a stainless steel comb, giving you the chance to get rid of those pesky tangles and loose hair while blow drying your pet at the same time. And best of all, the lightweight design won't leave your hands tired or preoccupied. You can fully adjust the speed and the temperature, and see all the settings on a modern and crisp-clear LCD screen. Simple, ergonomic, and endlessly efficient!
Pros
Slim, simple, and ergonomic design
2-in-1 design
Modern LCD display
Perfect for travel
Cons
Slightly underpowered motor due to the size
Best Automatic Dog Blow Dryer: PGOT Pet Hair Dryer
For some dogs, blow drying is just too scary, no matter what. Small dryers, quiet dryers, big dryers – they can just be too frightening. And when that happens, your dog will simply be too fidgety. This automatic pet blow dryer can solve these problems. It boasts a cubicle design: it is a small box into which you securely house your dog until the drying process is over. The cubicle is very spacious and has a tempered glass screen as well as a reinforced structure. You can control the process through a nifty smart touch screen panel, adjusting the temperature and speed as needed. Of course, the box has the all-important ventilation, as well as an interior light. Everything to keep your pet safe and calm!
Pros
Unique and efficient design
Super easy to use
Durable construction
Hair-collecting bottom
Cons
Might be too small for larger breeds
Best Low Noise Dog Blow Dryer: FFW Dog Dryer
Good dryers need to be quiet as well! Dogs are quite sensitive to noise, especially if it emanates from a gadget that's near their body and head. To avoid scaring your puppy too much, you should look for low noise dryers, such as this one. This unique design features a special duct structure, as well as advanced noise reduction technology, which results in up to 10dB lower noise than its competitors. For dogs, this is a big deal! Also included in this design is the special anion feature, which effectively eliminates static electricity during drying. The dryer has a powerful 4.3 hp motor and fully adjustable temperature levels. And thanks to its small size and a carrying handle, it becomes quite handy to carry about!
Pros
Quiet but powerful
Anion feature
Modern LED Touch Screen controls
Cons
Lacks an anti-skid bottom
What To Look For in a Dog Blow Dryer?
You might think that drying your dog's coat is simple and straightforward like it is with your own hair. But that is not always the case. Most dog breeds have reasonably thick and long coats, which requires much more time, patience, and power. And when you select a reliable blow dryer, you need to take into account a couple of key features.
First and foremost is, of course, the power. Your blow dryer will need a reliable and high-powered motor in order to tackle any wet coat. Look for motors with power that ranges from 1.1 to 3.8 hp – or more. This will ensure that the drying process is quick and thorough.
The next important aspect is portability. It is always easier if you don't have to lug around a hefty and cumbersome dryer around. Look for handheld and lightweight designs, or classic dog blow dryers with carrying handles.
Last, but not least, is the hose length. Dogs can become wiggly and restless when faced with the blow dryer. Make things easier by ensuring that the drier has plenty of hose, so you can reach all the difficult spots without too much difficulty.
We are committed to finding, researching, and recommending the best products. We earn commissions from purchases you make using the retail links in our product reviews. Learn more about how this works.

Angela Vuckovic
A proud mama to seven dogs and ten cats, Angela spends her days writing for her fellow pet parents and pampering her furballs, all of whom are rescues. When she's not gushing over her adorable cats or playing with her dogs, she can be found curled up with a good fantasy book.
More by Angela Vuckovic
Published July 28th, 2022 4:24 PM