776 Views
Best Pill Pockets for Dogs
August 23rd, 2022 10:14 PM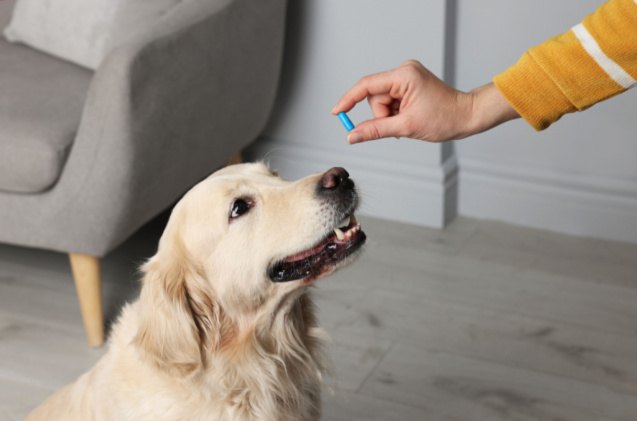 Most – if not all – pet owners dread the task of administering medicine to their dogs. Trying to get your pooch to swallow a pill can be quite a challenge, especially if they are picky or too smart for their own good. That's where pill pockets for dogs come in – these are essentially treats for dogs that are either soft and malleable so they can be wrapped around the pill or designed with a hollow center where you can hide the tablet in. Either way, their role is to completely conceal the pills, masking their taste and scent and making it easy for you to trick your pooch into taking their meds.
However, not all pill pockets for dogs do the trick – what might be just fine for one dog might not work for your pet. To help you find the right treat to entice your pet with, we've selected the 10 best pill pockets for dogs on the market. Regardless of whether your pet goes bananas for peanut butter, prefers crunchy treats, or has a world-class nose that sniffs out the faintest whiff of pills – we've found a pill pocket to suit your needs.
Editor's Choice: Milk-Bone Pill Pouches
Whether you have a smart cookie on your hands or a ridiculously picky eater, it doesn't matter – these pill pockets for dogs do the trick each and every time. Not only that they'll successfully conceal the tablet or capsule you're trying to sneak to your pet, but they are also soft and flavorful and taste like a regular treat! Made with real chicken, these pill pockets for dogs contain no by-products, meals, or artificial flavors. There are two flavors to choose from – regular chicken or hickory smoked bacon. Delish! The 5-pack has 125 treats total, which is perfect if you want to stock up or have multiple pets on regular medication.
Pros
Savory, rich flavor
Can be used with capsules or tablets
Real meat is the first ingredient
125 treats included – perfect for multi-pet households
Runner Up: Zoë Pill Pops for Dogs
Does your pooch have a power sniffer and somehow always manages to catch a whiff of the pill, no matter how you try to hide it? Try these fragrant, savory pocket pills for dogs with unusual recipes designed to effectively mask the scent and the taste of medicine. You can choose between chicken and rosemary, grilled beef and ginger, or peanut butter with honey – each will make your pet's mouth water and will successfully mask the tablet or pill inside it. The pill pockets come individually wrapped in twos to preserve freshness and softness, and you just squeeze the medicine inside – in one if it's a tablet, and inside two if it's a larger capsule. Your dog will be none the wiser!
Pros
Potent flavors that completely mask the smell and taste of medicine
All natural ingredients
No corn, wheat, soy, no artificial flavors, or preservatives
Work for all types of tablets and pills and dogs of all breeds
Individually wrapped to preserve freshness
Cons
Wrapping can be difficult to remove and is not eco-friendly
Customer's Choice: Greenies Pill Pockets Natural Dog Treats
The motto of Greenies pill pockets for dogs is "turn pill time into treat time" – and boy do they make it true. With these bad boys in your arsenal, giving a tablet to your pet will become a breeze as they'll gobble it up in seconds, never realizing that the tasty treat was hiding a nasty tablet inside. There are four flavors to choose from to cater to your finicky dog's palate: hickory smoke, cheese, peanut butter, and chicken. These pill pockets are hollow inside, so all you have to do is pop the tablet inside the hole and pinch it closed – your clueless dog won't suspect a thing.
Pros
Easy to use
Mask the tablet completely
Four flavors to choose from
Great for tablets
Cons
Doesn't fit bigger pills and capsules (larger version available)
Best Peanut Butter Pill Pockets for Dogs: Pill Buddy Naturals
Some dogs go bananas for PB treats and who could blame them? If your pooch loves nothing more than the taste of this nutty flavor and peanut butter is your go-to bribe, these pill pockets will be an instant hit. Although available in various flavors, there are two that will appeal to PB fanatics – peanut butter and honey, or the peanut butter and apple recipe. Whatever your choice be, you can rest assured that these pill pockets for dogs are tasty and malleable, and are made with natural ingredients, free of corn, wheat, soy, and anything artificial.
Pros
Fits almost any tablet, capsule, or pill
Six flavors to match any dog's preference
Wrapped in pairs to keep fresh
Made in Canada
Best Small Pill Pockets for Dogs: Pill Pals Canine
If you have a small breed dog, these pill pockets for dogs in small size will be perfect for concealing their medication! Made with real chicken meat, these are soft and malleable and will easily wrap around a smaller tablet to fully envelop it and hide from your dog's sight and nose. Most pooch can't resist the chicken flavor, so it's likely that these will work with picky eaters, too! There are 30 treats in each pack, so you'll be good to go for a while.
Pros
Small enough for petite dogs
Easily wraps around a tablet
Chicken flavor masks the taste and smell of medicine
Made with real chicken
Best Large Pill Pockets for Dogs: VetIQ Pill Treats
For those pooches that have to take larger pills or capsules, these chicken-flavored pill pockets will be an excellent diversion from the medicine. With a hollowed-out center that can fit bigger pills, these soft chews are easy to use and taste yummy to most canines – and their soft texture makes them very malleable, so you'll be able to fully hide the pill inside them! Made in the USA and wheat-free, these pill pockets are a lifesaver when you have to administer big capsules or have a large breed dog and worry about small pills on their own being a choking hazard.
Pros
A hollow center that holds any size capsule or pill
Easy to use
Suitable for large breed dogs
Chicken flavor masks the medicine
Made in the USA
Best Capsule Pill Pockets for Dogs: Medi-Crunch - Dog Pill Pouch Treats
Need a surefire way to completely disguise that big capsule as a delicious treat? This chewy, crunchy treat does the job. It's quite unique compared to competitors as it has this is a crunchy wafer shell with a soft peanut butter center where you press the capsule in – no way your pooch will realize what's hidden beneath all that yumminess. Not only that the flavor of peanut butter will overpower the taste, but the crunchy texture of the wafer completely disguises the texture as well. Despite being delicious and looking like a miniature version of ice cream cones for doggies, these are low-calorie, healthy fat treats with just 6 kcal and 2 grams of fat per treat.
Pros
Crunchy on the outside, soft on the inside
Peanut butter filling
Can disguise any pill, tablet or capsule
Low calorie
Rich flavor
Best Paste Pill Pockets for Dogs: Pet MD Wrap A Pill Peanut Butter Flavored Pill Paste for Dogs
If you dislike ready-made pill pockets for dogs or have an unusual size or shape of medication you need to slip to your dog, this pill masking paste is just the thing. Just pinch the amount of paste you need, insert the medicine and wrap the paste around it – easy peasy! Of course, it doesn't hurt that the paste tastes like peanut butter which will make the pills taste like a treat to your pet, and as it is soft and not sticky, it can be a great option for dogs with no teeth or those with sensitive gums. In other words – perfect for senior dogs!
Pros
Adapts to any size pill, tablet, or capsule
Soft and malleable – texture similar to cookie dough
Perfect for elderly dogs or dogs with teeth issues
Around 59 servings
Best Probiotic Pill Pockets for Dogs: VETRISCIENCE Laboratories Pinchers Pill Hiding Pocket Treats
Taking medications can be tough on your pet's digestive system, especially if they have a sensitive tummy to begin with. To counteract that, these pill pockets for dogs include probiotics in their formula, which will simultaneously work to restore and maintain a healthy gut flora while your pet is on meds. And they hide the pills, too, so it's a win-win whichever way you look at it! Hollowed out in the middle, these pill pockets for dogs will accommodate almost any size tablet, pill, or capsule, and their chicken liver flavor will entice the pickiest of pooches. Plus, the potent aroma and taste of chicken liver work really well to conceal the yucky medicine inside the treat!
Pros
With probiotics to support your pet's digestive treatment
Fit most pills, tablets, and capsules
Chicken liver flavor
Less greasy than most
Cons
Might need to use two for bigger pills
Honorable Mention: Treatibles Happy Joints Mobility Pill Wrap
Not only that these pill wraps serve as a great way to mask tablets and capsules when giving them to your dog, but they also come with benefits of their own – they contain omega 3-rich hemp seed oil, glucosamine, green-lipped mussel, and Boswellia to support joint health and reduce pain and discomfort. This makes them ideal as pill pockets for senior dogs, which often need daily medication, as they'll ease their joint pain and help with mobility, all the while making your job of administering pills so much easier. Plus, when you're not using them as a moldable pill wrap, you can dole out these soft chews as treats!
Pros
Supports joint health and improved mobility
Eases discomfort and joint pain
Easy to wrap around most pills and capsules
Dogs love the taste
Cons
Bigger capsules will hardly fit into a single treat
What to Look For in Pill Pockets for Dogs
Have you ever tried to give your dog a pill, only to be met with a clenched jaw? Better yet, you've somehow managed to coax them into taking the pill but you realize that they've only spit it out seconds after? Don't worry – unfortunately, it's perfectly normal. Most dogs abhor taking pills, even those that are not usually picky eaters. That's why pill pockets for dogs are such a lifesaver when you need to administer your pet's medication at home. However, while most tend to do the job decently, there are a few factors to consider before buying to ensure the pill goes down smoothly – literally.
Most pill pockets for dogs are soft, and there's a good reason for it. This makes them malleable and easy to wrap around the entire capsule, pill, or tablet, so your pet won't be able to see or smell the medicine hidden inside the treat. Crumbly or hard pill pockets for dogs are all but unusable – avoid these whenever possible.
Consider the size of your pet, but also the size of the pill you're trying to conceal – a tiny pill pocket won't completely mask a big capsule, and if you have a picky dog, they'll spot it right away. Similarly, even if the tablet is small, if you have a large breed dog, it's better to go for a larger pill pocket to avoid a choking hazard – if needed, you might even want to stick two pill pockets together to make them into a bigger treat.
Do you want to ensure that your pet gobbles up that "suspicious new treat you're offering? Choosing a flavor they love will improve your chances of success. Whether it's cheesy goodness, smoked bacon, classic chicken, or nutty peanut butter – you'll have no problem finding something to suit your pet's taste.
We are committed to finding, researching, and recommending the best products. We earn commissions from purchases you make using the retail links in our product reviews. Learn more about how this works.

Angela Vuckovic
A proud mama to seven dogs and ten cats, Angela spends her days writing for her fellow pet parents and pampering her furballs, all of whom are rescues. When she's not gushing over her adorable cats or playing with her dogs, she can be found curled up with a good fantasy book.
More by Angela Vuckovic
Published July 28th, 2022 2:16 PM