189 Views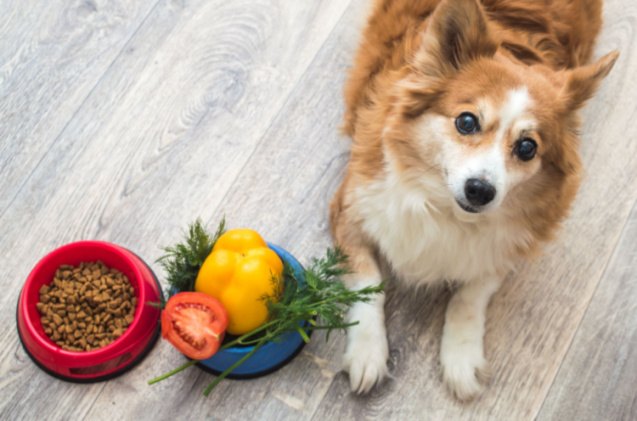 Great dog food needs to have all the important nutrients to meet your pet's dietary needs. But that does not necessarily mean that it should be overpriced! You can be on a budget and still provide healthy, nutritious food for your pet without breaking the bank.
There are a lot of aspects that make up quality dog food – from quality nutrients to rich flavor, and lack of artificial or harmful ingredients. However, the price is often steep for premium, top-notch dog food. But that doesn't mean that some budget-friendlier dog foods don't meet all or most of the criteria from above. These affordable dog foods don't skimp on quality nutrition. In fact, they have all that your dog needs – and boast a wallet-friendly price tag to boot.
Editor's Choice: Amazon Brand - Wag Dry Dog Food
Wag dog food is Amazon's brand that is designed for everyone's budget – without compromising on the quality. This is a reliable dog food that contains a balanced set of essential nutrients ideal for all dogs. Based on quality beef, salmon, or chicken meat as its primary ingredient, it is packed full of lean animal proteins that will keep your pet strong and in top form. This recipe is further supplemented with veggies - specifically sweet potatoes – and there is an added bit of vitamins, fibers, and healthy carbs. Wag also included those all-important antioxidants, phytonutrients, minerals, DHA, and Omega 3 fatty acids in their formula. All your dog needs at an affordable price!
Pros
Great value for money
Three flavor/meat options
Complete and balanced formula
Cons
Not for dogs with a sensitive tummy
Runner Up: Iams Adult Dry Dog Food
IAMS is a reputable brand that offers a quality recipe ideal for dogs of medium and large breeds. The recipe boasts all the essential nutrients packed inside the bag, making it ideal for a quality regular diet. Of course, it is based on quality, protein-rich chicken meat as the main ingredient, which provides your pet with all the nutrients which are essential for maintaining both energy and lean muscle. Besides the important protein, there are also added vitamins, antioxidants, and minerals, all of which are crucial for maintaining healthy joints, digestion, a shiny coat, and a solid immune system. Made with only the highest quality chicken meat, this special dog food is vet recommended and does not contain any artificial ingredients, such as colorings, preservatives, or flavors. All this makes IAMS' dog food ideal for dogs of all sizes and breeds - and owners who want a more affordable solution as well.
Pros
Quality source of protein
Added veggies
Maintains a healthy weight
Vet recommended
Customer's Choice: NUTRO NATURAL CHOICE Dog Food
Every doggo needs a certain set of nutrients in their diet on a daily basis. This ensures that they are always happy and healthy. Of course, this comes directly from the dog food of your choice. But can that dog food be healthy and still affordable? NUTRO natural dog food is just the proof we need. It is based on either chicken or lamb, where healthy, quality meat is the primary source of protein and nutrients. Whichever one you choose, the quality will remain the same. Furthermore, this recipe is supplemented with brown rice for some added healthy carbs, and other ingredients that make up the nutritional value chart. Also included are those very important fatty acids, such as Omega 3 oils. These guarantee a slew of added benefits, all of which are essential for dogs. And best of all? The price is not that steep.
Pros
Contains a balanced set of nutrients
Two versions, chicken or lamb
Great source of protein
Cons
Can cause soft or runny stool
Best Affordable Dog Food For Sensitive Stomachs: Purina ONE SmartBlend Natural
It is always great to find an affordable dog food that has all the quality that your pet needs – but even more so when they have specific requirements for diet, such as a sensitive stomach or issues with skin and coat. With lean, quality salmon as the number one ingredient, Purina SmartBlend combines quality meat full of protein with some healthy carbs, fiber from fruits and veggies, and a variety of essential vitamins and minerals. With no by-product meals, no corn, gluten, soy, or wheat, and no artificial preservatives or flavors, this classic dog food is a reliable and quality choice for every dog owner. But most importantly, it is light on calories, has a gentle ingredient blend, and will be beneficial for that sensitive tummy.
Pros
A balanced set of nutrients
Great for sensitive stomachs
Supports healthy, itch-free skin and coat
Easy to digest
Cons
Might not suit picky eaters
Best Affordable Dog Food for Seniors: Diamond Naturals Dry Senior Dog Food
This special recipe is created for seniors specifically and can be beneficial in so many ways to a dog in their golden years, and all without breaking the bank. It is made with chicken, eggs, and oatmeal, and thus combines the very best of the nutritional chart - into one single meal. Furthermore, it contains all the added vitamins, minerals, antioxidants, and fibers, as well as the important probiotics and prebiotics which ensure good digestion. All of these are crucial for a healthy and smooth running immune system and good overall health in senior dogs. With the included essential fatty acids and probiotics, your senior will have improved digestion and strong and healthy joints.
Pros
Great for senior dogs
Supports healthy joints
Gentle on the stomach and easy to digest
Made in the USA
Cons
Perhaps too crunchy for some seniors
Best Affordable Dog Food for Small Breeds: CESAR Small Breed Dry Dog Food
Made with quality beef meat as the chief ingredient, and supplemented with peas, carrots, and other veggies, this dog food contains a balanced set of nutrients formulated to support the dietary needs of small dogs. And, as small dogs tend to be little divas and picky eaters, CESAR put special care into crafting a tantalizing flavor – you can count on the attractive filet mignon taste to attract your tiny pet to the food bowl. Of course, the ideal amounts of protein in each meal are guaranteed, as are the fibers, vitamins, minerals, and antioxidants. Everything that your doggo needs – at a reasonable price!
Pros
Lean beef meat as the primary ingredient
26 nutrients specifically needed by small breed dogs
Rich flavor and meaty chunks – ideal for picky eaters
Cons
Contains artificial ingredients
Best Affordable Dog Food for Large Breeds: Eukanuba Adult Large Breed Dry Dog Food
Eukanuba is a brand that offers nutritious, high-quality food for large breeds, without skimping on tastiness or quality nutrition. With chicken as the primary ingredient, your pet's daily needs for protein are definitely covered. But that's not all: also included are vitamins, minerals, fibers, and other important goodies. The brand takes its meat only from healthy, high-quality chicken, uses DHA and added vitamins, and prides itself on the Activ Advantage concept. And best of all, it does not use any artificial ingredients such as preservatives, flavors, or colorings. With all this, your big doggo can finally benefit from a tailor-made diet to suit their unique needs.
Pros
A balanced set of nutrients
Natural ingredients
For all life stages
Ideally suited to large breed dogs
Cons
Not for dogs on a weight maintenance regime
Best High-Protein Affordable Dog Food: Blue Buffalo Wilderness High Protein Dog Food
A high protein percentage in food is very important for all dogs – and that protein has to come from real meat to be truly nourishing for your four-legged bestie. Blue Buffalo Wilderness dog food offers the best meat-based source of protein for your pupper without ramping up the price in the process. This unique dog food recipe is jam-packed with protein and other essential nutrients that are needed for your pet to thrive. Choose from either chicken or salmon, two high-quality meats that are rich in protein and also supplemented with the brand's trademark Life Source Bits. These bits include all the added goodies a dog might need – antioxidants, vitamins, minerals, glucosamine, fatty acids, and Omega oils. The recipe also contains healthy fruits and veggies that will add the all-important fibers and vitamins to your pet's daily diet. These essential nutrients ensure a healthy immune system, strong joints, and smooth digestion as well.
Pros
High in protein
Two flavor options available
Contains all the important nutrients
No by-product meals, corn, wheat, soy, artificial flavors, or preservatives
Cons
Might take some getting used to
Best Affordable Dog Food for Puppies: Rachael Ray Nutrish Bright Puppy
These tiny bites are packed with rich meat-based flavor that no puppy will resist and contain all the nutrients your pooch needs to grow big and strong. This recipe is based on real chicken and brown rice and contains no poultry by-product meal, artificial flavors, colors, or artificial preservatives. Of course, the recipe ensures an ample intake of high-quality protein, as well as EPA and DHA which support the cognitive development of puppies. One great advantage of this dog food is its size: the kibble is bite-sized so all puppies can easily eat as much as they can. This is an affordable, balanced daily diet, fantastic for puppies in their first, formative years.
Pros
Bite-sized for easy eating
Great for puppies
Nutritionally complete
Cons
Not for puppies with sensitive stomachs or allergies to grains
Best Affordable Dog Food for Picky Eaters: Whole Earth Farms Dry Dog Food
For a healthy dog, it is important to establish a balanced diet that contains all the important nutrients, from protein all the way down to vitamins. And it is up to you, as a responsible owner, to find suitable dog food to provide all these nutrients. But what do you do when you have a picky dog? Here's an easy choice: this Whole Earth Farms dog food is perfectly balanced and covers all the key bases but it also boasts a rich flavor that most dogs can't resist. Of course, it is based on quality meats: pork, beef, and lamb, which gives it a high protein level that all dogs require. Furthermore, the food is supplemented with real veggies, such as sweet potato, to ensure a healthy balance of nutrients. What is more, you can opt for other versions, such as salmon and whitefish, or chicken and turkey to suit your pet's picky preferences.
Pros
Yummy enough for most picky eaters
3 recipes to choose from
Natural, well-balanced ingredients
No corn, wheat, soy, or other fillers
What to Look for in Affordable Dog Food?
Did you find seemingly great dog food? Everything your pet needs appears to be on the ingredient list, but the price is surprisingly affordable? Don't feel suspicious – dog food doesn't have to be expensive to be nutritious. Keep an eye out for these key aspects to make sure that that good deal is good for your dog, too – and not only your bank account balance.
Protein and other nutrients
No dog food is complete without its nutritional value. For your dog to thrive and be healthy, the dog food needs to provide ample nutrients. The foremost of these is protein, which should come from real meat. Next up are vitamins, minerals, antioxidants, fatty acids, and fibers. The formula should be complete and balanced, and made to meet the needs of dogs of different sizes, in different life stages.
No artificial ingredients
It is also important that the dog food you choose includes no artificial ingredients. These include harmful preservatives, fake colorings, artificial flavors, and other harmful ingredients. No dog should consume these, and almost all dog food brands have stopped using them. Still, it goes a long way to ensure that your low-cost dog food brand contains none of these.
Formulated for your dog's needs
Just because most dogs do well on a certain type of food, it doesn't have to mean that your pet will, too. Take into consideration their size (or breed), age, and lifestyle when choosing the formula: if they are big, active, and young, they'll need different nutrients than a small breed senior. The same goes for any medical issues, as dogs with diabetes, food allergies, kidney issues, etc. require a special diet.
We are committed to finding, researching, and recommending the best products. We earn commissions from purchases you make using the retail links in our product reviews. Learn more about how this works.

Angela Vuckovic
A proud mama to seven dogs and ten cats, Angela spends her days writing for her fellow pet parents and pampering her furballs, all of whom are rescues. When she's not gushing over her adorable cats or playing with her dogs, she can be found curled up with a good fantasy book.
More by Angela Vuckovic
Published September 25th, 2023 8:02 PM