1.1K Views
Best Dog Food for Goldendoodles
We're committed to finding, researching, and recommending the best products. We earn commissions from purchases you make using links in our articles. Learn more here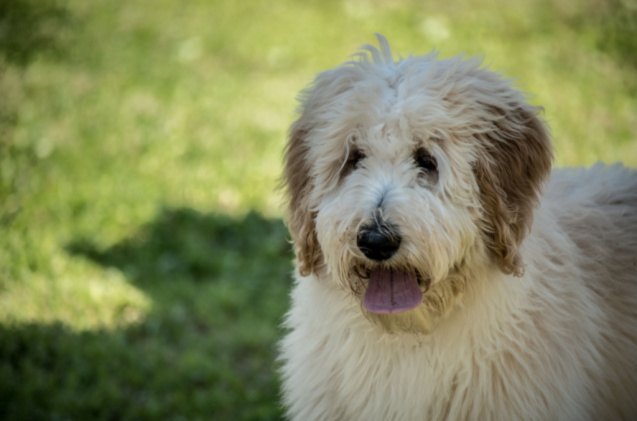 A healthy, balanced diet is the foundation of canine health – your pet needs different nutrients in order to thrive. Goldendoodles, a unique and beloved designer breed, are no different when it comes to their need for a complete diet. However, it's not always easy finding the perfect formula to keep your pet healthy and in their best form. To help you make sure your pet is getting everything they need from their meals, we've rounded up the 10 best dog foods for Goldendoodles – all you have to do is pick according to their unique preference.
Editor's Choice: Rachael Ray Nutrish PEAK Natural Dry Dog Food
Protein in dog food influences so many vital functions. A high protein diet can be quickly spotted through your pet's fine physique, lean muscles, a shiny coat, and a happy demeanor. This Rachael Ray Nutrish dog food has a high protein count, which will be perfect for Goldendoodles in their prime. This recipe is based on beef, venison, and lamb, with real quality beef being the primary ingredient. This ensures a strong and nutrient-dense kibble, with more than 30% protein per portion. This dog food contains no added preservatives, artificial ingredients, colorings, or gluten – making it a quality, natural choice. Also included are three distinct sources of Omega 6 and Omega 3 oils, which will promote a healthy brain function, and a shiny and thick coat. All in all, this is a quality source of protein for your Goldendoodle.
Pros
Three meat sources
Rich in protein
Contains Omega oils
Runner Up: Royal Canin Golden Retriever Adult Dog Food
We all know Goldendoodles as super cute and stylish dogs! But those good looks and prime health need to be maintained. This Royal Canin dog food is ideal for Golden Retrievers - one of the parent breeds of Goldendoodles. As such, it is also great for this unique designer breed also. With chicken meat and rice as the main ingredients, this dog food contains ample amounts of all vital nutrients: protein, carbs, vitamins, minerals, and others. All of these are vital for ensuring that your pet is as healthy as always, that their coat is lustrous and shiny, and that they are always happy. There is so much that quality dog food can influence, and this can be all the proof you need.
Pros
Suited to dogs with sensitive stomachs
Balanced and complete formula
Ensures a shiny coat
Customer's Choice: NUTRO NATURAL CHOICE Dog Food
Both as adults and puppies, Goldendoodles can be quite robust dogs, ranging from medium to large-sized. This means that their food needs to be carefully formulated depending on their size, and full of optimal nutrients. This NUTRO natural dog food is just the thing. Made with chicken and brown rice, this formula has healthy, quality meat as the primary source of protein and nutrients. This recipe is supplemented with brown rice for some healthy carbs, and other ingredients that make up the nutritional value chart, such as flaxseed, kale, spinach, and pumpkin. This food contains ample amounts of essential fatty acids and healthy fats that will ensure that your Goldendoodle always has a shiny coat, healthy skin, and strong joints.
Pros
Contains a balanced set of nutrients
Quality source of protein
Great for joint health
Cons
Could be too bland for some dogs
Best Complete Dog Food for Goldendoodles: Wellness Complete Health Dry Dog Food
It is key for your pet's diet that all the vital nutrients are included with every meal. This balanced Wellness Complete Health dog food has everything that an adult Goldendoodle will need: protein, fiber, vitamins, essential fatty acids, and antioxidants. Each one of these will be crucial for keeping your Goldendoodle in prime health. The secret to a healthy diet is in the carefully crafted recipe. Wellness is a brand that really took it up a notch. This dog food is based on quality lean chicken meat – which is full of protein – as well as oatmeal, fruit, veggies, and flaxseed. From the flaxseed come the much-needed omega fatty acids, which support your pet's immune and skin and coat health. Moreover, the fruits and veggies are crucial for a balanced addition of vitamins and fiber, where the latter can really improve digestion.
Pros
Great and rounded set of nutrients
Perfect for digestion
Promotes healthy bone development
Cons
Not for dogs with a sensitive stomach
Best High Protein Dog Food for Goldendoodles: ORIJEN® Dry Dog Food High Protein Amazing Grains
This Orijen dog food is designed for adult dogs, and has a quite high amount of protein to maintain lean muscle and provide essential nutrients to your Goldendoodle – protein content is 38% with 90% of ingredients being premium animal ingredients. This quality dog food is made with beef, wild boar, lamb, pork, and mutton as the primary sources of meat, but you can also choose a formula with poultry or fish. In addition to quality meat, the formula also includes healthy grains to support your pet's overall health without triggering any sensitivities – such as oats, quinoa, and millet.
Pros
Contains all essential nutrients
5 meat sources in one formula
Rich in protein
No legumes in the formula
Best Dog Food for Goldendoodles with Food Sensitivities: Natural Balance Limited Ingredient Diet
Most dogs with food sensitivities are triggered by a certain protein source or grains, which causes digestive upset and even skin and coat issues. In most cases, when it comes to protein, the culprits are the two most common ones – chicken or beef – so if that's the case with your Goldendoodle, this formula might be worth trying out. Made with salmon and sweet potato, this formula is created with a simplified list of premium ingredients to eliminate the possibility of allergic reactions: a single animal protein source, no grain, soy, gluten, artificial colors, or flavors.
Pros
Good for digestion
Fewer ingredients without compromising on the nutrition
Ideal for dogs with sensitive stomachs or food sensitivities
Best Dog Food for Goldendoodle Puppies: Wag Dry Dog Food for Puppies
At the puppy stage, quality nutrition is imperative. Your Goldendoodle puppy can get all the essential nutrients from a balanced diet and grow up into a healthy and strong adult dog. Wag dog food is designed for puppies and contains a balanced set of essential nutrients formulated to suit their young age. Based on real quality chicken meat, it is full of lean animal protein, as well as other important ingredients such as vitamins, fiber, antioxidants, phytonutrients, minerals, DHA, and Omega 3 fatty acids! Everything a puppy needs to thrive and grow up into a strong, healthy adult.
Pros
DHA for healthy brain development
Great for puppies
36% protein
Best Balanced Dog Food for Goldendoodles: Whole Earth Farms Dry Dog Food
When dog diets are considered, it is important to establish a balanced approach and to cover all the vital nutrients. Most of them, however, will come from the kibble you choose. This Whole Earth Farms dog food is perfectly balanced and covers all the bases. It is based on pork, beef, and lamb, and supplemented with real veggies such as sweet potato. With all these, you'll be able to provide optimal amounts of protein, carbs, fibers, vitamins, and minerals in each serving. Of course, this food does not contain any gluten, grain, corn, or preservatives, so only the good stuff goes into the bag. Also available are chicken and turkey-based recipes, as well as salmon and whitefish. Whichever option you choose, the ideal amounts of protein will still be there!
Pros
Great balance of meat and vegetables
Great source of animal protein
Rich in essential nutrients
Best Premium Dog Food for Goldendoodles: VICTOR Hi-Pro Plus Super Premium Dog Food
This premium Victor dog food boasts some of the finest quality ingredients for your four-legged friend. It is also high-protein dog food, with 88% of its protein sourced from animal meat. The rest comes from healthy veggies, which also add fiber and vitamins. But that is not all. This premium dog food contains special mineral complexes, as well as prebiotics and probiotics. These support a healthy immune system, shiny coat, and good overall health. The prebiotics, as well as the fibers, will ensure great digestion and no bloating that some Goldendoodles can suffer from. With all things combined, this premium dog food can bring a ton of benefits to your pet's daily diet!
Pros
A balanced set of nutrients
Great for all life stages
High in protein
Cons
Can require some getting used to
Honorable Mention: Blue Buffalo Wilderness High Protein Dog Food
Dogs might not be obligate carnivores as cats are, but they still need meat to be their primary food ingredient in order to thrive. This Blue Buffalo Wilderness dog food offers the best alternative to meat for your pet – a high-protein dry dog food that is packed with protein and other essential nutrients. Made with chicken as the first ingredient, it contains high-quality meat rich in protein and is supplemented with LifeSource Bits to support their overall health. The latter includes all the added goodies – antioxidants, vitamins, minerals, glucosamine, fatty acids, and Omega oils. It also contains healthy fruits and veggies for some added fiber and vitamins. All this will contribute to a healthy immune system, strong joints, and a shiny coat for your pet. Goldendoodles can benefit so much from this quality meat-based diet.
Pros
High in protein
Rich in nutrients
Supports the immune system
What Are the Benefits of Quality Dog Food for Goldendoodles?
There is a lot that depends on quality dog food. If a dog does not receive the necessary nutrients on a daily level, it will quickly show and eventually lead to serious illnesses. When feeding quality dog food, however, you ensure that their meals are full of essential nutrients that will support their overall health and fuel your Goldendoodle for all of your shared adventures. When formulated properly, dog food for Goldendoodles can provide many benefits to your pet's overall health, including the following:
Improves Strength and Immune System
Thanks to the ample amounts of protein, antioxidants, and carbs, quality dog food is essential for improving strength, keeping muscles lean and strong, and ensuring a stable and strong immune system. With a great combination of nutrients, and with added antioxidants and fatty acids, your pet is given a rounded and all-encompassing nutritional value with every meal.
Great for the Skin and Coat
Goldendoodles are the stylish charmers of the doggo world. Their cute looks and luscious coats are their trademark signs. However, they need to be maintained, and food can play a part in that. Quality dog food contains essential nutrients that are directly responsible for keeping dog coats and hair shiny, healthy, and luscious. So, if you want to improve the quality of your pet's coat, try one of these healthy foods – the difference can be immense!
Supports Brain Development
It is crucial that you provide your Goldendoodle puppy with quality food – right from the get-go. Not only will they grow up strong and healthy, but they will also be easier to train! That's right, quality formulas for puppies contain ample amounts of DHA – an important addition that will ensure proper brain development for dogs in their puppyhood. With that, you are ensuring an all-out balanced diet that covers every aspect of growing up!
We are committed to finding, researching, and recommending the best products. We earn commissions from purchases you make using the retail links in our product reviews. Learn more about how this works.

Angela Vuckovic
A proud mama to seven dogs and ten cats, Angela spends her days writing for her fellow pet parents and pampering her furballs, all of whom are rescues. When she's not gushing over her adorable cats or playing with her dogs, she can be found curled up with a good fantasy book.
More by Angela Vuckovic
Published December 7th, 2023 4:37 AM