457 Views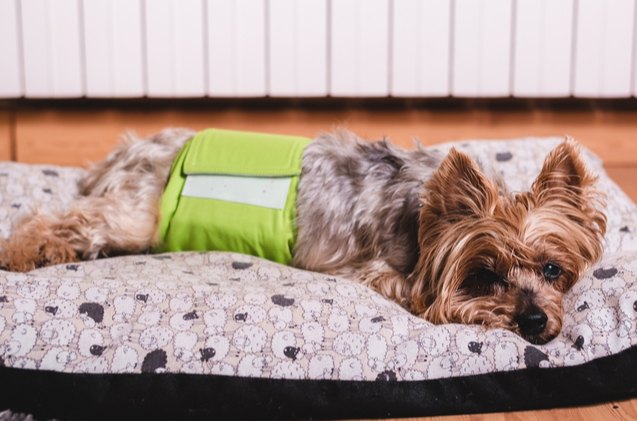 A problem many dog owners have to deal with is pet incontinence. Some dogs simply lose the ability to control their peeing, whether as a consequence of old age, nasty urinary infection or as a spaying complication. And that can result in carpet and furniture stains, and a lot of stress both for you and your pet. But not anymore! We are bringing you our list of the 10 best belly bands on the market – they are specifically designed to contain urine in male dogs, and work as a unique form of dog diapers. Easy to use, they can be both disposable and reusable. Both versions are fantastic, and caring dog owners will certainly learn to value them. And they don't work for senior dogs only– adult dogs and puppies can benefit from them too. Keep your eyes glued to this page: these dog belly bands are a true lifesaver!
Editor's Choice: Amazon Basics Male Dog Wrap
Usually, dog belly bands are disposable – made for just one use. But such a design can be costly, especially if your dog is suffering from chronic incontinence. That is why these washable belly bands are such a great and money-saving option. A premium design, they come in a pack of three and can be used over and over again after washing. Made from quality microfiber material, they have elastic bands on the sides and a velcro fastening system that guarantees no chafing, and a super-secure fit. Choose from a variety of sizes and colors, and ensure that your home stays dry and stain-free.
Pros
Multi-layered design
Absorbent
Various sizes to choose from
Runner Up: IN HAND Washable Male Dog Diapers
Another reusable belly band that has been created specifically for male dogs, is this set of three from the brand IN HAND. Made from a premium design, they come in a variety of sizes and colors and can be used repeatedly after washing, however, they are not meant to be put in the dryer. They use a quality microfiber material and feature elastic edges on the sides to prevent leaking, an easy-to-use velcro fastening system, a waterproof exterior, and a super-absorbent pad.
Pros
Great velcro fitting
Soft and comfy
Many sizes
Cons
Velcro can fail over time
Customer's Choice: Teamoy Reusable Wrap Diapers for Male Dogs
For belly bands, the reusable aspect is a true lifesaver. It saves money, and effort, and adds to the quality as well. These belly bands from Teamoy are a refined design that follows all the important aspects. They are made with quality microfiber and feature a super soft, absorbent inner lining, together with the special elastic bands at the sides. Together with the velcro fastening system, these bands ensure that the belly bands will stay securely on your dog's abdomen. These wraps come in a variety of sizes and are completely washable, giving you multiple uses time and time again.
Pros
Comfy and soft
Secure fit
Absorbent inner lining
Saves money
Cons
Can pick up a strong odor
Best Odor Control Belly Bands: Paw Inspired Disposable Male Dog Wraps
Designed for male dogs, these belly bands are made with quality materials and feature a special Dryspeed technology. This special design quickly converts urine into a gel, and that way the smells and the discomfort are quickly dealt with. The rubber bands at the sides are flexible and can be extended, ensuring a secure fit and containing leaks. In fact, it only takes seconds to attach these bands, and a second to dispose of them! Quick, easy, and mess-free. They come in various sizes and two-pack options - 72 and 36 per pack.
Pros
Various sizes
DrySpeed technology
Absorbent
Easy to use
Cons
Velcro can degrade over time
Best Disposable Dog Belly Bands: Wiki Wags Disposable Dog Wraps
Disposable dog wraps can be a lifesaver. Easy to use and efficient, they are a great way to keep things tidy and free from pee stains. Wiki Wags are truly a classic design that keeps owners coming back for more. Super absorbent and durable, they are the original Doggie Diaper. Its advanced lock-in technology will wick away moisture from your dog and keep them dry at all times, which is a very important aspect of all belly bands. Of course, there will be no leaks, thanks to a special gusseted design. There are several sizes to choose from, making these wraps ideal for a variety of dog breeds.
Pros
Very absorbent
No leaks
Keeps your dog dry
Best Comfort Fit Belly Bands: Vet's Best Comfort Fit Disposable Male Dog Diapers
Belly bands for dogs need to be comfy. Otherwise, you risk chafing, irritation, and leakage. And that is never good. These disposable belly bands are ideally designed to fit perfectly on any dog sizes and breeds. Thanks to the special elastic bands and a great velcro fitting, you will have no trouble adjusting and finding the comfiest fit. What is even better is that this design is veterinary recommended! That way you know that they are just the best possible solution for your pupper. This design also has great absorbing abilities, and won't leak whatsoever. A reliable design through and through.
Pros
Vet recommended
Great absorption
Super comfy fit
Best Washable Belly Bands: wegreeco Washable Male Dog Belly Band
Sometimes, you just can't beat a washable belly band design. If you have enough spare time for washing and drying, you can use these bands over and over again. These belly bands are made with quality and comfortable materials that have great absorbing powers. Thanks to the elastic bands at the sides and durable velcro fittings, you can find a comfy and secure fit for your dog. Totally leakproof, they will contain any mess until you can change them. Also, you can choose between many colors and different patterns, finding the ideal colorful design that goes with your pet's character.
Pros
Durable
Many different colors
Secure fit
Best Reusable Belly Bands: CuteBone Dog Belly Bands
CuteBone offers you these washable and reusable belly bands that are perfectly designed to prevent any accidents both in and out of the house. With an economical and environment-friendly design (saves money and reduces garbage), these bands are made from quality fabrics that are durable, comfy, and above all – absorbent. One of the defining features of this design is the multitude of funny and quirky patterns and colors. These are perfect if you want to make your pooch stand out from the crowd. And it is also a great way to let the world know that there is nothing wrong with doggos wearing diapers!
Pros
Secure and comfortable fit
Many fun colors and patterns
Durable material
Cons
Velcro can fail over time
Best Belly Bands For Large Dogs: ACDOK Dog Belly Bands
It is important to have belly bands that won't droop, slide, or fall off – no matter your pet's size. For that, a strong velcro fitting is crucial. These ACDOK belly bands incorporate a quality velcro into their design, making sure that these bands fit snuggly and stay there, whether your pet is XS or n XXXL size. Also, the bands are made with quality materials that are soft, comfy, but also durable and very absorbent. A multi-layered design ensures that there is no leaking and excess moisture. Best of all, the wraps are totally washable, giving you the chance to use them time and time again. A great way to save some extra cash.
Pros
Very absorbent
Unique patterns and colors
Size for dogs of all breeds
Secure fit
Cons
The shape is a bit awkward on some dogs
Best Premium Belly Bands: Pet Parents Premium Washable Dog Belly Bands
It's hard to create a belly band design that will stand out from the others. But Pet Parents does it, thanks to their unique concept that boasts WickQuick technology! WickQuick is a quality inner lining that is made from soft and non-abrasive fabric and is specifically aimed at wicking away urine and preventing chafing and rashes. Durable and long-lasting, these bands are totally washable and reusable. Furthermore, they boast a waterproof exterior shell, which prevents any accidental leaks and moisture from seeping through. All in all, it is a well-thought-through design that will make your pet's incontinence super easy to deal with.
Pros
Very efficient
Waterproof outer shell
Reusable
Versatile design
What are the Benefits of Dog Belly Bands?
t is no secret that dogs can suffer from a myriad of health issues. But we still have to care for them and shower them with our love and attention. One of the more common and understandable health issues, especially for older dogs, is urinary incontinence. It's simple: some dogs just pee wherever they are – they have no control over it! But you shouldn't be mad or lose your composure. Belly bands are here to save the day and keep your home clean and your dog comfortable.
Absorption
Pee gets everywhere! The carpet, the furniture, the floorboards, the bed, even into your dog's fur. And it can be hard to deal with. Because of this, belly bands have one key benefit up their sleeve - absorption. They need to be able to quickly soak up all that urine and prevent it from leaking everywhere. Some designs even have a special technology that turns pee into a gel. Others rely on the absorption of the fabric, and quick-wicking concepts as well. Either way, one thing is certain - with a reliable belly band, pee won't end up where it should not.
Comfort
In their old age, dogs can become very sensitive – things will easily annoy them, or even cause them discomfort. Thankfully, belly bands are very comfortable and that is one of their key benefits. Thanks to the unique design, the bands will fit surprisingly comfortably onto your pet's body. The elastic bands ensure that every abdomen diameter is a viable option and that there won't be any chafing. And it is exactly this comfort that pets will learn to appreciate. After all, it is just a small thing to provide them with, in their vulnerable old age when even peeing is an issue.
Reassurance
And that brings us to another benefit that belly bands offer – reassurance. Yes, reassurance. Even dogs need it from time to time. We can agree that it must be a terrible feeling to feel vulnerable, fragile, and unable to control your basic body functions. Doggos feel these emotions too, no doubt, and will need your emotional support at this time. And belly bands – or doggo diapers as they are also known – will provide them with a "second chance" of sorts, a needed reassurance to tell them that everything is alright. A common item designed especially for them and the issues they are having.
Hygiene
Of course, better hygiene is a major benefit of belly bands. No owner wants to see (or smell) urine around the house. But with belly bands, this is a thing of the past. Whether reusable or disposable, the bands are a simple way to maintain cleanliness around the home. Just make sure that they are absorbent, so as to keep your pet dry and clean as well. And together with similar accessories, you can maintain a spotless home where everyone will feel as healthy as can be!
We are committed to finding, researching, and recommending the best products. We earn commissions from purchases you make using the retail links in our product reviews. Learn more about how this works.

Angela Vuckovic
A proud mama to seven dogs and ten cats, Angela spends her days writing for her fellow pet parents and pampering her furballs, all of whom are rescues. When she's not gushing over her adorable cats or playing with her dogs, she can be found curled up with a good fantasy book.
More by Angela Vuckovic
Published September 25th, 2023 2:04 PM