282 Views
Best Lint Rollers To Tackle Pet Hair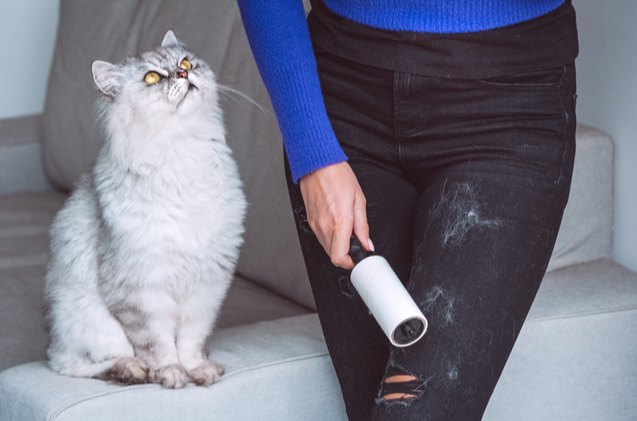 Unless you have one of the hairless cat or dog breeds, you've probably come to realize that living with a pet means living with pet hair. Hair on your sofa, hair embedded into your carpets, hair all over your clothes, heck, you can even find hair in your cup of joe if you look hard enough. Luckily, it's not something you have to accept as your fate just because you love your furkid and accept them with all their flaws. With the right tools at your disposal, pet hair can become a matter of the past. Lint rollers are an especially useful tool in any pet owner's arsenal, as they can remove even the most stubborn pet hair leftovers after vacuuming, be it from your clothes, furniture, or floors. The only trick is knowing which lint rollers live up to the hype and which simply don't cut it for people living with a cat or a dog. To help you find the best option for your household, we've rounded up the best lint rollers on the market – from reusable lint rollers to extra sticky rollers – so any pet owner can find a perfect match.
Editor's Choice: Scotch-Brite Pet Extra Sticky Hair Lint Roller
Convenient to use, affordable, and extra sticky to tackle persistent pet hair – what's not to like? This lint roller will efficiently remove pet dander and hair from your clothes, furniture, carpets, car, and any other fabric your pet has peppered with their pesky hair. Even though it's extra sticky for superior hair removal, this lint roller will not damage textile, so you can safely use it on your finest clothes or that new sofa. The sheets tear easily and in the original lint roller, there are 95 of them in a roll, whereas refills come in various options – 30, 56, or 70 sheets.
Pros
Affordable price
Easy to use
Extra sticky for stubborn pet hair
Can be used on any fabric, be it upholstered furniture or clothes
Various refill types available
Cons
Sheets can sometimes stick together
Runner Up: PetLovers Lint Rollers for Pet Hair
Designed with attention to detail, these lint rollers are super easy to use and boast great effectiveness at removing pet hair – it's no coincidence that their mascot is a Siberian Husky! With their ergonomic handle designed for effortless 360° rotation back and forth, you don't have to worry about it falling apart during vigorous cleaning, and thanks to the extra sticky adhesive, these rollers will eradicate lint, dander, and pet hair from any type of fabric. To boot, this set includes 3 lint rollers and 3 additional refills, so you'll be set for a while – and can strategically place these lint rollers throughout your house so they're always on hand when needed.
Pros
Extra sticky adhesive gets out hair and dander from fabrics
Great value set with 3 lint rollers and 3 refills
360-degree handle for easier cleaning in all directions
Marvelous results with pet hair
Cons
Sheets are a bit difficult to tear
Customer's Choice: polardo Lint Rollers for Pet Hair
If you want something inexpensive that still does the job, these classic lint rollers will do just fine. Coming in a set of 2 lint rollers and 3 refills, this lint roller pack will give you 300 sheets of sticky adhesive tape that will efficiently remove pet hair from your clothes or furniture. The sheets peel back and tear consistently and easily, so the cleaning process is all but effortless. And with a few refills in your stash, this set will last you a good long while, even if you have multiple pets in your home.
Pros
Budget-friendly price
Easy to use
The tape is sticky enough for pet hair
2 lint rollers and 3 refills included
Best for Clothes: OXO Good Grips Furlifter Pet Garment Brush
Leaving your house to an important meeting or a date just to realize your clothes are covered in your pet's hair is a nightmare – but a quality lint roller will make sure you always look pristine. Reusable, convenient to store in your purse if needed for cleaning on the go, and highly efficient, the Furlifter lint roller is really easy to use but gives great results. It comes with a self-cleaning base which will store hair until emptied, so you don't have to worry about the cleaned hair from clothes ending up all over your car or the apartment.
Pros
Reusable and budget-friendly
Highly efficient at removing hair from fabrics
Self-cleaning base
Compact and easy to store
Cons
Takes a bit to remove persistent hair and lint
Best for Furniture: ORDORA Pet Hair Remover for Furniture
If your pet lounges with you on the sofa or naps in the armchair, chances are they'll leave a trail of hair, dander, and lint in their wake. But that's OK because with a good lint roller, you can keep everything nice and tidy and they'll still get to enjoy the comfort they need. Eco-friendly and reusable, this pet hair lint roller features an ergonomic handle and a large waste compartment for its self-cleaning function, and it is super easy to use. You can clean it with a damp cloth when needed, and it will last you for years to come.
Pros
Fully removes all pet hair, lint, and dander from fabrics
Reusable and eco-friendly
Cost-effective because it doesn't need refills
Self-cleaning function
Cons
Not suited for smooth surfaces (e.g. leather furniture)
Best for Carpets: Smart Design Large Mega Floor Lint Roller
While there are various pet hair vacuums that promise to efficiently eliminate pet hair embedded into carpet fibers, you might not have one or your model simply doesn't stand up to the task. Either way, this cleverly designed lint roller for floors will be the answer to your prayers! Designed to pick up lint, hair, dander, and all the tiny, nasty bits your vacuum missed, it features a large roller with adhesive sheets that are easy to tear and super sticky. The retractable handle can extend from 12.5" to 45", which makes this design a 2-in-1 tool: you can use it as a handheld for hard-to-reach spots or extended when you're cleaning the floor.
Pros
Extendable handle
Can work on different floor surfaces, including carpets, wood, tiles, vinyl
Sticky enough to get the most persistent pet hair
Refills readily available
Cons
Sheets can be a bit difficult to tear neatly
Best for Car: Lilly Brush Pet Hair Detailer
While not a roller per se, this pet hair remover is perfect for removing hair, dander, and lint from your cat – and it's reusable to boot! It is specifically designed to remove stubborn hair from car mats, headliners, cargo areas, and seats, whether it's a fine fluffy undercoat, wiry hair, or pointy sleek hair that embeds in the fabric. It will tackle them all and do so 10 times more efficiently than any car vacuum cleaner! It's super easy to use and clean, and since it's reusable, it's both eco-friendly and budget-friendly.
Pros
Easy to use and highly efficient
Won't damage the interior of your car
Removes all types of pet hair
Reusable and easy to clean
Cons
You need to vacuum prior to using this tool
Best Reusable: WELLTED Pet Hair Remover
Whether you're on a budget and constantly buying lint roller refills seems like a waste of money or you're eco-conscious and don't want to contribute waste to the landfills, a reusable lint roller is a perfect solution to suit your preferences. Versatile and easy to use, this lint roller can clean pet hair, lint, and dander from a variety of fabric surfaces be it your clothes or your furniture, the carpets, or the car seats. It's double-sided, too, which makes the process smoother and faster, and it self-cleans with an included attachment. Mess-free, stress-free, and good for the planet and your wallet. Perfect!
Pros
Reusable and economical
Works great on a variety of textile surfaces
Self-cleaning attachment
Double-sided for a bigger cleaning surface
Cons
You need to go over the same area multiple times for the best results
Best Extra Sticky: Evercare Pet Hair Extra Sticky Lint Roller
Sometimes, very sticky lint rollers just don't cut it. We need them to be extra to do the job! If you are usually unimpressed by your standard lint rollers and the way they tackle stubborn pet hair, try out this superbly sticky lint roller with proprietary Extreme Stick Plus tape that will catch even the tiniest of hairs from your clothes or furniture. The set includes one lint roller with 100 sheets and you also get 2 refills with 60 sheets each, and when you need more, refills are readily available.
Pros
Extra sticky adhesive tape for pet hair
The set includes two refills
Specially designed ergonomic handle
Can be used on any textile, clothes, or furniture
Cons
The handle can be uncomfortable to hold to some people
Best for Multi-Pet Households: Metkix Lint Rollers for Pet Hair Mega Value Set
The more the merrier – or should I say hairier? Either way, if you have more than one pet in your family, you know how quickly everything becomes covered in pet hair, especially if you're not "rolling" it away on a daily basis. This is why this value set is so great for big pet-friendly families – with a total of 600 sheets included in a single purchase, you won't be running out of lint rollers anytime soon. With 3 lint rollers and 3 refills included, you can cover all the important spots in your home so there's always one nearby when you need to tidy after your pet, and thanks to the protective cover case, the hair will stay on the tape until you are ready to peel off a new layer.
Pros
Sticky lint rollers great for pet hair
Value pack includes 600 adhesive sheets
3 lint rollers and 3 refills in the set
Protective covers for the adhesive rolls
Upgraded ergonomic handle
Cons
Sheets can be a hassle to tear off
Best Ways to Get Rid of Pet Hair
It's not easy dealing with pet hair, especially if your four-legged bestie is a massive shedder. During the blowout season, or in some cases, throughout the year, you'll be facing stubborn pet hair all over the place and you'll need a strategy to make sure this doesn't become an issue.
A consistent grooming routine
Before you do anything, you need to address the source of the issue – your pet. A great way to minimize the amount of hair they shed all over the house is by brushing them regularly, ideally on a daily basis, or 2 to 3 times a week if they are not shedding excessively. Not only this will make your pet's coat shinier and healthier, but it will also dramatically reduce the amount of hair that ends up on your clothes or furniture.
Invest in a pet vacuum cleaner
Without a trusty vacuum by your side, you'd have to get used to tufts of hair flying around or sitting in the corners of the room, and stubborn pet hair embedded in your carpets and in your furniture. There are various vacuum cleaners designed for pet hair, from handheld versions to cordless and corded ones, and even robotic vacuums that do the job for you. Regularly vacuuming with a heavy-duty vacuum cleaner that can tackle pet hair will bring down pet hair around the house to the bare minimum.
Arm yourself with lint rollers
Even with all the necessary steps taken, some hair will always find its way to your clothes, furniture, or floors. But that's OK! There are various types of lint rollers that can help you keep your outfits free of pet hair and your home looking spotless. Whether you want to remove stubborn hair from your carpets or your sofa or make sure that your clothes are always hair-free and tidy, a trust lint roller gets the job done.
We are committed to finding, researching, and recommending the best products. We earn commissions from purchases you make using the retail links in our product reviews. Learn more about how this works.

Angela Vuckovic
A proud mama to seven dogs and ten cats, Angela spends her days writing for her fellow pet parents and pampering her furballs, all of whom are rescues. When she's not gushing over her adorable cats or playing with her dogs, she can be found curled up with a good fantasy book.
More by Angela Vuckovic
Published September 23rd, 2023 12:18 AM