358 Views
Best Vacuum Cleaners for Pet Hair
February 24th, 2022 12:00 AM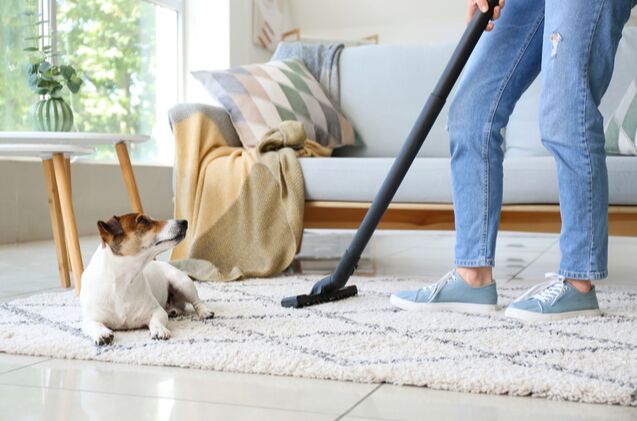 Vacuum cleaners for pet hair are specially designed to tackle cat and dog hair embedded in carpets, gathered in tufts on hardwood floors, or stuck to your furniture. Read on to learn more about which vacuum cleaners for pet hair stand out the most with their impressive performance!
There's no better thing than being a proud owner of a furry pet. Dogs, cats, rabbits, and all other fuzzy friendly beings are the joy of every household. However, it's not all fun and games. Come shedding season, and you might find yourself neck-deep in loose pet hair. It ends up on the floors, the carpets, furniture, and every possible nook and cranny you can think of. But that's no reason to worry when you have the right tools. With one of these super handy vacuum cleaners for pet hair, stressing about shedding becomes a thing of the past. Powerful, multifunctional, and easy to use, they will quickly become a valuable helping hand around the house.
1. Editor's Choice: BISSELL Pet Hair Eraser Turbo
Bissell is one of the leading brands in the world of pet vacuum cleaners, and this flagship model will transform the way you clean your home. Its unique tangle-free brush roll will scoop up even the tiniest hairs and vacuum them directly into the container – nothing gets left behind. Thanks to its turbo motor and powerful suction, this vacuum cleaner has no issues dealing with thick pile carpets, rugs, or any other surface. A hands-free container means that you will be able to dump all the cleaned hair without even touching it, making it a perfect choice for people with allergies to pet hair. A quick-release wand accessory allows you to reach high and tight spaces, while a nifty LED tool ensures that every nook and cranny is thoroughly cleaned. Best of all, purchasing this vacuum supports the Bissell Pet Foundation which works towards saving homeless pets.
Pros
Plenty of additional tools
Powerful suction
Easy to empty
Good height
2. Runner Up: EUREKA NEU182B PowerSpeed Vacuum Cleaner
When dealing with loose pet hair, your best allies are a strong motor and powerful suction. Eureka's PowerSpeed vacuum is a real monster in the game of cleaning – it can suck up even the most stubborn of pet hairs. It has a robust Dynamic motor that makes vacuuming a breeze. It is combined with a unique brush roll that picks up every little hair, and an extra-wide nozzle that allows you to cover bigger areas more efficiently. Although it looks robust at first glance, this vacuum really is lightweight and agile. Two added wheels add to stability, and good height ensures that you can keep your back straight at all times. A quick-release wand tool gives you the ability to quickly change the vacuuming style and reach the corners of the ceiling and other nooks. The vacuum nozzle has 5 unique height settings, allowing you to adapt to any surface in your home, be it a super thick pile rug, or the laminate floors. Also, this vacuum sports an extra-large waste container, which guarantees fewer trips to the trash bin and more casual vacuuming over the week.
Pros
XL dust bin
Good height and stability
Powerful motor
Plenty of additional tools
Weighs just 10 lbs
3. Customer's Choice: Hoover MAXLife Pet Max Complete
With a powerful vacuum such as this one from Hoover, all your pet hair-induced headaches will be a thing of the past. Hoover offers a robust model with a powerful turbo motor and a MAXLife system. This ensures that loose hairs will never stand a chance against this heavy=duty vacuum cleaner for pet hair. One great feature here is the unique nozzle. It has a special belt-operated brush and a wind tunnel design, maximizing the suction and picking up anything that stands in its path. Another new feature is an Allergen Block Technology, ensuring that 97% of all pet dander, allergens, dust, and pollen particles are removed from the air. To boot, this vacuum has a giant XL trash container with a capacity of 2.5 liters (85 fluid ounces), which saves you time and minimizes the trips to the dust bin.
Pros
Fantastic belt-driven brush
Wind tunnel design
Powerful suction
Works great on all surfaces
Cons
Difficult to maneuver in tight places
4. Best Corded: Shark ZU62 Navigator Zero-M Self-Cleaning Brushroll
Sometimes it's best to keep things old-school: corded vacuum cleaners are still not a thing of the past, and they can have a set of very unique advantages. The Zero-M navigator from Shark is proof that corded vacuums are still very much reliable. First of all, since it is corded, its motor is quite powerful. This means that the suction on this vacuum is superb, and any hair that comes in front of it will be gone. Working in combination with this is a unique self-cleaning brush roll. Made from a special material, it has a warped shape that picks up the hair and delivers it straight to the container. No more tangles, and no more mess! To that end, the container is made extra large, having a capacity of 2.8 quarts or 3XL, and is designed for those long and thorough cleaning sessions that won't be interrupted by constant emptying of the container. Another good feature of this vacuum is its extended reach. Thanks to the added quick-release wand and a lengthy hose, you can reach any spot you want and have plenty of flexibility around the home.
Pros
Extended reach allows for better cleaning
Self-cleaning brush roll
Powerful motor
Stylish all-grey design
Cons
Can tip over if you over-extend the hose
5. Best Robot Vacuum Cleaner: Tesvor Robot Vacuum Cleaner
Wouldn't it be great if you didn't have to do a thing, and the pet hairs simply disappeared on their own? With a heavy-duty robot vacuum cleaner, this is now a reality. Tesvor offers a pet-friendly robot vacuum design, with a few advantages that make it ideal for loose pet hair. The first thing to notice is its reliable Adopt Innovative Supclean technology, designed to achieve an incredibly high 4000PA suction. Even for a small robot vacuum, this gadget has fantastic power. It will zoom across your floors and carpets and leave a perfectly clean trail. Connecting it with a special smartphone app, you can map a trail of your choosing around the house for precise and better results. This vacuum works with Alexa for ultimate customization and cleaning scheduling: you can vacuum even when you are not at home. And thanks to its good battery power, this little robot can clean all day long – and then some!
Pros
Powerful 4000PA suction
Mappable cleaning path
Auto-recharge
Voice-controlled
Cons
Can struggle with extra thick pile carpets and obstacles in the home
6. Best Handheld: BLACK+DECKER Dustbuster Handheld Vacuum for Pets
Nothing says thorough power cleaning more than getting up close and personal with the mess in your home! A handheld vacuum like this one from Black+Decker gives you a real edge in the cleaning process, thanks to all that suction power packed into a small and easy-to-use gadget. This cordless design boasts a powerful motor that makes short work of any obstacle. Thanks to the good ergonomic design and a well-placed handle with the addition of a long nozzle, you will have no issues reaching even the most tucked-out nooks. Having one of these handheld vacuums is a great way to always keep your home spotless. Keep your car clean after your pet has a ride, or quickly sweep across furniture and around the home. Of course, this little vacuum is small only in size – but when power is in question, there's no pet hair it can't handle. All in all, this nifty little design from Black+Decker is a must-have around the home and the car.
Pros
Easy to use and handle
Small but powerful
Ergonomic design
Cons
Could be a bit heavy for some people
7. Best Upright: Kenmore Intuition BU4022 Bagged Upright Vacuum
Kenmore relies on the tried-and-tested upright design and enhances it to offer a superb vacuum cleaner for pet hair. The first thing you will notice is the extra-wide and unique vacuum nozzle. It allows you to sweep bigger areas and it also has an ergonomic neck that allows easy movement and sweeping around corners. This vacuum relies on special bags to contain the debris, and with its PowerFlow and No Touch technologies, you can easily and quickly deliver all that hair into the trash without much fuss. This design also boasts a great Lift-Up design, which allows you to transform the vacuum in just a second into an easy-to-use, hand-held vacuum that allows you to reach any area. A superb solution!
Pros
A multifunctional design
No need to touch the dirty bag
Ergonomic nozzle
8. Best Cordless: UMLo Cordless Vacuum Cleaner
Sometimes it's easiest to dispense with the cords and cables. No tangles, no mess, and no limitations! This unique cordless vacuum cleaner from UMLo is an ideal solution here. It has a one-of-a-kind design, and is a handheld multifunctional wonder! Its powerful little motor delivers 25000pA of suction power, which is plenty enough for any stubborn pet hair. Its powerful batteries guarantee up to 60 minutes of use with a single charge, which is quite adequate for general use. One of the great features is a telescopic tube, allowing you to adjust the length of the vacuum cleaner and reach any area you want. Change it from the classic design into a handheld car vacuum in no time. And best of all, its ergonomic handle and lightweight will make it a breeze to use!
Pros
Adjustable length
Powerful suction
Different accessories included
Cons
Battery life could be better
9. Best Self-Charging: Lefant M210 Robot Vacuum Cleaner
Robot vacuum cleaners have their own set of advantages that put them shoulder-to-shoulder with the proper upright vacuums. And one of the biggest advantages is self-charging! That really makes everything a zero-effort action on your part. Just lay back while your robot does it all! Lefant's unique design has adequate, 1800PA strong suction power that will deal with your standard loose pet hair around the home. Thanks to its relatively small diameter and thickness, it can squeeze into the tightest places, cleaning under the sofa, the chairs and tables, and other hard-to-reach places. Its unique brushless suction will deliver loose hair straight into the container, making vacuuming quick and easy. Of course, you can control its actions through a special app, and use its various functions through a remote. This robot has 4 cleaning modes that allow you to adapt to any room in the house!
Pros
Compact and can reach tough spots
Auto-Clean and Self-Charge options
No-tangle suction
Cons
Suction power is adequate but could be better
10. Best Multifunctional: INSE S6P Cordless Vacuum Cleaner
This cordless vacuum cleaner offers you all the adjustability you might want when cleaning your home thanks to its multifunctional design. Firstly, it has a powerful motor, even though it is cordless and handheld – and it only gets better from there. With all sorts of different attachments, fittings, and adjustability options, this vacuum is really an all-in-one vacuum cleaner for pet hair. Rely on a brush roll, a flexible hose, narrow endings, and little brushes to get to those tough-to-reach spots – thanks to the various attachments, there are 10 cleaning combinations to choose from. This unique design is the ultimate weapon of the household, it leaves nothing behind – except a smile on a pet owner's face.
Pros
A variety of efficient accessories
Adjustable length
Powerful suction
Cons
A bit difficult to empty out
Types of Vacuum Cleaners for Pet Hair
Vacuum cleaners are all about variety. Thanks to modern designs and advantages, you can choose from concepts that best suit your needs. And that is ideal for different pet hair, house sizes, and personal preferences! So, before you make your choice, it is great to know which vacuum cleaners for pet hair are there – and what makes each type good and bad.
Cordless
If you want more maneuverability and no limitations in your reach, a cordless vacuum cleaner is your best bet. While they might be a little less powerful because they lack a cord, they are nonetheless efficient in scooping up every bit of loose pet hair and crumbs.
Corded
A classic choice, corded vacuum cleaners for pet hair boast a lot of suction power and usually tend to be more affordable. However, the fact that these vacuum cleaners have to be plugged in can be a big downside for some people – it limits reach and makes them harder to maneuver around the house.
Robot
If you want to do as little work around the house as possible, a robot vacuum can do everything for you! These little house helpers are an ideal solution for a busy day when you just can't manage. Just map their route, start them up, and they'll zoom around the place leaving a trail of spotless cleanliness.
Hand-held
A hand-held vacuum cleaner is a great and simple solution for a bit of everyday vacuuming. Easy to use and portable, they are ideal for the car, the garage, the house, or the kitchen. Wherever there's loose pet hair, you can reach it with this vacuum – no nook or cranny left untouched.
We are committed to finding, researching, and recommending the best products. We earn commissions from purchases you make using the retail links in our product reviews. Learn more about how this works.

Angela Vuckovic
A proud mama to seven dogs and ten cats, Angela spends her days writing for her fellow pet parents and pampering her furballs, all of whom are rescues. When she's not gushing over her adorable cats or playing with her dogs, she can be found curled up with a good fantasy book.
More by Angela Vuckovic
Published February 24th, 2022 12:00 AM