525 Views
Best Calming Chews for Dogs
August 31st, 2022 12:45 PM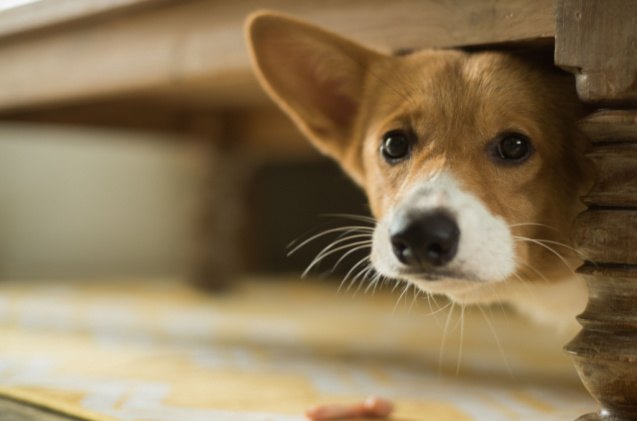 For some dogs, something as simple as a car ride or a visit to the grooming salon can trigger a full-blown panic attack – not to mention genuinely stressful situations for most pets, such as vet visits and loud fireworks or thunder. Keeping your pet calm in such situations can be a challenge, particularly if they are generally timid or frightful, but with the right calming chews at your disposal, you could help put them at ease in stressful moments and even help balance their emotions and behavior on a daily basis.
Of course, not all calming chews are the same – some are more potent than others, some have a faster time of working, and some are designed for daily use while others are meant to be given for situational anxiety only. To help you find the right match for your pet's needs, we've rounded up the best calming chews for dogs on the market right now.
Editor's Choice: Heavenly Hounds Dog Calming Treats Without Hemp
Made with wholesome, yummy ingredients that will keep your doggo calm and cool as a cucumber, these peanut butter flavored squares help with anxiety, restlessness, hyperactivity, and destructive behaviors. Containing no hemp, Heavenly Hounds calming treats instead rely on a blend of vitamins and minerals from nature to induce the state of ease and calmness in dogs – passion flower, valerian root, niacin, and thiamin, to name a few. Produced in the USA, these treats are as clean as they get: they are made with human-grade ingredients, contain no soy, corn, wheat, or preservatives. Only the best for your stressed out doggo!
Pros
Peanut butter flavor irresistible to most dogs
Wholesome and natural ingredients
Helps with stress, anxiety, and hyperactivity
Made without hemp, soy, corn, wheat, or preservatives
USA-made from human grade materials
Cons
Might irritate a sensitive tummy
Runner Up: SHAMELESS PETS Calming Chew Treats for Dogs
Getting a picky eater to swallow a calming chew might be a challenge – but not with these bad boys. Packed with soothing, calming ingredients, these calming chew treats are also bursting with a savory flavor that will entice even the finickiest of dogs. Available in two flavors – salmon and almond or turkey and sweet potato – these calming chews are made from wholesome, natural, and locally-sourced ingredients, infused with superfoods, and support your pet's overall wellbeing while helping them unwind and relax. Thanks to the six active ingredients, such as valerian, chamomile, and Suntheanine, that complement all those nurturing natural ingredients, these chews will keep your pooch cool as a cucumber.
Pros
Healthy natural ingredients
Yummy flavor great for picky dogs
Reduces stress and anxiety
Gluten-free, grain-free, and contain no artificial flavors
Made in the USA with unused, upcycled ingredients
Supports healthy skin and coat
Customer's Choice: VETRISCIENCE Composure Calming Treats for Dogs
This fast-acting formula is optimized to induce calmness in dogs that are anxious or under stress – it's perfect to give in advance of a triggering situation, such as fireworks or a visit to the vet, to ensure your pet is relaxed when they need it the most. The chews work in up to 30 minutes and have a calming effect that can last for up to 4 hours, so they are suited for most (if not all) situations that most dogs find stressful. The ingredients that produce the soothing effect are completely natural and include colostrum, L-theanine, and thiamine. While most opt for these calming chews to relax their pet in stressful situations, they are also perfectly safe to be used on a daily basis for dogs with chronic anxiety.
Pros
3 flavors available – chicken, peanut butter, and bacon
Quick-acting formula works in under 30 minutes
Can be given daily or in advance of stressful situations
Veterinarian-formulated and made in the USA
Cons
Not as good for hyperactivity
Best Calming Chews for Chronic Anxiety: Pet Naturals Calming
Gentle enough to be used on a daily basis yet effective enough to help your dog cope with chronic anxiety, these calming chews are formulated to help your dog manage everyday stress and manage behavioral issues. The formula was created by veterinarians, approved by the National Animal Supplement Council, and manufactured in the USA in an FDA-registered facility and relies on natural ingredients to promote calmness – L-theanine, calming colostrum, and thiamine. When a particularly stressful situation is coming up, such as a visit to the vet's office or a storm, you can double or triple the daily dose for a more potent effect. And as these calming chews are chicken liver flavored, your pet won't mind it the slightest!
Pros
Great for daily stress, behavioral issues, or managing situational anxiety
Chicken liver-flavored so can be given as a treat
Approved by the NASC and made in the USA
Natural ingredients that induce calmness
No corn, wheat, or artificial colors
Cons
Effectiveness can vary depending on the severity of your pet's anxiety
Best Calming Chews for Overly Hyper Dogs: PREMIUM CARE Calming Chews for Dogs
Calming chews are not a good solution only for dogs that are scared or under stress – they can help manage the behavior of hyperactive dogs and help calm them down. Restless dogs, hyper dogs, and dogs that don't stop 24/7 will greatly benefit from this natural relaxing formula that won't make them drowsy or affect their personality but will affect their hyperactivity and make them more at ease. It contains organic passion flower, organic ginger root, chamomile, valerian root, and l-tryptophan to help maintain emotional balance and keep your pet relaxed and calm. Free from artificial preservatives, wheat, corn, and added sugars, these calming chews are also duck-flavored to entice picky eaters.
Pros
Helps balance emotions and reduce hyperactivity
Can curb destructive behaviors
Relaxing and calming effect
Natural but potent ingredients
Made in the USA in a cGMP-compliant facility
Risk-free guarantee
Cons
Can irritate a sensitive tummy
Best Fast-Acting Calming Chews: ThunderWunders Dog Calming Chews
With calming chews, you get the best results when you give them to your pet in advance of a stressful situation so there's enough time for the soothing effect to kick in. But what about situations where you can't accurately predict a stressful situation – e.g. a sudden storm – and won't have time to spare? These fast-acting calming chews start doing their magic in under 30 minutes, so even if you weren't prepared for a potentially triggering scenario, you can rely on these to quickly work and put your pet at ease. The combination of thiamine, l-tryptophan, passionflower, chamomile, and melatonin makes these yummy chews a great aid in times of stress and makes them a perfect choice for situational anxiety.
Pros
Start working in about 30 minutes
Perfect for situational anxiety
Potent calming effect thanks to natural, safe ingredients
100% money back guarantee
Cons
The taste could be better
Best Natural Calming Chews: Native Pet Calming Chews for Dogs
While most calming chews use natural active ingredients which give them their relaxing effect, the same can't be said for the rest of the ingredients. Formulas can vary from those that are fully natural and healthy to those that sneak in various artificial ingredients and fillers to improve the palatability of their chews. If it's important to you to feed only the best to your pet or you have a dog with a sensitive tummy that gets easily irritated, these limited ingredient chews are just the thing. With only 9 ingredients in their formula – five of which are active calming ingredients – these treats are chewy, delicious, healthy, and of course, help calm dogs with stress or anxiety.
Pros
Made with real chicken
Only 9 ingredients, all of which are natural
Air-dried for better flavor and texture
Helps reduce anxiety, improve sleep, and balance behavior
No fillers or artificial ingredients
Cons
The effects are not as long as you'd like for more severe anxiety issues
Best Calming Chews for Large Breed Dogs: TOMLYN Relax and Calm Chews
Sure, calming chews are designed to be used by all dogs – but chances are, if you have a big breed dog, you'll have to give them more treats for the calming effect to kick in, and that can end up being quite pricey if they have chronic anxiety. Luckily, these calming chews are formulated with big dogs in mind and are dosed with one chew per 20 lbs of weight, which is less than most of their competitors recommend. The secret is in the adapted formula that contains optimized levels of l-tryptophan and chamomile, as well as ginger root, to help reduce stress and anxiety in medium and large breed dogs.
Pros
Concentrated formula made with large breeds in mind
Ginger root soothes an upset belly
Helps reduce stress and anxiety
Yummy chicken flavor
Cons
Takes 2 to 3 hours to start working
Best Calming Chews for Senior Dogs: NaturVet Senior Advanced Calming Aid Dog Supplement
Unfortunately, it's very common for older dogs to start experiencing anxiety and stronger reactions to everyday stress as they age, and many seniors require calming chews to maintain the same quality of life. These calming chews for senior dogs are affordable, effective, and made with natural, non-GMO ingredients such as melatonin, L-Tryptophan, chamomile, lemon balm, passion fruit, and thiamine. This unique blend of potent relaxants will start working in about 30 minutes, so these chews can be given in advance of vet visits, grooming sessions, or loud thunderstorms – but are gentle enough to be given daily if need be.
Pros
Formulated specifically for senior dogs
Great for situational or chronic anxiety
A potent natural formula that promotes relaxation and calmness
Affordable price
NASC seal
Cons
Not enticing enough to picky eaters
Best Calming Chews for Dogs with Sensitive Tummies: GoodGood Calming Dog Chews
What's the use of getting your pet calm and relaxed in stressful situations if it's going to result in vomiting, diarrhea, and an upset tummy that rumbles for days? If your pet has a sensitive stomach, these calming chews with added probiotics are heaven-sent – they'll keep your pooch and their belly calm. While the probiotics are there to promote good digestion and preserve gut flora, a blend of various natural relaxants, including ashwagandha, chamomile, and l-theanine, takes care of their stress levels and keeps them cool and calm. Veterinarian-formulated, these calming chews contain no artificial colors or flavors and are made with only natural ingredients.
Pros
Gentle on the stomach
Probiotics promote better digestion and keep the belly calm
Natural ingredients that promote relaxation and calmness
No artificial ingredients
NASC certified
Cons
Not all dogs like the taste
Honorable Mention: Open Farm Dog Calming Chews
Made from natural, fully traceable, and vet-approved functional ingredients, these calming chews for dogs promote calmness and relaxation and help anxious dogs cope with stressful situations. These contain hemp seed oil, chamomile, passionflower, valerian root, L-Theanine, and L-Tryptophan, all working synergistically to encourage balanced behavior and reduce anxiety, both situational and chronic. With no animal products whatsoever in the ingredient list, no artificial ingredients, wheat, corn, or soy, these calming chews are ideal for dogs with allergies.
Pros
Natural, quality ingredients that are fully traceable
A potent blend of natural calming substances
Clean formula suited to sensitive dogs
Works great for separation or situational anxiety
Soft and tasty
Cons
More suited for milder forms of anxiety
Are Calming Chews for Dogs Safe?
Yes, it's safe to give your pet calming chews but you should make sure to stick to the recommended dosage. Most dog calming chews are formulated with natural ingredients that are perfectly safe for canines but happen to have a potent calming effect – such as L-tryptophan, thiamine, chamomile, melatonin, valerian root, and various others.
However, it still pays to check the ingredient list for the safety of inactive ingredients – avoid calming chews with artificial ingredients or unhealthy fillers, especially if you need to give your pet calming chews on a daily basis.
Do Calming Chews for Dogs Work?
Calming chews are not a universal solution for every type of stress and anxiety – their effectiveness varies from dog to dog. Generally speaking, calming chews are usually made from natural ingredients that are meant to help dogs with milder anxiety and behavioral issues, such as restlessness and hyperactivity. They are not as effective for dogs with severe anxiety (which usually require prescription medication), but they can help put your pet at ease when they are stressed about loud noise, vet visits, or change of environment.
It's also worth noting that some calming chews for dogs need time to work – they are not an instant relaxant. Most should be given a couple of hours prior to stressful events to give them time to kick in, but there are also fast-acting formulas that take effect in under 30 minutes.
We are committed to finding, researching, and recommending the best products. We earn commissions from purchases you make using the retail links in our product reviews. Learn more about how this works.

Angela Vuckovic
A proud mama to seven dogs and ten cats, Angela spends her days writing for her fellow pet parents and pampering her furballs, all of whom are rescues. When she's not gushing over her adorable cats or playing with her dogs, she can be found curled up with a good fantasy book.
More by Angela Vuckovic
Published July 28th, 2022 1:53 PM