5.4K Views
Which Dog Breeds Make Us Happiest, According to Social Media?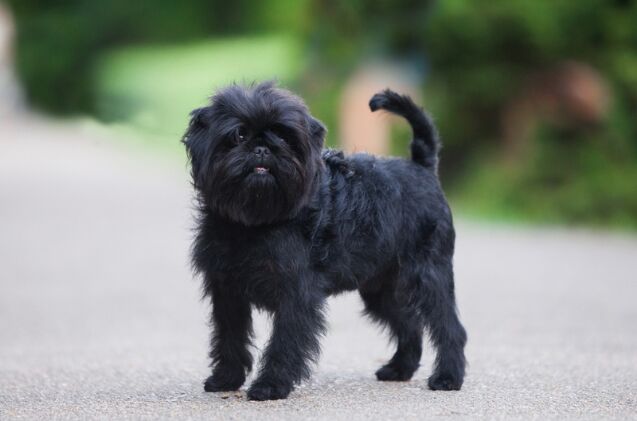 As dog parents, we love sharing pictures and stories of our pups. After all, we all have the cutest, most adorable dog. Right? Sometimes these stories are funny, share special heartfelt moments, and sometimes these posts are sad stories that tug at our hearts. Curious about this range of emotions, Protect My Paws recently analyzed the content in nearly a quarter of a million dog-themed tweets. From here, they identified the 10 dog breeds that make us the happiest – and the results were surprising!
To analyze and understand the emotions connected to each tweet in the study, they used the NRC Lexicon. This tool looks at the entire sentence, scanning it for recognizable emotional words and phrases. This included happy, sad, fearful, and trustful phrases.
The result was a breakdown of which dog breeds associated with each emotion, and the results were surprising. While you may have expected to see German Shepherd Dogs among the most trustworthy or Golden Retrievers topping the dogs that make us feel the happiest, you may be shocked. The breeds that made this list stray from the usual stereotypes.
So, what dogs make us the happiest?
The study found that the little black furball known as the Affenpinscher was happily talked about the most on social media! This breed may only weigh between 7 and 13 lbs. fully grown, but they are full of personality. They are described as being feisty, inquisitive, stubborn, and humorous. Of the 200k tweets analyzed, 240 "joyful" words were identified per 1000 related to the Affenpinscher.
Other dog breeds on this happiest list included:
Staffordshire Bull Terrier (207)
Vizsla (194)
West Highland White Terrier (192)
Portuguese Water Dog (185)
Bullmastiff (183)
Chesapeake Bay Retriever (184)
Samoyed (176)
American Staffordshire Terrier (175)
English Cocker Spaniel (174)
But the study went beyond just the happiest dog breeds – they also looked at various other emotions, including the breeds that inspire the most fearful posts, trustful posts, and sad posts.
The "saddest dog breeds" doesn't necessarily mean your dog is sad themselves or that they bring only sadness to your life. Instead, this means that owners of this breed tend to share tweets that use sad language. This could be related to letting a beloved pet go, the struggle of leaving their pet at home while returning to work, or other conversations that trigger sad words or phrases.
The saddest breeds, based on the number of "sad" words per 1000 tweets, include the following:
Welsh Springer Spaniel (117)
Italian Greyhound (112)
Border Terrier (111)
Boxer (105)
English Springer Spaniel (103)
Flat-Coated Retriever (86)
Boston Terrier (85)
Japanese Chin (85)
Afghan Hound (83)
Outside of fear and sadness, another emotion that the study focused on was dog breeds that triggered fearful posts. This was dominated by the Akita (149), Japanese Chin 121), and Boxer (126). Meanwhile, the Saint Bernard came in as the most "trustful" breed with 208 per 1000 tweets, followed by the Komondor (206) and American Staffordshire Terrier (201).
When the study broke down the happiest dogs based on size, we saw some new breeds emerging. The top three breeds for the happiest small dog breed included the Affenpinscher (240), West Highland White Terrier (192), and Schipperke (171). The medium dog breeds were dominated by the Staffordshire Bull Terrier (207), Vizsla (194), and Portuguese Water Dog (185). Finally, the large breeds that ranked the highest for "joyful" posts included the Chesapeake Bay Retriever (184), Bullmastiff (183), and Weimaraner (161).
Consider this the next time you're tweeting about your dog – what emotion are you conveying?

Britt
Britt Kascjak is a proud pet mom, sharing her heart (and her home) with her "pack" which includes her husband John, their 3 dogs – Daviana, Indiana, and Lucifer – and their 2 cats – Pippen and Jinx. She has been active in the animal rescue community for over 15 years, volunteering, fostering and advocating for organizations across Canada and the US. In her free time, she enjoys traveling around the country camping, hiking, and canoeing with her pets.
More by Britt
Published July 22nd, 2023 11:51 PM