3K Views
September 25th, 2021 12:00 AM
We're committed to finding, researching, and recommending the best products. We earn commissions from purchases you make using links in our articles. Learn more here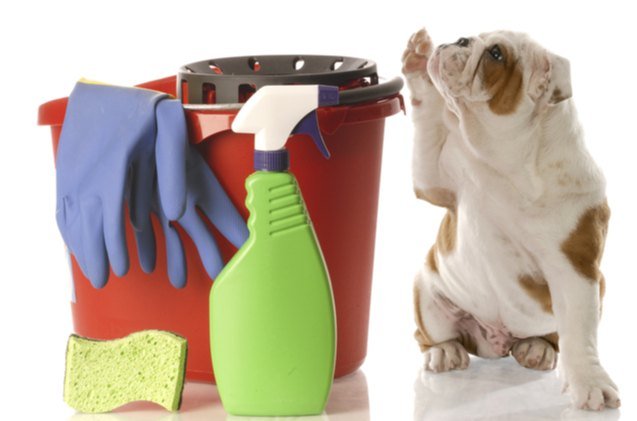 An enzyme cleaner is an essential tool in any pet parent's cleaning arsenal- these powerful cleaners can remove even the toughest stains and remove any lingering odor for good. Here's our list of the best enzyme cleaners out there.
Pets make our lives better in so many ways but there's one thing that no pet parent can deny- they make a big mess. Whether it's pet hair all over the place, chewed up or scratched furniture, or potty accidents, you can count on having more work to maintain a certain level of cleanliness in your home. Enzyme cleaners are heaven-sent for owners of cats and dogs as they can cut down on the work and help you salvage things that you've thought your pet has ruined for good such as stained furniture or pee-soaked hardwood floors. These pet-safe, kid-safe cleaning solutions boast a mild formula that's gentle on the environment and living beings but relentless when it comes to tough stains and foul stenches.
While all enzyme cleaners rely on the same process to effectively eradicate stains and odors, not all formulas are the same and some might work better than the others for your unique situation. Whether you need an enzyme cleaner to clean the cat pee smell from your lawn or vomit stains from your living room carpet, you'll find a perfect match in our list of the 10 best enzyme cleaner products.
1. Editor's choice: Rocco & Roxie Professional Strength Stain & Odor Eliminator
For most, potty accidents occur when and where they are least expected. This is why versatility is a huge advantage for an enzyme cleaner and Rocco & Roxie Professional Strength Stain & Odor Eliminator takes the cake when it comes to its range of use. This heavy-duty enzyme cleaner can be used on carpets, floors, tiles, concrete, artificial grass, furniture, clothing, litter boxes, kennels, carriers, and the list goes on. Despite being very efficient in breaking down stains and neutralizing odors thanks to its natural bio-enzymatic formula, Rocco & Roxie Professional Strength Stain & Odor Eliminator is completely safe to be used around pets and children. To boot, its formula is chlorine-free, color-safe, free of hazardous substances, and leaves no residue behind. The enzyme cleaner comes in a nifty spray bottle that makes it easy to do targeted stain cleaning wherever you need it to-and effortlessly at that.
2. Runner up: ANGRY ORANGE Enzyme Stain Cleaner & Pet Odor Eliminator
Even the toughest and smelliest stains can be broken down and fully eliminated thanks to the power of enzymes. ANGRY ORANGE Enzyme Stain Cleaner & Pet Odor Eliminator will eradicate old pee stains, neutralize unpleasant odors, and leave your home smelling fresh after. The enzymes in the formula start working on contact and continue degrading the stain for up to the next 80 hours, so you don't have to worry if it's a tough, old, dried-out stain- it will get it out otherwise. Easy to apply and with a lovely non-citrus scent to boot, this spray enzyme cleaner can be used on a range of surfaces starting from all types of floors, upholstery, mattresses, bedding, pillows, car interiors, and outdoors as well.
3. Customer's choice: BUBBAS Super Strength Commercial Enzyme Cleaner
You don't have to break your back to have a clean and tidy home. BUBBAS Super Strength Commercial Enzyme Cleaner is a powerful cleaning solution that utilizes enzymes to break up complex organic proteins and effectively dissolve and neutralize pet stains, odors, grease, hair, and all other nasties. This heavy-duty cleaner is ideal for use on multiple surfaces such as carpets, floors, and drains. The mint-scented, non-corrosive, non-flammable, non-acidic, and non-caustic is quite potent and a gallon bottle goes a long way- perfect for multi-pet households.
4. Best for cat urine: Nature's Miracle Cat Urine Destroyer
Cat pee is notoriously difficult to get rid of, especially when it's males marking their territory. Regular cleaners, no matter how potent, cannot neutralize feline urine smell, but enzymatic cleaners have the ability to target and fully remove both the foul odor of cat pee and the yellow sticky residue left behind it. Nature's Miracle Cat Urine Destroyer goes a step further and features a formula that is specially engineered for cat urine specifically: the bacteria-based formula produces enzymes that feed on any bio-based mess such as pet urine, vomit, or feces, and will continue working until there's nothing left to break down. As a result, not only you'll get rid of the smells and the stains from cat pee, but this enzyme cleaner will leave everything fresh-scented, as well. Nature's Miracle Cat Urine Destroyer is safe to use on all floors, including linoleum, tiles, and hardwood, as well as on carpets and textiles that are not leather, silk, suede, and wool specialty fabrics.
5. Best for artificial grass: BioTurf BioS+ Artificial Turf Pet Odor Eliminator Concentrate
Artificial or real- pets can't tell the difference and will gladly pee on either. However, artificial grass is even more prone to retaining odors than the real thing. BioTurf BioS+ Artificial Turf Pet Odor Eliminator Concentrate is formulated to tackle that issue particularly, as the enzymes in the formula break down the smell-causing proteins in the artificial grass and neutralize them instead of simply masking the odor and making it worse as other cleaners would do. In addition to removing the very cause of the foul stench, this enzymatic cleaner leaves behind a fresh scent that isn't too perfumey, either. To boot, this cleaning concentrate comes with a nifty BioSiphon Sprayer that allows you to attach a hose to it and make cleanup after your pets easier than ever.
6. Best for carpet: Biokleen Bac-Out Natural Stain Remover
Nothing smells worse than pee in the house- and nothing seems more difficult to get rid of than urine odor deeply embedded in the fibers of the carpeting. This is why enzyme cleaners for carpets are such a great idea: the enzymes attach themselves to proteins in the urine no matter how old the stain is or how intertwined with the fibers and dissolves them, effectively eliminating the odor once and for all. Biokleen Bac-Out Natural Stain Remover contains live enzyme cultures that break down stains and odors into tiny particles and the beneficial bacteria that eats and digests the stain and odor particles into carbon dioxide. Pretty nifty and pretty easy to use, too- just saturate the stained area, let it sit for 5 minutes or more, and blot out the moisture from the carpet with a paper towel or a rag. Voila! Your carpet will once again look and smell brand new.
7. Best for clothes: TriNova Natural Pet Stain and Odor Remover Eliminator
There's nothing more frustrating than ending up with pet pee on your favorite shirt or dress. Not only that the stain can be difficult to get out of if it's dried, but the smell can be atrocious. However, don't toss out your whole outfit just yet- TriNova Natural Pet Stain and Odor Remover Eliminator is safe to use on textiles and quite effective at eradicating both the unpleasant smell and the stain. Made from natural ingredients, it is gentle enough to use on any surface but the potent bio-enzymatic formula ensures it can tackle the most persistent stains and foulest odors. The spray bottle packaging is particularly convenient for cleaning pee from clothes as you can target spray the stain directly and just wait for the enzymes to do their job before tossing the clothes in the washing machine.
8. Best for hardwood floors: Naturally It's Clean Natural Floor Cleaner
Hardwood floors are pricey to replace, there's dog or kitty pee all over them and the smell persists, it can be tempting to think about ripping them out and redoing your flooring altogether. Yup, it can be that bad- just ask someone that moved in a home after a cat hoarder has lived there. Luckily, there's no need for such drastic measures if your pet has had a potty accident on the floor as enzymatic cleaners for hardwood floors can successfully dissipate the smells for good and remove any trace of staining while at it. Naturally It's Clean Natural Floor Cleaner is specially designed for cleaning flooring, be it hardwood floors, laminate, tiles, linoleum, or anything else in between. Just mix 1oz of this concentrate with a gallon of water and wipe all your troubles away in a few mop sweeps!
9. Best for outdoors: Eco Strong Outdoor Odor Eliminator
While it might seem that pee or poop wouldn't leave residual smell or staining outside where there's plenty of fresh air and sun, unfortunately, that's not really true. Whether neighborhood cats are marking their territory or your pooch prefers to do his business in one spot of the backyard, there's bound to be unpleasant smells you'll get a whiff off every time you're outside. Eco Strong Outdoor Odor Eliminator boasts a chemical-free formula made to tackle precisely these pesky situations: the bio-enzymes will erase organic waste odors at the source without leaving a residue. What's more, this enzyme cleaner for outdoors comes with a spray nozzle with 3 different spray types which can be attached to any garden hose to make the cleaning process easy peasy- even if you have a lot of surface to cover.
10. Best natural: Earth Rated Pet Stain and Odor Remover
The best thing about enzyme cleaners is that they don't rely on harsh chemicals to get the job done. With a higher concentration of enzymes than most natural cleaners, Earth Rated Pet Stain and Odor Remover can be used on multiple surfaces from carpets and grout all the way to upholstery and laundry. Even though it is made fully from natural ingredients, this enzymatic cleaner is potent enough to remove set stains and foul odor with ease as long as the source of the issue is organic (e.g. pee, poop, vomit, etc). After dissolving all that nastiness with the power of nature, this enzyme cleaner will leave behind a fresh lavender scent – and who wouldn't love that?
When and How to Use an Enzyme Cleaner
Enzyme cleaners, as the name suggests, rely on enzymes to remove stains and odors. The way that enzyme cleaners work is that the formula contains good bacteria and enzymes which work together to eliminate stains and odors of organic origin- so for example, urine and feces stains, vomit stains, food stains, etc. This is the key feature of enzyme cleaners: they will only work on protein-based grime and fat or starch molecules. The enzymes break down the material in the stain into smaller compounds which then the bacteria feed on, transforming it into carbon dioxide and water. Unlike traditional cleaners, enzyme cleaners do not mask the odor or fade stains, but rather completely remove both as they were never there.
Easy to use, enzyme cleaners come in the form of a liquid solution, either ready to apply or as a concentrate that needs to be diluted with water. The goal is to saturate the affected spot, whether it's your sofa, clothes, lawn, or carpets that need saving, and leave it for a few minutes or even hours if the problem is extensive while enzymes break down the stain and neutralize odors. Enzyme cleaners don't leave residue behind, so all you have to do when the stain and smell are gone is tap away leftover moisture if needed by using a dry cloth or a paper towel.
We are committed to finding, researching, and recommending the best products. We earn commissions from purchases you make using the retail links in our product reviews. Learn more about how this works.

Angela Vuckovic
A proud mama to seven dogs and ten cats, Angela spends her days writing for her fellow pet parents and pampering her furballs, all of whom are rescues. When she's not gushing over her adorable cats or playing with her dogs, she can be found curled up with a good fantasy book.
More by Angela Vuckovic
Published September 25th, 2021 12:00 AM