6 Views
10 Summer Fun Stuff Roundup for Dogs
September 9th, 2021 12:00 AM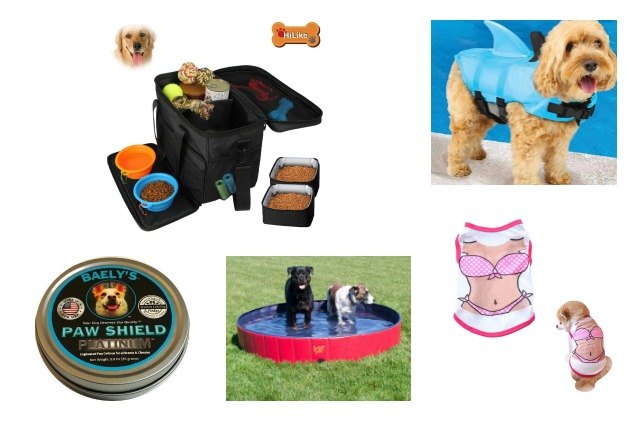 It's summertime and we can't wait to get out there with our pets to enjoy the weather. We've collected 10 fun-in-the-sun products that pets and their parents will love!
Winter is (finally) done and it's time for some fun in the sun this summer. Or not, if the sun and humidity make you melt. Either way, we've got you covered with 10 summer fun products that are bound to be a pet lover's next best friend!
1. Editor's Pick: Musher's Secret Dog Paw Wax
No matter the species, if your pet has paws, they'll appreciate this paw wax so much! It protects those tender pawpads from the blazing heat of driveways, decks and sidewalks (among other things) that pets parade on in summer months. As a bonus, when winter comes, it protects them from the chemicals in snow treatment, rocksalt and extreme cold. But we won't talk about that right now… just know this paw shield should be on the top of any pet parent's list.
2. Runner Up: ChuckIt Water Bundle
Your water-loving pup loves nothing better than swimming and fetching his favorite water toys and we love this ChuckIt Bundle that has a water skimmer and bumper for endless summer fun. They're brightly colored for engagement and are fabulous floaters.
3. Best Pool: FrontPet Foldable Dog Pool
Look, it's hot out there, and when you're carrying around a coat (or two) of fur? You NEED a place to cool those dawgs off. This extra large dog pool is perfect! It's foldable so you can take it with you on any summer adventure, and it's large enough for your pooches to cool off–heck, you can join them.
4. Best Cooling Pad: Pressure Activated Cooling Gel Pad
You know how your pet loves to hang out by the vents during the summer? They're trying to cool off and they know the air vents are the place to be. So, give them their own cool space with this gel pad that is activated by them laying on it. The gel is non-toxic and can be used for both cats and dogs. It retails for $39.95 and comes in three sizes- medium, large, and extra large.
5. Best Towel: Iceland Outdoors Dog Towel
After a long day at the beach, you'll want your pooch dry before they get into the car- not only that no one wants to deal with wet dog smell, but you'll also want to make sure your pooch doesn't catch a cold sitting around soaking wet. This microfiber dog towel is a perfect accessory for the beach as it is lightweight and easy to pack, but super absorbent and fast-drying: it will soak up the water from your pet's coat and once you wring it out, it will be good as new in no time. There are two microfiber towels included in the set, one small and one large, so you'll be set no matter how big or tiny your doggo is.
6. Best Bandana: ALL FOR PAWS Chill Out Dog Ice Bandana
While summer is undoubtedly fun, extreme temperatures can quickly ruin your plans for a pet-friendly adventure in the sun. Luckily, there are ways to keep your dog cool as a cucumber while it's hot out, such as this innovative cooling dog bandana. Made of cold-sensing technology fabric that resists heat and lowers the temperature, it can be made even more effective if placed in a fridge or freezer while wet- the cooling will be instant and long-lasting. If your pet pants in the heat or temperatures get quite high where you live, this cooling bandana is a must have! It comes in small, medium, and large size so any dog can easily find a perfect match for their body type.
7. Best for Travel: HiLikePet Travel Caddy For Dogs and Cats
Planning on hitting the trails this summer? Camping out under the big blanket of stars? This HilikePet Travel Caddy is awesome! It lets you take just about everything you need to keep your pet in the lap of luxury while camping and is lightweight for you to caddy.
8. Best Lifejacket: Outward Hound Dog Life Jacket
Not all dog breeds can swim- and even those that do can use a helping hand from time to time. If you don't want to worry and want to make sure that your pet is always safe when you're at the beach no matter what, then you'll need a pet life vest. This flotation device for dogs features a front neck float that helps keep your dog's head above water, so whether they are a novice swimmer or get tired while paddling around, the vest will keep them afloat. It is designed in bright colors with reflective trims and has a nifty top handle you can use to quickly get a firm grip on your pet, e.g on a boat or in case of emergencies. Sizes are based on girth and you can pick between small, medium, large, and extra large to accommodate for your pet's size and body type.
9. Best Goggles: URBEST Dog Goggles
What's a day at the beach without some cool sunglasses? In addition to being a fashionable accessory, dog goggles keep harmful UV rays, sand, and salty water away from your pet's eyes. Protective and stylish both! These goggles are made from high-quality PVC and have two elastic straps- one that goes around the head and one that straps under the chin to make sure your pet can't paw off the sunglasses but that they still stay comfy while wearing them. The size is suited for medium size dogs and there are 6 modern color options to choose from. Windproof, dust-proof, and durable, these goggles will be quite handy even when you're not on a sandy beach- they offer year-round protection for the eyes in all types of conditions.
10. Best Sunscreen: Epi-Pet Sunscreen For Pets
Yes, your pets do need sunscreen. Particularly if you have a lighter colored dog, and if you have your furry friend out with you for all the fun the sun has to offer. Epi-Pet is FDA compliant as a sunscreen and skin/coat conditioner and the convenient spray bottle makes it way easier than screening your squirmy human kids!
How do you take care of a dog in the summer?
Summer heat can be unbearable for us humans, let alone our pets, so it's important not to neglect your pet's needs when the temperatures skyrocket. The first and most basic task of every pet owner is to prevent dehydration and heat stroke, which means your pet should always be in the shade and fresh, cool water needs to be readily available at all times. Never walk your pet when the sun is at its strongest and rather opt for early mornings or late in the evenings, and be sure to apply paw wax or use dog booties to ensure your pet's paws won't get burned on the hot asphalt. Naturally, it is also important to never ever leave your dog inside a car when it's hot outside- the temperatures inside a locked car quickly reach a critical point and this could lead to your pet's death very quickly.
Do dogs feel hot in summer?
Dogs don't get sweaty but that doesn't mean the heat doesn't affect them, they just show it differently. What is sweating to humans is panting to dogs- they also release heat through their nose and paw pads as well. Not all dogs bear the heat in the same way, so be sure to always be on the lookout for signs of heat stroke in dogs. You will need to react quickly to help your pet so it's important to spot the signs early on.
How hot is too hot outside for dogs?
A normal body temperature for a dog is between 100 and 103 degrees Fahrenheit, and if it gets a few degrees above that, it can quickly lead to organ failure and even death. But when it comes to determine which outside temperature is safe for dogs, things get tricky: generally speaking, anything above 100 degrees Fahrenheit can cause issues, or temperatures between 80 and 90 degrees in areas with high humidity, as it makes it more difficult for dogs to cool off naturally.
Which dog is good for hot weather?
Just like some breeds were developed to acclimate to pulling sleighs in snow and harsh winter, there are dog breeds that naturally bear high temperatures a bit better. Breeds that originated in hot climates such as Chihuahua, Australian Cattle Dog, Afghan Hound or Xoloitzcuintli won't be bothered by dog days of summer as others would be, nor will dogs with short coats and a lot of stamina such as Labrador Retriever, Great Dane, or German Shorthaired Pointer. However, this doesn't mean that they are somehow immune to the effects of hot weather- all the safety measures should be taken even with dogs of these breeds.

Published September 9th, 2021 12:00 AM