130 Views
Best Leashes For Your Pomsky
February 1st, 2022 12:00 AM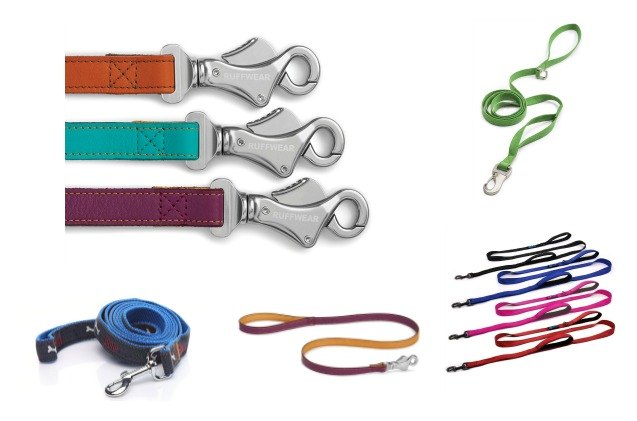 A Pomsky is adorable! But this designer mix of Husky and Pomeranian has the best of both its parents, which means you'll need to make sure you have a reliable leash on hand. Here are our Best leashes for your Pomsky.
What dog doesn't love to walk? Few we know, and Pomskies are no exception. A designer cross of a Pomeranian daddy and a Husky Mama, these babies are a relatively new breed that shows the best qualities of both its ancestral lines. This means walks (and lots of them!) are probably in your future, so be sure you've got a great leash!
1. Editor's Pick: Mighty Paw Training Leash
Pomskies are perfectly playful, but they have a bit of the stubborn diva in them–one of the many reasons people love this new breed. But you'll want to be sure you have a good listener because huskies are known to wander, and this training leash from Mighty Paw will have them there in no time! Made in the USA by a family-owned business in Rochester, this will keep your Pomsky safe and happy for visiting as well.
2. Runner Up: PetSafe Nylon Dog Leash
Sometimes, simple is better. If you don't need any bells and whistles and just want a lightweight yet durable dog leash for your Pomsky, this trusty nylon flat leash will be perfect. PetSafe Nylon Dog Leash is made from heavy-duty, fade-resistant, tough nylon that will stand up the wear and tear of regular use. The 360 swivel clasp is made from nickel-plated zinc alloy to ensure durability and it's easy to use, as well, as it attaches to a harness or a collar in seconds- and stays firmly in place. Pomskies can vary in size, but that won't be a problem if you opt for this versatile leash: it comes in 6 vibrant colors and 5 different lengths and widths. Every pooch can find a match with ease!
3. Best Bungee: TinyPaw Premium Absorbing Bungee Dog Leash
Tiny Paw's Bungee Leash uses a premium nylon and top of the line elastic banding that creates a bungee that gives your dogs more space to explore and be free while the bungees adsorbs and softens the pull that protects your dog from any choking or abrupt pulling. The premium nylon belt is threaded with highly reflective threads so you can be comfortable walking at night knowing that both you and your dog have real visibility. You may instinctively know that your Pomsky is more of a Husky than a Pom by the fact that they are more of a wanderer than a lounger. So this is a great choice for the Husky side of your Pomsky. The handle is made from a comfortable foam that won't hurt your hand if you dog sudden lurches and pulls. The handle design will reduce the pressure on your hand and protect your wrist. Don't forget that both of you need to be comfortable in order to have a truly productive walk.
4. Best Double-Handed: Max and Neo Double-handed Leash
We love this leash for those who have Pomskies in the city (they make great apartment dogs if you can get them the exercise they love on walks!), and we love it more because every purchase means a donation of a leash to a dog in need! This double handed-leash is great for traffic areas or obedience training so you can let your dog have some freedom or keep near as you need. It's easy-to-care-for nylon, and is guaranteed for life if you have a chewer!
5. Best Accessories: Lifehack Pet Products Retractable Leash with Flashlight
If you do a lot of walking your dog at night, you want to be sure to bring a flashlight with you. But who has that many hands?! That is why we love the Lifehack Pet Products Retractable Leash with Flashlight. This retractable leash really provides you with everything you need including poop bag holders; it's like the Swiss Army knife of retractable leashes. The leash is 4.5 meters long and perfect for small or medium dogs up to 30 pounds so it is ideal for your Pomsky. It has a comfortable rubber handle so you can always stay in control and a one-touch lock and release button for reliable breaking.
6. Best Basic: Pawtitas Pet Leash
Comfortable in hand and sturdy, this reflective dog leash will keep your pooch visible in the evenings and crack of dawn. Pawtitas Pet Leash is constructed of a single piece of rip-stop nylon, folded over and reinforced with stitching for your peace of mind- there won't be any rips and tears with this heavy duty leash. In addition to the nylon material, there's also reflective trimming for better visibility and neoprene padding on the handle to make sure you are comfy as well- no chafing or slipperiness in the summer. Another great thing about this basic pet leash is that it comes in 12 colors and 2 sizes, so it won't be an issue finding the perfect option for your daily walks!
7. Best Slip Lead: Pet's Company Slip Lead Dog Leash
Slip lead leashes are great for training Pomskies, but can be used in the long run, as well. With Pet's Company Slip Lead Dog Leash you won't need a collar or a harness for your pet as it replaces them- the adjustable end of the loop seamlessly adjusts to any neck circumference as it features an adjustable sliding stopper. Made with durable rope with reflective stitching for better visibility and leather trims to make it more stylish without compromising on quality, this simple-to-use slip leash will serve you a long time. What's better, you get to choose from 5 trendy colors and there are also two sizes, small to medium and medium to large dogs.
8. Best Colors: Muttropolis Cali Solid Color Soft Leather Dog Leash
Is your Pomsky a bit of a Diva, channelling the Pomeranian side of their personality? If so, you may want to choose a leash that allows your dog to show off their unique style and flair. The Muttropolis Cali Solid Color Soft Leather Dog Leash is a great option! Made from soft, two-ply Italian leather, these 4 ft. leashes are designed to stand up to regular wear and tear while the wide variety of fun colors add a fun twist to the traditional leather leash.
This leash is available in berry pink, grass green, lilac purple, sky blue and sunshine yellow. Each of these bright and uplifting colors is sure to bring smiles and compliments at the dog park while the metallic gold zinc alloy clip clips securely to your dog's harness or collar. An additional O-ring at the leash handle provides an easy place for you to attach your dog's treat holder or cleanup bag holder.
9. Best for Active Dogs: Ruffwear Water Resistant Leather Leash
Not gonna lie. This soft and water-resistant leather leash from Ruffwear may be more for you than your Pomsky! It's simply designed but feels like a custom-made pair of leather gloves in your hands. It's only four feet long, so the perfect length for walking through cities/shopping areas with your best bud.
10. Best Leather: Highland Farms Select Premier
Some things are just timeless- it's hard to resist the elegance and the practicality of a classic leather dog leash. If you want your Pomsky to strut their stuff at the end of a stylish and functional leash, you can't go wrong with the Highland Farms Select Premier's design. This practical leash is 6ft long and half an inch wide, with a braided detail on the end of the leash. It is made from genuine full grain leather in brown color so even though it is fairly lightweight, it is exceptionally strong and durable- in fact, it can withstand 500Lb of pull force. The attractive hardware (360 swivel clasp) is made from copper alloy casting so it won't rust and won't weigh down the leash, either.
How to leash train a puppy?
Puppies can be a handful, particularly Pomskies which can be stubborn and wilful, but leash training them can be much less difficult when you know which methods to rely on. The best way to approach leash training a puppy is to use positive reinforcement technique which involves rewarding and praising a dog for a job well done to let them know what type of behavior is desirable. When leash training a puppy, first introduce them to the leash and harness or collars they will be wearing- let them sniff them (but not chew or play with them), and let them wear them a bit around the house before going out. Next, you'll want to arm yourself with treats and dole them out when they go out and for every little milestone- such as slowing down when told, letting you put the leash on, etc.
Additional resources:

Published February 1st, 2022 12:00 AM