1.6K Views
Best Chicken Jerky for Dogs
February 25th, 2022 12:00 AM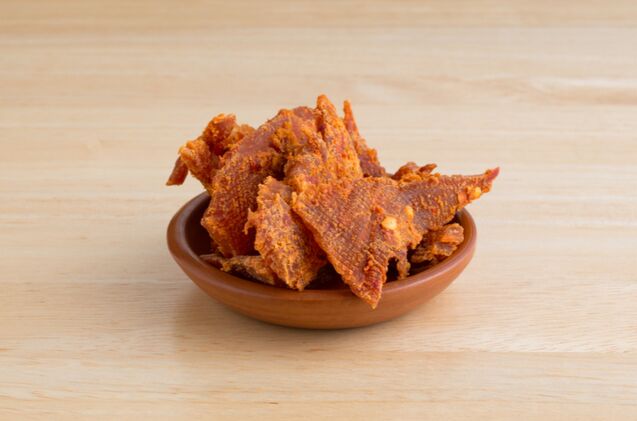 Chicken jerky for dogs is a healthy, protein-rich treat you can use to reward your pet without any guilt about calories or artificial ingredients. Take a look at our selection of the best chicken jerky for dogs on the market.
Treats are an important part of any doggo's diet: they can serve as nutritious snacks, and also as a way to reward the dog during the training process. However, you need to be careful about your choice of dog treats – they need to be healthy and low in calories, so your pet won't get too chubby. That's why chicken jerky for dogs is one of the best choices. Nothing more than oven-dried lean chicken breast, it is one of the healthiest options out there. Full of proteins and fiber, and also low in fat and calories, chicken jerky for dogs is a healthy and nutritious way to reward your pooch. Here are some of the best chicken jerky for dogs on the market – pick one or a few, as you can't go wrong with none of them!
1. Editor's Choice: Wag Chewy Whole Muscle American Jerky Dog Treats
Sometimes, less is definitely more and ingredient lists for pet food should definitely follow this rule. These dog treats are actually just the simplest, most delicious whole muscle chicken breast jerky treats that your dog is bound to find irresistible. Wag proudly utilizes just 2 ingredients– of which the foremost is healthy, nutritious chicken breast. These jerky treats are thus full of proteins and very low on fat and calories. Chewy, healthy, and tasty, they are the best treat you can offer to your pet. Oven-baked and crispy, these treats contain no grain, no soy, no corn, or any other artificial ingredients such as faux flavors or colorings. Additionally, these treats are proudly sourced and made exclusively in the USA. Local-made and healthy, what more can you want?
Pros
Just 2 ingredients
Plenty of crude protein
USA-raised chicken
Cons
Can be too hard and chewy for small dogs
2. Runner Up: Pur Luv Real Chicken Jerky Dog Treats
There is nothing better than good ol' chicken when you're a pooch looking for a treat. Nutritious and full of protein, it is crucial for muscle growth, a healthy immune system, and overall wellbeing. The Pur Luv chicken jerky treats use chicken breast as the number one ingredient, and that is a fact that makes a whole world of difference. They are chewy just the right amount and contain no artificial flavors, colors, or any other harmful ingredients. Pur Luv designed these as treats for intermittent use only. This means that they cannot substitute a regular diet, and are thus ideal for treats and rewards. If you are in the process of training your doggo, these tasty chicken jerky bits will serve as the ideal positive reinforcement tool. Use these mouth-watering natural treats to promote good behavior!
Pros
High in proteins
Good sized strips
Affordable
3. Customer's Choice: Solimo Jerky Dog Treats
Without any soy, grains, gluten, or corn, these treats are nothing more than tasty, low-cal animal protein. Ideal for maintaining your dog's prime form! Keep in mind that these are whole muscle treats which mean that they are a lot chewier than your regular jerky treats, and might be a good choice for the more aggressive chewer. The chewiness also helps promote better oral health, as it will mechanically remove tartar and plaque. Another great fact here is the choice between several unique formulas: choose from regular chicken, chicken and sweet potato, or duck! These combinations allow you to combine a bit of carbohydrate with protein – promoting a nutritious and healthy diet.
Pros
Premium pet snack
Chewy
Low in calories
4. Best Human Grade: Full Moon All Natural Human Grade Dog Treats
Your pet deserves only the best! This human-grade chicken breast jerky is proudly kitchen-made with great care and attention to healthy nutrition. It's so good and delicious that you can eat it too! With nothing more than chicken breast, rosemary extract, healthy cane sugar, and vinegar, this jerky tastes so great and is full of flavor. This brand boasts itself on full USDA standards for human consumption, bringing the same quality for both you and your pet. Of course, the number one ingredient here is sliced, whole muscle chicken breast from poultry raised cage-free and sustainably sourced in the USA. No by-products, waste meat, artificial ingredients, soy, or grains! Just honest-made, tasty, and protein-full chicken jerky. If you want the very best for your dog, this human-grade jerky is a number one choice.
Pros
Human grade product
Cage-free chicken
Several package sizes to choose from
Cons
Plenty of crumbs in the package
5. Best Strips: Milo's Kitchen Homestyle Dog Treats Made with Real Meat
There's something delicious a-cooking in Milo's kitchen! High protein, real chicken jerky bites for daily treats, and some important nutrition boost. These treats are made with quality chicken breast as the number one ingredient, making them very rich in protein. In fact, these treats contain some 58% of crude animal protein! These jerky bites are perfectly sized for that ideal munch and are just the right amount of chewy. Of course, the ingredient list is as short as it can be – as it should. That means that there are no artificial ingredients, like preservatives or colorings. Furthermore, there is no soy, no grains, and no glutens. That makes for some perfectly healthy snacking that will help maintain your dog's health and figure.
Pros
Traditional homestyle treat taste
Classic jerky texture
Full of protein
Cons
Meat is sometimes sourced internationally
6. Best for Training Dogs: Waggin Train Chicken Jerky Dog Treats
Every dog owner knows that the training process can be strenuous and challenging from time to time. It's no secret – our dogs can be quite stubborn sometimes. But nothing beats positive reinforcement and some tasty treats as rewards for tasks well done. Chicken jerky is a great and healthy treat choice. Waggin Train offers these 36-ounce club-sized packets of tasty chicken jerky strips that are chewy, delicious, and highly nutritious. With only two ingredients and chicken breast as the number one source of nutrition, you just know that your pet is getting the very best with each snack. A high amount of proteins, fibers, and low calories are the defining features of each tasty bite. Of course, there are no artificial ingredients, such as flavors, colors, or preservatives. Just good old chicken!
7. Best for Picky Dogs: True Chews Natural Dog Treats
With any dog treat or staple food, it is important that the ingredients be natural, healthy, and responsibly sourced. But, just like us humans, dogs don't always crave that bland, natural taste and want a bit more flavor to their treat. These True Chews Natural jerky bites are ideal since they utilize the very best and healthiest chicken breast meat but add a twist with natural flavors such as smoke flavor, paprika, and vinegar to improve the taste. What is more, the meat is used from chicken that receives no hormones and no antibiotics whatsoever. It is also sustainably raised and sourced in the USA. Being a 100% natural product, this jerky contains no wheat, soy, or gluten, and no artificial ingredients or preservatives. Instead, it is packed full with healthy stuff, mainly chicken breast and potatoes, which are slow oven-roasted for the premium taste. Perfect for those picky eaters that turn up their nose at most treats!
Pros
Hormone and antibiotic-free chicken meat
No artificial ingredients
Strong flavor
8. Best Sticks: Farmland Traditions Dogs Love Chicken Premium Jerky Treats
Nothing beats that tried and tested traditional taste. Great old recipes are passed along for generations, and there's no need for changes. These Farmland Traditions jerky treats have been adored by doggos for generations. Completely free from grain, soy, corn, and artificial ingredients, these treats have been carefully prepared and formulated for dogs of all ages and sizes. The tasty bites are made with 100% USA-raised chicken, with lean chicken breast being the number one ingredient. These slices are simply oven-dried in order to preserve all those crucial nutrients and to create that scrumptious crunchy taste. With just 2 ingredients in total, you know that your pet will be getting the very best. A great feature of these snacks is their shape: they have a unique stick shape that is easy to munch on and is ideal for quick treats.
Pros
Traditional recipe
Two ingredients only
Flavorful
9. Best Soft Chicken Jerky for Dogs: Newman's Own Jerky Treats for Dogs
These Newman's Own jerky treats are truly special. Not only are they healthy and flavorful, but they also help charity! This brand has been around since 1982 and is Paul Newman's foundation that aims to help charities around the world. This means that 100% of profits from these chicken jerky treats will go towards charities. As far as the treats go, the quality is fantastic: these treats have been made from chickens that were sustainably raised in USA farms. This lean muscle has been simply oven-dried for the ultimate nutrition result. This means that the snacks are full of proteins, fibers, and are still low in calories. Add to that the mix of natural spices that are in this jerky, and you get a tantalizing treat no pooch can say no to. To boot, their soft and chewy texture is suited even for seniors that would find regular jerky too tough to chew on.
Pros
Helps support charities
Antibiotic-free chicken meat
Soft chewy texture suited for seniors
10. Best Single Ingredient Chicken Jerky for Dogs: EBPP Chicken Jerky Dog Treats
Emmy's Best pet products aim to deliver premium quality nutrition for your pet that relies only on the healthiest ingredients. This means that these chicken jerky treats are made with 100% quality chicken breast meat and nothing else. No fillers, no preservatives, no artificial ingredients. Just plain simple chicken. Reasonably sized and irresistibly tasty, this jerky is great for the training process and general quick snacks. No need to worry about weight gain either – your doggo will be getting nothing but crude protein. This helps keep their health in prime condition, their muscles lean and growing, and their coat shiny and firm. All the goodness in a tasty little snack.
Pros
Just one ingredient – chicken
Great for training
Healthy snack
What To Look For in Chicken Jerky for Dogs?
As a responsible and proud dog owner, you need to take great care of the stuff your pet eats on a daily basis. While undeniably yummy, dog treats can be laden with unhealthy ingredients, so it's particularly important to check their label before pampering your pet with snacks. Chicken jerky for dogs, on the other hand, is a healthy and nutritious option to go for. You can make it a little daily snack or a training reward, without feeling guilty or worrying about weight gain and obesity. However, there are a few important things that chicken jerky needs to have, so look out for these features:
It is important to look out for the ingredient lists. Naturally, the fewer ingredients, the healthier the chicken jerky. The very best options on the market will include just 2 ingredients, and even better – just a single ingredient. And that single ingredient is nothing else than chicken breast! Add-ons such as dog-friendly spices and flavors are OK, but be wary of artificial ingredients that can sometimes be added to jerky.
The number one ingredient of these snacks is, of course, chicken breast. It is important to find brands that pride themselves on responsible and sustainable meat sourcing. Also, look for chicken jerky that has been made from cage-free, hormone-free, and antibiotic-free chicken. That way you support a responsible meat industry and ensure your pet gets the very best treats.
We are committed to finding, researching, and recommending the best products. We earn commissions from purchases you make using the retail links in our product reviews. Learn more about how this works.

Angela Vuckovic
A proud mama to seven dogs and ten cats, Angela spends her days writing for her fellow pet parents and pampering her furballs, all of whom are rescues. When she's not gushing over her adorable cats or playing with her dogs, she can be found curled up with a good fantasy book.
More by Angela Vuckovic
Published February 25th, 2022 12:00 AM