349 Views
Best Dog Ball Launchers and Throwers for a Perfect Game of Fetch
August 27th, 2021 12:00 AM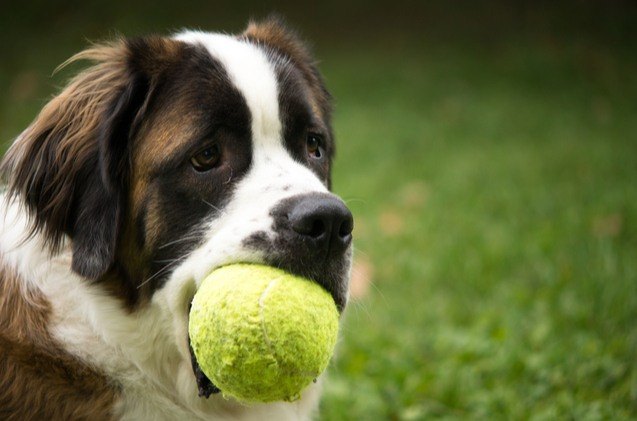 Dog ball launchers make sure your pet has all the fun in the world and plenty of exercise–without you having to strain your arms to ensure it.
For most pooches, playing fetch is the most fun anyone can have. I mean, what's not to love? Balls, fresh air, quality time with their favorite hooman… The only thing that would make playing fetch even better is that you were throwing treats and your pooch never had to give them back, but that's a whole other game. But, while throwing a ball for your dog to retrieve can be fun for you, it's almost guaranteed that you won't have the same stamina as your pooch in these matters.
Dogs can often go on playing for hours, but you may not be able to say the same for your poor shoulder, your joints, or sometimes even their joints. And don't even get me started on playing fetch when you're not an athletic type, like yours truly. I'm not ashamed to admit that I throw a ball like a sissy, and I can only thank god that my pooches are too lazy to be bothered with fetch after a few minutes (tug of war is where it's at for my beasties).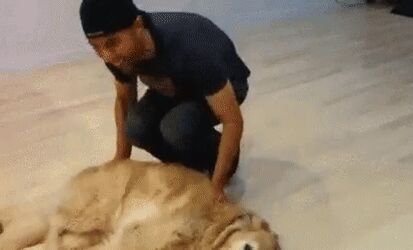 How are you going to make sure that everyone's having fun and not dying from arm pain the next day? Dog ball launchers and throwers. These handy gadgets either help you throw a ball without straining yourself or without the need to participate at all. Essentially, these bad boys will be a lifesaver for anyone who experiences arm or shoulder pain from throwing balls, has mobility issues, or simply doesn't have enough time but wants their dog to have proper playtime and exercise. At the end of the day, it's great to make sure your pet is getting their fill of play and fun, but chasing balls around is not just about that. Playing fetch provides much needed physical and mental stimulation to your pet, ensure they are meeting their needs for activity and exercise, and lastly, helps them burn off any extra energy in a productive, non-destructive way.
Naturally, when it comes to dog ball launchers, you'll want something that will fit your preferences and be suitable for your dog's needs and size. After all, some dogs might be eager to fetch, but he might not have much stamina or vice versa. These are all important things to consider before choosing the best dog ball launchers or throwers for your pooch.
Types of Dog Ball Launchers
While all dog ball launchers are designed to throw balls for your canine friend's enjoyment, there are differences in design that could influence your choice. Before you buy a dog ball launcher, think about the type of play it will be used for, your pet's energy levels and size. There are dog ball launchers that are more suited for small breeds than big dogs, those that are meant for indoor use only, and those that could break some stuff if you happen to use them inside the house. All of these factors (and more) will be important to consider when you choose a dog ball launcher, but let's start with the design. Dog ball launchers come in three different types:
Manual dog ball launchers
Semi-automatic dog ball launchers
Automatic dog ball launchers
Manual dog ball launchers are the most affordable option (their price tag is usually under $20) but this also means you get what you pay for–at least in terms of manual labor. These ball throwers require most effort from you, but if you just want to make fetch more fun and the workout more intense and have no issues with mobility or pain, these will work like a charm. They are designed to help you propel the ball further without requiring you to be a professional baseball player. If you don't mind throwing the ball but just want something to help you be better at it, you'll be happy to know you can get just what you need with manual dog ball launchers – and for just a few bucks, too.
Semi-automatic dog ball launchers are essentially just ball blaster guns. They will shoot out tennis balls at varying distances, and they come with or without recoil levers. Usually, kids love these (for apparent reasons) but they can also be fun if you want to have a hands-on fetch session with your pooch but an injury or mobility issues prevent you from doing it the "old fashioned" way.
Finally, you have automatic dog ball launchers that are all the rage now. And why wouldn't they be, considering how they can offer hours of fun and playtime for your pet but don't require anything from you- apart from batteries. You can use them for indoor fun or set them out in your backyard for a whole afternoon of fetch in the sun and fresh air. And the best part is that, even when you're busy with work or chores, your pet won't have to sit and be bored- they can get all the workout and play they need with this handy little machine. While the advantages of automatic dog ball throwers are many, there are still potential downsides like having to teach your pooch how these work and their steep price tag.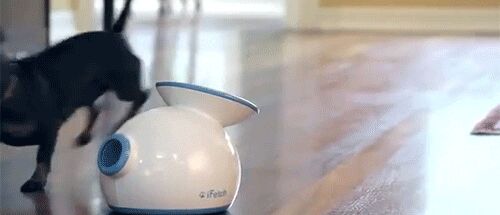 How to Pick the Right Dog Ball Launcher
OK, so you've picked out the type of dog ball thrower that fits your budget and your needs. But that's just the start – there are hundreds of launchers on the market, and many of them won't work for your dog's needs. Also, unless you have a clear preference, such as using a dog ball launcher that doesn't require your participation, the choice between the different types of dog ball launcher might not be as clear. Here are some important considerations you should make before buying a dog ball launcher for your pooch:
Dog's size and energy level
What's loads of fun for a Dachshund would be too lightweight for a Boxer–you can't be throwing the same size balls with the same speed and distance for dogs of different sizes and energy levels. Age can be a good indicator, too- young dogs tend to require more intensive physical workouts, and seniors appreciate something a bit more casual in the play department. As a general rule, small breeds and toy breeds will have more fun with dog ball launchers that throw smaller balls (if they can't carry a tennis ball in their mouth). They can also find dog ball launchers with lower throwing range more fun. Bigger and more active dogs need dog ball launchers that throw balls with greater speed and at a further range.
Playtime preferences
If you're playing fetch only when you're in a dog park or your big backyard, you'll need something designed for outdoor use – make sure that there are no electronic components that could be broken due to wet weather conditions. For indoor playing, a dog ball launcher that shoots out balls 100 ft into space is not the smartest idea – unless you don't mind a hole in the wall, a broken vase, TV, etc. The number of pets that will be playing with the dog ball launcher should also be considered, as you'll need something that can be programmed to throw multiple balls if you want to eliminate jealousy between your pets.
Now that you've locked in on a perfect dog ball launcher for your four-legged bestie, it's time to figure out which brand offers what you need- and at an acceptable price. Check out our list of the top 10 dog ball launchers for tried and true options that have stellar reviews from other pawrents.
1. Editor's Choice – PetSafe Automatic Ball Launcher Dog Toy
Automatic dog ball launchers can be a hit or a miss, but if you want something versatile and fully adjustable that works for both indoor and outdoor play and suits fogs over 10 pounds, then PetSafe's ball thrower will be a great choice. This tennis ball throwing machine can shoot out balls for up 30 feet away, but that's the highest setting: on the lowest, which is 8 to 10 feet, you can safely use this dog ball launcher indoors in a spacious room. There's also an angle knob feature that will allow you to set the throwing height based on your pooch's preferences- the company really thought about every little detail with this design.
The safety features of this launcher are really great, too. PetSafe Automatic Ball Launcher Dog Toy has sensors that prevent accidents (won't shoot the ball if someone is standing 7 feet in front of it). There are also limitations for the playtime duration, which are sometimes an absolute must. While playing fetch can be a lot of fun, dogs are not best known for their moderacy, so this ball launcher has a 15-minute rest feature to prevent overworking. This feature activates after 15 minutes of play.
2. Runner Up – Chuckit! Sport Launcher Dog Ball Thrower
If you want something that will give your throw a major boost and make any game of fetch super fun for your energetic doggo, Chuckit! is exactly the thing you are looking for. This manual dog ball launcher can ensure you throw up to 3 times farther than without it, giving your pet more of a challenge and ensuring they burn off all that extra energy during play. With the proper flinging technique, you could end up throwing the ball as far as 140 feet away, which is ideal when you're outdoors and have a pooch that loves to run and fetch. This ball launcher works with both standard tennis balls and Chuckit! Balls, and it's suitable for small and big dogs alike –although your rambunctious Retriever might appreciate the energetic workout more than a lazy Pug would. It also offers various options for ball sizes and lengths to suit your pup's preference.
3. Customer's Choice – iFetch Interactive Ball Launchers for Dogs
This compact ball thrower launches a standard sized tennis ball 10, 25, or 40 feet away with a press of a single button, which means that it can be used for indoor exercise and outdoor fun both. You can also activate the random mode to keep those clever canines on their toes, as they'll never know where the ball will fall. It's also great that this launcher is powered by a rechargeable battery- you can count on it going strong for up to 300 throws before needing to be plugged in for a charge. The tennis ball size makes this automatic dog ball launcher suitable for medium and large dogs, and it offers two ball sizes to choose from.
4. Best Arc Launcher – GoDogGo Fetch Machine G4
Is your pooch a maniac for a game of fetch? Are they full of energy, playful, and can't seem to get enough of chasing ball after ball? Then this heavy-duty ball launcher is what will keep them occupied for hours. It works with various ball sizes (so you can mix and match your dog's faves) and it has 3 timer settings and 3 distance settings. The balls can be propelled in intervals of 4 seconds, 7 seconds, or 15 seconds and low, medium, or high distances. Depending on the ball's size, this launcher can propel it up to 35 feet- an impressive feat. But the best part is that this fetch machine is perfectly adjustable and fine-tuneable to your pet's activity level, age, or playing preferences! For safety purposes, GoDogGo Fetch Machine G4 has a unique ball arc, as it launches upwards then out, making sure that your pet is never in the way. You can have peace of mind while your dog is in the backyard playing- and they'll have tons of fun even without you around.
5. Best 2-in-1 – Hyper Pet K9 Ball Launcher Throw-N-Go
When you want to treat your rowdy pooch to a whole other ball game, whip out this bad boy. This Throw-N-Go ball launcher can enhance your throw so much that the ball can be propelled as far away as 220 feet. Whew! I bet that those breeds with hunting genes or young doggos with energy to spare would go bonkers for such a challenging game of fetch.
6. Best Baseball Pitcher – Franklin Sports MLB Electronic Baseball Pitching Machine
To get the best of both worlds, you have to think outside the box. If the automatic dog launchers are out of your price range and you need the hands-free features, or you want something that doesn't use tennis balls, you're in luck. This electronic baseball pitching machine is a perfect alternative to a dog ball launcher- but for a fraction of the cost. The 9 plastic baseball balls are launched for up to 25 to 30 feet in the distance, but instead of a kid with a bat, you'll have your four-legged companion going bananas on the other side of the launcher. Unfortunately, this is only a good choice if you have a small to medium-sized dog, both because of its relatively modest throwing range and the size (and fragility) of the balls.
7. Best Interactive – All for Paws Interactive Dog Automatic Ball Launcher
There isn't a dog under the heavens that does not go wild and crazy when good old "fetch it" begins. Who knew that throwing a ball can be so fun and enjoyable – both for you and your pet! However, chucking that tennis ball as far as possible can often become tiring which is why an automatic ball launcher such as this one can be a perfect compromise. All for Paws Interactive Dog Automatic Ball Launcher will make playtime even more fun for your pet without requiring your involvement- or straining. All you need to do is plug the launcher in, select the appropriate launching distance, and chuck in a 2" mini ball. Just look at it fly- and your dog bolting after it! The mechanism allows you to choose from 3 distances: 10 feet, 20 feet, and 30 feet so it is adjustable to your pet's preferences. As an added bonus, this ball launcher includes three extra tennis balls – no need to worry if one gets lost in the distant bushes.
8. Best Popular Brand – Nerf Dog Tennis Ball Blaster Dog Toy
Whether you have a kid that wants to play fetch with their tireless pooch, or simply throw like a kid yourself (no judgment here), a semi-automatic dog ball launcher is the perfect tool. This Nerf Dog ball blaster will get your dog running about with just one press of your finger- the ball is thrown for up to 50 feet. To make things even better, this dog ball launcher gun comes in 3 sizes-small, medium, and large- and can be a match for canines of all shapes and sizes. The small model uses special balls that are suited for petite pooches, and medium and large use tennis ball size.
9. Best Gun-Style – Hyper Pet K9 Kannon K2 Ball Launcher
Never having to touch slobbery tennis balls again AND my dog has a ton of fun at the same time? Sign. Me. Up. This gun-style dog ball launcher is affordable, fun, and provides one heck of a workout for pooches of all sizes and ages. The semi-automatic design makes it great for people with mobility issues or those that don't want to strain their arm to have a good time with their pet. It can also be a good choice when you have two dogs or one eager to play pooch as there is room for two balls in this cannon, so there's no need for waiting in line before the next is ready to be thrown. The throw range is adjustable so it fits every pet's preferences, but the distance limit is somewhere around 20 feet. This product also offers a mini version which is more portable to take with you on the go!
10. Best Basic – Franklin Pet Supply Dog Fetch Toy
Grab, fling, repeat–that's a simple process that guarantees the happiness of your furry bestie. This manual dog ball launcher might require you to swing it to make the throw, but the rest is up to it: you won't have to pick up the ball by hand and the design of the thrower makes sure that the ball is flying way further than you could possibly throw it. This type of ball thrower is best used for outdoor play and suits medium and large dog breeds.
How can I train my dog to use automatic ball launchers?
If your pup is already trained to play fetch, it shouldn't take too long to make the transition to retrieve a ball from an automatic launcher. First, you should allow your dog to become familiar with the machine, let them do their thing and sniff it out. Gradual exposure is also key, so you can let them watch the machine launch balls to see how they initially respond. Don't forget to offer praise and even a treat or two if they do go and fetch the ball, so they'll associate the treat (positive outcome) with the fetching process.
Are ball launchers good for dogs?
If they're not used for prolonged periods at a time, ball launchers can be great to give your pups the daily exercise that they need. Be sure to keep an eye on your dog to see how tired they're getting after a few runs, and don't allow them to over-exert themselves, which can lead to muscle aches and joint pain.
We are committed to finding, researching, and recommending the best products. We earn commissions from purchases you make using the retail links in our product reviews. Learn more about how this works.

Angela Vuckovic
A proud mama to seven dogs and ten cats, Angela spends her days writing for her fellow pet parents and pampering her furballs, all of whom are rescues. When she's not gushing over her adorable cats or playing with her dogs, she can be found curled up with a good fantasy book.
More by Angela Vuckovic
Published August 27th, 2021 12:00 AM