111 Views
Best Dog Cooling Products
February 25th, 2022 12:00 AM
We're committed to finding, researching, and recommending the best products. We earn commissions from purchases you make using links in our articles. Learn more here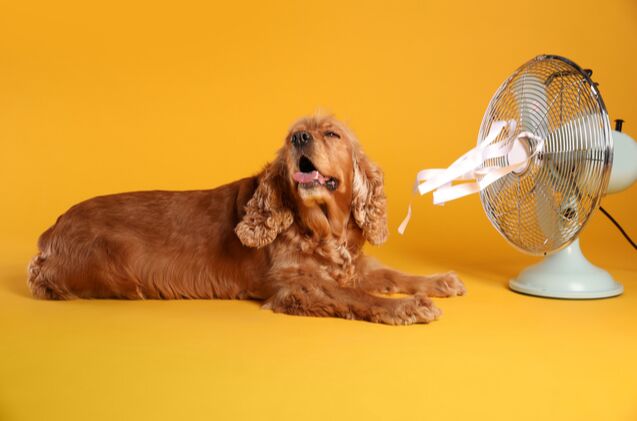 Dog cooling products help our pets stay cool in the scorching heat – from cooling pads to ventilated beds and ice bandanas, you'll have no problem finding a perfect cooling accessory for your four-legged bestie.
Keeping cool in the dog days of summer can be quite a challenge when you have fur – so don't think that just a pupsicle will keep your pooch refreshed when the heat is unbearable. There are plenty of pet products designed precisely to help dogs maintain an optimal temperature in the summer by staying cool, whether it's lounging on the beach, walking around the city, or taking a nap in the living room. We've rounded up the best dog cooling products on the market to help you quickly find summer necessities for your pet – read on to find your pick!
1. Editor's Choice: The Green Pet Shop Dog Cooling Mat
When it comes to keeping your pet cool in the summer, you can't go wrong with a cooling pad or a mat. This simple design is quite efficient at maintaining optimal temperature, thanks to the patented gel formula – it works automatically, as it is pressure-activated. The mat is filled with cooling gel, so when your pet lies down on the mat, it automatically starts cooling the mat and will do so for up to four hours! If you want to "supercharge" it, you can also refrigerate the mat prior to use. When not in use, the cooling mat will "recharge" on its own and it takes 15 to 20 minutes before it's ready for another refreshing snooze session. Perfect in dog beds, cars, kennels, or directly on the floor, this versatile cooling mat for dogs can be used on the go or in the home. This is a size large which measures 35 by 23.6 by 0.25 inches and suits dogs that weigh between 46 and 80 pounds.
Pros
Pressure-activated
Recharges on its own
Can be refrigerated or used as is
Versatile and portable
2. Runner Up: ALL FOR PAWS Chill Out Dog Ice Bandana
Keeping your pet cool while you're inside the house might not be that big of a challenge, but you have to take them for a walk eventually – so how do you make sure your pet is cool as a cucumber when it's hot outside? This cooling bandana is an excellent way to stay cool on the go as it will reduce your pet's body heat and make them more comfortable on walks in the dog days of summer. The bandana is made from a special cold-sensing material that resists heat and cools down, and can be refrigerated to enhance its effects: wet the bandana, wring out excess moisture, and put it in the fridge 10 minutes before putting it on your pet. With this cute bandana on, the heat won't bother your pet! And it's perfect for brachycephalic breeds which are notoriously susceptible to overheating. ALL FOR PAWS Chill Out Dog Ice Bandana comes in sizes small, medium, and large.
Pros
Wearable coolness
Easy to use
Great for flat-faced breeds
Comfy and non-toxic material
Cons
Doesn't stay cool for too long
3. Customer's Choice: Coolaroo The Original Cooling Elevated Pet Bed
Just because it's hot outside, it doesn't mean your pet should compromise on comfort and sleep on cold floors to stay cool – a ventilated elevated bed is the perfect midway solution. The elevated off-the-ground design of this bed, on its own, is enough to help cool down your dog as it allows circulation of air and prevents overheating. However, that's not the only design feature that promotes coolness: the bed itself is made from a breathable high-density polyethylene (HDPE) fabric that helps eliminate hot spots. Easy to clean, comfy, and durable, this elevated pet bed will make sure your pooch is cool while taking a nap. Coolaroo The Original Cooling Elevated Pet Bed is available in 6 colors and sizes small, medium, or large.
Pros
Easy to clean
Comfortable and supportive
Keeps pets cool indoors or outdoors
Variety of colors and sizes
4. Best for Outdoors: PawHut Elevated Portable Dog Cot Cooling Pet Bed
No one likes to spend sunny days cooped up indoors, especially not dogs! But, to make sure your pet won't overheat when soaking up the sun in the backyard, you'll have to provide adequate shade and shelter – and this portable dog cot does that and much more. Designed, essentially, as an elevated pet bed with an addition of a canopy, this cot puts 7 inches between your pet and the ground, allowing the breeze to flow underneath and maintain coolness. As the bed itself is made from breathable and durable mesh fabric, that cool air will reach your pooch, too. Of course, the detail that makes the design is definitely the removable canopy top that keeps UV rays at bay and provides shade when your pet is lounging on the bed. PawHut Elevated Dog Bed comes in 4 sizes: 24, 30, 36, and 48 inches.
Pros
Shade and ventilation
Maintains coolness consistently
Protection from UV rays
4 sizes to choose from
5. Best Cooling Bed: Furhaven Cooling Gel Foam Bed
If you have a senior or a large breed dog and they need an orthopedic bed for optimal joint support, here's an option that will keep them cool and comfy all year long. Made from cooling memory foam, this bed will whisk away heat from your pet while contouring to their body and supporting their spine and joints. The classic bolstered sofa design is always a hit with pets as it gives them ample space to sprawl and a raised side where they can rest their head on. Comfy to sleep on and easy to clean, this gel foam bed has a removable cover that can be machine washed. Furhaven Cooling Gel Foam Bed comes in charcoal or woodsmoke color and is available in medium, large, jumbo, and jumbo plus sizes.
Pros
Provides orthopedic support for joints
Comfy to sleep on
Dissipates heat
Removable, machine washable cover
6. Best Wearable: Dog Cooling Vest and Cooling Collar
Keeping your pet cool on the go can be a challenge – but it's sometimes unavoidable, especially if your pet is one of the flat-faced breeds such as Shih Tzu and Bulldog, as they are prone to overheating and have difficulty breathing when it's hot outside. This set, which includes a cooling vest and a cooling collar, is the best way to make sure your pet is cool no matter the temperatures outside. developed with veterinarians, the set is designed to pull away heat from appropriate cooling locations, which are under the neck and the chest, by utilizing frozen water. Simple yet very effective! Made from lightweight neoprene and chew-resistant nylon, the collar and the vest have FlexiFreeze ice inside them and will keep your pet cool for about 30 minutes. If you want to prolong cooling time, you can buy replacement ice packs you can bring with you in a cooler. CoolerDog Dog Cooling Vest and Cooling Collar are machine washable and come in sizes extra small, small, medium, large, and extra-large.
Pros
Comfortable and cooling
Designed by vets
Ideal for dogs that struggle in the heat
Washable
Cons
The cooling effect could last longer
7. Best Cooling Toy: PetSafe Frosty Cone Dog Toys
Whether you want to provide a fun way for your pet to cool down in the supper or you have a teething puppy on your hands, this versatile dog toy is the answer – it holds a chilling surprise in its center. Fill it with broth, water, or any kind of mushy, liquid treat your pet likes such as PB or yogurt, and let it freeze – your pooch will have hours of fun and stay cool as a cucumber to boot. In addition to being a perfect refreshment in the summer, this freezable toy is a great way to soothe inflamed gums in puppies when their teeth are erupting. It comes in two shapes – chilly penguin or frosty cone – and two sizes, small or medium/large.
Pros
Versatile fill options
Good for teething puppies
Lasting coolness and refreshment
Durable
Cons
Holds only a small amount of filling
8. Best Blanket: PetFusion Premium Cat and Dog Cooling Blanket
A blanket might not be the first thing to come to mind when thinking about dog cooling products, but you'd be surprised – this blanket is actually cooling to touch instead of warm. The unique fabric dissipates body heat and keeps your pet cool when it's hot outside – it's perfect to drape over their bed or as a 2-in-1 cooling blanket and furniture or car seat protector: keep it on your sofa or car seat to keep pet hair at bay and your pooch cozy at the same time. And if you fold it a few times to get more thickness, it can act as a cooling comfy cushion in the crate. Doesn't get more versatile and practical than that! This pet cooling blanket comes in cool gray or cool brown and sizes small, medium, large, or extra-large.
Pros
Protects furniture and car seats from pet hair
Keeps cool
Multiple sizes available
Easy to wash
Cons
Not helpful enough in extreme weather
9. Best for the Beach: CoolerDog Pop Up Shade
Nothing beats some summer fun on the beach, but you'll still have to take precautions to make a fun outing with your pet safe for them, as well. This pop-up shade for dogs is a great accessory for any outdoor activity in the summer, but especially so at the beach – it gives your pet an instant shaded nook where they can get a time out from the sun and snooze a bit to recharge their batteries. This pop-up shade has 3 ventilated windows to keep the air flowing and one shaded on top to block out 98% of harmful UV rays – it also has 4 stakes to make it sturdier on a windy day. It sets up and folds in seconds and it can be easily packed in a beach bag or kept in the car trunk to always be on hand when you need it. CoolerDog Pop Up Shade measures 27 by 19.5 by 20 inches when unfolded.
Pros
Portable and compact when folded
Pops up in minutes
Ventilated windows
Blocks out harmful UV rays
Do Dogs Need Cooling In the Summer?
We all know the golden rule – never leave your dog in your car, ever – but does summer heat pose a threat to your pet when they are outside or in your home? Extreme weather isn't good for anyone, and the same goes for your pet. Dogs are especially sensitive to high temperatures as they cannot sweat and release heat from their body as we do – instead, they pant and release warmth through paw pads and their nose. This is not particularly efficient when it's too hot, which is why heatstroke is a serious threat for dogs. A dog can get a heat stroke within minutes, and if you don't recognize the signs and get treatment quickly, the outcome could be fatal.
This is why you have to make sure that your pet doesn't overheat in the summer. It will depend on the area where you live, but a rule of thumb is that outside temperatures of 85 degrees Fahrenheit or 29 degrees Celsius are considered potentially dangerous for dogs and that's when you'll need dog cooling products to make sure you prevent a heat stroke. Another important factor is the size and the type of coat your pet has, as a short-haired Jack Russell and fluffy Bernese Mountain Dog won't react to the heat in the same manner.
This brings us to another important factor when it comes to dogs and the risks of overheating – brachycephalic breeds. These are so-called flat-faced breeds such as various types of bulldogs, Pugs, Shih Tzu, Pekingese, Boxer, and so on and these breeds are at a higher risk of heatstroke than any other type of dog. The reason for this is their unique facial structure which causes issues with breathing, which is why these dogs don't pant as efficiently as dogs with regular nose shapes. As a result, they can't reduce body heat nearly as fast as they need to, putting them at a risk for a heat stroke if they are not cooled down on time. If you have one of these breeds, both wearable dog cooling products and those designed to be used at home, in the car, or outside are a must-have on your shopping list.
We are committed to finding, researching, and recommending the best products. We earn commissions from purchases you make using the retail links in our product reviews. Learn more about how this works.

Angela Vuckovic
A proud mama to seven dogs and ten cats, Angela spends her days writing for her fellow pet parents and pampering her furballs, all of whom are rescues. When she's not gushing over her adorable cats or playing with her dogs, she can be found curled up with a good fantasy book.
More by Angela Vuckovic
Published February 25th, 2022 12:00 AM