164 Views
Best Dog Harness for Hiking
February 24th, 2022 12:00 AM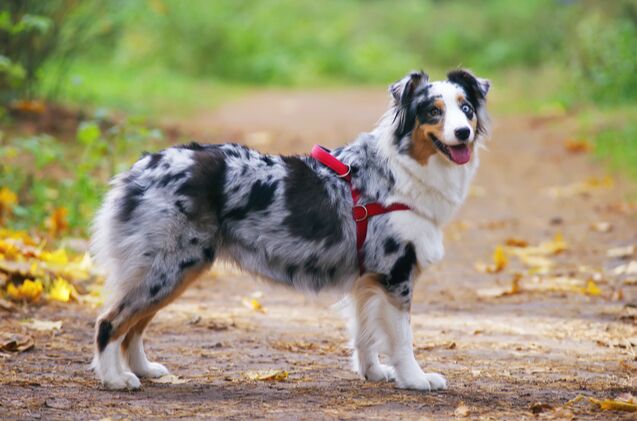 Dog harnesses for hiking are designed to provide comfort and keep your pet securely tethered on long walks and hikes. Here's a selection of the best dog harnesses for hiking out there.
Are regular walks to the park not cutting it anymore, either for you or your pet? Do you enjoy spending time in nature and exploring the outdoors? Then it's time to go on an adventure with your pooch by your side, and nothing beats hiking with a dog when it comes to spending quality time outside. These can be long walks around the town or some long-distance treks across the outdoors, but whichever option you go for, you will need a sturdy dog harness for hiking. They will keep your pet safe and comfortable on your adventure and will make things easier for you as well. However, not all designs will work to your advantage – there are certain elements in dog hiking harnesses you should keep an eye out to ensure a perfect match for your needs. To help make your choice easier, we've found the 10 best dog harnesses for hiking!
1. Editor's Choice: rabbitgoo Dog Harness
Reliable, budget-friendly, and comfy, this harness is made from durable and protective nylon Oxford material and has a soft padding that will prevent any chafing and discomfort for your pet. Of course, it is fully adjustable and comes in 4 sizes so it is suited for any dog breed, as you can tighten the straps as much as needed to ensure a snug fit. It has 2 strategically placed D-Rings that won't choke or pull on your pet, while still giving you ample control. Another great feature is the added reflective strips. With these, your pet will be visible in the darkness, which can be so useful when you are on an outdoor adventure. Efficient, adjustable, and very durable – everything a solid hiking harness needs!
Pros
Reflective strips
Fully adjustable
No-choke and no-pull
Soft padding
Cons
Plastic buckles could be more durable
2. Runner Up: PHOEPET Upgraded No Pull Dog Harness
The best way for a harness to be fitted onto your pet is across the chest and the back. That way the pulling is more natural and doesn't choke or harm your pet. This unique design from PHOEPET perfectly showcases this feature, and also gives your pet a chance to stand out in quirky and fun color combos. It is made from durable and comfortable nylon Oxford fabric, which is perfect for enduring the wear and tear of regular hiking. Of course, its interior side features soft and breathable mesh padding, which guarantees that no chafing occurs. This harness is fully adjustable thanks to its straps, and it features three uniquely placed quick-release safety buckles. They are positioned on the neck and the chest, allowing you to remove the harness in a second and without having to pull it over your pet's head. And that alone adds so much to safety. Another great aspect of this harness is its bright coloration, which will help you to keep an eye on your pet at all times.
Pros
Three quick-release buckles
Reflective straps
Unique and vibrant design
Cons
Might be constraining on very large breeds
3. Customer's Choice: RUFFWEAR Front Range Dog Harness
If you and your pet are avid hikers and take long walks on a daily basis, then your harness really needs to shine in one important aspect – comfort! Thankfully, Ruffwear is a brand that understands this, and their harness design is safe, durable, and above all – super comfy. Made from really tough shell material, it is quite durable and yet so lightweight. And that's something your pet can appreciate. Of course, padding is a big deal here. The harness has thick foam padded straps across the chest and the belly, allowing your pet's weight and body pressure to be equally distributed. This is really important for extended wear. Special reflective trimming will increase visibility in darkness, and four convenient adjustment points will help keep everything comfy and fitting perfectly. There are 2 leash attachment points on this harness, both positioned so there won't be any discomfort. On the back is centered an aluminum V clasp that increases safety and durability. Ruffwear offers you a variety of striking colors that will not only stand out but increase visibility as well.
Pros
Superb quality
Soft foam padding
Aluminum fittings
Very durable
4. Best Easy Lift: Kurgo Journey Air Dog Harness
Kurgo's unique harness design offers you some unique features that can really make a difference in the long run. One of these is the easy lift assist. A special handle is positioned specifically to help you lift your dog up easily over obstacles or large steps. What is more, this handle is quite useful if you are a proud owner of a senior doggo that isn't as agile as before. The harness itself is made from very durable and lightweight nylon fabric, with a breathable mesh padding that allows your pet's skin to breathe and stay uncharted. Kurgo opted for durable aluminum attachments for the leash, and four efficient adjustment points for the ultimate fit. The front leash attachment point is ideal for a relaxed hike with zero pulling – an important feature to ensure your pet's wellbeing.
Pros
Durable aluminum fittings
Nifty easy lift handle
Reliable quick-release buckles
Cons
Fit can be odd on some dog breeds
5. Best Adjustable: Eagloo Dog Harness
Sometimes it's best to rely on a no-hassle, straightforward design. Eagloo's reliable harness is made from durable and lightweight nylon webbing, with soft padding to increase your pet's comfort. Its design ensures equal weight and pressure distribution, providing that there won't be chafing or discomfort, no matter how eagerly they tug. This is thanks to the no-pull front clip for some laidback hiking, and the no-choke back clip to limit chest and neck pressure when your doggo is pulling. Thanks to the double-stitched and thickened straps, and a specially designed adjuster, this harness can be customized in whatever way you want – make sure that your pet is secured but still comfortable through 4 adjustment points. Of course, two well-placed quick-release buckles will allow for quick and easy removal. And another great feature is the special elastic band at the sides, ensuring that your pet is as comfy as can be!
Pros
Elastic side bands
Very efficient placement of D-rings
Superb adjustment straps
Cons
Not for dogs that are not properly leash trained
6. Best No Pull: BARKBAY No Pull Dog Harness
When it's finally hiking time, your doggo can become really impatient. And that almost always ends up in some vigorous pulling and tugging. Of course, this can be potentially harmful to them, as it puts a lot of pressure on the neck and the chest. That's why a no-pull harness is ideal to prevent this. Barkbay created a reliable harness made from very tough no-rip nylon fabric, with added air technology mesh material that ensures ample breathability. The soft padding prevents chafing which is a big issue for dogs that pull. Another great aspect of this harness is the extra-wide chest part. Since this is the focal point when your pet is pulling, this extra width helps distribute the pressure and keep everything safe. Of course, there are two specially placed attachment points to choose from, a front and back one. And with the addition of solid adjustment straps, you can find the perfect fit for your pet, be they big or small. Add to that the special reflective stripes, and you are guaranteed a super-safe and enjoyable hike, no matter the time of day!
Pros
Wide chest area
Comfy padding
Top easy-lift handle
Cons
Buckles could be more durable
7. Best Dog Pack: OneTigris Dog Pack Harness
When you're braving the great outdoors and hiking across wild and majestic landscapes, you're away from general amenities, and in this case, a pack harness really becomes a useful accessory. Not only will it ensure a safer and comfier experience for your dog, but will also help them carry some of the load and increase your capacity to carry vital supplies. This OneTigris pack harness looks like a little doggo saddle. It has two spacious carrying pouches on each side, with lots of storage space and rugged zippers. Of course, the harness itself is made from tough material that is guaranteed to endure the rugged outdoors. And best of all, all the safety features are in use here as well: the thick foam padding and breathable mesh prevent chafing; adjustable straps and clasps ensure protection and a secure fit, and a sturdy carry handle allows you to help your pet over obstacles. This harness is ideal for large dog breeds that can help you carry the load. Pack your doggo's essentials in this pack harness: extra food, treats, medical supplies, or other general tidbits. In the great outdoors, this extra space can become a crucial advantage!
Pros
Spacious carrying bags
A wide and protective base layer
Comfortable and rugged
Cons
No front leash attachment
8. Best Active: ThinkPet No Pull Harness
If you are a long-distance hiker or a marathon runner, you might have transferred that passion over to your pet as well. This active dog harness is ideal for exactly those sorts of activities! It is made from lightweight and breathable mesh nylon material. This is important as it won't chafe or feel restricting, and your pet's skin can breathe freely. These are all possible issues for extended hikes and long-distance sports. Another important thing is the adjustment. This harness has all the necessary straps you might need to find the ideal fit for your pet. Also included is a horizontal emergency control handle, guaranteeing a quick grab if things get out of control. Of course, this also helps with some obstacles your pet might find challenging. Besides sports activities, this harness is ideal in any other situation, including regular hikes, outdoor adventures, and traveling.
Pros
Lightweight mesh material
Unique horizontal emergency handle
Great for active and athletic dogs
Cons
Could do with more padding
9. Best Tactical: ICEFANG Tactical Dog Operation Harness
Is it time to turn your four-legged furry friend into a serious K9 partner? Become the modern "Turner & Hooch" with this advanced tactical-style dog harness! Offering the ultimate coverage and protection, this harness is made from high-quality, extra-durable nylon fabric that is virtually indestructible. Also, it is much wider than any other harness design, covering great parts of your pet's body and ensuring they stay protected at all times. This robust design is completely adjustable, with several straps and adjusters that allow you to find the ideal fit. Four conveniently placed quick release buckles allow you to remove the harness at a moment's notice, while several leash rings allow for any walking position you prefer. And staying in the tactical element, this harness sports several PAL and Molle attachment points, giving you the chance to turn it into a true modular dog vest. Velcro spots for identifying patches are also here, as is a nifty easy-lift handle. That's everything you need for your next serious outdoor adventure or some daring K9 action!
Pros
Super tough
Extra-wide, full-body coverage
Molle and PAL support
Four quick-release buckles
Cons
Could be a bit heavy for some dogs
10. Best Durable: PoyPet No Pull Dog Harness
For a good dog harness, durability is key. And sometimes even the simplest harness designs can be tough and endure all the wear and tear you throw at them. PoyPet's simple design does everything by the book. But thanks to the tough nylon material and strong stitches, it can really take a beating. Of course, it has ample adjustment straps that allow you to fit it to any dog breed with ease. It also has air mesh padding for better comfort and breathability, while a reflective trim ensures plenty of visibility during the night. And if your pet happens to need some assistance along the way, a conveniently placed carry handle will allow you to offer a helping hand!
Pros
Simple but efficient
Great padding
Durable
Cons
Not really a good choice for extra large and strong breeds
Do I Need a Dog Harness for Hiking?
It is highly advisable to invest in a special dog harness when embarking on an outdoor adventure or a longer-than-usual hike. A leash and a collar might be good for your regular short walks during the day, to the park, and back home. But for a hike that can last several hours, a comfy, secure harness is crucial! This is particularly true for dogs that pull and tug when walking, especially in new and exciting environments. And a tugging dog that wears a collar can put a lot of stress on their windpipe, potentially harming themselves. But a trusty harness is designed to eliminate this threat once and for all. No matter how eagerly your pet tugs on the leash, the harness will keep the pressure away from the neck and chest. And for long hikes, this can be a very important thing.
We are committed to finding, researching, and recommending the best products. We earn commissions from purchases you make using the retail links in our product reviews. Learn more about how this works.

Angela Vuckovic
A proud mama to seven dogs and ten cats, Angela spends her days writing for her fellow pet parents and pampering her furballs, all of whom are rescues. When she's not gushing over her adorable cats or playing with her dogs, she can be found curled up with a good fantasy book.
More by Angela Vuckovic
Published February 24th, 2022 12:00 AM