25 Views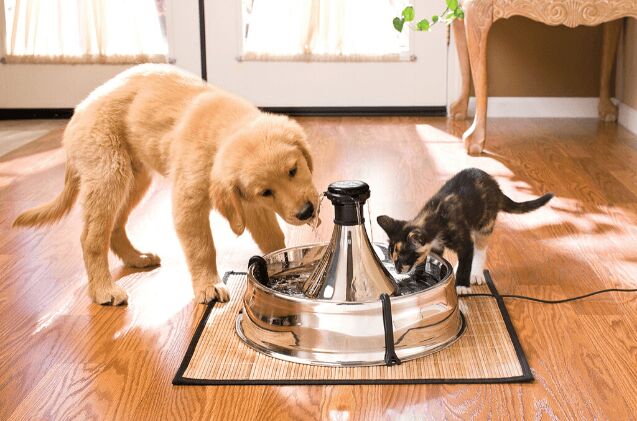 Dog water fountains make sure your pooch stays well hydrated and healthy, as well as cool as a cucumber during the hot summer days. Here is our selection of the best pet fountains on the market – treat your doggo today!
Everyone knows how important it is to drink plenty of water each day, as well as numerous benefits you get to experience when you're hydrated. It's no different for your four-legged companion, either, as dogs also need to get their fill to stay healthy and in top form. After all, proper hydration is one of the essential prerequisites for optimal canine health- if your pet's water intake is not up to standards, it will pave the way for various health issues to arise with time.
In addition to being important for their long-term wellbeing, drinking enough fresh water can prevent acute health problems, too- such as heat stroke. A fresh, cool source of water is an absolute must at all times, but it's especially vital in the dog days of summer when the heat is unbearable and your pet is having trouble finding a way to cool off. As dogs don't perspire as we do but pant instead, chilled water will help them regulate their body temperature. (Though, if you live in an area where temperatures are scorching in the summer, fresh water won't cut it – think about cooling pet pads as a way to make sure your pet doesn't overheat.)
So what's the best way to make sure your pet is hydrated and drinks plenty of water at all times? Of course, while not as finicky as felines when it comes to water, dogs do seem to prefer a fresh stream from your garden hose more than they like drinking from their own bowl. And it's not difficult to see why. Would you rather drink water that's been standing in a glass for hours (or more) or do you prefer freshly poured water from the tap or bottle? I thought so. Fresh water is not just better for your pet, but it also tastes better- and dogs can tell. That's were dog water fountains come into play.
Dog water fountains are not just another pet gadget – there are numerous benefits of these nifty devices, but the main one is that it should get your dog to drink more water and make sure that water is fresh and clean at all times. They are a must-have for multi-pet households or dogs whose owners work long hours, but every pet would benefit from a quality water fountain in their home. To find out how much water your pet really needs and what advantages dog water fountains offer, simply head on over to our comprehensive guide below – and if you want to find out which dog water fountains are the best in their category, just read on!
PetSafe Drinkwell 360 Multi-Pet Stainless Steel Dog Fountain
This is an all-around great choice: from its budget-friendly price to capacity, this dog water fountain will be a perfect match for most pets, regardless of their size. With 128 ounce capacity and the innovative 360 design that provides 1 to five free-falling streams, this dog fountain is an excellent choice for multi-pet households, too. The stainless steel material is durable, hygienic, and dishwasher-friendly – it really ticks all our boxes. To boot, PetSafe Drinkwell 360 has an excellent filtration system: the foam filter catches hair, dirt, and debris and the carbon filter purifies, removing odors and bad taste.
Drinkwell Platinum Pet Fountain
Affordable, convenient, and with a generous 1.3-gallon capacity, Drinkwell Platinum Pet Fountain is a great choice for all dogs, small and big alike. The free-falling stream has an adjustable flow and it's pretty quiet, too, so you won't be bothered by the gurgle of water in the middle of the night. This pet fountain has a mechanical filter that prevents large particles from reaching the motor as well as a carbon one that keeps the water clean and appetizing. It is made from plastic, though, so it will have to be cleaned more often to make sure it's bacteria-free- luckily, it's dishwasher safe.
Looking for something that will help your pet get to their water dish in low light or if they are losing eyesight? The URPOWER Pet Fountain helps make sure your clumsy pooch or senior canine can find the fountain if they get thirsty in the middle of the night – or simply want to prevent tripping over the fountain in the dark- with the built-in LED light in this fountain. The free-falling design makes it perfect for pooches that love drinking from hose and prefer running water, and it's also quiet and mess-free. The water valve allows for an adjustable flow so you can make it as fast or as slow as needed for your pet. Made with BPA-free plastic, it is safe for your pet, too. To keep the water fresh and clean, this fountain uses a replaceable carbon filter. With 51 ounce capacity, URPOWER Pet Fountain is a perfect fit for small breed dogs.
Harmony Tiered Stainless Steel Deluxe Pet Fountain
The sleek and unusual design of this tiered pet fountain makes it stand out- it's both elegant and functional. Made from stainless steel, this fountain is both durable and easy to clean (dishwasher safe), as well as naturally more resistant to bacteria and mold growth. The tiered tower in the center circulates water to keep it fresh and aerated, but there are no waterfall features – so if you want something with free-falling streams, skip this one. Harmony Tiered Stainless Steel Deluxe Pet Fountain comes with replaceable carbon filters and has a 96-ounce capacity which is suitable for dogs of all sizes.
Drinkwell Pagoda Pet Fountain
This ceramic, 70-ounce pet fountain is a match for small and medium-sized dogs – and stylish pawrents that appreciate modern design. Available in white, red, taupe, and blue, Drinkwell Pagoda will fit in any apartment decor! You'll pet will love it, too, as he can choose between two drinking areas- elevated and low – and enjoy water that's always fresh and clean, thanks to carbon and coconut shell filter.
Pioneer Pet Raindrop Fountain
The raindrop design makes Pioneer Pet Raindrop Fountain popular with pawrents that want something striking and modern in their home, or have dogs that prefer subtle stream and circulating water over waterfall-type fountains. This pet fountain comes in plastic, stainless steel, and ceramic options- this particular black model is made out of hypoallergenic ceramic. You can also pick between 60- and 96-ounce capacity, so the fountain is a perfect fit for your dog – or a multi-pet household. Like most pet fountains, Pioneer Pet Raindrop Fountain also uses carbon filters to purify water and keep it tasty.
If you want an elevated pet fountain that is silent and won't splash around, HoneyGuaridan W18 is the perfect candidate. Made from BPA-free, food-grade plastic, it is easy to clean and budget-friendly. The base also has a water level indicator, so you'll know when it's time to refill without having to open it up- a super convenient feature for any pet parent. The HoneyGuaridan W18 has a coconut shell activated carbon filter for optimal water purity. The capacity is 70 ounces, so this pet fountain is a good choice for small and medium-sized dogs.
PetSafe Drinkwell Seascape Ceramic Pet Fountain
This pet fountain has an unconventional design – and pooches seem to love it! The fountain has two drinking levels, one allowing access directly from the ceramic sphere in the center, and the other from the water collected at the base. The hypoallergenic ceramic is not just an all-around healthier and more hygienic choice, but it is also very easy to clean. The only downside is that it is breakable! PetSafe Drinkwell Seascape has a 70-ounce capacity and a carbon filtration system.
Zeus Fresh & Clear Elevated Dog Fountain
Ideal for large breed dogs, this pet fountain has an extra-large capacity of 200 ounces and a sturdy, elevated design. Your big pooch won't be able to knock over this fountain with ease! The re-circulating flow also makes the mess and noise minimal while still being enticing to the pet. Not to mention that the triple filter system keeps the water tasty at all times: it softens tap water, collect debris, and helps absorb odors.
Harmony Cascading Stainless Steel Deluxe Pet Fountain
If you want something budget-friendly and durable for your toy or small breed dog, this 60-ounce cascading stainless steel fountain is an excellent choice. The stainless steel is tough, long-lasting and very hygienic – it will give you years and years of use with proper care. The cascading stream of water is purified with a replaceable filter that keeps the water free from dirt, odors, and other impurities that could influence the quality or the taste.
How much water do dogs need
You might not realize it, but it's highly likely that your dog is not getting enough fluids to maintain optimal health. In nature, the ancestors of both dogs and cats would get a good chunk of their daily water needs met through the food they would eat, but our pets' diet is dramatically different in modern times. Most dogs are being fed kibble, either exclusively or as their primary food source, and dry food simply doesn't cut it when it comes to its moisture content (duh, hence the name!). Therefore, it's important to track how much water your pet is drinking and, if need be, encourage them to up their intake.
The amount of water your dog needs to drink will depend on various factors. Their size, activity level, current temperature in your area… It will all impact how much water they have to drink. In most cases, though, a rule of thumb is to make sure that your pet gets an ounce of water per pound of bodyweight on a daily basis. Of course, this should be increased in the summer or if (and when) your dog is very active. As an example, this would mean that on an average day, a small 20-pound pooch would need anywhere between 2 and 3 cups of water to be properly hydrated, and in the summer or during strenuous activities, it could easily be double the amount. And unless that water is fresh and tasty, it can be difficult to meet that goal- hence the need for water fountains.
Benefits of dog water fountains
Dogs are no different than any other living being on the planet when it comes to water- our four-legged companions require water to function and stay healthy. To make sure that your pet's water intake meets their actual needs, you might want to invest in a dog water fountain that would make water seem much more appetizing to a pooch that's usually not too enthusiastic about it. The movement of water that will entice your canine friend into drinking more and the filtered water from the fountain will actually taste better – win-win! But, in addition to making water more palatable and interesting to drink for our furry friends, dog water fountains boast other important benefits.
Keeps water clean
Most dog water fountains employ some form of filtration- the goal is to remove debris, dirt, and even chemicals from water to make sure it is always clean, fresh, and of the highest drinking quality. Filters and the movement of the water make sure that it doesn't get stale and that it tastes good to your pooch, which is why they'll prefer it to the one in their bowl – even if you refill less often. Also, as the filters will purify the water, it will better support your pet's kidney function and overall health.
Large capacity
Dog water fountains come in different capacities- from those fit for a toy dog's needs to those that will suit a giant pooch or multiple pets in the household. Regardless of your pet's size, you'll want something of a large enough capacity that you don't have to worry about water running out while you're away. Be sure to compare the water capacity with your pet's daily requirements (as mentioned above) and see how often you'll have to refill.
Fresh for longer
Thanks to the filtration system and the continuous movement of the water, it will stay fresh for much longer than still water in your pet's ordinary bowl. This influences both the taste and the quality of the water itself – your pet won't be able to tell when you've poured the water as it will always taste fresh. The refill time will vary from a few days to more than two weeks, depending on the capacity of the fountain and the filtration system it uses. Naturally, this makes pet fountains an excellent choice for pet parents that work long hours and want to ensure their dog is all set while they're at the office.
What to look for in water fountains for dogs
Dog water fountains come in different designs – not all of them will be a fit for your pet's needs nor your budget and preferences. To make sure you'll be getting your money's worth and that your pet will be happy with your choice, check if the pet fountain you have your eye meets your preferences when it comes to these important features:
Power
Pet fountains are usually electric, but there are gravity-fed water fountains that don't require to be plugged in to work. Naturally, you should have in mind that the latter have a simpler design that doesn't include adjustable flow, filters, or any of the bells and whistles.
Material
Choose the material with care- dog water fountains usually come in ceramic, plastic, and stainless steel versions. The plastic is the cheapest and isn't always the best choice for dogs with allergies, and the ceramic and stainless steel can be a bit pricey. While it will all boil down to your preferences and budget, make sure that you always pick dog-safe materials- free of toxic chemicals and with properties that prevent the growth of bacteria.
Capacity
Make sure that the capacity of the fountain you pick corresponds to your pet's water intake needs. Similarly, if you have more than one pet in your home, go for the biggest sizes or get more than one fountain.
Filtration
Not all fountains have filters – and those that do, vary in quality. There are mechanical and chemical filters – one simply blocks the dirt and debris from (re)entering the stream and the other also purifies the water. Ideally, the filtration system will include both types for optimal results.
Design
Waterfalls, freefalling streams, with multiple drink levels or without, elevated or not – there are plenty of design factors to consider when you're getting a fountain for your pet. Be sure to account for their specific needs (if they have them) when buying them a water fountain- otherwise, they might not want to use it.
Ease of cleaning
While your pet's preferences and needs should be in the first place when it comes to products you buy for them, that doesn't mean your requirements are not relevant. In addition to the price tag, most pet parents are interested in the ease of maintenance – go for dishwasher-friendly pet fountains or those that have fewer parts to disassemble and clean. One of the major selling points for pet fountains is their convenience, and cleaning is a huge part of that!
We are committed to finding, researching, and recommending the best products. We earn commissions from purchases you make using the retail links in our product reviews. Learn more about how this works.

Angela Vuckovic
A proud mama to seven dogs and ten cats, Angela spends her days writing for her fellow pet parents and pampering her furballs, all of whom are rescues. When she's not gushing over her adorable cats or playing with her dogs, she can be found curled up with a good fantasy book.
More by Angela Vuckovic
Published March 9th, 2021 12:00 AM