149 Views
November 9th, 2021 12:00 AM
We're committed to finding, researching, and recommending the best products. We earn commissions from purchases you make using links in our articles. Learn more here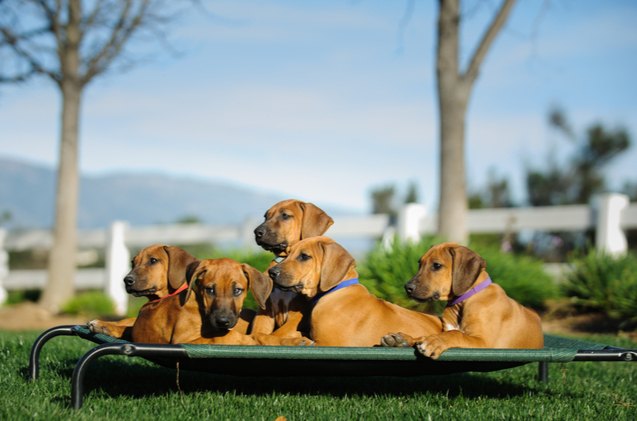 Elevated dog beds come in different designs and can be used both indoors and outdoors. Offering many benefits for the dog and their owners alike, these raised beds might just be what your pet needs to stay comfy and cozy all year round.
While many think that elevated dog beds are meant just for senior pets or dogs with issues such as hip dysplasia and arthritis, the truth is that this design has many merits for dogs of all ages and sizes. Unlike standard dog beds, which are usually just big cushions that lie directly on the floor, elevated dog beds are raised from the ground a few inches, providing distance from the coldness of the floor, allowing air to circulate creating a pleasant breeze, and offering a taut, orthopedic sleeping surface that supports your pet's whole body.
Raised dog beds come in different designs, from wooden frames that resemble your own bed to foldable, portable alternatives that are ideal for travel. These beds can be used indoors or outdoors, can be good for puppies or seniors, be easy to clean, or easy to store away- all you have to do is know what to look for. To make your choice easier, we've rounded up the best elevated dog beds for any pooch's needs.
1. Editor's Choice: Furhaven Pet Bed Frame
If you want to make sure your four-legged royal has a truly luxurious nap spot, this raised pet bed frame is the one to go for. Designed for indoor use and in contemporary mid-century modern style, this elevated dog bed is made with wooden slats and metal legs with a matching wooden veneer for a timeless look. It won't look out of place in any interior- in fact, it can only complement it. The frame is compatible with all Furhaven pet beds- or your dog's current bed if the dimensions fit, so this is a great choice if you want a more custom support level and more options when it comes to softness, materials, etc. Furhaven Pet Bed Frame is available in small, medium, large, and jumbo and in one of three finishes: walnut, bamboo, or grey wash.
Pros
Modern design
Easy assembly
Versatile
Cons
Doesn't come with a mattress included
2. Runner Up: YEP HHO Large Elevated Folding Pet Bed
A cozy nook for peaceful napping- what more could a doggo want? This practical, foldable elevated dog bed makes a great indoor bed and camping bed alike- it is sturdy enough for regular use and easy to pack when needed for a trip. The folding frame is constructed from sturdy metal with premium quality plastic feet to avoid scratching your floors, and the bed itself is from a breathable, lightweight, waterproof oxford cloth that is both durable and easy to clean with a Teslin mesh center for improved breathability. Just wipe off any dirt or grime with a washcloth and some soap water- all done! This foldable dog bed also comes with its own carrying case to make it even easier to pack for a fun adventure- no need to sacrifice comfort when you're exploring the great outdoors. YEP HHO Large Elevated Folding Pet Bed is designed to suit large breed dogs.
Pros
Versatile and easy to clean
Comfy to sleep on
Compact and foldable
3. Customer's Choice: Coolaroo The Original Elevated Pet Bed
Simple but functional- if you don't need any bells and whistles and want something straightforward and practical for your dog to snooze on, you'll love this design. Perfect for the dog days of summer, this raised dog bed allows airflow from all sides, keeping your pooch cool as a cucumber in the heat. To boot, the fabric of the bed is breathable high-density polyethylene (HDPE) that eliminates hot spots, so no worries about your pet getting uncomfortable when lounging in the backyard. This unique fabric is also very durable, easy to clean, and resistant to fleas and mites. Suited for indoors or outdoors use, this bed features a flat, suspended sleeping surface that will keep the pressure of the key stress points in your dog's body. Coolaroo The Original Elevated Pet Bed comes in small, medium, and large sizes and in 5 color options to choose from.
Pros
Keeps your pet cool
Durable and easy to clean
Resistant to fleas and mites
4. Best for Outdoors: Bedsure Elevated Dog Bed
So your pooch likes spending time with you when you're outside, or they love soaking up the sun in your backyard? Then you need to get them a bed that's both comfy and rugged enough to be used outside. This elevated dog bed keeps your pooch away from wet grass, mud, and the dampness of the ground, with curved metal legs that provide 8" of height and a sleeping surface made from ultrasonic welding mesh, which is not only durable and low-maintenance but taut enough to provide orthopedic support for your senior dog. Bedsure Elevated Dog Bed comes in small, medium, and large sizes and two colors- grey or brown.
Pros
Breathable, easy to clean material
Orthopedic support
Lightweight
Cons
Assembly is not as easy as it may seem
5. Best for Small Dogs: Enchanted Home Pet Rosie Sofa
Your petite pooch can benefit from a raised bed as much as a big dog can, especially so if they are in their golden years. This elegant pet bed is designed to look and feel like an expensive piece of furniture, but it is actually very supportive and comfy for a small pooch to sleep on. The 3" driftwood legs lift the bed above the ground, adding just enough clearance but not too much to pose a climbing challenge for your tiny doggo, and the microsuede plush cover is removable and machine washable for your convenience. Enchanted Home Pet Rosie Sofa fits small dogs up to 30 lbs.
Pros
Elegant sofa-like design
Machine-washable cover
Comfy to sleep on
Cons
Can be too firm for some dogs
6. Best for Large Dogs: KOPEKS Elevated Indoor/Outdoor Dog Bed with Foam Mattress
Large and giant breed dogs are more susceptible to issues with hips and joints and this is why it is really important to carefully pick out their bed- what they sleep on can have a major influence on their joint health, particularly when they get older. This sturdy raised bed can be used indoors and outdoors, as it boasts a sturdy steel frame with a powder coat finish for added durability and smoothness. The frame comes with a foam mattress in a waterproof cover, so a light drizzle or a potty accident won't completely ruin your pet's new bed. KOPEKS Elevated Indoor/Outdoor Dog Bed with Foam Mattress will suit all dogs up to 200 lbs.
Pros
Heavy-duty, durable construction
Removable foam mattress
Water-resistant cover
Cons
The mattress could be of better quality
7. Best with Canopy: Giantex Elevated Dog Bed with Removable Canopy
If you don't have a spot in your backyard with natural shade or your dog stubbornly refuses to choose that spot over the sunny corners of the lawn, you'll have to make sure that they still somehow have shelter from the harsh UV rays- hence, a canopy. Some outdoor elevated dog beds such as this one come with a built-in removable canopy that can provide some much-needed shade in the summer. What's more, this canopy is also waterproof so it will protect your pooch if they are caught outside in a summer shower. Made with breathable mesh fabric, this bed allows free airflow and makes sure your dog stays comfy and cool all day long. Giantex Elevated Dog Bed with Removable Canopy is made for medium-size dogs that weigh up to 66 lbs.
Pros
Removable canopy for shade and rain protection
Keeps dogs cool
Easy assembly
Cons
Canopy can fade from too much sun exposure
8. Best with Bolster: Veehoo Bolster Elevated Dog Bed
For those pooches that are used to have a headrest when they sleep, only a bolster bed will do. This elevated dog bed takes a simple, tried-and-true design approach to raised dog beds, with a flat sleeping surface and sturdy metal legs, but goes a step further to enrich it- with built-in, removable plush bolsters on three sides of the bed. The center of the bed is made with Textilene mesh fabric which is breathable, UV and heat-resistant, and resistant to chewing and clawing, whereas the bolsters are from waterproof 500D Oxford fabric with eco-friendly PU coating. Veehoo Bolster Elevated Dog Bed is available in 5 color options and small, medium, or large sizes.
Pros
Bolster sides for safety and comfort
Heavy-duty weather-resistant fabric
Chew and scratch-resistant
9. Best with Stairs: Penn-Plax Buddy Bunk Multi-Level Bed and Step System for Dogs
Have a pooch that wants to share the bed with you but you're worried it will be too cramped? This 2-in-1 design allows your dog to sleep by your side, but still comfortably in their own bed. The carpeted no-slip steps are positioned next to your bed and lead to a raised bed for your pooch- the cushion for sleeping is included but you can replace it with one of your own choices as long as it fits the dimensions. This is a fantastic choice for pets struggling with mobility, whether due to injury or old age- no dangerous jumping or potential falls thanks to the safety bolsters. Penn-Plax Buddy Bunk features an elegant espresso finish and is suited for small breed dogs.
Pros
Great for dogs with mobility issues
Steps and bed combined in one design
Elegant design
Additional bed on the bottom or storage space
Cons
Not for pets over 60 lbs
Only one color is available
Benefits of Elevated Dog Beds
Elevated dog beds are not just practical for outdoor use- they can also be used indoors, and there are many reasons why pet parents opt for a raised bed for their pet. From health benefits to ease of maintenance, there are plenty of advantages elevated dog beds offer, and here are just a few of them.
Orthopedic support
Despite what it might seem like, the flat surface of elevated dog beds is actually comfy to sleep on, but more importantly, it is more supportive as well. The tautness of the material ensures that the weight is distributed equally across the sleeping surface, offering optimal spinal support and alleviating pressure from hips and joints. This makes them particularly great for large dog breeds and senior dogs, although all dogs can benefit from sleeping on an orthopedic bed.
Temperature regulation
The fact that the bed is raised above the ground allows the air to freely circulate underneath it which will keep your pet cool in the summer and toasty in the winter. When the weather is hot, the circulation of air keeps the bed from becoming too hot to sleep on and helps your pet regulate their body temperature, particularly if placed over a cooler surface (e.g. tiles, ground). In the winter, a couple of inches away from the cool floors and the movement of heated air help make the same bed cozy and toasty- especially if you add a blanket or a cushion to it.
Less risk for aggressive chewers
Destructive chewers often don't hesitate to rip their bed to shreds, and when that stuffing comes out, it can pose a serious risk for their health if ingested. An elevated dog bed is usually designed with materials that are not only difficult to chew through but contain no polyester or foam stuffing that could harm your pet.
Easy to clean
Not all benefits of elevated dog beds are reserved for pets- there's a reason why pet owners prefer them, too. This type of bed is much easier to clean (usually, a damp rag or a hose is all you need to get it looking brand new) as it doesn't collect as much dirt or hair thanks to the unique materials and the lack of stuffing means that no dandruff or other nastiness, such as pee or vomit liquids, can accumulate inside the bed. The fact that these beds don't attract and retain much pet hair and dandruff also makes them great for people that suffer from allergies. Additionally, with the raised height of the bed, cleaning under it will be a breeze!
We are committed to finding, researching, and recommending the best products. We earn commissions from purchases you make using the retail links in our product reviews. Learn more about how this works.

Angela Vuckovic
A proud mama to seven dogs and ten cats, Angela spends her days writing for her fellow pet parents and pampering her furballs, all of whom are rescues. When she's not gushing over her adorable cats or playing with her dogs, she can be found curled up with a good fantasy book.
More by Angela Vuckovic
Published November 9th, 2021 12:00 AM