18 Views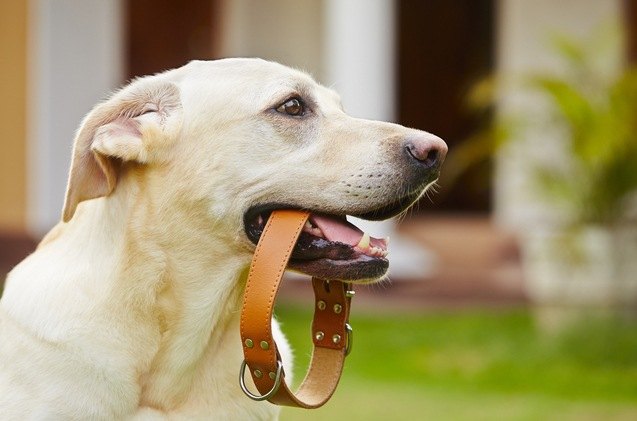 Leather dog collars are not just stylish and elegant–there are many benefits to this high-quality natural material. Read on to find out what makes dog leather collars so special!
Yes – we know what you'll say: Your pup is the prettiest of all! And we certainly agree. There isn't much we can do to make our four-legged friends any prettier than they already are – except some stylish outfit additions. And one thing that successfully combines stylish and useful is a leather dog collar. Not only that a beautifully designed collar will keep your pooch looking like a four-legged fashionista but it will help them be easily identified in case they get lost. Even if you don't use a collar to walk your pet and prefer a harness, a collar with an ID tag is a must as it's been known to make a huge difference in unfortunate situations when dogs get away from their owner.
That's why today the focus of our topic are the very best leather dog collars on the market today. These high-quality collars combine many important factors, from durability and comfort to style and design. While picking out a collar for your pet might seem like a straightforward choice, but finding the perfect match for your dog can be challenging. To save you from overthinking it, we are nitpicking the best choices for you. But it is not any old collar we are focusing on – it's the leather ones.
Leather collars can really make a difference for your dog, with several key features that make it a better choice over other materials. The basic, cheap nylon collars are exactly that – cheap. The fabric loosens with time and tearing is just a question of time. Moreover, coarse fabrics can cause chafing if not fitted properly, and that can lead to other issues. But more than anything – they aren't as protective. In cases of emergency, like getting lost, a dog might depend on a collar – even before a microchip. But with fragile nylon fabric collars, this safety hangs by a thread – literally. So to ensure your pooch is getting the best both in terms of fashion and security, you ought to rely on a quality leather collar. These are not only durable and rugged, but also classy, natural, and fully adjustable. Their only weakness is water. If your dog loves to splash in lakes, ponds, or the pool, you would want to remove the collar beforehand. Soaking it repeatedly and letting it dry can cause it to develop a slightly unpleasant odor – even if it is a 100% natural leather.
But this is a minor flaw of leather as a collar material and is completely overshadowed by the benefits it offers. So, do not hesitate if you want to adorn your furry companion with a leather collar of his own – he won't just be grateful for the classy gift, but for the sense of security that you can both rely on. Read on to find a perfect pick for your needs- and learn more about the pros and cons of leather dog collars.
1. Sleepy Pup Full Grain Thick Leather Dog Collar
These handmade, rugged-looking collars are made from the finest natural US-sourced leather and although they look simple, it's precisely their minimalistic design that makes them stylish. Not only will this full grain leather be safe for your dog, but it will also give it some rough, worn-out charm captured in this genuine brown rugged leather. The look is completed with branding and a nice stainless steel buckle, which also gives you ample adjustability. Simple is seldom a bad thing – and they do say that minimalism is the newest trend in fashion, both human and canine.
2. Warner Cumberland Leather ID Dog Collar
Warner Sporting is a brand well known for its classy and efficient collars, and the Cumberland perfectly fits this description. This 1 inch wide and quite thick collar is made in the USA from genuine leather and is the perfect choice for larger dog breeds. It comes with a free brass ID tag, which has a stylish shape and is riveted securely to the front. It can carry the name, address and phone number, all engraved. The folds of the collar are extra secured with rivets, and it also comes with an adjustable buckle and a leash loop. You have four color choices–black, red, brown, and golden tan. Not only these collars are super safe and durable, but they are also classy.
3. Soft Touch Collars Luxury Real Leather Padded Dog Collar
The first thing that comes to your attention when you see this Soft Touch collar is its thickness. This is a naturally tanned genuine leather and is double padded to offer exceptional safety and comfort. It is stitched to ensure endurance, and also comes with stylish gilded adjustable buckle and a leash hoop. It is clear that this collar is designed for large and strong dogs, so if you have a big pooch, you'll love this one. However, owing to its popularity with pawrents and pets, Soft Touch went a step further and it now offers this collar in three sizes, from large to small. It also comes in several different colors, with the orange and sky blue mix standing out as really charming and quite stylish.
4. CollarDirect Studded Dog Collar
If you're the owner of a large dog breed, this is the collar to go for. With a width of 1 ⅜ inch and a thick padded genuine leather design, this collar is the robust and durable choice you were looking for. It has protective stitching on the seams, and three rows of steel studs all-around – offering a fierce look and unprecedented protection. It comes in two color combinations – black and brown, or the inverse. Of course, the collar can be fully adjusted to your liking and has an added leash loop. To boot, CollarDirect offers matching leashes in their shop if you're looking to match things up.
5. AOLOVE Basic Classic Padded Leather Pet Collar
For the more fashionable pet parents, these colorful AOLOVE collars will be a fabulous choice. Not only are they made from quality leather and alloy, but they come in a range of lovely colors. You can match them to your personal style and the character of your pet to come up with a unique look. Besides the standard black and brown, you have the deep red, pink, and sky blue choices. When combined with the gilded adjusting buckle, it creates a striking combination. Additionally, this collar has quality stitching and for its extremely cheap price, it is quite durable.
6. Reopet Basic Leather Dog Collar
REOPET offers a perfect blend of quality and simplicity, which results in this super durable, classy, and expertly crafted leather collar. This single layer collar still has quality stitching and while being durable, it still remains pliant and flexible to ensure maximum comfort. It is a toned-down, smooth black design, and features a sturdy buckle and loop for all the needed attachments and adjustments. One of the more stylish designs, it offers great quality without sacrificing good looks.
7. chede Luxury Real Leather Dog Collar
This is a unique addition to the leather dog collar market, with an interesting use of metal buckles and safety quick-release clasp. It is made from durable genuine brown leather with stitches for added durability. Even though it has the quick release clasp, the collar can still be adjusted to your needs. It comes in several different colors, ranging from a deep, classy blue, to a beautiful crimson color.
8. Mighty Paw Leather Dog Collar
There's nothing as classy and elegant as an old-school leather dog collar. Let your pupper stand out from the crowd with this dashing collar from Mighty Paw that nails that iconic dapper doggo look. Made by dog lovers for dog lovers, this collar covers perfectly accentuates your dog's great looks while offering all the important features a quality collar should. Made with premium 100% genuine cowhide leather, Mighty Paw Leather Dog Collar makes for a natural choice that won't chafe or irritate your pet's skin. Of course, this natural leather is really soft and flexible and has that timeless distressed look that really stands out.
The added silver buckle allows for ample adjustment, making this a good fit for most dog breeds. What is more, Mighty Paw Leather Dog Collar comes in three different sizes for an even better fit. You can also choose from 3 stylish colors as well- black, brown, and light brown. If you value the traditional and charming look, and also want to ensure that the collar is durable and made from natural materials, this leather dog collar is the way to go.
9. Copper Leaf Customized Collar
If you are looking to take things another step further, you can choose the fully tailored option. The Copper Leaf studio offers you the chance to proudly display your loved pet's name in extra-large stamped on letters. These collars are made from natural tan leather and boast bronze adjusting buckles. The pet names are stamped into the leather, making this an unusual but undeniably attractive style on the market.
10. Bestia Rocky Studded Dog Leather Collar
If you are looking to show off, or simply offer some extra protection for your dog, the Bestia Rocky collar is definitely the finest choice. This extra-wide, extra thick, and extra comfortable robust collar is the perfect choice for large and muscular breeds such as Pitbulls, Rottweilers, Dobermans, and other similar breeds. It features two rows of iron spikes, which have been dulled to ensure safety for your pet and those around him. But even so, it offers ample protection for emergency cases, in addition to the badass style factor.

Advantages of leather collars
There are a lot of options today when it comes to dog collars. The styles are many, and most owners opt for nylon, webbing, rubber, cloth, or the popular chain or handkerchief type collars. But the truth is that none of these will successfully do their job. Most of these materials cannot be adjusted properly without risking chafing or, in the opposite case, slipping. On the other hand, you need to consider your dog's comfort above all.
Chain collars cannot be tightened without causing discomfort, and are generally loose and serve no purpose. Nylon fabric collars are not durable at all, and until they snap they will likely cause chafing and discomfort. They are also not a breathable material so dampness and sweat will remain beneath the collar causing irritation. Handkerchief collars have no purpose other than being a stylish accessory and will slip off easily, especially if your pet is rowdy and full of energy. Cheap rubber collars are notoriously unreliable, mostly because they have a tendency to slip off, and also because they can cause allergic reactions and irritation as well. And that's where natural leather collars come in, standing a good step above all other materials. Natural leather has a clear advantage over artificial materials as it will not irritate or chafe the skin. A dog's fur and skin are less likely to react to natural materials than to rubber or nylon fabric.
Similarly, leather dog collars can have a much longer lifespan than other, cheaper collars. With a small smart investment into a wax protective creme, you can efficiently protect the leather both from water and from the weather, such as hot or cold temperatures. This prevents cracking or accumulation of dampness from water.
Leather collars are also quite adjustable, with most of them coming equipped with buckles. You can adapt perfectly to your pet by adjusting the collar to just the needed diameter. With you fully in control, there is no risk of chafing or slipping.
Leather is also surprisingly durable and reacts well to all conditions. When properly taken care of, a collar can be submerged without excessive soaking and becoming smelly. It also reacts well to dirt, mud, and sand, as it does not easily accumulate them. But the best thing of all is that leather is a breathable material. It does not trap moisture and sweat below it, and thus the dog's skin can breathe, and no irritation will occur.
Benefits and uses of dog collars
A collar is not just a stylish accessory–there are many uses for it. It can help you gain a sense of security as an owner as you know you can keep your pooch under control with a collar and a lead. Have your dog stand out from the crowd and easily spot him when you're out in the park. And even if things go awry, you can still have a small sense of ease knowing that a collar can be an important way to identify a lost pet. It's clear to see why dog collars remain one of the most popular dog accessories, if not the most popular, after all. Here are some of the most important benefits of leather dog collars:
Identification

It is no secret that things can go wrong in seconds when you're out and about with your pet, no matter how diligent or responsible you are. Dogs can be mischievous and careless and listen to their instincts–which doesn't often coincide with reason. And this is where a proper collar can save the day. Leather collars come with special loops and buckles, which are meant to help you fit an identification tag. These are not only for having your pet's name written – you should include your contact information that can help with the safe return of a lost pet. Even if your dog has a microchip installed, the collar will be the first source of information, and often the crucial one.

Protection

Dogs love to play pretend a fight and they adore a good roll. But in the park, temperaments are never a certainty. Dogs might even fight for real. A thick leather collar can be a source of basic protection in the vital neck area. Not only is the leather thick and durable, but it can also come equipped with dull steel spikes. These are small and safe for your dog, but will certainly deter a potential bite, even if it is meant in a friendly manner. If your pet has a tendency to get rowdy, or you spotted that one violent dog in the park, consider this unique protective choice.

Control

You will want to always have a certain amount of control over your dog. Even if your commands are usually obeyed, it might not always be the case. And if you're new to the park or going for long walks, you will certainly want your pup close beside you. A collar gives you the chance to easily and comfortably attach a leash that will help you keep your pet controlled and safe. Once you think that the coast is clear, you can simply detach it and freedom is back on the menu! Easy, efficient, and compact.

Training

If you still have your hands full with a young and energetic pupper, or you are in the process of training a stubborn old pooch, a special training collar can come in handy. These unique collars help you keep your pet's attention on the training and get desired results much faster. They are perfectly safe and refined, relying on vibration instead of outdated electric shocks. With a small remote you can decide when the nudge will happen–all you have to do is follow it with a tasty treat.
We are committed to finding, researching, and recommending the best products. We earn commissions from purchases you make using the retail links in our product reviews. Learn more about how this works.

Angela Vuckovic
A proud mama to seven dogs and ten cats, Angela spends her days writing for her fellow pet parents and pampering her furballs, all of whom are rescues. When she's not gushing over her adorable cats or playing with her dogs, she can be found curled up with a good fantasy book.
More by Angela Vuckovic
Published May 19th, 2021 12:00 AM