4.3K Views
January 16th, 2022 12:00 AM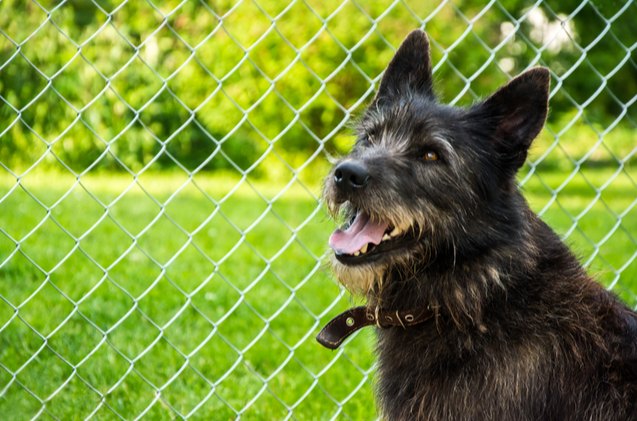 An outdoor dog fence keeps your pet safe and your flower beds safe from them – whether they are portable or not, these outdoor fences provide some much-needed boundaries. This is our selection of the best outdoor dog fence designs on the market.
Dogs need and love to have fun outdoors. Just like you, they too require fresh air, playtime, and a chance to spend their energy productively. And there's no better place to do that than in the safety and comfort of their own backyard. However, there are a lot of things you need to look after in order to keep your pet safe when they are playing outside. Being curious and mischievous as they are, dogs can get in all sorts of trouble. Your pretty garden flowers can promptly be trampled, the veggies can be scooped out, and your pet can even elope if your yard is not secured.
All of these issues can be solved with the help of a reliable outdoor dog fence. Portable, sturdy, and simple to set up, these fences are a must-have for every tidy and well-kept yard. They are an important safety measure and can allow your pets to spend as much time outside as they want – while providing you with some much-needed peace of mind.
1. Editor's Choice: VIVOHOME Heavy Duty Barrier
When you are enjoying the weather in the yard and having a good time, it's only natural to bring your pupper along. But – inquisitive as they are – dogs can be difficult to control outside, and can cause a whole lot of trouble. This durable, heavy-duty playpen is a great way to keep everything in order. It is made from rust-resistant heavy-duty powder-coated aluminum tubing and steel wires. It comes in connecting panels, which allows you to adapt the shape of the enclosure to your liking. All doors feature safety latch locks so no one can escape sneakily. It is totally weatherproof, so you can safely leave it outside overnight. Of course, it is great to be used indoors as well – it is lightweight enough to be carried easily around.
2. Runner Up: Feather & Bone Safety Fence
Having some control of your surroundings is paramount. In the garden, your hard work on the flowers and veggies can be cut short by the diggings of a particularly inquisitive doggo. These unique and simple-to-use barriers are a reliable solution. They are made from industrial-grade UV-resistant polyethylene and come pre-rolled in a nifty bundle. With the simplest stake system, you can build the perfect puppy-proof enclosure in no time at all. You receive a number of sturdy steel stakes and a hundred zip ties. Two simple steps and your enclosure will begin growing. The fence is colored green, which makes it blend easily with the outdoor surroundings, and the UV resistant material can last longer even when exposed to the sun and the rain. And, best of all, it can deter a would-be four-legged flower bed digger – even if it looks light and thin!
Pros
Simple to use and set up
Lightweight
Weather-resistant
3. Customer's Choice: Zippity No Dig Outdoor Fence
Your garden is your zen place. And a zen place needs to be kept pristine and protected. This elegant protective outdoor dog fence is a great way to keep your pet away without making ugly and intrusive changes to your harmonious garden. Zippity offers a great solution with these heavy-duty panels made from powder-coated metal. They have great resistance to rust and are quite stable when planted in the ground. Assembly is straightforward – you simply insert the included stakes into the ground and connect the panels as you wish. This pack contains five panels, but you can always purchase more and make a bigger enclosure. One great feature here is the elegant finish of the panels – they have a curved top end, making for a really elegant addition to your garden or yard. Thanks to its stability, it is great at keeping small and medium-sized dogs at bay, but might not work best for those really large doggos.
Pros
Efficiently prevents access to certain areas of your backyard
Great for the garden
Durable
4. Best Wireless: PetSafe Wireless Pet Fence
What better way to keep your backyard pristine and free from clunky fences than with a fence that is… invisible?! This unique wireless concept creates a completely invisible barrier that your pet will be very unwilling to cross. The secret is in the transmitter that creates a circular barrier thanks to its reliable range. With the included collar that your pet wears, a low voltage shock or a sound alarm will remind them if they leave the boundary. This is a simple and efficient method that will not harm your pet in any way: a simple zap will let them know that the area is a no-go zone. The battery in the collar can last up to 2 months, and the whole system is fully portable. A great advantage of this design is that there is no need for burying invisible wires – you can be ready to use this barrier in minutes!
Pros
No burying of wires
Modern, efficient design
Huge coverage
Cons
Setup could be challenging for first-time users
5. Best Wooden: Greenes Critter Guard Cedar Garden Fence
Nothing beats that classic, rustic look. This critter guard fence is made from quality natural cedar wood that is characterized by its soft pale color. The fence panels are strengthened with steel wiring that prevents any critter – or your curious pet – from passing through. The panels are simply staked into the ground and assembled as you want. This design might not be ideal for an urban environment, where its rustic design could stand out, but if you are in a rural environment – this is what will work perfectly! The only drawback could be the weather – these natural materials won't last forever and ever unless you protect them with paint.
Pros
A natural, rustic look
Sturdy
Easy to set up
Cons
Vulnerable to the elements
6. Best for Large Dogs: Hopesun Multipurpose Garden Fence
This adaptive design is one of the best for securing your hard work at the garden from destruction and keeping your pooch safely restricted from certain areas of your property. Thanks to the very high panels and a sturdy build, this design can substitute a proper yard fence – with superb efficiency. This means that, if your large breed dog isn't particularly rowdy and rough, this outdoor dog fence might just be able to keep them at bay! It is made from galvanized, powder-coated steel and is totally rust-resistant. Of course, when properly staked to the ground, it can easily stay in place in spite of anything. The panels are easy to assemble and can be connected in whatever shape you need. Thanks to this, every garden and any plot of land will be protected. The size makes this fence a great barrier for small, medium, and large breeds – no one will snoop about.
Pros
Sleek design
Quick setup
Durable
7. Best Portable: YAHEETECH Heavy Duty Outdoor Panel Dog Playpen
If you have a small yard or an unsecured one that opens up directly onto a busy street, that is still not a reason to keep your dogs closed inside all the time. A protective fence – such as this playpen design – is a great way to keep things in order while outside. This pen is made from separate panels made of quality coated iron, and each panel is separate. This means that you can choose whatever shape you want and assemble the playpen to your exact liking. Circles, squares, rectangles – anything goes. Two panels have durable latch locks that make everything safe and secure for your pet. And thanks to the very large diameter of the entire enclosure, your dogs can enjoy plenty of free space while still staying protected.
Pros
Adjustable shape
Plenty of free space
Durable build
8. Best for Digging Dogs: Doniks 5-pack Dig Protection Fence
Sometimes, a pre-existing fence needs some extra additions to be completely functional. A curious dog can dig under the fence in order to explore the other side and this can be a dangerous thing, especially if there is a busy street on the other side of the fence. These dig protection fence panels are a great way to prevent your pet from digging under an existing fence. They are made from galvanized steel and are really resistant to all weather elements. Simply insert them into the ground at select places, and they will fill the gap beneath a bigger fence. This smart design is also great to prevent critters from entering your yard from the outside – no trespassing allowed!
Pros
Super simple to use
Durable
Great for breeds that like to dig in the ground
9. Best on a Budget: Tenax Pet Fence
A mesh outdoor dog fence can be super simple – and still very efficient. Tenax offers a tough polypropylene mesh fence that is designed to keep critters out and your dogs in the yard. Thanks to the unique thin wires, this fence perfectly blends into the surroundings once installed. Setup is super simple, and with a handful of zip ties, you can have your new boundary erected in no time. The fence is designed to have a residential-friendly height, making it great for dogs of all sizes. And don't be fooled by its flexibility and lightweight – it can keep everything under control. There's no biting through either!
Pros
Flexible and sturdy
Weather-resistant
Practical to use
10. Best Privacy Screen: Orgrimmar Outdoor Privacy Screen Fence
Privacy screens are great for some extra shade, noise cancellation, and obscuring the view so your dogs won't bark. When done properly, they can also act as a barrier to keep your dog out of prohibited places. Orgrimmar offers this unique design that is made from durable, tight-weave HDPE fabric. It comes in green color, and it is reinforced with brass grommets and additional binding. This screen is easily secured with zip ties and can serve a ton of functions. Windbreak, barrier, and shade are just some of its many roles. And, if your dog tends to bark a lot on passing cars and people, this view-obscuring fence will keep them peaceful. However, it's worth noting – this privacy screen attaches to an existing fence and can't substitute one.
Pros
Perfectly obscures view
Durable
Reinforced binding
What to Look For in an Outdoor Dog Fence?
You can't go for any old fence and hope for the best – improvised solutions can be easily tipped over, destroyed, and will stick out like a sore thumb to boot. So, if you want to purchase a reliable outdoor dog fence, these are some of the crucial factors to consider.
Durability
An outdoor dog fence – as it is used outside – needs to be sturdy and easily withstand the elements. Your best bet is to go with coated or galvanized steel fences or materials such as polypropylene. Such designs won't rust after rain, and won't fade due to intense sunlight. And, best of all, they are firm and steady, making for a reliable barrier.
Height
A fence that is used to prevent dogs from wandering about needs to have an adequate height. If you opt for a design that is not tall enough, your dog will easily jump it over. Always choose a height that is appropriate to the size of your pet. And remember not to overlook the part of the fence that goes into the ground. It's the part that remains above is the one that needs to be tall enough.
Portability
Not everyone has a yard of the same size. The amount of usable outdoor space that we own can limit the possibilities we can achieve with an outdoor fence. That is why it would be ideal to find a fence design that boasts portability and can be easily moved about. Great solutions are paneled fences and playpens. Such a design can be completely adjusted to your needs and will help you to fully utilize every inch of free space you have. Even if a small lawn is all you got, there is no reason for you to not use it fully!
We are committed to finding, researching, and recommending the best products. We earn commissions from purchases you make using the retail links in our product reviews. Learn more about how this works.

Angela Vuckovic
A proud mama to seven dogs and ten cats, Angela spends her days writing for her fellow pet parents and pampering her furballs, all of whom are rescues. When she's not gushing over her adorable cats or playing with her dogs, she can be found curled up with a good fantasy book.
More by Angela Vuckovic
Published January 16th, 2022 12:00 AM