125 Views
December 17th, 2021 12:00 AM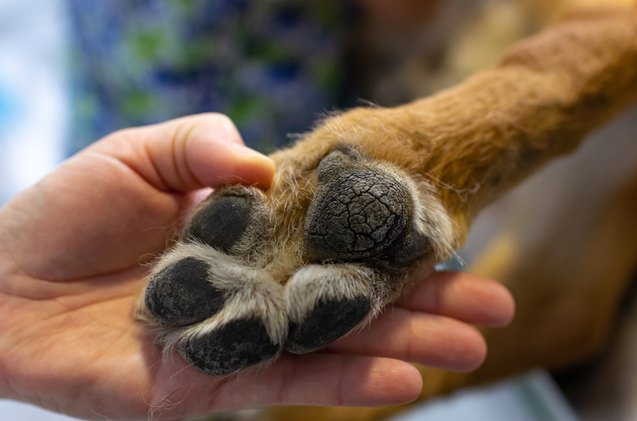 Paw balm can help prevent damage to your pet's paws, but also heals and softens already dry and cracked paws. Read on to learn which are the best paw balm and paw wax products on the market!
Your dog's paws are always exposed to wind, cold, hot, road salt, and anything they come across on their daily walks. Naturally, this leaves a mark on the gentle skin of the paw pads: dryness, cracks, and even wounds can appear in no time. Paw balm is both a preventative and a remedy for these situations. Made from natural oils such as jojoba, coconut oil, shea butter, and beeswax, paw balm doesn't just nourish and moisturize dry paws, but also forms a temporary protective film over them, making sure that nothing can irritate or damage your dog's paws.
There are many different formulations out there, from those with a higher content of wax to be more protective to those enriched with skin-softening or healing oils to soothe and repair damaged paws, and it can be difficult finding the right match for your pet's needs. To make your choice easier, we've rounded up the best paw balm products on the market- read on to make your pick!
1. Editor's Choice: Bodhi Dog Organic Paw Balm
Soothe, heal, and protect – this paw balm does it all. No more scaly paws and irritated pads! Made from all-natural, USDA-certified organic ingredients, it contains paw-nourishing ingredients such as shea butter, hemp seed oil, jojoba oil, and beeswax, enhanced with naturally anti-inflammatory and antiseptic calendula. There are no chemicals, parabens, sulfates, or artificial dyes, fragrances, or alcohol in this cruelty-free formula. It spreads easily and doesn't leave a greasy residue – it passes our list with flying marks! As it is fully natural and pet-safe, this paw balm is suited for use on dogs (and cats!) of all sizes and ages. It comes in 2 oz, 4 oz, 8 oz, and 16 oz packages for your convenience.
Pros
USDA-certified organic ingredients
Doesn't leave a greasy residue
Healing calendula extract
Cons
Dogs get tempted to lick it off
2. Runner Up: VetPro Complete Dog Paw Balm
Hypoallergenic, non-toxic, and made fully from natural ingredients, this nurturing paw balm is suited for dogs of all sizes and ages. It is made from truly moisturizing and protective ingredients and it is a fantastic choice particularly for dogs that already have cracked paw pads. The ingredient list includes sunflower oil, coconut oil, shea butter, white beeswax, carnauba, and candelilla wax, all enriched with vitamin E and Aloe Vera, known for their beneficial properties to the skin. Made in the USA without any parabens, phthalates, GMOs, sodium lauryl sulfates, petrolatum, mineral oil, artificial colors, or fragrances in the formula, it will both soften and protect your pet's paws. The 2 oz pack is practical even on the go, so you can pack it for your next camping trip with ease!
Pros
Natural hypoallergenic formula
Very moisturizing
Practical packaging
Cons
Can leave your pet's paws oily
3. Customer's Choice: Musher's Secret Dog Paw Wax
If there ever was a dog paw wax that needed no introduction, it's this one. A tried-and-true staple in many a pet owner's first aid kit, this paw balm will keep those squishy pads from getting cracked, dry, or damaged by road salts and elements. The formulation is simple but effective and includes a blend of food-grade waxes and oils carefully selected for their nourishing properties: beeswax, candelilla wax, carnauba wax, white and vegetable oils, as well as vitamin E, all come together to keep your pet's paws soft and form a barrier against outside damage. Quick to absorb and even faster to dry on the skin, this non-allergenic formula contains no toxic or harmful ingredients. It comes in a large 7 oz packaging that will go a long way.
Pros
Effective and natural
Fast-drying formula
Generously sized packaging
Cons
Can stain carpets or furniture when not fully dry
4. Best for Winter: Four Paws Healing Remedies Paw Guard for Dogs
Cold weather can be particularly tough on your dog's paws – not only that the ice and snow can irritate and dry out the paws, but road salt is an issue, as well. If your pet is not a fan of dog boots, a good paw balm wax can help protect their paws to a degree and prevent cracking and little icicles and snowballs forming on the hair growing between the paw pads. The "magic" ingredient in this paw balm is lanolin, an oil that's extracted from sheep's wool – this waxy substance both moisturizes and protects (it is a natural water repellant, too). This protective paw balm comes in handy 1.7 oz metal container and it's easy to apply on paws.
Pros
Protective and moisturizing
Practical packaging
Keeps away road salt, ice, and snow from paws
Cons
Can be slippery on hardwood floors
5. Best All-Weather: Petpost Paw Protection for Dogs
Contrary to popular belief, paw balm can't protect your pet's paws from scorching hot sidewalks – only booties can do that, as balms and waxes melt. However, it doesn't mean that paw balm isn't useful in the summer: the heat is drying, and moisturizing and protecting paw pads during hot weather is a must. This waxy formula isn't just nourishing, but it also forms a film over the paws for prolonged protection, as it contains beeswax, lanolin, mango butter, sunflower oil, and a range of essential oil extracts. Made in the USA with certified organic ingredients, this paw balm comes in a handy 0.64 oz stick that's super easy to apply.
Pros
Soothing and protective
Handy stick for easy application
Organic ingredients
6. Best Scented: Pet Head Oatmeal Natural Paw Butter
No one likes stinky paws – so why not use the chance to get rid of the smell while you're protecting your pet's paws? This lovely scented paw balm has a light and pleasant fragrance of oatmeal – pet parents agree that it smells yummy! A blend of shea butter, oatmeal, mango, vitamins E and F, coconut oil, olive oil, and aloe vera will keep those pads soft, nice-smelling, and protected from any damage. Pet-safe and pH-balanced, this formula is safe even if licked, so don't worry too much if your pooch gets tempted by the awesome smell. The packaging contains 2 oz of this yummy-smelling butter.
7. Best Stick: Natural Dog Company Paw Soother Trial Stick
Applying paw balm can be a messy business, but when it's stored in a stick, the task at hand is so much easier! Formulated to heal rough, chapped, dry dog paw pads, this vegan dog paw wax is formulated with nourishing ingredients like jojoba oil, coconut oil, hemp seed oil, cocoa, and mango butter, and vitamin E, and contains no artificial preservatives or harmful ingredients. The formula spreads easily across the paw pads and contains only natural and organic ingredients, so it's perfectly safe even for those sensitive pooches.
Pros
Practical stick packaging
Organic and natural ingredients
Soothes, nourishes, and protects paws
8. Best Natural: Petsmont Organic Paw Balm for Dogs
Fully natural and made from USDA-certified organic ingredients, this paw butter makes a difference after the first application. The power of nature! The proprietary formula includes shea butter, jojoba oil, coconut oil, beeswax, vitamin E, aloe vera, and plant-based collagen – needless to say, all organic. You can use this natural balm on cracked paws or dry noses, as it soothes, moisturizes, and protects your pet's skin from damage. The 2 oz can go a long way thanks to the efficiency of the formula!
Pros
All-natural, organic ingredients
Plant-based collagen
Can be used anywhere on the body
Cons
The smell doesn't suit everyone
9. Best Healing: Vets Preferred Advanced Pad Protection
Veterinarian-grade and made from high-quality ingredients to a specific formula, this advanced paw balm soothes, protects, and speeds up the healing of dry and cracked paws. The proprietary formula includes all the classics such as beeswax, coconut oil, and olive oil, and a few beneficial ingredients such as carrot seed essential oil, patchouli essential oil, and benzoin essential oil. These cold-pressed natural oils and waxes not only soak up and soften the pad, but also coat it with protective layers that prevent further damage. Packed in a 2 oz metal tin, this paw balm is easy to apply and use.
Pros
Natural waxes and cold-pressed oils for protection and softening
Essential oils for scent and holistic benefits
Spreads easily
Cons
The scent could be too strong
Dog Paw Wax vs Dog Paw Balm: Is There a Difference?
Many people use the terms paw wax and paw balm interchangeably, but are these two products the same thing? Well, yes and no. The ingredients are mostly similar, based on natural, nourishing oils and their purpose is to nourish, soften, and protect your pet's paw pads (and, in some cases, their noses and elbows). However, dog paw waxes are usually formulated to be more protective and form a tougher layer of coating that will protect your pet's paws from drying heat or road salt and ice, whereas paw balms are usually more moisturizing, penetrating deep in the pads and softening them back to their soft and squishy original state.
Benefits of Using Paw Balm
All dogs can benefit from using paw balm, especially in extreme temperatures, be it cold or hot weather. To boot, a moisturizing paw balm can help dogs with dry, cracked paws or those suffering from hyperkeratosis. But that's just the tip of the iceberg! Here are all the benefits your pet can experience from using paw balm.
Protection in extreme weather
You might not realize it, but constant exposure to the elements damages your pet's paws, and can even injure them. In the winter, roads are routinely covered with salt to prevent ice from forming, but salt is drying on the paws – a layer of protective balm or wax will keep the salt at bay and your pooch's paws moisturized. The same is true for ice and snow: wax will prevent snowballs and ice from attaching to your pet's paws, and keep their pads clean and protected in long winter walks.
Prevent damage
Some pooches have sensitive paw pads which easily get dry and cracked, and a paw balm will make sure that doesn't happen. It will nourish their paws and form a protective film that prevents damage from harsh elements and long walks on asphalt. However, this doesn't mean that you should apply paw balm daily – it could prove to be counterproductive. Too much moisturizing will make their paw pads softer and more open to damage, so don't overdo it.
Heal and soothe cracked paws
If your pet's paw pads are already dry and cracked, or if they have a condition called hyperkeratosis, paw balm can help heal them and soothe the irritation. The combination of nourishing, moisturizing natural oils in paw balm penetrates the superficial layer of the paw pad and softens it back to its original state. The results can be quite impressive, even if there's significant cracking present!
Multi-use on the body
Despite being labeled as paw balm, this product is not just to be used on your pet's paws. You can apply it anywhere where the skin is cracked or dry, such as your pet's elbows or nose. For dogs with dry skin, this nourishment and moisturization are much-needed, particularly when the weather is cold, and there are harsh, drying winds that promote cracking and dried-out skin.
We are committed to finding, researching, and recommending the best products. We earn commissions from purchases you make using the retail links in our product reviews. Learn more about how this works.

Angela Vuckovic
A proud mama to seven dogs and ten cats, Angela spends her days writing for her fellow pet parents and pampering her furballs, all of whom are rescues. When she's not gushing over her adorable cats or playing with her dogs, she can be found curled up with a good fantasy book.
More by Angela Vuckovic
Published December 17th, 2021 12:00 AM