58 Views
Best Pet Carpet Cleaners for a Mess-Free Home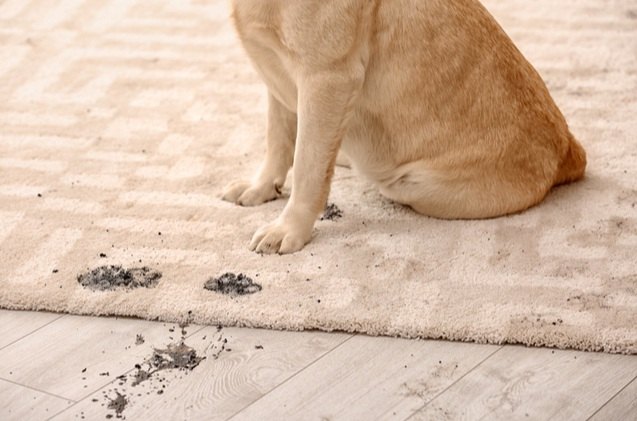 Pet carpet cleaners are a must for every pet parent that wants to keep their rugs, carpets, and upholstery spotless and odor-free.
Every pet owner knows that cleaning after your pet can become almost a full-time job–unless you have the right tools and proper routine. While a mop and a regular vacuum cleaner might do the trick for a pet-free home, people who live with a cat or a dog need to work a bit harder for their living space to remain spotless. This especially rings true for pawrents that happen to have carpeted floors. Unlike hardwood, which is fairly easy to clean, carpets are not only inviting to tons of pet hair, but they are prone to staining, retaining odors, and generally looking like a complete mess without the right upkeep. The same goes for rugs and upholstery, as well, so it's safe to say that most, if not all pet parents, would benefit from having a reliable carpet and upholstery cleaner in their arsenal of cleaning tools.
Why do I need a pet carpet cleaner?
Pet carpet cleaners are specially designed to tackle the dirt and the grime our four-legged companions tend to leave behind, as well as stubborn pet hair that stays in the carpet even after you vacuum. Even the tidiest, most well-behaved pooches will give you plenty of reason to deep clean your carpets on a regular basis. From dirty paw prints to potty accidents in the home and everything in between, a pet carpet cleaner is an investment that pays for itself, really.
Of course, not all pet carpet cleaners are worth your money and do what they promise to. To be sure you're getting the best bang for your buck, you have to know what features to look for in pet carpet cleaners and what you should steer clear of.
To help you narrow down your choice, we've put together a list of top 10 pet carpet cleaners that will impress you with their performance and give you the best bang for your buck.
1. Editor's Choice: Hoover PowerDash Pet Carpet Cleaner
This powerful but lightweight upright pet carpet cleaner will eliminate pet allergens from carpets and tackle even the grimiest messes with surprising ease. The superior cleaning performance is all owing to PowerSpin Pet Brush Roll that thoroughly cleans the fibers while removing allergens such as hair and dander from the carpet. Many pet parents sing praise to this particular carpet cleaner for its extremely powerful hair-sucking function, and if you have trouble getting all of the hair out your carpets with a vacuum cleaner, you'll love this one. Also, the HeatForce function helps dry the cleaned carpets much faster than this cleaner's competitors claim to do, so you won't have to worry about damp floors prone to mold. Hoover PowerDash Pet Carpet Cleaner is lightweight and suitable for small apartments or people who can't lug around a big heavy machine. This is a true multi-tasker that will take all the hard work off your plate.
2. Runner Up: BISSELL SpotClean Pet Pro Portable Carpet Cleaner
If you don't need a full-size pet carpet cleaner (or don't have where to store one), a portable option can be a good alternative–provided that it can tackle the job at hand. Well, this compact but powerful portable carpet cleaner is more than enough to help you keep your small apartment looking spotless. The superior suction function will easily remove stubborn pet stains, spots, and hair embedded into the carpets, but it's not just your floors you can deep clean with this one. Thanks to its compact and clever design, BISSELL SpotClean Pet Pro Portable Carpet Cleaner can be used to thoroughly clean carpeted steps on staircases, pet beds, upholstered furniture and any other hard-to-reach spot that would benefit from a little TLC. The only downside we see is the price, which can be considered a little steep.
3. Customer's Choice: Rug Doctor Portable Spot Cleaner
Inside this compact carpet cleaner, there's a mighty 10 amp motor that boasts twice the horsepower than most portable carpet cleaners. As a result, this handy little spot cleaner also has twice the suction power. The powerful oscillating motorized brush will thoroughly clean the affected surface from any dirt, debris, or stain, whether it's a high-traffic area in your home or a nook that's difficult to reach with a full-size carpet cleaner. You can use Rug Doctor Portable Spot Cleaner to clean stairs, carpet, area rugs, upholstery, and car interior. Also, it is easy to carry, making it great to bring with you wherever you are.
4. Best Cordless: BISSELL Pet Stain Eraser 2003T Cordless Portable Carpet Cleaner
While compact is good enough for most people looking for a portable carpet cleaner, why not go for tiny? This cordless, handheld pet carpet cleaner literally fits in your hand but don't let its size fool you. It will spray, scrub, and suction any mess your pet makes with a powerful stationary spot and a stain brush. To boot, this cordless carpet cleaner features a ready-to-use formula in its tank, specially designed to remove even the most stubborn stains (pee spots, we're looking at you). The only potential downside is that its battery offers 15 minutes of run time- but it's still enough to make a stain disappear forever. BISSELL Pet Stain Eraser 2003T Cordless Portable Carpet Cleaner is the best choice if you want to deep clean your car seats, keep your upholstered furniture looking brand new, or want to target specific spots and stains on your carpeted floors. When you need to get out the heavy artillery, this is the carpet cleaner you need to get. A life saver in households with several pets!
5. Best for Heavy-Duty Cleaning: BISSELL JetScrub Pet Upright Carpet Cleaner
If budget isn't an issue for you, but pet mess is, go with a heavy-duty pet carpet cleaner. The built-in LED lights will show you which areas of the carpet require a bit more TLC, so you can pre-treat them before the brushes get to work. This powerful machine has an XL cleaning nozzle with 10 rows of brushes that will suck out and lift any kind of stain, pet hair, dirt, and debris, even if they are deeply embedded into the fibers. Nothing gets past this bad boy!
6. Hoover Power Scrub Deluxe Carpet Washer
What's better than a powerful pet carpet cleaner? A powerful pet carpet cleaner that comes with pet carpet cleaning solution included. This upright carpet cleaner features 360-degree brushes that rotate and scrub out debris, hair, and dirt that are all deeply embedded in your carpets. But while the wide nozzle with SpinScrub Brush System tackles big carpeted surfaces with ease, you can also attach one of the accessories such as crevice tool, upholstery tool, or stairs tool to target specific areas of your home for the same deep cleaning treatment. Hoover Power Scrub Deluxe Carpet Washer comes with a 64 oz bottle of Paws & Claws pet carpet cleaning solution that has enzymatic ingredients- ideal for removing vomit, urine, or even poop stains and odor.
7. Hoover SmartWash Automatic Carpet Cleaner
Perfect for deep cleaning without much effort, this automatic carpet cleaner can tackle anything from caked pet stains to pet hair embedded in the fibers. The innovative Spot Chaser pretreat wand with the included Oxy pretreat solution detaches from the machine to instantly clean old, set stains from pet pee, vomit, blood, or anything else, really. After treating set stains, the carpet cleaning process is a breeze with PetPowerBrushes, an antimicrobial tool, and a simple process- push forward to clean and push back to dry. In addition to being a powerful pet carpet cleaner, it can also be used to thoroughly clean upholstery thanks to a special scrubbing tool that comes with it.
8. Bissel Multi-Purpose Portable Carpet and Upholstery Cleaner
Don't let the small size of this portable carpet cleaner fool you! The Bissel Multi-Purpose Portable Carpet and Upholstery Cleaner is designed to tackle tough messes of all sizes while the portable design makes it easy to transport the cleaner to wherever it is needed. Not only is it a great option for carpet clean-ups, but this portable cleaner makes cleaning upholstery easy.
The 48-ounce tank capacity is large enough to tackle even larger cleanups. The two tanks are easy to remove from the main unit for both filling and emptying without fear of spilling. A small trial size of the spot and stain formula is also included for use with the 3" tough stain tool, allowing you to confidently tackle set-in stains.
Not only is this a popular choice by consumers, but it is also a great way to help give back. The 'Buy Bissell, Save Pets' program is the company's commitment to making a difference for pets in need by donating up to $10 to the Bissell Pet Foundation for every product purchased.
9. SpotBot Pet Handsfree Spot & Stain Carpet Cleaner
No scrubbing, pulling a hose or putting any effort into cleaning pet stains out of a carpet. That's what SpotBot offers to you: a completely hands free carpet cleaning operation that just requires one push of a button. Just set the cleaner on the stain and let one of its two modes that automatically spray, brush and suction the dirt away from the carpet do their magic. It's that easy! And if you happen to need something a bit more hands on than a hands free cleaning experience, you can always use an on board hose and tool to clean stairs, cars, or upholstery. Super versatile and endlessly efficient, it is one of the most reliable offers on the market.
10. BISSELL ProHeat 2X Revolution Pet Carpet Cleaner
This heavy duty workhorse is ideal for high traffic areas, big homes, and households with multiple pets in the family. The dual DirtLifter PowerBrushes and the Heatwave Technology work together to deliver results akin to those you get from a professional carpet cleaning service. Also, this pet carpet cleaner boosts an Express Cleaning mode that will get the job done in 30 minutes – and that's certainly a feature that is hard to pass up on. And being such a robust and powerful machine, it is surprisingly easy to use and so efficient. A true helper in the home.
Who Needs Pet Carpet Cleaners?
You might be a newbie pet parent or simply think that your pet is not that messy for you to get a carpet cleaner. Regular vacuuming does the trick for most, right? Wrong. No matter how you look at it, pets come with more mess, it's just the part of the deal. Be it the hair they shed all over the place, an occasional potty accident, an upset tummy that results in vomiting, or bringing in the dirt on their paws after walking in the rain, sooner or later, your pooch will get your carpets and/or furniture much messier than you'd expect. Which is OK, because pets are our grimy little angels and it's a small price to pay for all the love and happiness they give us.
Cat owners are also not exempt, contrary to popular belief. Sure, kitties are meticulous when it comes to their beauty routine, never allowing their fur to be icky or dirty and usually never going potty outside their litter box. But that's just one part of their habits. Kitties are also well-known for vomiting hairballs (and "regular" stuff), they can track litter and "items" from the litter on their paws, and that's not to mention how much they shed. If you have carpeted floors, you're in for a lot more cleaning than you'd expect, even if you have just felines.
And in any case, every pet (same as humans) leaves behind their dander and body oil, but as they are much closer to the floor and spend time lying or sitting on it, the amount that transfers to the carpets is much more significant than those of humans. In time, the floors look just grimy if you don't deep clean regularly. Which brings us to the question of pet carpet cleaners and who really needs them. In one way or another, every pet owner will need a carpet cleaner. Do you have a chirping parrot friend? Tiny little feathers and seeds are bound to get all over the place. Is your best buddy a purring kitten? Expect plenty of shed hairs and particles from the litter. Dog owner? Hairs and mess are guaranteed. Of course, all of this multiplies if you own several pets. In that case, cleaning can become a daily occurrence, and proper hygiene is a must. Owning a powerful carpet cleaner can help you immensely here.
Some might argue that it's more prudent to rent a pet carpet cleaner when you need one rather than buy one for yourself. That's actually not true – as this idea is based on the fact that you're buying a heavy duty carpet cleaner for professional use. Nowadays, there are much more affordable and yet equally efficient options available for home use, and renting a cleaner once or twice will cost you as much as buying one for yourself. So, in the long run, it definitely doesn't pay off to keep renting when there are pet carpet cleaners out there to fit anyone's budget. All of this makes a pet carpet cleaner a sound and smart investment. Save your money in the long run, and have a powerful helper on hand whenever you need it. And for some pet owners, that might be a daily need!
To sum it all up, if you have a cat or a dog in your home, and happen to have carpets instead of bare floors, a pet carpet cleaner is a smart investment. And if you have more than one pet in your home, it's not just a smart investment- it's a must-have! Pet carpet cleaners will make your home cleaning routine much more efficient and faster, as they'll do the job much better than a regular cleaner would. These carpet cleaners are specially designed to tackle or the pet-specific issues when it comes to dirt, from deeply set stains from bodily fluids to persistent pet hair that embeds itself in carpet fibers. Depending on the model, you can get cleaners with special brushes for removing hair, those that come with cleaning solutions for pet mess, and those that literally eliminate any odor from carpets, including that eau the doggo you might be accustomed to, but your house guests certainly aren't. In other words, if you truly want to keep your carpets spotless, odor-free, and looking like new, you can't do it without a quality pet carpet cleaner.
What to Look for in Pet Carpet Cleaners
While it's undeniable that pet carpet cleaners do one heck of a job, slapping on a label that says 'pets' on a carpet cleaner is not enough to make it great. There are plenty of choices on the market, but not all will give good value for your money. Sometimes, it's just because the quality of the cleaner is less than great (despite the ads), but more often than not, it's a matter of wrong choice. A pet parent might go for a well known brand or a top selling model just because of their popularity, but it doesn't mean that this particular carpet cleaner will do the job for their home and match their needs. Of course, expecting your old, run-of-the-mill vacuum cleaner to do the demanding job of a specialized pet carpet cleaner can be a bit too much – a real mission impossible. To make sure you're not wasting your money, check out what features every pet carpet cleaner should have – and which will make a world of difference for you specifically.
Hair trapping tool
Does it need explaining? Unless you're the proud owner of a non shedding Poodle or a baldie like a Mexican Crested, you've probably had to clean pet hair out of everything you own. Pet carpet cleaners with a hair trapping tool are designed to clean all that hair from the fibers but in a way that won't clog the machine – as it would happen with a regular carpet cleaner. There is usually a compartment to trap the hair separately. These cleaners are often more powerful, having the ability to quickly suck the hairs even when they sink deep into the carpet or some nook or cranny. As such, their price tag might be a bit higher than usual, but the investment is more than worth it in the end.
Stain Isolator
A pet carpet cleaner with a stain isolator is a great choice, as it will have a separate water disposal tank for stains. When you are using one of the tools (like a special brush) to treat the stains from urine, vomit, or other nasty stains your pet made on the carpet, the odors won't contaminate the whole cleaner. And while these types of carpet cleaners might be a bit pricier than usual, a stain isolator can be invaluable for all pet owners. Spills and stains are a daily occurence in every household with a pet or two. These cleaners can save you from scrubbing and expenses of professional cleaning services.
Size
Make sure that the tank of the carpet cleaner is enough for your needs, as well as that the hose is long enough to reach all the spots in your home. After all, it's not the same amount of cleaning power and capacity you'll need if you live in a one bedroom condo or a two story house. Also, if you are a proud owner of several cats or dogs, you will – of course – have to deal with extra hair and dirt. Having a pet carpet cleaner with a larger capacity will be a must in these cases – where mess is in abundance! But hey, so is love.
Types of Pet Carpet Cleaners
Another important preference is the type of pet carpet cleaner. Upright pet carpet cleaners look a lot like pet vacuum cleaners, and they are usually powerful enough to satisfy the standards of most pet parents. Their features and functions, when you choose the right model wisely, can be similar to those used professionally. The other popular option is compact portable pet carpet cleaners, which are a better fit for people with undemanding needs or small living space. They are lightweight and easy to store but they won't always be powerful enough to give you deep carpet cleaning you're used to with a professional cleaning device. Lastly, if you are keen on getting top of the line, you can always shell out a few hundred bucks for a professional heavy-duty carpet cleaner–those bad boys can tackle anything.
Once you know what to look for, the only thing that remains is to find a carpet cleaner that will also suit your budget and have stellar reviews.
What types of pet carpet cleaners are there?
The most common and widely available pet carpet cleaners are upright carpet cleaners that look almost like regular vacuum cleaners- they are a good all-around option for most people. If you want something small but powerful, then go for a portable pet carpet cleaner that is easy to carry and can be used virtually anywhere. Finally, professional pet carpet cleaner devices are a good choice for people that want to start a carpet cleaning business or want only professional quality cleaning results.
What is the best carpet cleaner for pet urine?
All pet carpet cleaners are equipped to deal with pet urine stains, but a lot will depend on pretreating the stain, especially if it's dried out. You'll get the best results if you combine a pet cleaner with a pet stain remover solution, as it will help eliminate the odor, as well as remove the stain. The most popular choice are enzyme cleaners, as they can completely degrade stains and fully neutralize any unpleasant smells with an organic origin, including pee, poop, vomit, blood, etc.
How to clean a pet carpet cleaner?
Even pet carpet cleaners have to be cleaned: if you neglect maintaining them, they can develop an odor and start doing more damage than good when you use them for cleaning- this is particularly true if you use a pet carpet cleaner to get rid of urine stains. This is why you need to maintain a pet carpet cleaner: clean the nozzle, brushes, and the tank regularly. Follow the instruction in your pet carpet cleaner's manual as not all of them have the same mode of maintenance and always use recommended cleaning solutions.
We are committed to finding, researching, and recommending the best products. We earn commissions from purchases you make using the retail links in our product reviews. Learn more about how this works.

Angela Vuckovic
A proud mama to seven dogs and ten cats, Angela spends her days writing for her fellow pet parents and pampering her furballs, all of whom are rescues. When she's not gushing over her adorable cats or playing with her dogs, she can be found curled up with a good fantasy book.
More by Angela Vuckovic
Published May 17th, 2021 12:00 AM