6 Views
Top 10 Best Everyday Dog Leashes for Pooches of All Sizes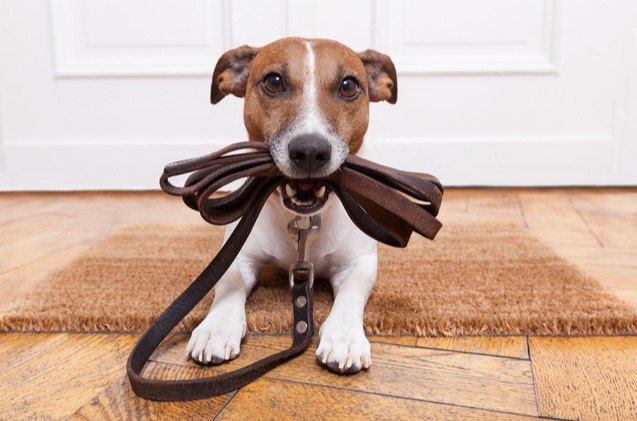 To help you make the perfect choice for your precious pooch, we've rounded up the 10 best everyday dog leashes for your walks around the neighborhood.
It's time for a W-A-L-K! God forbid you say it outright instead of spelling it, otherwise, your pooch will go into a frenzy- or at least my bandits do. How many times a day do you take your pooch out to stretch their legs, get some air, and strut around the neighborhood? If you're like most pet parents, the numbers add up: your dog is probably going on short walks a few times a day, both to go potty and spend some quality outdoor time. This translates to heavy-duty use of your everyday dog leash, which is probably being attached to your pooch and in your hand upwards of 20 times a week. Sheesh, when you think about it like that, that IS a lot of usage for a regular dog leash to handle in the long run. That's why an everyday dog leash should be strong, comfy, and durable before anything else- to make sure you don't have to change it every few months
Dog leashes for everyday use don't have to be fancy, but they have to be reliable. You want something that will clasp tightly onto your pooch's collar or harness and make sure they are in your grip while you're out and about. Even if your dog is trained to walk off-leash, it might not always be possible, e.g. in regulated or high-traffic areas, so it's essential to have a leash that's up to safety standards. Additionally, the make of the dog leash is important as well. Sure, you can go with any generic cheapie and it will do the trick- but for how long? These poorly made leashes are destined to go to the trash in a couple of months (and it's the last thing our planet needs). Instead, opt for high-quality leashed, which can be very affordable, but simply made with attention to detail and a good choice of materials. Leather, durable nylon, and even coated steel- depending on your individual preferences, there are plenty of rugged, durable dog leash materials to choose from.
Of course, there is also the matter of what each pet pawrent likes better. Are you more interested in hands-free dog leashes or maybe prefer a standard rope leash? Retractable everyday leashes are also a popular choice among pawrents. It all depends on what feels most comfortable (padded handle or lightweight loop?) and what does the job for you. Also, let's not forget the design- we all love when our stuff looks cute, and dog leashes are no exception. Luckily, there's plenty of options to choose from, regardless of your personal style.
In conclusion, the best everyday dog leash will be the one that ticks all of your boxes- and gives you the best bang for your buck. To help you make the perfect choice for your precious pooch, we've rounded up the ten best everyday dog leashes for your walks around the neighborhood.
1. Multifunctional 8 Foot Leather Dog Leash
If you enjoy the classic look of a leather leash, but you're hoping that your dog's leash can offer a little more, this is a great solution. This 8-foot leather dog leash has a special design that allows it to be adjusted and used in a variety of different ways including as a short, medium, and long leash, a hands-free leash, double leash, shoulder leash, or even as an easy tie when needed.
The leash itself is made from strong and durable genuine leather with sturdy stitching, making it both practical and stylish. On each end of the leash, you will find a rust-proof copper hook. There are also two fixed rings and one free-moving ring, which makes the leash fully functional in each of the different ways that it is designed to be used. This is a great option for walking, running, hiking, or training your dog, and comes recommended by professional dog trainers for its versatility.
2. Mile High Life Everyday Dog Leash
Who said that extra tough leashes can't look gorgeous? This beautifully designed everyday dog leash combines durability and aesthetics into one product, all thanks to smart design. To produce a reliable, heavy-duty dog leash, the company used high tensile strength rope that people use for mountain climbing. Needless to say, this type of rope will withstand years and years of heavy use in its dog leash form. The sleek rope is attached to the collar with a tight clasp and gives you a firm grip on your pooch's movement- ideal if you want more control. This everyday dog leash is available in 3 sizes – 4,5, or 6 feet long and over 10 different colors and patterns.
3. VirChewLy Indestructible Leash for Dogs
When a dog leash has a breaking limit of over 900 pounds, it's clear that it's virtually indestructible- hence the name of this lead. Made out of vinyl-coated steel, this dog leash is lightweight, very flexible but extremely tough at the same time. If your dog has a tendency to chew on his leash, you can't go wrong with this one- no canine can damage it. Also, this made-in-the-USA dog leash is not only chew-proof, but tangle-proof, and odor and dirt resistant. The comfort-grip webbing handle is made out of nylon and fully detachable. VirChewLy Indestructible leash comes in a variety of sizes, for dogs weighing from 2 to 220 pounds. It's also available in black, pink, red, orange, and yellow.
4. Hands Free Army Green Bungee Dog Leash with Waist Belt
Do you often go running or jogging with your pooch in tow? Or simply prefer to walk your dog hands-free? Then, this everyday dog leash will be just what you need. The army green shock-absorbing bungee leash has two clasps on each side, one for your dog's collar or harness and the other to be attached to a belt you'll wear on your waist. Not only that it is more convenient for sports activities, but this can be the ideal solution for an everyday dog leash for people with shoulder pain or any injuries that impact their upper body strength or movement.
5. TUG Patented 360° Tangle-Free Retractable Dog Leash
Retractable dog leashes are a great option for pet owners with dogs who are well-behaved on walks and need a wider range of movement. For instance, this particular everyday dog leash will give your pooch the ability to put almost 16 feet of distance between you two but you can also keep him as close as you want with just one click of the button. The anti-slip handle is comfortable to hold in hand and makes maneuvering on walks a breeze. Of course, with the patented no-tangle system, there won't be much maneuvering in the first place, as everything glides perfectly in all directions. The TUG 360 comes in 3 sizes and 3 designs (blue, white, and orange-white).
6. BAAPET 5 FT Strong Dog Leash
If most everyday dog leashes tend to hurt the palm of your hand, BAAPET will be a dream come true. This rope leash boasts a soft padded foam handle that is super soft and comfy but gives you a firm grip on the leash at the same time. The 5 feet long leash is made out of 1/2 inch diameter strong nylon rope that's reflective to boot- perfect if you walk your pooch early in the morning or in the evening, when it's dark outside. The heavy-duty clasp is designed to turn 360 degrees so this leash is a solid choice for doggos who tend to tangle their leads.
7. Mighty Paw Leather Dog Leash
Why not bring a bit of luxury to your everyday routine? Made out of premium real leather, this superb dog leash will impress you with its quality. The soft, supple leather is resistant to odor and dirt, and the handle is padded for your comfort (and with a D-ring attached to it for poop bags- how convenient is that?). The carabiner clip is made from aviation aluminum, lightweight material that's extremely tough and durable- climbers use the same type. Mighty Paw leather dog leash is 6 feet long and suitable for dogs of all sizes.
Not all pooches need to be kept on a short leash in order to behave- and those that don't get to enjoy the perks of freedom! Still, even if your pet is fully leash-trained, letting them off the leash is not possible or advisable in certain areas (e.g. high traffic streets) so a long leash is a perfect compromise that gives you control but still gives your pet more than enough comfort and freedom of movement. As the name suggests, Wander leash allows your pet to explore and wander on their own- the length of this leash is 30 feet which is more than enough for unrestricted movement.
The leash is made from heavy-duty, durable high-tensile strength climbing rope that will withstand wear and tear and has a nickel-plated 360-degree swivel clasp you can attach to your pet's harness or collar. And it's not just your pet that will feel comfy on walks with this leash- Wander has a padded handle made from tubular web material that won't chafe your hands or feel heavy in hand.
9. OmniPet Chain Dog Leash with Leather Handle
In case you need something that won't mind the weather elements, won't retain dirt or odors, and still be tough enough for a big pooch, take a look at this chain dog leash with a leather handle. Also, this is one of the best options for dogs that like to chew their leash- there's no way they'll be chewing through this one. Available in different chain gauges (from lightweight to heavyweight) and in lengths of 4 and 6 feet.
10. TaoTronics Retractable Dog Leash
This handy retractable leash comes with its own poop bag container- just clasp it to your pet's collar and you'll be fully equipped for a walk to the park. The fray-proof nylon ribbon extends to 16 feet and will keep your pooch tethered in any situation- even if they weigh over 100 pounds. The non-slip handle is comfortable and features an easy-lock system, where a simple push of the button keeps your pooch restrained by your side.
We are committed to finding, researching, and recommending the best products. We earn commissions from purchases you make using the retail links in our product reviews. Learn more about how this works.

Angela Vuckovic
A proud mama to seven dogs and ten cats, Angela spends her days writing for her fellow pet parents and pampering her furballs, all of whom are rescues. When she's not gushing over her adorable cats or playing with her dogs, she can be found curled up with a good fantasy book.
More by Angela Vuckovic
Published May 10th, 2021 12:00 AM