42 Views
Best Spectacular Stocking Stuffers for Dogs
November 22nd, 2021 12:00 AM
We're committed to finding, researching, and recommending the best products. We earn commissions from purchases you make using links in our articles. Learn more here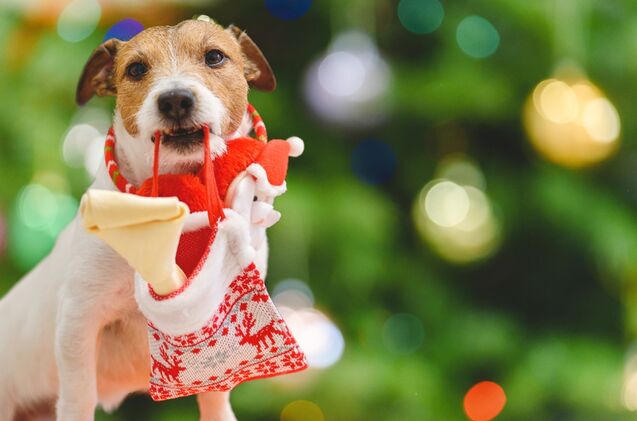 When you hang your stockings on the fireplace mantle this Christmas Eve, don't forget to fill one for your furry friend. Here are a few of our favorite stocking stuffers your dog will love.
Editor's Choice: Chewsday Daily Dental Dog Chews
Why not sneak in something actually healthy for your pooch in the array of treats and toys in their stocking stuffer? These dental chews are not only great for eliminating bad breath, removing plaque and tartar, and promoting good oral health, but they're also yummy as well – so your pooch will have no objection to this Christmas gift. Made with real and natural ingredients, these chew treats are free from any nasty, artificial stuff your pet shouldn't be consuming in the first place.
These particular dental chews are designed with special nubs that massage the gums and help remove bacteria from teeth, and come in two flavors – cinnamon clean and minty fresh. There are also multiple sizes to choose from, so any dog can enjoy these, from a tiny Chihuahua to a big Great Dane! What's more, in addition to this shape, you can also opt for twists or braids, if you think your pet would prefer them and the alternative flavor they come in (chicken, peanut butter, or bacon).
Runner Up: CANOPHERA® Chew Sticks
If you're always on the lookout for new, exciting pet products to surprise your four-legged bestie with, you'll want to include these unique chew sticks in their Christmas stocking. All natural, eco-friendly, and sustainable, this dental toy for dogs is made from coffee tree wood from the coffee plant. And that's it! No sneaky harmful substances, just natural wood that happens to be a byproduct of coffee farming. However, this is no plain old wood stick – the texture of this plant is a lot harder than you'd expect, which means that there's less chance of splintering. Needless to say, this natural stress-relieving dog chew contains no artificial ingredients, additives, or colors. You can pick between four different sizes, so dogs of all ages and breeds can get to enjoy gnawing on these coffee wood sticks.
Customer's Choice: Natural Dog Company Paw Soother Stick
Those cute lil' jelly beans truly have it ruff in the wintertime – road salt and icy asphalt quickly make for rough, chapped, and dry paw pads. To prevent your pet's paws from getting cracked and painful, slip this nifty chapstick-size tube in their Christmas stocking – it will make sure their paws stay moisturized and soft all year long. In addition to being compact and easy to use, this paw soother stick also boasts a clean, vegan formula: it only uses plant-based, natural, and organic ingredients such as coconut oil, chamomile, mango butter, and cocoa butter for natural paw care. No artificial substances or harmful chemicals are to be found! This paw balm is made in the USA, and it's even non-toxic when ingested.
Best for Active Dogs: Chuckit! Flying Squirrel Dog Toy
For those doggos that seemingly never get tired and are always up for some adventure or the other, a stocking filled just with treats, accessories, or squeaky toys isn't a perfect choice. You have to include something that will get them going and give them an excuse to chase, run, or jump around – and this flying frisbee squirrel toy is just the thing. The aerodynamic design makes it absolutely ideal for playing fetch in the yard or park – land or water, as it floats, too. It features various cool design solutions, such as bright orange "paws" (corners) that attract attention during the day and glow in the dark at night, curved sides for easier pickup, and much more. The toy is very durable, too, as it is made with multiple layers of canvas so it will easily withstand the elements and many fetch sessions all year long.
Best for Puppies: Pacific Pups Products - Dog Rope Toys
Your puppy's first Christmas – how exciting is that? You might be wondering what to include in their Christmas stocking, though, as there are so many options around – it's difficult to narrow down your choice! An all-around good stocking stuffer for puppies is toys they can chew on to soothe their itchy and inflamed gums – those erupting teeth are no joke! If you want to stock up on chew toys for your puppy (or have more than one puppy stocking to fill), this 11-piece set of rope toys will be just perfect. Durable and colorful, these toys are fun to gnaw on and are made from completely safe and non-toxic materials, passing the ASTM F-963 Children's Toys Safety Standards testing.
Best for Senior Dogs: Buddy Biscuits Hip and Joint Chews
Just because your pet is in their golden years it doesn't mean that they won't get as excited about Christmas as a puppy would! While an orthopedic dog bed or a warm blanket always make a good holiday gift for an aging canine, when it comes to stocking stuffers, you'll want something smaller yet equally loved by seniors – such as these delicious treats. In addition to being yummy, these soft chews are formulated to suit the needs of senior dogs, so they contain plenty of glucosamine and chondroitin to support joint and hip health. Made with natural ingredients such as real chicken, spinach, and flaxseed, these soft chews are only 9 kcal per treat and are completely healthy for your senior pet.
Best for Smarty Pants: Hyper Pet Doggie Tail Interactive Plush Dog Toy
Does your pet grow bored of most toys in no time? Are they too smart for their own good and get into trouble if they're not given a task or a challenge? Then you have a smart cookie on your hands, and it's not always fun – you need to keep them on their toes and mentally stimulated at all times to help them fulfill their potential and prevent destructive behaviors. A great way to do that is by providing fun, interactive toys such as this one – this plus squeaky toy vibrates, wiggles, and barks when shaken. As the toy moves of its own accord in an erratic pattern, it's certain to catch your pet's attention and keep them engaged for hours on end!
Best for Outdoorsy Canines: Dexas MudBuster Portable Dog Paw Washer
If you and your pet spend a lot of your time outside, on long walks, hikes, and other adventures in nature, you know that when the weather turns cold, they seem to get dirtier even faster than usual, thanks to all the mud, puddles, and snow. This nifty gadget will help keep that nasty stuff outside your home, though, as it helps efficiently and quickly clean your pet's paws from any grime and dirt in a matter of seconds. Just pour a little water in the paw washer, insert the muddy paw, do the twist, dab the paw dry, and repeat! The silicone bristles inside it will tackle any mess with ease and keep your home clean as a whistle.
Best for Foodies: Portland Pet Food Company All-Natural Dog Treat Biscuits
All dogs are foodies at heart: even picky dogs love food, they're just choosy about it. This is why treats are a foolproof choice for dog stocking stuffers – no dog would be indifferent to a yummy snack hiding in their Christmas stocking. And these all-natural biscuits are for sure as tasty as they come, but they are also good for your dog, as they are made with wholesome, natural ingredients and never anything artificial. Ingredients are locally sourced, human-grade, limited to just 7 per recipe, and the biscuits themselves are baked in the USA. This variety pack includes 3 irresistible holiday-inspired flavors your dog will absolutely adore – pumpkin, bacon, and gingerbread, all made without any GMOs, BHA, BHT, preservatives, artificial colorings, or artificial anything.
Honorable Mention: Bodhi Dog New Grooming Pet Shampoo Brush
OK, so bath time might not be your pooch's favorite activity in the world – sneak this small gift in their stocking to make yourself happy, then, and they will be none the wiser. Perfect for grooming and lathering on the soap in the bath, this latex-free rubber brush will quickly scrub away dead skin and loose fur for a quicker and more efficient process (which is certainly something your pet will appreciate in the end). It will turn a usually stressful grooming session into a soothing massage your dog will actually enjoy, and can really help you bond during their beauty routine instead of it being a source of anxiety for both of you. Easy to clean and use, this nifty little brush can be used wet or dry – and it suits dogs of all breeds, sizes, and coat types.
We are committed to finding, researching, and recommending the best products. We earn commissions from purchases you make using the retail links in our product reviews. Learn more about how this works.

Published November 22nd, 2021 12:00 AM