332 Views
Best Food Puzzles for Dogs
April 24th, 2021 12:00 AM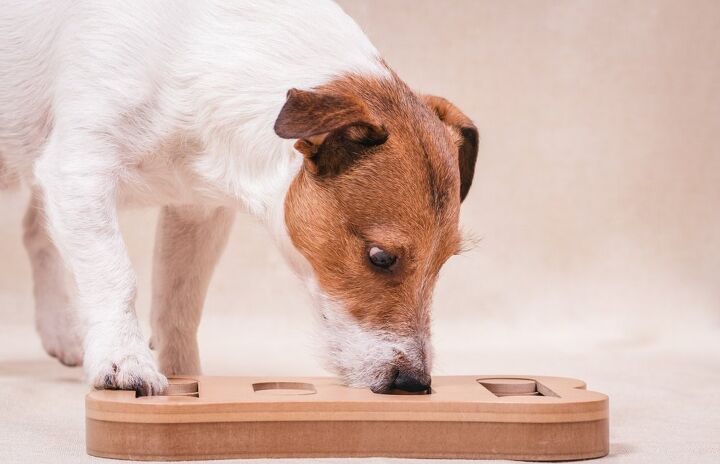 Looking for ways to keep your dog busy while you're busy? Try out any of these 10 best food puzzles of dogs.
Whether you have a pooch that wolfs down food in mere seconds, a dog that suffers from separation anxiety every time you leave the house, or you're trying to keep your older friend alert and engaged in something other than laying around, a food puzzle can be just the ticket. Now, before you envision this type of dispenser creating an overly rotund pooch waddling around your house, you should know that these nifty little devices don't require you to fill them with an entire meal each time you offer them up. In fact, just one or two treats can be enough to keep your pet busily enthused as he tracks, digs, and ultimately devours his "prey".
And while we'd never diss everyone's favorite classic – the Kong – there are a number of fun new options designed to suit the needs of any pet. Whether softer for small or older pets with sensitive gums, super-simple for pooches that tend to give up easily, or tricky enough to challenge the most persistent pup, there's a food puzzle for you (or rather, your dog). Shall we take a look?
Raise the Woof Food Puzzle Mat with Bonus Pet Grooming Gloves
Talk about a busy-boy set-up for your pooch, this ultra-soft activity mat is not only a fun snuffle mat for foraging out treats, it's also a food puzzle that makes an ideal slow feeder. Just wrap his dry food up into one of the attached fabric rolls, and let your pooch figure out how to get to his kibble… or perhaps that handful of treats he saw you hiding. Because the top snuffle portion uses layers of fleece fabric strips, its perfect for dogs with sensitive gums or noses. And with multiple hiding places, its perfect for dogs that suffer from separation anxiety and need a little longer distraction when you leave home. It also comes with a pair of soft, silicone-tipped grooming gloves – ideal for removing loose hair and a little one-on-one time with your pet.
Outward Hound Nina Ottosson Slider-style Food Puzzle with 24 Compartments
If you're thinking your pet will bore quickly and lose interest in a puzzle feeder, the advanced design of this slide-style dispenser is going to change your mind. It features 24 individual compartments that you can fully or partially load with his favorite dry food or treats. While your pooch can smell the food, he needs to figure out how to nudge the cover across in order to gain access to his reward – requiring just enough dexterity and persistence to keep him engaged. For dogs that love to use their paws, the sliding panels on this durable device are resistant to pressure and can be clawed open without damaging the unit. Its easy to hand-washable and because all pieces are BPA-free, its safe for pups who love to lick or chew. And with affixed panels that won't come loose, there's never any danger of choking.
Studio 21 Graphix Snuffle-Style Food Puzzle with Drawstring Closure
It looks like a big bowl of salad, but your pooch knows better. He can smell his favorite kibble buried deep inside those bright green strips of soft felt fabric and he's ready to dive in! What's great about the snuffle style of food puzzle is that you can lay out your pooch's entire meal of dry food, then walk away knowing he'll (eventually) be able to get to it all. It's ideal for use as a slow feeder because your dog can only eat one piece at a time while the unique drawstring design of this puzzle bowl/mat makes it ideal for travel. Pull the cord tight for a "bowl" style set-up that prevents spillage, or lay it flat for daily use. It's made with eco-friendly materials and best of all, is machine washable.
Pet Zone IQ Treat Puzzle Ball with Adjustable Levels of Difficulty
For the more playful dog, this ball-shaped puzzle food dispenser not only slows his food consumption, but stimulate his mind, while also fitting in a little exercise. The key is for your pooch to roll the ball just so, in order for it to dispense his favorite dry food or treats. In fact, depending on your pet's level of determination, this feeding ball can be adjusted to 3 different levels of difficulty to keep your pet challenged and engaged. And because we all know that one-size doesn't fit all, this ball comes in a 3-inch and a 4-inch design to fit the jaws of small, medium, or large dogs. It's made from high-quality, non-toxic plastic and can be disassembled for hand-washing. Best of all, the clear encasement and rolling motion lets your dog both see and hear his kibble or treats bouncing around, for added motivation.
Wainbowa Food Puzzle Balls
If you have multiple dogs, or just a dog that tends to lose his favorite toys all the time, this four-pack of interactive rubber balls is the way to go. Right off the mark, each one performs a different task. Such as the food-dispensing ball with slim, well-placed gaps that are designed to help clean teeth, or the multi-feature ball that not only releases your pet's favorite dry foods but interesting sounds that will keep him continually intrigued during play time. Then there's the slow-feeder ball with its unique grid-like internal structure that requires your pooch to work a little harder to coax his treats out, and finally, a simple rubber ball that's ideal for just tossing and chewing. Each ball is constructed from safe, non-toxic materials and can be popped into the dishwasher for easy cleaning.
GNAWLY DOG Gnawberry Scented Food Puzzle Toy
For those of us who live with pets that are totally motivated by scent, this strawberry food puzzle toy is about to become his favorite way to enjoy his goodies. No surprise, it smells just like its namesake and that alone is sure to draw your pooch over, but there's even more to keep him engaged. For example, the heavy-duty, all-natural rubber surface that cleans his teeth and massages gums while extra-sturdy construction helps strengthen his jaws while chewing. Just load your dog's favorite treats or dry foods into the top of this little unit, then watch his excitement as they slowly fall out the sides as he gnaws. And because of its compact size and lightweight construction, this versatile, berry-scented dispenser is also ideal for tossing around indoors or outdoors, when you and your buddy feel like a game of catch.
West Paw Zogoflex Qwizl Bone-Shaped Puzzle Feeder for Aggressive Chewers
If your dog is a slave to the look and feel of a good bone, then this is the food puzzle you've both been waiting for. Not only is the length of this slow food dispenser easy for him to pick up and proudly cart around (which bone-loving dogs are notorious for), but the curve-shaped design allows him to hold it upright between his paws as he chews, releasing all those favorite foods of his. Seriously, it's designed to be loaded with everything from kibble to jerky strips to peanut butter or even carrot sticks. Super durable construction makes it ideal for aggressive chewers, and because it's made from non-toxic materials, you never need to worry about your pet's health. And for those of us that worry about where it's been, this rubber bone is also dishwasher safe.
Hartz Squeak & Treat Duck-Shaped Food Puzzle with Plush Body
Tickle all your dog's senses with this duck-shaped food puzzle that not only looks like the real thing (okay, in your dog's mind), but is super plush for pups with sensitive gums or teeth. But in addition to its soft, fuzzy texture, there's even more sensory stimulation, because this toy also crinkles and squeaks – which makes the perfect treat dispenser for any pooch that gets excited by sounds. Just load his favorite dry food items into the durable rubber pouch in the duck's belly, then watch as he works away at trying to figure out how to get his rewards. The soft, lightweight construction makes it safe and easy to toss around indoors, while its elongated shape is perfect for dogs that like to parade their toys. And because it's machine-washable (cold only), its easy to keep clean – at least for a few minutes.
Outward Hound Nina Ottosson Interactive Food Puzzle with Locking Compartments
Some dogs use their mouth as their tool of choice, but for others, its their paws. And if your pooch is inclined to use his furry appendages to gain everything from your attention to treats from the cupboard, then this lockable puzzle feeder is going to be right up his alley. Just fill each of the 8 compartments with dry food, then leave it to him to figure out how to press the corresponding lever to unlock and slide the panel to expose his reward. Think Pavlov's dog, but with a twist – literally – because your pooch must work his way around this puzzle feeder to access all those tasty tidbits. It's a great way to stimulate your pet's senses and challenge his dexterity skills. And because it's made of BPA-free, non-toxic plastics, its totally safe for him to resort to licking or nose-nudging these compartments open.
restone Tug-o-War Puzzle Feeder
For dogs that can't get enough of tug-o-war games, this puzzle feeder is about to give your shoulder a rest. It uses a strong vacuum suction cup (capable of resisting up to 200 pounds of tug) that secures to virtually any flat surface floor or wall. A quality grade 5-foot rope connects the suction cup to a BPA-free rubber ball that's been made from TPR for lightweight resiliency. Load this ball with all his favorite dry foods, then watch his reaction as his favorite game nets him a bounty of tasty rewards. A ridged, rubber surface helps clean teeth and massage gums, while a small bell helps build his excitement with each tug.

Published April 24th, 2021 12:00 AM