9 Views
December 20th, 2018 12:00 AM
You can't say catnap without using the word cat! And yes, kitties were the inspiration behind the word. How couldn't they be, after all? Felines are known for their long naps and spend upwards to 20 hours a day dozing off. Considering that there are 24 hours in a day, that feat is quite impressive!
While your cat might be content to sleep pretty much everywhere they happen to find themselves at the moment, that doesn't mean that they should have their own spot to sleep in. Cat beds are a great option for owners fed up with their cat taking up the best part of the sofa, as they give your sleepy feline a piece of their own sleeping territory. PetGuide.com's extensive in-depth reviews and buying guides help you navigate through the countless cat beds that are available on the market to find the best possible one for your kitty to dream in. Granted, we can't guarantee that it'll take time for your feline to warm up to it- after all, there's no pet pickier and more finicky than felines.
Aspen Pet Self Warming Bed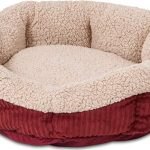 Includes a special interior layer that reflects pets' body heat to provide comfort and warmth.
Non-skid bottom keeps the thermal cat bed in place for worry-free placement on tile and hardwood floors in the home.
MEOWFIA Premium Cat Bed Cave
Handmade Premium Cat Bed Cave from 100% Merino Wool.
Handmade Premium Cat Bed Cave from 100% Merino Wool.
Completely free from harsh chemicals and synthetics. Safe for your cat, your family and our world.
Trixie Pet Products Miguel Fold and Store Cat Tower
Ideal for small spaces.
Simply fold shut for quick and easy storage.
Strong / sturdy construction, cat hide-out is fast to assemble & collapses flat when not in use for easy storage & travel.
Strong / sturdy construction, cat hide-out is fast to assemble & collapses flat when not in use for easy storage & travel.
Cat hide-away includes plush hanging ball w/ "hide & seek" cut-outs to promote play.
K&H Pet Products Thermo-Kitty Heated Pet Bed
Heater uses only 4 watts and is MET Listed. comfort and to last.
Heater uses only 4 watts and is MET Listed. comfort and to last.
Hood zips off easily to create a kitty cup.
Before You Buy a Cat Bed
When it comes to cat beds, there are a few things you'll need to pay attention to before you make the purchase- and not all of them concern your furry little royal's preferences. The main factors you should consider are style or the type of the bed, materials, size, and, of course, how easy it will be to clean. What kind of bed you'd like to get for your cat- or, more importantly, what kind of bed does your cat prefer?
Types of Cat Beds
There are various popular designs, and not all of them will hold the same appeal to your kitty. For instance, some felines will love to settle down and nap on so-called bolster cat beds, which are most similar to a comfy cushion of a sofa- in case you need to wean your cat off of your furniture, one of these might do the trick. On the other hand, your four-legged companion might appreciate a cozy nook to hide in during their sleeping sessions; in which case a cat cave or dome beds will be a better match. There are, alternatively, other models you can choose from, from full-on cat trees to more modest loungers- PetGuide.com's experts will help you make the right choice for your individual needs.
Cat Bed Material
As for the choice of materials, a cat parent will have plenty to choose from. From synthetic fur and plush materials to cardboard and felt, there are as many material options as there are cat beds on the market. Most cats have a sensitive sense of smell, so cheap, synthetic materials might not always be your best choice. The strong scent that's characteristic for low-quality synthetic fabrics might put off your cat from getting into the bed you chose for her- even if the smell dissipates with time! Even though these beds are budget-friendly as a rule, there are other affordable alternatives that will suit your pampered feline more. Most beds are made in some form of a polyester blend, similar to the fabric used for plush toys, and these higher-quality materials are quite appealing to cats; both because there are no weird smells and that the softness of the bed invites them to rest in it. Additionally, some cat beds which often also double as scratch posts, are constructed with tough, durable cardboard- and we all know the odd fascination felines have with cardboard. If all else fails, you can always count on a cardboard box to entice your furry baby!
Size of Cat Beds
Another important quality you'll need to consider is the size of the bed. Ideally, the bed would be just big enough to give your kitty room to stretch out a bit, but it's rather a rule of thumb than a real set rule. Some cats will love a snugger fit of the bed (again, potential candidates for enclosed, dome beds), while others might find beds that are a bit big for them particularly attractive. You can actually recognize those kitties as furry thieves who always want to sleep in the dog's bed rather than their own. While you'll have to know your cat good enough to guess their preferences, PetGuide.com's reviews of cat beds will give you a clearer, more detailed picture of every model we feature, so you should be able to pick out a perfect one for your feline with trouble at all!
Cat Bed Decor
Additionally, you will want to count in your own preferences, too. After all, you're the one paying for it, and not your spoiled four-legged brat, so why wouldn't you have a say? Most pet parents want a cat bed that won't stick out as a sore thumb in their living room and manages to be interesting enough for their cat to actually sleep in it. Thankfully, manufacturers of cat beds recognize the pawrent's need, too, so there are tons of designs to choose from. Whether you want a cozy, fluffy bed to go with your urban flat decor, or need a more stylish cat bed for your luxurious living room, PetGuide.com has got you covered. We've prepared buying guides that will help you find a bed that's perfect both by your and your cat's standards! On a more practical note, you'll also want to ensure that the cat beds that you're looking to buy are easy to clean. Ideally, they'll be washer and dryer friendly, so you can just pop them in when they get dirty enough!
In the end, the most important thing about cat beds is knowing how to get cats to sleep in them. Seriously. You could splurge on a lush bed worthy of any feline princess, but if they decide that the windowsill is more interesting than your money is definitely going to waste. Fortunately, PetGuide.com's experts have a few tricks up their sleeves and are more than willing to share- hop on over to our blog about cat behavior and training to find out how to ensure your cat loves their new furniture. (Hint: it involves catnip.) From in-depth reviews that will save you money and time, to useful advice, PetGuide.com will ensure both you and you don't lose sleep over cat beds! Published December 20th, 2018 12:00 AM