6 Views
December 27th, 2018 12:00 AM
Are you a pet parent to a cute little doggy fashionista? Do you clothe your pooch when the weather gets too chilly? Or do you dress up your pet in clothes only for special occasions, such as Halloween or Christmas? Whatever the case is, PetGuide.com has got you covered with ideas for the comfiest outfits, guides for buying the most stylish canine clothes, and the cleverest costume ideas for holidays! Not only that you will find all you need when it comes to dog clothes buying guides and reviews, but you can learn how to make cute pooch accessories and garments yourself- even if you never had any experience with it before!
Scheppend Adidog Sweatshirt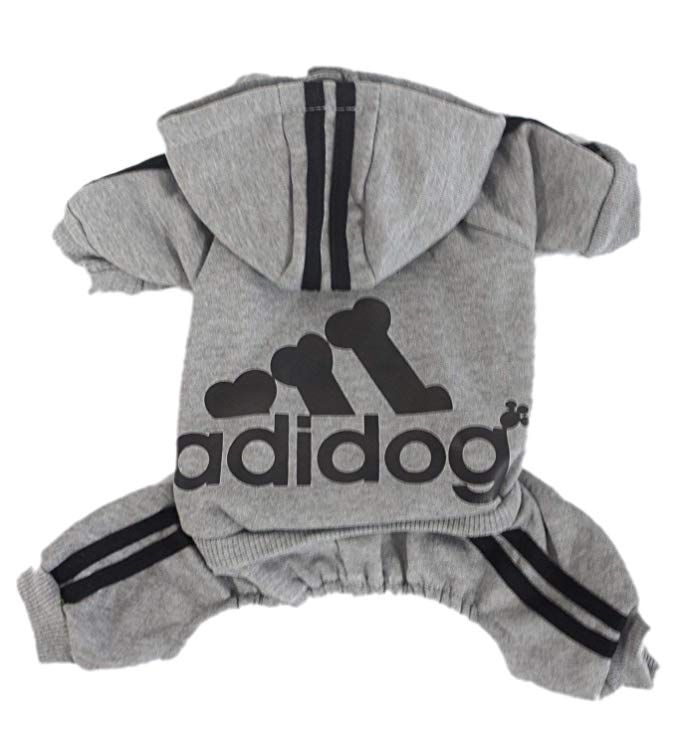 Button closure design, easy to put on and take off.
Soft cotton material keeps your dog comfortable and warm.
Made with 100% polyester to keep moisture out like freezing rain or snow, and to help keep warm air in, so your dog always stays warm.
Made with 100% polyester to keep moisture out like freezing rain or snow, and to help keep warm air in, so your dog always stays warm.
Fleece Dog Vest is a pullover that you can quickly and easily put on your dog and head outside.
Howstar I Love My Mom Hoodie
Soft Cotton Blend material, keeps your pupper warm and comfortable.
Soft Cotton Blend material, keeps your pupper warm and comfortable.
Adorable "I Love My Mom" messaging.
Perfect for every day wear, sleep and photos.
Perfect for every day wear, sleep and photos.
Your fur baby will be wrapped in comfort with these cozy dog pajamas.
Easy hook and loop Closure, ease to put on and take off.
Easy hook and loop Closure, ease to put on and take off.
Purpose of Dog Clothes
Dressing up dogs can be a fun activity, both for you and your pet. Contrary to popular belief, not all dogs are opposed to wearing clothes, costumes, and adorable accessories. In fact, some canines love it; and the attention that comes with wearing a snazzy outfit, of course.
It doesn't have to be a full outfit, though, if your pooch is not in a mood to model some cool clothes: rocking a dog bandana, or an adorable little hat is a great toned down option if you don't want to overdo it or stress out your grumpy pupper. First time trying to get your pooch to wear clothes? Don't worry. PetGuide.com's instructional and helpful articles will help you make the dressing up process one of your pooch's favorite activities. Once you know what to do, your pupper will be as cooperative as they get! (Hint: it involves bribe. Sometimes copious amounts of it.)
Dressing for the Holidays
If you love holidays and want to share the joy with your pooch, chances are it will involve wearing a costume, at least once a year. Showing up on Halloween wearing a matching costume with your doggo can be extremely fun, and don't even get us started on taking family pics in ugly Christmas sweaters- how on earth could you leave out your pupper out of the snap?
PetGuide.com's experts will give you the best advice on stress-free ways of dressing dogs in costumes, as well as pawesome tutorials on making hilarious dog costumes yourself. After all, it's not always easy finding a Shi Tzu-sized Lego brick costume readily made; sometimes it has to be canine couture. With our DIY posts and dog costume buying guides, it's guaranteed your pooch will be the star of your Instagram profile and the center of the attention during your holiday party.
Practical Reasons for Dog Clothes
On the other hand, dog clothes don't have to be a fashion statement or a costume. Some dog breeds must wear clothes for health reasons, especially in areas where the temperatures get extreme during winter or summer. You might be wanting to make your pooch feel more comfortable with being dressed up purely because you know you'll have to put them in a warm coat come winter, or protect their sensitive paws with booties. In that case, training your dog to be dressed up is really important: it won't be stressful for them to wear clothes seasonally, and you won't have to go through an ordeal every time you want to dress your dog for a walk around the neighborhood.
Additionally, clothes can have a therapeutic effect on some dogs. Specially made clothes such as Thundershirt or snug fitting hoodies can soothe a nervous pooch and help pets affected by separation anxiety or during stressful times, such as 4th of July fireworks.
Sporting Attire
If you're an adventurous type of person who loves camping and spending time outdoors, you know how important having the right gear can be. It's no different for your pet! You wouldn't want to go on a hike without a backpack or get caught in a heavy thunderstorm without a raincoat, so why would your dog have to? Additionally, not all dogs can swim as good as their owners, so packing a life jacket can be a literal lifesaver. See, who dared to say that dog clothes are just about appearance? PetGuide.com will give you all the scoop on essential dog clothes for furry adventurers, and help you pick out the necessities for your next trip.
Runway Worthy
Pet parents are infamous for wanting to pamper their pooches with only the best of the best, and the same goes when it comes to clothes and accessories. If you thought that doggy apparel was just about pretty collars and a warm coat here and there, you're sorely mistaken. Dog clothes are a part of a booming industry, and everything you'd buy for yourself to wear, you can find in a doggie version.
Hoodies for dogs? T-Shirts for your furry best friend? Dresses that will make your four-legged companion the center of attention in the park? Check, check, and check! Whether you plan on making a walk-in wardrobe for your canine trendsetter or want to keep it simple with a practical outfit or two, we've got you. Read up on the latest trends and innovations in the pet fashion industry and get the best for your precious furry baby.
Furthermore, you don't have to spend big buck on doggy designer items (yes, those do exist) to make sure your pooch is comfortable and looks dazzling. If you know what type of materials to look for, which cuts and designs offer the most for puppers, and where to shop for affordable and high-quality items, you'll snag some impressive dog clothes with ease. PetGuide.com is here to help you with your doubts and quarrels, and offer advice and honest reviews that will make the shopping process much more enjoyable! And, if we're being honest, much better for your credit card balance, as well. Published December 27th, 2018 12:00 AM