108 Views
Best Dog Training Products
October 25th, 2022 10:44 AM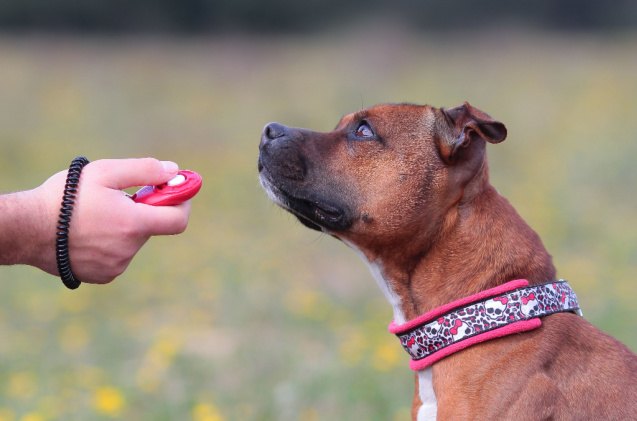 While you can train your dog without needing any specific product, the truth is that the right products can make the whole process so much easier and more effective. Whether you're a seasoned dog owner with plenty of experience training their pets or a newbie first-time pawrent looking for some help training your dog, these dog training products will make sure the training process goes smoothly – and yields better results.
Editor's Choice: Starmark Pro-Training Clicker for Dogs
Clicker training is insanely popular, and with good reason – it's a highly effective positive reinforcement training method that uses an audible response to mark desirable behavior before offering up a reward. In other words, you click the clicker when your pet does something they're supposed to and follow it up with a treat – they'll quickly get the hang of it! This particular clicker design is popular with pet parents because it's inexpensive, compact, loud, and most importantly, gets the job done. You can attach it to a lanyard, keychain, wrist strap, or finger band – whatever you prefer – and click away whenever you need to signal your pooch that they are doing a good job.
Pros
Small and compact
Loud and clear click
Easy to use
Versatile options for carrying
Inexpensive
Cons
Doesn't come with its own wrist strap or clip
Runner Up: Pupford Freeze Dried Dog Training Treats
You can't successfully train your dog without some kind of motivation – period. And what could possibly motivate your four-legged bestie more than yummy delicacies offered up as a bribe for a job well done? These particular dog training treats are ideal for dogs of all ages and sizes, as they are designed not just to be tasty but also good for your dog – they contain minimal ingredients but maximum flavor and are freeze-dried to preserve all the aromas and nutrients inside each treat. With less than 1 calorie per treat and no artificial ingredients or fillers, these treats are quite healthy, and they come in a variety of flavors, from blueberry to beef liver to rabbit, and so on – there are currently 8 delicious recipes to choose from.
Pros
Made in the USA from USA-sourced ingredients
All natural ingredients
Freeze-dried to preserve nutrients and flavor
Less than a calorie per treat
No fillers and artificial ingredients
High-value delicious treats ideal for training purposes
Cons
Flavors can be hit or miss
Customer's Choice: Zak George's Dog Training Revolution
OK, so you want to train your dog on your own but have no clue where to start? Why not try a dog training book to help you clear up any doubts and give you detailed instructions on the whole process? The "Zak George's Dog Training Revolution: The Complete Guide to Raising the Perfect Pet with Love" is a bestseller by a YouTube star and Animal Planet who boiled down his extensive experience into a comprehensive dog and puppy training guide that contains everything you need to know to raise and care for your dog. Whether it's how to train your pet on the very basics, such as potty training, or how to handle specific issues, such as biting, barking, or leash pulling, this handy guide has you covered – with a nifty bonus in the form of corresponding videos on Zak's YouTube channel so you can see his advice in action.
Pros
A comprehensive guide packed with useful information on dog care and training
Accompanied by corresponding videos on training
Teaching tricks, commands, basic training, and dealing with behavioral issues
Tips on health and care
Easy to read and understand
Cons
More suited to beginners and first-time owners
Best Treat Bag: RUFFWEAR Treat Trader
We already covered the fact that treats are an essential part of the dog training process, so it's only logical you'll need a practical place to store your bribe, especially when you're on the go. You don't want your pockets to be full of smelly treat dust or to lug around the whole package with you when you're on walks and out and about! This wearable treat bag is an excellent choice for storing those yummy bits you'll use to reward your pet – it has a magnetic closure that allows for quick, one-handed use and can be looped onto the adjustable belt which comes included or attached directly to the waist with the belt clip.
Pros
Ergonomic comfort for the wearer
Waterproof lining helps contain the mess
Loop for attaching a clicker
Small outer pocket for extra storage space
Comes with a belt included
Cons
Doesn't fit well on all belts
Best Leash: Hi Kiss Dog/Puppy Obedience Recall Training Agility Lead
Walking on a leash is one of the first things you should teach your dog – it will ensure their safety and your peace of mind. This training leash is perfect for teaching your dog recalls, as it is long enough to let them roam around freely but still keeps them tethered and ensures that when you command them to come, they'll have no choice but to. Thanks to nylon fabric and reinforced stitching, this leash is quite durable, and the swivel-style, nickel-plated bolt snap resists twisting. It comes in over 30 different colors, and various lengths – 15, 20, 30, 50, or 100 feet.
Pros
Durable nylon with reinforced stitching
Tangle-free, easy-coil design
Ideal for medium and large dogs
Adaptable to different levels of the leash training process
A wide variety of colors and lengths to choose from
Best Pee Pads: Glad for Pets Black Charcoal Puppy Pads
Potty training can be both a lengthy process and a messy one – so you'll want to minimize any messes while teaching your dog where to pee and poop. These pee pads are such a great tool for puppies that are still not housebroken, as they contain a pheromone attractant, so they'll draw your pooch in and give them a place to do their business without messing up your carpets or floors. After coming into contact with liquids, these pads instantly absorb it and turn it into a gel-like matter, preventing it from spreading, releasing odors, or leaving yellow marks. Each pee pad is 23" by 23" so it suits a puppy or a small dog, and can hold up to three cups of liquid which it absorbs in under 30 seconds.
Pros
5 layers for a leak-proof construction
Absorbs liquids and turns them into gel
Contains pheromone attractant
Neutralizes odors
Different sizes available
Best Crate: MidWest Homes for Pets iCrate
Many dog owners opt for crate training their dogs, whether because of separation anxiety issues, to ensure safe traveling, or simply because having a way to securely contain their dog without causing them stress is essential for their lifestyle. If that is the case for you, you'll want to start by choosing a quality, reliable crate for training and future use – and this one fits the bill perfectly. Available in 8 sizes, with a single or a double door, this dog crate will suit pets of all breeds and sizes. It features a slide-bolt door latch with a patented Paw Block to ensure your pet's safety and a secure lock of the crate, as well as other nifty design solutions such as a divider panel to adjust the size for growing puppies, a leak-proof plastic pan to contain messes and potty accidents, as well as protective rubber feet to prevent floor scratching and a carrying handle for easier transport.
Pros
Easy to assemble without tools
A secure and safe locking mechanism
Different sizes available
Black, blue, or pink color available
Folds flat for storage or travel
Cons
Quality could be improved
Best Agility Training Set: Better Sporting Dogs Deluxe Agility Equipment Set
It's not only basic or obedience training you can do with your dog – if you have a smart, active dog that thrives when mentally and physically engaged, consider agility training. You can either do so for the sake of entering competitions or simply because you and your dog find it fun, the choice is up to you! There are plenty of different agility courses and types of obstacles you can try, but this agility equipment set is a great choice for newbies and pros alike – it contains adjustable bar jumps, an adjustable tire jump, 6 fixed base weave poles, a classic tunnel, a chute tunnel, and a pause box. The set can be used indoors or outdoors and comes with its own carrying case for ease of storage and portability.
Pros
Great way to exercise your dog
Suited for beginners and more experienced dogs
One set contains all the basic obstacles
Can be used indoors or outdoors
Easy to set up and use
Best Training Bells: BLUETREE 2 Pack Dog Doorbells
How great would it be if your pet could clearly communicate when they need to go outside to pee or poop? Well, when trained with bells, they can! These training bells are supposed to be hung over the doorknob or over a hook you install near the door frame – you then teach your pet to use their nose or a paw to ring the bells when they need to go potty. This highly effective technique is based on positive reinforcement methods and helps eliminate unwanted behaviors such as scratching the door or the wall, whining, or barking when the dog wants to be let out. The set includes two training bells and a bonus gift – a dog training whistle.
Pros
Simplifies the potty training process
Set of two bells – can be used on front and back door
Easy to use
Available in multiple colors
Clear, crisp sound
Best Stain and Odor Remover: Rocco & Roxie Stain & Odor Eliminator for Strong Odor
Let's be honest for a second – no training process is completely straightforward and foolproof. You're bound to hit a few bumps on the road and have more than one hiccup when trying to teach your pooch some basic manners! In the case of potty training, though, those mistakes and setbacks can leave a lasting mark on your floors, furniture, or carpets. Luckily, when you get an effective odor and stain remover for urine marks, you can rest assured that those smelly, yellow spots will be a thing of the past. This highly-prized stain and odor eliminator relies on its natural bio-enzymatic formula to eliminate any stain, residue, or odor of organic origin and does so with extreme efficiency. Just spray it on, let it stand for 30 to 60 minutes, and blot the excess with a cloth – and that's it!
Pros
A natural but potent formula
Can be used on carpets, upholstery, concrete, tiles, hardwood floors, and laminate
Removes urine stains and neutralizes odors
Perfect for potty training puppies
What Tools Do I Need to Train My Dog?
There are many different dog training products out there, but not all of them will do the trick for you. If you're just starting out and want a general recommendation, a trusty clicker is always a good idea, as well as a little tip to stock up on training treats that are integral for any training process. But, for any specific type of dog training, such as teaching your dog to walk on a leash, potty training, crate training, etc – you will need specific equipment.
It's important to have in mind that any tools or products you use for training should be properly used and in alignment with positive reinforcement methodology. Using tools without combining them with the right training approach won't be effective at all, as they are meant to complement and enhance the training process, not completely replace the effort you need to put in to train a dog.
We are committed to finding, researching, and recommending the best products. We earn commissions from purchases you make using the retail links in our product reviews. Learn more about how this works.

Angela Vuckovic
A proud mama to seven dogs and ten cats, Angela spends her days writing for her fellow pet parents and pampering her furballs, all of whom are rescues. When she's not gushing over her adorable cats or playing with her dogs, she can be found curled up with a good fantasy book.
More by Angela Vuckovic
Published October 20th, 2022 3:07 PM