16 Views
Noble Novelties Worthy of Your Aristo-Cat
January 26th, 2022 12:00 AM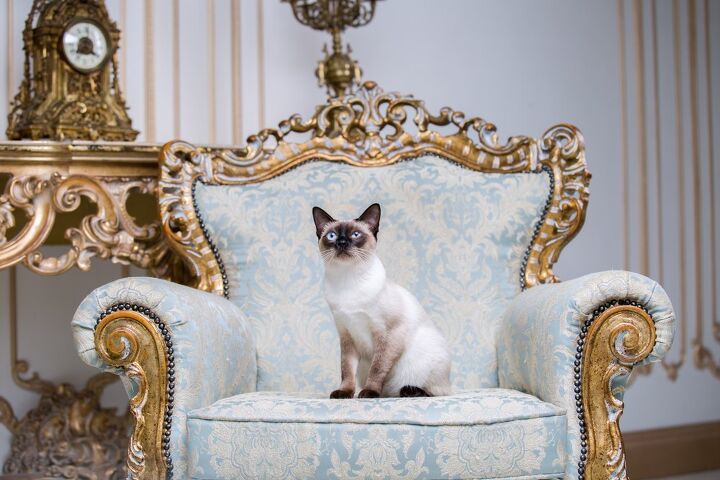 When your cat is the supreme ruler of your home, there's nothing you can do but knee down and pledge allegiance to their right of reign. Appeal to your demanding kitty's merciful side by offering up these magnificent tokens as a sign of your undying loyalty. And remember, it could be worse – remember when you let the dog take over for the day? Yeah, let's not talk about that fiasco.
1. Editor's Choice: Weewooday 3 Pieces Bling Rhinestones Pet Collar
In the world of Feline Monarchy, this collar of crown jewels reminds the human peasants how insignificant they are. Bow down before your royal kitten! Each set is adjustable and comes with three collars – each with its own unique charm so you can mix and match depending on the day.
2. Runner Up: Microdermabrasion 53 Inch Multi-Level Cat Tree House
What's a king without his castle? Endow your kingly kitty with this extravagant home where he can stare at you in disgust in the comfort of a carpeted tower. This tower measures 53-inches tall and has two spacious rooms as well as three top platforms for your feline royalty to relax.
3. Customer's Choice: Twin Critters Organic Silvervine Catnip Toy
Not just any ol' toy will do for your regal feline. Whether they're a white or red kinda gal, you can entertain her for hours with these boujee wine bottle-shaped toys filled with silver vine. It also doesn't hurt that you'll be able to grab a hilarious pic of your cat sipping from her new favorite drink!
4. Best Outdoor Cage: Catio
Your sovereign cat enjoys the occasional stroll in the courtyard, sans leash. Keep the commoners at bay and create your own personal outdoor cat patio (or call it a catio like the rest of us fancy folk) to give your kitty some much-needed fresh air.
5. Best Modern Feeder: Ceramic Cat Bowl with Wooden Stand
Your cat shouldn't have to have to strain when they are lapping up Fiji water or dutifully consuming your food offerings. This gorgeous dual bowl set is both practical and modern, meaning your guests may wonder why you have one of your bowls on the ground in the first place (oh, silly humans). These stunning bowls are also available in two different sizes as well as a handful of colors!
If this bowl isn't quite your taste, you can check out a handful of other cat bowls here.
6. Best Bed: Princess Pet Bed
Your little lion will settle for nothing less than the best – this princess bed should be suitable for some royal rest. You can also buy a bigger version if your furry friend needs a bit more space for their beauty sleep. And if pink doesn't suit their complexion – you're in luck! This pet bed is also available in three other colors.
7. Best Fountain: iPettie Tritone Ceramic Pet Drinking Fountain
The water in your cat's bowl has been there for an hour, and in your feisty feline's mind, that is absolutely unacceptable. Exchange your poor man's cat bowl for this gorgeous ceramic drinking fountain, or else heads will roll.
This stunning fountain is made from eco-friendly, easy-to-clean, high-quality ceramic materials. It also features a dual filtration system that's whisper-quiet – all you'll hear is the relaxing sound of water.
8. Best Indoor House: Catry Scratching Post Cat Tree
For the more modern, metropolitan version of the cat castle, this cat condo uses a combination of materials like fleece, sisal rope and laminated board to provide your furry friend with a variety of spaces to lounge. The bottom is perfect for an afternoon nap, after which they can make their way up to the scratching post or hop on the top platform to stare at all the action outside the window.
9. Best Litter Box: Outdoor Kitty Box
Even kitty kings and queens have to do their business, but it needs to be done in a place where it's super cool and convenient! Strut over to My Katio to get yours. (Not to be confused with the Catio, of course!)
10. Best ID Tag: Custom Engraved Gold-Plated Cat ID Tag
A stunning golden heart-shaped cat ID tag to attach to that dazzling diamond collar. Get one (or ten- no judgement, they're super cute!) and customize the front and back. As cute as these little tags are, they're not recommended for active cats.
11. Also Consider: Royal Lounge
One cannot do with just a bed. Your princess needs a bed at night, and a lounger for the day. Otherwise, one will not be amused. Cats Play has this red-and-black lounger, as well as a few more colors to match your decor.
12. Best Scratcher: Petstages Cat Scratcher Lounge and Cat Games
Give your pet a place to scratch their worries away while also getting a nice scratch themselves with this popular 2-in-1 product from Petstages. The built-in bristle brush is adjustable so you can maneuver it however you need to perfectly groom your cat. If you weren't already sold on this product, this scratcher is also covered with dried catnip to keep your cat coming back for more.
We are committed to finding, researching, and recommending the best products. We earn commissions from purchases you make using the retail links in our product reviews. Learn more about how this works.

Published January 26th, 2022 12:00 AM