75 Views
Gift Guide: Best Christmas Gifts for Cats
December 3rd, 2021 12:00 AM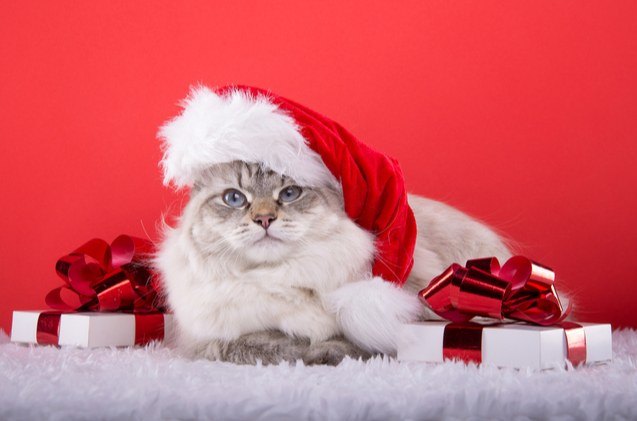 Wish Feliz Navidad to your feline friend with these meowtastic Christmas gifts for cats!
Christmas is the time to spread the cheer, and while your grumpy kitty might be more of a Grinch than Santa's little helper, it doesn't mean they shouldn't get to enjoy the holidays as everybody else does. Stuff your kitty's stocking with one or few pawesome gifts and they might just get into the festive mood!
Editor's Choice: Meowijuana's Meowy & Bright Cat Toy Bundle
What could be a more purrrfect gift for your kitty than a bundle of fun toys infused with catnip and silvervine? We all know how much cats adore these plants and the effect they have on felines: the sense of euphoria and the following calmness that will make your pet feel like they are in 7th heaven can be attributed to both catnip and silvervine, which this bundle contains in abundance. The set includes a generous pack of king size silvervine sticks, a refillable plush toy in the shape of a candy cane (for a bit of the holiday spirit!) with a bottle of "meowijuana" catnip, and the Feline Frost blend which combines catnip, silvervine, and a dash of peppermint for a potent effect. This gift will certainly make your pet's Christmas memorable!
Runner Up: Against the Grain's LicKitty
OK, how about combining two of the things that would make even the finickiest of felines happy – catnip and treats – into a single product? Well, that's exactly what LicKitty™ wet treats are all about: this chicken mousse creamy treat contains dried catnip for an unexpected boost to an already yummy snack! Simply squeeze out the treat and give your pet on its own, or mix it with their food as a flavor enhancer – it will make any kitty go bananas for plain old kibble in the bowl. Pro tip: you can also put some of this delectable squeezable treat on your finger and offer it to your pet to get in their good graces and improve your bond even more.
Customer's Choice: Rechargeable Motion Activated Cat Laser Toy
You got to burn off those holiday dinners and desserts somehow – right? If you have an active, playful cat or a young kitten, this motion-activated laser toy will be a godsend during the holidays, as it will keep them engaged, occupied, and away from your beautifully decorated Christmas tree. Of course, this gift will continue being a hit with your pet long after the holidays, too, as it is designed precisely to be irresistible to felines: it senses when your cat is near and activates the laser once they are closer than 160", which rotates in a circling pattern across floors or walls to stimulate your cat's natural hunting instinct.
Best Scratching Post: PAWZ Road Cat Scratching Post
Give your sofa a well-deserved break with this clever gift for your little living room tiger! Designed to be interesting to cats and double as a fun piece of home decor, this scratching post for cats will allow your cat to sharpen her claws without having to ruin your carpets or furniture – it boasts 3 scratching poles covered with green natural sisal and carpet, and a hanging toy to stimulate their hunting instincts and make the toy even more fun for them to use. The scratching post also comes in two sizes: medium, which is 23" tall, and large which measures 27" in height. The medium size is recommended for cats up to 10 pounds, and the large is for kitties bigger than that.
Best Organic: Organic Cat Grass Growing Kit with Organic Seed Mix
Your pet deserves the best, so pamper them like the royal they are! This organic cat grass mix is non-GMO and includes wheat grass, oat, barley, and rye to provide all the important nutrients to your kitty, as well as tons of fiber! As obligate carnivores, cats don't usually have enough fiber in their diet, so they tend to munch on grass when the need strikes – and indoor kitties don't get that chance. If your pet doesn't go outside, this is a great Christmas gift as it will help them control hairballs and satisfy their instinctual need to snack on grass. Plus, as it comes with an adorable kitty whiskers mug planter, it will look cute in your apartment, too – a win-win situation!
Best Puzzle: Catit Senses 2.0 Digger
If you want to keep your pet entertained and their mind far away from mischievous adventures, or have a greedy eater that snarfs up kibble at record speed, you'll want to add this cat puzzle feeder to your Christmas shopping list ASAP. Designed to play on your cat's natural instincts, this feeder features multiple tubes of different sizes that hide treats or kibble and will motivate your cat's innate pawing behavior, enticing them to try and fish out as many yummies as they can. This, of course, slows down their eating tempo and prevents them from swallowing too fast (and vomiting afterward), as well as stimulates their curious minds. The puzzle is made of BPA-free materials, easy to clean, and has a weighted base so it can't be tipped over by your cat.
Best Travel Carrier: Henkelion Cat Carrier
What better Christmas gift than a holiday vacation or a promise of a fun adventure with your pet? Sure, some could say that a travel carrier could also be useful for those dreaded vet visits, but, shush, we're not going to think about that now. Either way, if you are often out and about with your cat or plan a trip in the future, this travel carrier will be just the thing – it's sturdy, stylish, practical, and comfy. Airline-approved, this cat carrier has various nifty features, such as connecting loop handles for balanced carrying, dual seat belt or luggage strap, four-side mesh windows, an inside leash, and a side pocket – to name a few. A lovely gift to put under your feline's tree!
Best Bed: Tempcore Cat Bed
On average, cats sleep 12 to 18 hours a day, which means that they'll spend the majority of their time napping – and it's up to you to make sure they have a comfy, cozy spot they can snooze the day away. This nest-like donut bed is perfect for cats up to 15 pounds and boasts snug walls filled with high-loft polyester to give your pet the coziness they crave and protect them from falling out of bed when they're deep in sleep. What's more, the interior of the bed is lined with soft, plush flannel fabric so your kitty will feel toasty and snug as a bug! The bed is fully machine washable for your convenience and comes in gray, light blue, or pink color.
Best Cat Condo: Topeakmart 57in Cat Tree
For those of you that want to splurge on your cat's Christmas gift and get their spoiled kitty something really special, this cat condo is just the thing. Or, alternatively, you might have more than one cat in your family and want one gift for them to share – this gift works in this case, too. The cat tree has multiple levels and will feel like a palace even to multiple kitties, as it has multiple platforms for sitting, perching, or lying down, a hammock, and two condos for those kitties that want their own private hideaway for those snooze sessions. Additionally, to make this cat tree more interactive and entertaining, there is a sisal ladder for scratching and claw sharpening, and a couple of dangly fluffy ball toys to motivate your kitty to play and "hunt".
Best Treats: Whole Life Pet Just One Salmon
When you want a tried-and-true stocking stuffer or an edible gift you can be sure your pet will appreciate as a gift, opt for treats. But not just any cat treats – go for those that are actually good for your pet, contain no artificial ingredients, and best of all, taste heavenly. Such as these freeze-dried salmon bites your feline will go crazy for! Made with a single ingredient – human-grade salmon – these treats are high in protein, all-natural, and have an intense flavor thanks to the unique manufacturing process that not only preserves all the nutrients but also locks in all the aroma. Feed these as a treat or as a topper for unappetizing food, whole, crumbled into smaller pieces, or rehydrated with some water or broth – the choice is yours!
Best Teaser Toy: Fat Cat Catfisher Teasers Cat Toy
A surefire way to get your little Grinch in the mood for the holiday season is to get them a gift that will get them excited for the festive days ahead, and what excites a kitty more than a teaser toy? Young or old, cats of all ages can't resist teaser toys, as the movement of a toy at the end of a stick apparently does something to their hunter's brain and prompts them to go into play (or is it prey?) mode in an instant. This particular design comes in three options – crawdad, worm, or tadpole – all of which feature bright and bold contrasting colors that are sure to catch your pet's eye and are filled with catnip which is going to make your kitty very enthusiastic about the chase, making them a great way to motivate your pet to exercise.
We are committed to finding, researching, and recommending the best products. We earn commissions from purchases you make using the retail links in our product reviews. Learn more about how this works.

Angela Vuckovic
A proud mama to seven dogs and ten cats, Angela spends her days writing for her fellow pet parents and pampering her furballs, all of whom are rescues. When she's not gushing over her adorable cats or playing with her dogs, she can be found curled up with a good fantasy book.
More by Angela Vuckovic
Published December 3rd, 2021 12:00 AM