Gift Guide: Best Christmas Gifts for Cats
December 3rd, 2021 12:00 AM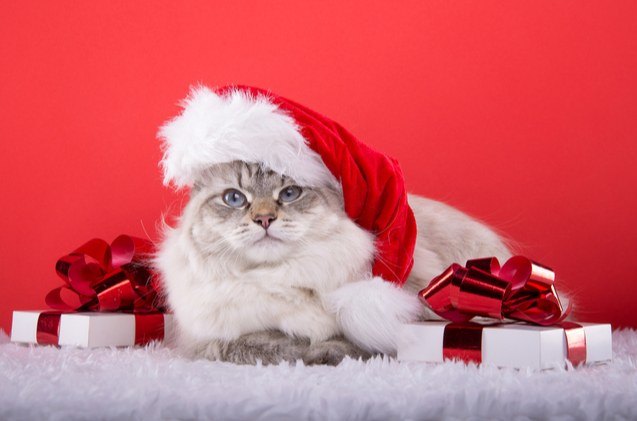 Wish Feliz Navidad to your feline friend with these meowtastic Christmas gifts for cats!
Christmas is the time to spread the cheer, and while your grumpy kitty might be more of a Grinch than Santa's little helper, it doesn't mean they shouldn't get to enjoy the holidays as everybody else does. Stuff your kitty's stocking with one or few pawesome gifts and they might just get into the festive mood!
1. Editor's Choice: Basepaws Cat DNA Test Kit
Felines are mysterious creatures, but thanks to the first-ever consumer genetics test for cats, you can finally find out more about your cryptic four-legged roommate. The test results will tell you everything from what percentage wildcat your pet is (although you might have guessed that one the first time they shredded your couch), what cat breeds can be found in their ancestry, as well as certain health conditions that they could develop later in life. The sample is tested against the largest cat DNA database in the world, so the results can be pretty surprising with their accuracy! While the breed composition and wildcat index are certainly fun things to know, it's their Health Marker Report section which can really make a big difference for your pet. The test screens for over 39 genetic mutations that correspond to more than 17 genetic conditions, so you can know on time if your pet is at risk for developing issues such as polycystic kidney disease, hypertrophic cardiomyopathy, and retinal degeneration – to name a few. What's more, it's quite easy to collect the sample – all it takes is a gentle swab of the inside of their cheek – and the results will be in your hands 4-6 weeks after.
2. Runner Up: Friends Forever Interactive Laser Cat Toy
Cats love chasing things – it's in their nature. And since indoor cats don't get to satisfy their instincts naturally by hunting live prey, it's up to us to provide the same mental and physical stimulation they would get in their natural environment. This is where laser toys, such as this one, step in as the perfect solution. Not only do they offer much-needed enrichment and exercise to your pet, but you won't have to lift a finger to meet your cat's needs! This interactive laser cat toy features a concealed auto-rotating laser pointer that moves in unique directions every time to create a challenging hunt for your little predator. There are three modes of operation – slow, fast, and random – so you can tailor the playtime to the needs of your furry friend. And don't worry if you're not there to supervise: the built-in timer stops the laser after 15 minutes so your feline friend doesn't go overboard with fun times!
3. Best Tree: rabbitgoo Cat Tree
A cat tree gives your pet a place where they can play, explore, and nap – needless to say, this will be their favorite spot in the house. Suited for a single cat or multiple felines, this cat tree features four lounging spots: two cozy hammocks, a platform with a bolster bed, and a cozy little cave. To boot, there are multiple scratching posts wrapped in sisal ropes to keep those claws occupied, as well as a dangly ball to provide even more fun. The cat tree is made from certified P2 particle wood and soft faux fur cover that's not just plush and cozy but easy to clean as well, with a vacuum or a damp cloth to keep away hair and grime from your pet's playground. Measuring 19.6″ L x 19.6" W x 39″ H, this cat tree comes in 5 colors to complement any decor! A perfect gift for a kitty (or kitties) that has been on Santa's good furbaby list this year!
4. Best Bed: Miss Meow Cat Cave Bed
Cats spend 12 to 16 hours a day sleeping, so a cozy, comfy bed makes an ideal gift for any feline! This cave bed is designed not only to provide the comfort your cat seeks but also to create a sense of security and safety by offering a cave-like nook for your pet to hide and curl up in. Being in an enclosed bed such as this one will soothe and relax your cat, and can help skittish or stressed out cats sleep more peacefully. This cozy cave bed is made from quality materials and can be used as a cave bed or a regular one, so you can switch things up if needed. Easy to clean and keep tidy, the bed has a removable cushion with a machine-washable cover for effortless maintenance. And as a cherry on top, this pretty cave bed comes in several sizes and color options, to suit any kitty's and their owner's preference!
5. Best Scratcher: PetFusion Ultimate Cat Scratcher Lounge
To keep their nails sharp and neat, cats use them on every surface they deem fit – more often than not, it's their owner's sofa, carpets, or doorways that fall victim first. However, there's a way to meet your pet's grooming needs without having to sacrifice your prized possessions: get them a dedicated scratcher. This elegant design offers a perfect solution as it won't stick out like a sore thumb in your modern apartment, but it will give your kitty plenty of scratching surfaces to keep those claws in top form. Made from high-quality corrugated cardboard, this durable scratcher also doubles as a lounging spot – you know, when your kitty gets tired from all that clawing, she needs a place to lie down for a quick nap. Being pretty is exhausting!
6. Best Catnip: Yeowww! Catnip Toy
Not really sure what to surprise your kitty with for Christmas? You can't go wrong with catnip – it's the one thing that will make almost any cat happy. This tried-and-true classic design has everything a cat could want in a toy: it's banana-shaped so your cat can comfortably grab it and try to demolish it with their hind legs, and it's filled with catnip so there's no way that your feline friend will be indifferent to it. If anything, the catnip will only stimulate them to play and toss the banana around! Handmade in the USA, this catnip toy is a purrfect stocking stuffer for any feline – young or old, big or small. But be sure to get a couple of 'em if you have more than one cat because this is one of those toys that they'll definitely fight over!
7. Best Tunnel: Cat Toy Tunnel and Cubes
If you have one active kitty or more than one cat in your household, you'll want to get this. It will provide a new, fun space for your pet(s) to explore, exercise, and burn off that excess energy! The two cubes (kind of like cozy caves, if you prefer) are connected by a tunnel, so your kitty can run around from one end to the other, play, and even take a nap when all that entertainment drains the energy out. As the tunnel and the cubes are made from tear-resistant polyester stretched over a sprung-steel frame, this will be one durable toy your cat will enjoy for years to come – and trust us, the crinkle crackle effect of the material and the bright vibrant colors ensure tons of fun. Another great feature of this cat enrichment toy (for you, at least) is that it's easy to store as you just fold it and tie it down with the attached straps!
8. Best Interactive: Indoor Cat Interactive Swimming Fish Toy
Got a kitty that loves nothing better than to splash around in their water bowl or spends hours staring at the kitchen sink, waiting for the droplets to appear? Then this toy is certain to make their Christmas day! These robotic fish mimic natural swimming movement when placed in water: fill a bowl with water and put one of these bad boys in it and they'll automatically start swimming about and flashing bright LED lights to attract your cat's attention even more. Pro tip: if your cat is obsessed with your bathroom or kitchen sink, the fastest way to get them hooked to these toys is to fill the sink with water and drop the fish inside. The set includes 4 brightly colored fish that work on LR44 batteries (2 per fish) – you'll get 8 installed, and 8 extra batteries for some long-lasting fun in the water!
9. Best Feeder: Petlibro Automatic Dog & Cat Feeder
We get it – you work long hours and want to make sure your pet is fed on time or just don't want to be woken up at 4 AM by a hungry kitty. An automatic cat feeder is just the thing! These nifty little devices can be pre-scheduled to dole out kibble at certain times of the day and in preset amounts, so you can rest assured that your little gremlin never goes hungry. Petlibro's automatic feeder is fully automated, which means you can set up to four meals each day with up to nine customizable portions per meal. The kibble is stored in a desiccant bag so it stays fresh for a long time, so no need to worry your pet will be served stale food while you're away. It's easy to use thanks to LCD screen controls and comes in two color options (all white or white with black details) and two capacities – 17-cup or 25-cup.
10. Best Waterfountain: Drinkwell 360 Stainless Steel Pet Fountain
Generally speaking, cats are not big water drinkers and that can affect their health, particularly their urinary tract and kidneys. To avoid or at least reduce the chance of health issues such as bladder stones and UTIs happening to your cat, it is crucial to motivate them to drink more water. And what better way to do that than with a cat water fountain? It's well known that felines prefer moving water over still one, so when this cleverly designed pet fountain offers them a free-falling source of fresh water, they're bound to dip their whiskers in. The water is filtered with a built-in filtration system and its flow can be regulated thanks to the adjustable cap – and even though water falls in streams from the center, this is a pretty quiet fountain that won't bother you. The stainless steel design ensures durability and it is pet-safe to boot, and it also means that it's easy to clean (the fountain is dishwasher safe). The capacity of the fountain is one gallon, so it is a good fit even for families with multiple pets.
11. Honorable Mention: Catit Design Senses Play Circuit
Catit is known for stimulating all the kitty senses and the Play Circuit track is no different. Add catnip to encourage a higher sensory experience and target your cat's senses while also giving entertainment and fun (for you both). Challenge your cat to offer various levels of difficulty for feeding and allow your cat to make you laugh as he moves food through the maze by pawing from the sides.
Since the Digger is compatible with all other Catit Senses interactive toys, you can gradually build your pampered feline a big playground, starting with their Christmas gift.
We are committed to finding, researching, and recommending the best products. We earn commissions from purchases you make using the retail links in our product reviews. Learn more about how this works.

Angela Vuckovic
A proud mama to seven dogs and ten cats, Angela spends her days writing for her fellow pet parents and pampering her furballs, all of whom are rescues. When she's not gushing over her adorable cats or playing with her dogs, she can be found curled up with a good fantasy book.
More by Angela Vuckovic
Published December 3rd, 2021 12:00 AM