452 Views
Best Automatic Cat Feeders
September 16th, 2021 12:00 AM
We're committed to finding, researching, and recommending the best products. We earn commissions from purchases you make using links in our articles. Learn more here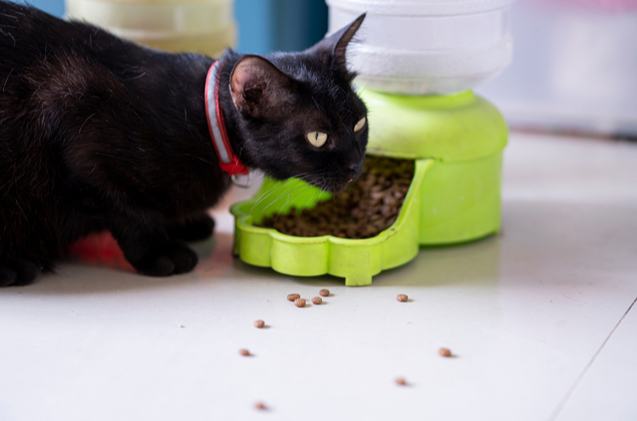 Automatic cat feeders are heaven-sent for busy pet owners, picky pets, and cats that are on a special diet. Convenient, innovative, and time-saving, automatic cat feeders make sure your pet is fed on time even when you're not around.
Every pet owner knows how important a regular and well-portioned diet is for their pet. It ensures your cat remains in optimal shape and in good health. Still, it's a harsh truth that many owners are facing a busy schedule, work, travel, and plenty of other chores piling up each day. That's when it becomes difficult to make sure that your cat gets their meals on time- and in an amount that's appropriate for their needs. Automatic cat feeders are an ideal solution for these situations and are perfectly designed for those picky and sensitive kitties who want some extra care.
With these reliable gadgets, you can make sure that your cat receives portioned, measured amounts of kibble at regular intervals – always right on time. The food will also be fresh! This creates a very important routine that cats can grow to depend on. In time, they will know exactly when the dispenser is about to drop the next tasty portion of food. Of course, this makes it all easier when you are facing a busy schedule as an owner. Whether you will be away for a long day at work, or you are traveling for a day or two: you can rest assured that your pet will always have their food served fresh and on time.
1. Editor's choice: Veken 4l Automatic Cat Feeder
This nifty and very modern automatic cat feeder design is here to make everything simple- both for you and for your cat. With total customization options, Veken 4l Automatic Cat Feeder gives you all the control you need over your pet's diet. A solid capacity of 4 liters (135 oz) can hold around 40 portions of pet food, and can be scheduled to drop up to 5 meals per day! Another great feature is the voice recording option. Record your voice and some simple commands, and they will be played when it's feeding time. Simple words your pet knows, such as their name, will help entice them and signal it's dinner time! Veken's automatic cat feeder uses 3 powerful D batteries or can be run with the added power adapter. When it comes to dispensing food, a special anti-clog design makes sure that the kibble runs smoothly when it's scheduled.
2. Runner up: Petoday WiFi Automatic Feeder
Packed with smart features, Petoday WiFi Automatic Feeder will become a true helping hand in the house. The spacious 4 liters (135 oz) container can store well over a week's worth of food, and the dispenser allows for up to 10 meals per day, so this is a great option for greedy eaters that need to slow down and eat smaller portions. One of the best features here is the smart app that allows you to connect to the feeder with 2.4G Wi-Fi, and get access to its every feature from wherever – and whenever. You can adjust the feeding schedule, choose portions, or dispense food – all with one touch and over your phone. The feeder is powered via the power outlet, but also contains batteries that can ensure that your pet receives their meal even if the power goes out.
3. Customer's choice: isYoung Smart Food Dispenser
Don't be fooled by the cutesy design of this automatic cat feeder- isYoung Smart Food Dispenser has some really impressive features hiding underneath its adorable "hood". One of the first features you will notice is a friendly and non-intrusive design, which won't frighten your cat and will also prevent pets from accidentally changing the settings. With 3.5 liters of capacity, this feeder allows for 4 meals per day and sports a unique 360-degree non-blocking rotation with a perfect angle for dispensing food. Thanks to a precision infrared sensor, the food is dispensed only in the perfect amounts. There is also a voice recording option, allowing you to make the whole experience friendlier for your pet. Besides this, there are a lot of other nifty features, allowing you to totally fine-tune the feeder to your preference. Affordable, reliable, and super-efficient, this feeder is a popular choice – and rightly so!
4. Best with an App: PetLibro Automatic Pet Feeder
If you're all about the latest gadgets, you'll love this automatic cat feeder. Fully customizable and modernized, PetLibro Automatic Pet Feeder relies on Wi-Fi to bring you total control over its features, no matter where you are. A specially designed smartphone app allows you to access all the features and change them if need be, and at any time. It allows for up to 10 meals per day to be dispensed, which is a lot more than some other brands offer. You can also adjust portions and track your pet's 7-day feeding record through the app. One of the best features here is a built-in desiccant box, which ensures that your pet's food remains fresh and tasty no matter how long it is stored. And with the added voice recording option, you can record up to 10 seconds of your voice, ensuring that the experience will be as friendly as possible for your loving kitty. PetLibro's feeder boasts a sleek and modern design which also emphasizes some interesting features to make cleaning and refilling a super easy task.
5. Best for Two Cats: HoneyGuardian 7L Cat Feeder
If you are a proud owner of two feline friends, this superb HoneyGuardian 7L Cat Feeder will be a true lifesaver. The secret of this design is a special split funnel that allows exactly the same portions to be dispensed in two separate bowls. Two cats can comfortably eat side by side, without any interference, so no room for fighting or stealing. Of course, HoneyGuardian's modern design allows you to remove the funnel when needed, transforming the feeder back into a standard design for a single cat. Besides this nifty option, the gadget boasts an extra-large capacity of 7 liters and can dispense up to 6 meals per day. A special locking lid helps keep the food fresh at all times and also prevents any smells from spreading. A built-in sound recording feature completes this design, making it one of the best automatic cat feeders for multi-cat households out there!
6. Best Big Capacity: WOPET Cat Food Dispenser
A big container is a crucial part of every automatic cat feeder. It ensures that your cat can get its meals throughout the week, even when you are away! With its robust design and capacity of 7 liters (29 cups), this Wopet food dispenser does the trick if you're not eager to constantly refill the feeder. It follows the standard design elements, offering 9 portions or 4 meals per day to be doled out as planned. A basic LCD display offers plenty of adjustability and is quick and easy to use. Wopet included a voice recording option, allowing for a 10-second message to be played when it's feeding time. It also has the option to be powered by three D batteries, ensuring that the feeder keeps working even when the power is out. Peace of mind for days to come!
7. Best with Batteries: Skey Automatic Cat Feeder
It's always great to have a backup. When the power goes out, your cat won't be left hungry – thanks to this superb dual power supply feeder. Skey Automatic Cat Feeder works both on batteries and plugged in the outlet, so you can count on it to dispense food no matter what happens. Its 6-liter storage bin holds a weekly amount of food, and can dispense 4 meals per day and up to 50 portions per serving – it's all up to your preferences and your cat's dietary needs. A sleek and robust design fits well into your home, and the straightforward build makes it easy to refill and clean. Skey also included a nifty voice-recording feature, allowing you to entice your pets more easily to the new gadget. A top-lid dry storage bin will keep the food fresh and dry at all times, making it tasty each time.
8. Best for Weight Control: FATTIEPAW Smart Pet Feeder
It's no secret that it can be difficult to keep your kitty on a diet, especially if you work long hours, but an automatic feeder can help you keep your cat's meals under control. FATTIEPAW Smart Pet Feeder allows you to fine-tune the number of meals and portion size to suit your cat's meal plan so they can keep their weight in check: you can set it up for up to 5 meals a day and 30 portions. The storage bin of this feeder has a reasonable 6-liter capacity and a special desiccant bag in the lid that will ensure that the food remains fresh for as long as it is stored. All the elements of the feeder are made from food-grade ABS material and are designed to be easily removed in order to be washed. FATTIEPAW Smart Pet Feeder also includes the voice recording option, if you wish to let your pet hear your voice when dinner is served.
9. Best on a Budget: Noodoky Pet Feeder Set
Sometimes, the basic designs can still do the trick- but without breaking the bank. Noodoky Pet Feeder Set is an affordable and simple feeder for cats that doesn't offer any fancy features, but still does the job perfectly fine. The container has a capacity of 4.4 lbs of food and is operated by gravity. As your cat eats the food, the bowl is replenished. This is a great solution for daily feeding: if you are working overtime, you know that your cat will have a ready amount of food to eat. You can fill the dispenser with just the right amount of food for the day, in order to prevent overeating. The feeder is made with premium food-grade PVC material, and comes with a water dispenser as well! However, bear in mind that this isn't the best choice for cats that overeat- as the food will keep coming as long as they keep eating.
10. Best for Small Spaces: PETKIT Automatic Feeder
Let's face it- automatic cat feeders can be a bit clunky and if you don't have that much room in your apartment, to begin with, a big gadget will stand out like a sore thumb. This super-modern and sleek design from PETKIT is a great solution in this case, as it does as much of a good job as the "big boys" do but has a compact size and minimalistic style. In addition to its attractive design, this automatic cat feeder is also very practical to use: PETKIT Automatic Feeder works with Wi-Fi so you can control it via a smartphone app, allowing you to control every feature from anywhere in the house.
It keeps the food fresh at all times thanks to the special dual fresh system: it features a silicone barrier on the dispenser door itself and another one on the top lid. The latter also boasts a desiccant bag that is a key to freshness. Its storage bin has a slightly smaller capacity of 2.8 liters but is still enough for a reliable 10 portions per day diet. To boot, it is super easy to clean and refill, so it's really effortless to use.
What are the Most Important Features to Look For in an Automatic Cat Feeder?
Cat automatic feeders range from very complex designs to straight-out simple gadgets. They can be basic, gravity-operated designs that always dispense food without the need for electricity or batteries to run, or modern concepts that utilize Wi-Fi and smartphone apps to make sure you're in full control while making the process of feeding your pet completely hands-free. Still, even across these variations, some aspects remain the same and are the most important to look for whichever option you end up choosing.
Storage Capacity
For an automatic cat feeder to truly fulfill its task, it needs to have ample storage. With a spacious bin, you can store enough kibble for as long as one week! This means that even if you are out for a few days, your cat will keep receiving those measured meals on time. A feeder that doesn't have ample storage limits you right there. Some can keep dispensing food for just a day or two, and that is not always ideal- it's easy to forget to refill them and it can become a tedious chore as well.
Dual-Power Supply
Most – if not all – automatic cat feeders rely on a power outlet and an adapter to work. This means that they are always plugged in. But what happens when the power is out? Your cat can't be left stranded in these cases, so it is important to ensure a second power supply. Usually, these are regular AA batteries. Make sure that your feeder has this feature, so you are never caught off guard.
Desiccant Bag
This is another crucial feature that you want in your feeder. A desiccant bag is a small addition to the feeder's lid, ensuring that the kibble stored within is fresh and dry. In a kitchen environment, it is likely that kibble can gather moisture from the air and become damp and smelly. With a desiccant bag or any similar system, the kibble remains healthy and appetizing for much longer.
We are committed to finding, researching, and recommending the best products. We earn commissions from purchases you make using the retail links in our product reviews. Learn more about how this works.

Angela Vuckovic
A proud mama to seven dogs and ten cats, Angela spends her days writing for her fellow pet parents and pampering her furballs, all of whom are rescues. When she's not gushing over her adorable cats or playing with her dogs, she can be found curled up with a good fantasy book.
More by Angela Vuckovic
Published September 16th, 2021 12:00 AM