1.9K Views
Best Cat Food for Urinary Health
October 7th, 2021 12:00 AM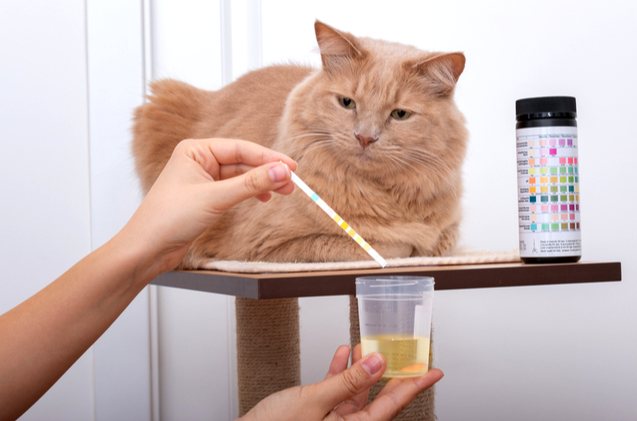 Cat food for urinary health can be given as a form of prevention or to help treat existing issues if prescribed by a vet. Formulated to maintain optimal urine pH and prevent crystals and stones from forming, cat food for urinary health can be wet or dry.
Unfortunately, many cats struggle with urinary health. My own cat had a perineal urethrostomy surgery as a result of severe urinary infection and struvite blockage, and he barely made it- it was years ago and his lifestyle is forever changed because of it. From recurring urinary infections to urethral blockage and bladder stones which can lead to expensive surgeries and life-threatening conditions, there are various urinary health problems that shouldn't be taken lightly. One of the best things you can do for your cat, whether to prevent urinary problems or to help existing ones, is to reevaluate their diet.
Cat food for urinary health contains everything a feline needs to have a perfect urine pH value, and, in turn, a reduced chance of urinary tract issues. These foods are low in minerals and often contain ingredients that dissolve stones and crystals, and can help your cat maintain a healthy life without frequent UTI issues. Here is our list of 10 best cat foods for urinary health- each is a tailored fit for any kitty and their unique lifestyle.
1. Editor's Choice: Wysong Uretic – Dry Natural Food for Cats
This dry cat food is not just meant to support your pet's urinary health but their whole immune system, as well. Wysong Uretic – Dry Natural Food for Cats has a low mineral content and includes natural sourced, DL-methionine to help acidify urine and prevent crystal formation. This makes it suited for urinary health issues, but the rest of the formula is pretty impressive as well- the first ingredient is real meat and it contains prebiotics, probiotics, enzymes, essential fatty acids, and antioxidants to promote healthy digestion, healthier-looking fur and skin, and overall vitality, too. Tasty and loved by most cats, this formula boasts 42% protein and 15% fat and no cheap fillers such as wheat or corn.
2. Runner Up: WholeHearted Urinary Support Chicken Flavor Dry Cat Food
Designed to balance the pH value of your cat's urine, WholeHearted Urinary Support Chicken Flavor Dry Cat Food relies on DL-methionine to acidify urine in order to minimize the chance of struvites and calcium oxalates. Rich in protein, this grain-free formula contains no corn, wheat, or grains of any kind and is rich in antioxidants to boost your pet's immune system. Omega 3s and 6s give their coat a lustrous shine and the balanced blend of nutrients makes sure that all of your cat's dietary needs are met. The savory chicken flavor makes this kibble popular with picky eaters, too- and the fact that this cat food for urinary health is formulated to support their overall well-being certainly doesn't hurt.
3. Customer's Choice: Hill's Prescription Diet c/d Multicare Urinary Care
Formulated by nutritionists and veterinarians to target many urinary problems that felines suffer from, Hill's Prescription Diet c/d Multicare Urinary Care is clinically tested to lower the recurrence rate of most common urinary issues signs by 89%. This dry food dissolves struvite stones in as little as 7 days and helps maintain optimal urine pH levels. To achieve this, the formula contains controlled levels of magnesium, calcium, and phosphorus, as well as potassium citrate- which decreases urine sodium levels and increases pH value, ultimately helping dissolve and prevent stones from forming. Made with ocean fish, it is an excellent choice for kitties that prefer fishy flavors- and it's an additional essential fatty acid boost, too!
4. Best Wet: Purina Pro Plan Veterinary Diets UR Urinary St/Ox Savory Selects
Wet food is highly recommended for cats that struggle with persistent urinary health issues. High in moisture content, it is the closest thing you can get in a pet shop to resemble your pet's ancestors' prey. Purina Pro Plan Veterinary Diets UR Urinary St/Ox Savory Selects has a whopping 80% moisture content so it is certain to give your cat the hydration their body needs. Made from turkey meat and turkey and poultry liver, this protein-packed urinary wet food for cats is formulated to reduce the risk of urinary stone formation by creating a urinary environment unfavorable to the formation of urine crystals (both struvites and calcium oxalates). Of course, a great bonus is that it's super yummy as well – most kitties will go bananas for this therapeutic cat food!
5. Best Budget: IAMS PROACTIVE HEALTH Adult Urinary Tract Health Dry Cat Food
Prescription cat food can be a strain on the budget, but there are some affordable options you can turn to when you want to support your cat's urinary health through a proper diet. IAMS PROACTIVE HEALTH Adult Urinary Tract Health Dry Cat Food is both reasonably priced and formulated to reduce urinary pH to an optimal level. Made with chicken and without artificial preservatives, no synthetic dyes, or wheat, this dry food is nutritionally complete and will meet your cat's dietary needs. Additionally, DL-methionine will make the urine more acidic and less prone to forming crystals in the long run. Not to mention that the chicken flavor is a sure bet with most cats!
6. Best for Overweight Cats: Blue Buffalo Natural Veterinary Diet Weight Management + Urinary Care for Cats
Obese cats are at a higher risk for a myriad of health issues, including those connected with urinary health. But in addition to treating their urinary problems, you should also try to help them get the weight off. Blue Buffalo Natural Veterinary Diet Weight Management + Urinary Care for Cats is formulated to do both: this prescription diet promotes healthy weight and optimal pH urine levels. The low-kcal kibble has low levels of fat and is also enriched with L-carnitine which supports weight loss, and at the same time, it has controlled mineral levels and the addition of DL-methionine to acidify your pet's urine and prevent crystals and stones from forming. Grain-free and protein-packed (38%) it is made with deboned chicken as the first ingredient and has a savory flavor that your chubby kitty will like. The trick is that the formula also has increased fiber levels so your pet will feel fuller for a longer time, which essentially puts a stop to overeating, even though it tastes great.
7. Best Grain-Free: Farmina N&D Functional Quinoa Urinary Duck Cranberry and Chamomile Dry Cat Food
There are many reasons why pet parents opt for grain-free cat food, but not all grain-free kibble is formulated to help with urinary health. Farmina N&D Functional Quinoa Urinary Duck Cranberry and Chamomile Dry Cat Food boasts an innovative formula with over 92% protein from animal sources combined with superfoods to make sure your pet gets all the nutrients they need from their food. To acidify the urine, the formula includes both ammonium chloride and DL-methionine, both in 3,500 mg dosage. As this food uses duck meat as its first ingredient, it is also a good alternative for cats that are allergic to chicken or simply don't like the taste of it.
8. Best for Renal Support: Wet Cat Food Kidney RENAL ACTIWET with Lamb
Kidney problems and urinary problems often go hand in hand- and if that is the case for your pet, you'll have to pay special attention to their diet. Wet Cat Food Kidney RENAL ACTIWET is formulated to suit low protein, phosphorous, and sodium diets such and it uses only natural and GMO-free ingredients. Made from salmon, chicken liver, and pasture-raised New Zealand lamb and enriched with healing herbs such as cranberries and dandelion root to help urinary issues and promote diuretic action, and dried clover for purification of the urinary system. As a result, this wet cat food supports the urinary, renal, and cardiac health of felines. Of course, it goes without saying- no food is enough of a medicine on its own, so please consult with a veterinarian to get tailored advice on your pet's diet and therapy.
9. Best Treats: Get Naked Urinary Health Crunchy Treats For Cats
All cats love treats- just because your pet has troubles with their urinary health doesn't mean that they don't get to indulge from time to time! However, you shouldn't go overboard, especially with treats that are not formulated to meet the needs of cats with urinary problems. Get Naked Urinary Health Crunchy Treats For Cats is a healthier alternative to the feline version of junk food and, to boot, it is designed to help with urinary issues rather than exacerbate them. These functional treats are made with real chicken cranberry juice, which is thought to help cleanse the urinary tract and acidify the urine, and are grain-free, so no wheat, corn, or soy in sight. The best part is that each treat is under 2 kcal, so you don't have to worry about occasional treats ruining your pet's figure.
Improving Your Cat's Urinary Health
A cat's diet plays an important part in their urinary health. The main reason why cats suffer from UTIs and urinary health issues is that their urine is too concentrated and the buildup of toxins and minerals results in the formation of bladder stones, blockage of the urethra and as a result, a myriad of other problems such as recurring bacterial infections and issues with kidneys. But how does a cat's urine become concentrated? In their natural wild habitat, cats get hydrated through their prey- raw meat- and generally are not big water drinkers. This all changes for domesticated cats who tend to eat mostly kibble, but don't change their drinking habits- resulting in the buildup of minerals and toxins in their urine.
Cat food that is formulated for urinary health should be low in minerals and high in moisture- which is why diet canned food is often recommended for cats with UTIs. However, wet food is not the ideal option for many cats- it is difficult to store and has to be served at mealtime to prevent spoiling (unlike kibble you can leave out in the bowl while you're at work), and many pet owners simply prefer the convenience of feeding kibble. Luckily, there are dry cat foods for urinary health that still do the job if your pet has urinary issues- both prescription diets and regular kibble. So how does dry food make up for the lack of moisture content? First, dry cat food for urinary health is formulated to alter the pH value of your pet's urine and can contain ingredients that dissolve struvite and calcium oxalate stones and prevent their formation (such as DL-Methionine which acidifies urine).
In addition to feeding your cat food that supports their urinary health, you should make sure that you encourage them to drink more water. A great way to promote better hydration in felines is using a cat water fountain– running water always has kitties eager to drink.
We are committed to finding, researching, and recommending the best products. We earn commissions from purchases you make using the retail links in our product reviews. Learn more about how this works.

Angela Vuckovic
A proud mama to seven dogs and ten cats, Angela spends her days writing for her fellow pet parents and pampering her furballs, all of whom are rescues. When she's not gushing over her adorable cats or playing with her dogs, she can be found curled up with a good fantasy book.
More by Angela Vuckovic
Published October 7th, 2021 12:00 AM