1.7K Views
Best Cat Weight Gain Supplements
September 24th, 2021 12:00 AM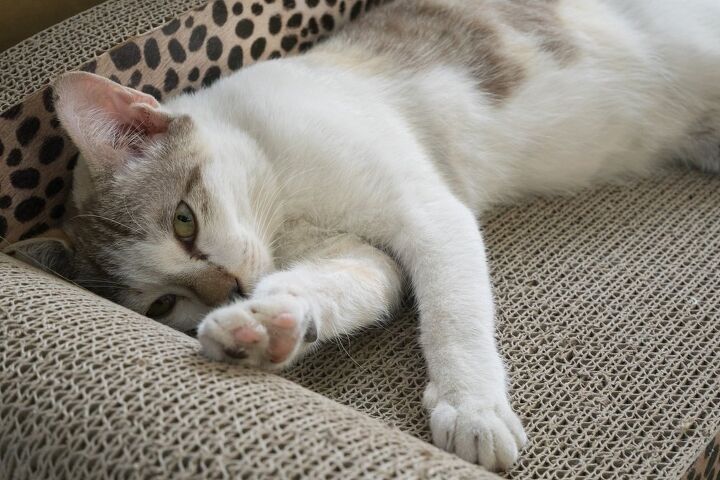 Does your cat need to put on a few pounds? It's not as easy as it sounds. Here are our picks for the best cat weight gain supplements.
Has your vet told you that your cat is underweight and needs to put on a few pounds? There are many reasons why a kitty might have trouble maintaining her weight, and your veterinarian will work on figuring out the cause of the weight loss. From there, you might be told that a feline weight gain supplement is one way to help your pet get back into a healthy weight range.
Note: When it comes to supplementing your pet's diet, it's always best to work closely with your vet, who can provide guidance and tips, and steer you in the right direction when it comes to the highest quality products available. And, again, if there is an underlying condition that is causing your furry friend to lose weight, you'll want to be sure you know what's going on so you can properly treat the problem under the direction of your vet.
Wondering what some of the best cat weight gain supplements are? We've compiled a list that you can review below, and it includes the products' ingredients so you can compare them side-by-side and make a more informed decision regarding the quality of the ingredients that your pet consumes. Also, we've listed the products in no particular order, as this is just to give you an idea of what's available and what your veterinarian might recommend trying.
1. Editor's Choice: Vetoquinol Nutri-Cal Oral Gel Dog & Cat Supplement
Vetoquinol Nutri-Cal Oral Gel is for dogs and cats of all ages, and it is a high-calorie, vitamin-fortified supplement that also contains omega-3 and omega-6 essential fatty acids. Designed for kitties that are older, debilitated, or just picky, this gel can provide the extra calories, energy, and vitamins that your furry companion would need in those circumstances. And it has an appealing taste to help make it easy to give to your pet.
This supplement is highly palatable, so it should be easy to administer. To get your cat used to the flavor, you can begin by placing a small amount of this gel on her nose or in her mouth. Then, follow the directions on the label to figure out how much of the supplement to give, based on your pet's weight.
The ingredients in this supplement include:
Corn syrup
Soybean oil
Malt syrup
Purified water
Fish oil (a source of omega 3 and omega 6 acids)
Cane molasses
Sodium propionate
Hydrolyzed collagen protein (a source of amino acids)
Potassium sorbate
Silicon dioxide
DL-alpha tocopheryl acetate (vitamin E)
Xanthan gum
Magnesium sulfate
Manganese sulfate
Ferrous sulfate heptahydrate
Cyanocobalamin (vitamin B12)
Thiamine HCI (vitamin B1)
Niacinamide (vitamin B3)
Dexpanthenol (vitamin B5)
Pyridoxine HCI
Potassium iodide
Vitamin A palmitate
Folic acid (vitamin B9)
Riboflavin (vitamin B2)
Vitamin D3
2. Runner Up: Tomlyn Nutri-Cal High-Calorie Dietary Cat Supplement
The Tomlyn Nutri-Cal High-Calorie Dietary Cat Supplement is a veterinarian-formulated product designed for kittens and cats that require extra nutrients and calories. It can provide vitamins, minerals, and carbohydrates, along with omega-3, omega-6, and omega-9 fatty acids that can help support the health of your kitty's skin, joints, and heart. Plus, it has a pleasing flavor to make it easier to get your cat to take this supplement whenever necessary.
This product, which is intended for supplemental or intermittent use only, might help cats who have a reduced appetite and are refusing to eat, those who are picky eaters, those who aren't doing well, those who need to gain weight, and those who are in need of nutritional supplementation because of a physiological challenge. It may also help your kitty if she is a senior, if she's recovering from an illness or procedure, or if she is very active. It is highly palatable, it may help stimulate the appetite, its calories and nutrients are easily absorbed, and it can provide a concentrated source of vitamins and minerals.
As is the case with all of the products on this list, it's important to follow the dosing instructions carefully. The appropriate dose will be based on factors like your pet's age, weight, and the reason why she needs this supplement. No matter what, to get your kitty acquainted with the malty flavor, you can try placing a bit of the gel on her nose or paws or in her mouth.
The ingredients in this supplement include:
Corn syrup
Soybean oil
Malt syrup
Water
Fish oil
Cane molasses
Sodium propionate (a preservative)
Gelatin by-products
Silicon dioxide
Potassium sorbate (a preservative)
DL-alpha tocopheryl acetate (vitamin E supplement)
Xanthan gum
Magnesium sulfate
Manganese sulfate
Ferrous sulfate heptahydrate
Vitamin B12 supplement
Thiamin hydrochloride
Niacin supplement
D-panthenol (source of pantothenic acid)
Pyridoxine hydrochloride
Potassium iodide (source of iodine and potassium)
Vitamin A palmitate
Folic acid
Riboflavin 5'-phosphate sodium (source of vitamin B2 and phosphorus)
Vitamin D supplement
3. Best High Calorie: PetAg High Calorie Gel Cat Supplement
The PetAg High Calorie Gel Cat Supplement can provide kitties who are 8 weeks of age and older with extra calories. It is designed for seniors, pregnant and lactating cats, and rapidly growing young cats who need to maintain a healthy weight and plenty of energy. And it is also a good choice for kitties who are picky eaters, as well as those who are recovering from surgery or illness. Plus, in addition to supporting your pet's energy level and weight, this product can also help your feline friend maintain healthy skin and coat.
This supplement comes in an easy-to-feed gel that has an appealing chicken flavor. Before giving it to your pet, just be sure to read the directions carefully so you can provide the optimal amount based on your cat's weight and unique needs. And remember, this product is only intended for supplemental or intermittent feeding, and it shouldn't be given to kittens that are younger than 8 weeks of age.
The ingredients in this supplement include:
Vegetable oil
Sugar
Corn syrup
Corn starch
Malt syrup
Cane molasses
Rice protein
L-carnitine
Potassium sorbate (preservative)
Sorbic acid (preservative)
Potassium chloride
Artificial chicken flavor
Vitamin A supplement
Vitamin D supplement
Vitamin E supplement
Vitamin B12 supplement
Riboflavin supplement
Niacin supplement
Calcium pantothenate
Folic acid
Guar gum
Pyridoxine hydrochloride
Thiamine hydrochloride
Biotin
Iron proteinate
Ethylenediamine dihydroiodide
Maltodextrins
Xanthan gum
L-arginine
Magnesium sulfate
Manganese sulfate
Taurine
Butylated hydroxy anisole (preservative)
4. Best Organic: Richard's Organics Nutrient Paste for Cats
Formulated to stimulate appetites of picky eaters or kitties that are recuperating from an illness or injury, this high-calorie, vitamin and antioxidant rich paste is packed with nutrients that will give your pet the energy they need. It can also be given to pregnant cats or any cat that's off their normal diet – the goal is promoting a healthy appetite the natural way. Free of petroleum, the formula is based on natural ingredients and rich in essential Omega 3 and 6 fatty acids to support a healthy coat, skin, teeth, and eyes.
Easy to use, this paste can be given straight from the tube, mixed in your pet's food, or, if you need to be sneaky, simply smudged on your pet's paw so they'll have to lick it off whether they want to or not. However, having in mind the tuna flavor, it's doubtful that they'll object to this supplement! The dosage is one and a half teaspoons per 10 pounds of body weight.
The ingredients in this supplement include:
Soybean Oil
Dextrose
Malt Syrup
Fructose
Cod Liver Oil
Water
Natural Dehydrated Pork Stock
Natural Flavor
Fish Oil
Molasses
Taurine
Tuna Flavor
Potassium Sorbate
Dl-A-Tocopheryl Acetate (Vitamin E)
Manganese Sulfate
Ferrous Sulfate
Thiamine HCI
Niacin
Calcium Pantothenate
Magnesium Sulfate
Pyridoxine HCI
Potassium Iodine
Riboflavin 5-Phosphate Sodium
Vitamin A Palmitate & D Supplement
Folic Acid
Cyanocobalamin (Vitamin B12)
5. Best Syringe: Under the Weather Pets Ready Calories for Cats
A great feature on the Under the Weather Ready Cal high supplement for cats is its syringe delivery system. This makes it easier to measure the right amount for your furry friend when they need some extra calories. The recipe was formulated for cats who aren't eating their normal calorie intake due to sickness, stress or anxiety. This product will deliver the vitamins and minerals they are missing as well as the calories. Of course it is no good it your cat doesn't find it tasty. Thankfully the taste is extremely palatable to most cats but the best way to get your sick one started is to put a bit of the gel on her paw or her nose so that she instigates the tasting herself and doesn't feel it being forced on her. Then just simply follow the directions on the label that will provide the proper dosage for your cat. You cat give it to them directly from the syringe or mix it into their food.
The ingredients in this vet-formulated supplement include:
Malt syrup
Soybean oil
Corn syrup
Cane molasses
Salmon oil
DL-alpha tocopherol acetate (vitamin E)
Sodium benzoate (preservative)
Manganese sulfate
Magnesium sulfate
Calcium pantothenate
Niacinamide
Iron proteinate
Pyridoxine hydrochloride
Vitamin A acetate
Thiamine hydrochloride
6. Best Appetite Stimulant: Lexelium Weight Gainer and Appetite Stimulant for Cats
A veterinary-approved formula that was created to promote a healthy appetite and weight gain in cats and dogs, this powdered supplement can be given to pets in all life stages, when they need a bit of a nutritional boost. All of the ingredients are sourced and manufactured in the USA, and hand selected for their ability to help boost growth and build up body mass, so this supplement is an excellent choice for sick or recovering cats that need to gain weight and get back their appetite, as wells as for kittens that are lagging behind their peers in terms of development.
Odorless and tasteless, this appetite stimulant and weight gain supplement can be easily mixed into your pet's food without them realizing it. The daily dosage is ¼ of scoop for cats under 5 pounds and half a scoop for cats weighing 6 to 15 pounds.
The ingredients in this supplement include:
Beef Muscle Hydrolysate
Yeast Extract
Siberian Ginseng Extract
Creatine Monohydrate
Vitamin D3
Calcium Citrate
L-Taurine
Zinc Orotate
Sprouted Wheat
Corn Starch
7. Honorable Mention: Rogue Pet Science Cat Natural Weight Gaining Supplement
If you are looking for a supplement that will bulk up your kitty, help them regain their appetite, and help them gain weight the healthy way, you might be up for a challenge. Not all formulas are free from potentially bad ingredients such as sugars and its derivatives or the excess of oils – which, while effective at promoting weight gain, aren't necessarily the best for your pet's overall health. This particular supplement, however, prides itself on its quality, healthy formula that boasts 43% protein per serving and contains no plant oils, seed oils, grease, sugar, preservatives, or dyes.
The formula also includes probiotics and prebiotics to support healthy digestion, and is easy to mix in food thanks to its powdered form. The dosage is adjusted according to your cats weight and can range anywhere from two to four teaspoons.
The ingredients in this supplement include:
Whole dried egg
Whole sprouted barley
Organic carrot fiber
Organic dried sweet potato
Dried lactobacillus acidophilus fermentation product
Dried enterococcus faecium fermentation product
Dried lactobacillus plantarum fermentation product
Dried bacillus subtilis fermentation extract
Dried aspergillus oryzae fermented extract
Saccharomyces cerevisiae fermentation product
Pancreatic lipase
Remember, Consulting with a Vet is Always Wise
Ensuring your cat is at a healthy weight is one of the many ways to help keep her well and happy. Now that you have a better idea of some of the weight gain supplements for felines that are available for purchase over the counter, just keep in mind that consulting with your veterinarian can help you select the one that will be right for your unique companion. Then, be sure to use the product as directed, and let your veterinarian know if your pet's condition doesn't improve, if it worsens, or if there are any changes in your cat's symptoms, behavior, appetite, etc., in case you need to make any adjustments or switch to a different product. Hopefully, before long, your kitty will be within the appropriate weight range again.
How often should I give supplements to my cat?
There isn't a single, universal answer to that question: it will all depend on the cat, on the supplement, and their individual medical condition or current situation. Some supplements are to be given daily, others are served more sparingly, some require you to make pauses in supplementation and others are to be given for the rest of your pet's life. If you are unsure how often your cat needs to be given a supplement – or which one they need in the first place – contact your vet for more information. The best course of action is to consult with a medical professional that is familiar with your pet's medical history as only they can give you accurate and helpful advice on your pet's treatment and supplementation.
Why should I include vitamins & supplements in my pet's diet?
Our cats require certain nutrients that their bodies are used to getting from their prey – but long gone are the days when felines have feasted on raw meat hunted in the wild. Most cats eat dry or canned commercial pet food which can sometimes lack certain vitamins, minerals, or nutrients that your pet needs to thrive. In these cases, supplementation can be helpful to bridge the gap and ensure your pet's belly is full and their dietary needs taken care of. Similarly, cats with certain health problems need supplementation to relieve their symptoms and lessen the severity of their issues, e.g. supplements for joint health, balanced digestion, etc.
Is this supplement safe to use if my pet is currently taking medicine?
This is a question only your cat's veterinarian can answer. Every pet is unique and so is their medical status: what works completely fine for one cat won't necessarily do the same job for another. Weight gain supplements for cats are often recommended for cats struggling to get back to their old selves because of an illness or an injury they are recovering from, so more often than not, your vet will tell you if it's OK to combine this supplement with other drugs and if so, which one to get.
What are the disadvantages if my cat is underweight?
When a cat is underweight, it can often be due to an underlying medical issue. As a result, underweight cats often have some kind of nutrient deficiency, weaker immune system, inability to properly use nutrients (e.g. diabetes) and can be vulnerable to a range of other health problems, as well. That's why it's important to visit a vet as soon as you notice your pet losing weight or appetite.
Why is my cat losing weight?
There are many reasons why a cat is losing weight. It can be that they are too picky with their food, stressed, or anxious and it's having an effect on their figure. However, it's often a health issue that's related to a cat's weight loss – conditions such as diabetes, cancer, hyperthyroidism, digestive issues, kidney disease, feline infectious peritonitis, or intestinal parasites infestation can all be to blame. This is why it's crucial to get a vet's opinion – they can diagnose the real issue behind your pet's weight loss and advise the right treatment.
What should I consider when choosing weight gain supplements for my cat?
Cat weight gain supplements come in different forms – gel, powder, liquids – so choose the form that suits your cat the best. If they eat wet food, powder or liquid can be easy to mix in, and gels are great for picky eaters as they can be squeezed out on the paw directly and your kitty will be "forced" to lick them off. There are also many different formulas, so be sure to check up on the ingredients to see if they are fully safe and suited to your pet's unique needs. Avoid supplements with plenty of artificial ingredients such as dyes, flavors, and preservatives, as well as those that rely heavily on some unhealthy ingredients to provoke weight gain, such as sugar.
What types of cat weight gain supplements are there?
The three most common types, when it comes to form, are powder, liquid, and gel. Each has its pros and cons and it all boils down to what your pet prefers and what's convenient for you. Powder and liquids can be added to their meals for an undetectable boost to their nutrition, and gel can be given in food or on its own. Some weight gain supplements for cats are also optimized to support other aspects of your cat's health, e.g. balanced digestion, healthier skin and coat, or better immune system.
Additional resources:

Lisa Selvaggio
Lisa Selvaggio is a freelance writer and editor, and our resident cats-pert, with certifications in pet nutrition and pet first aid. An advocate for better treatment of all animals, she enjoys producing content that educates others, helps them understand animals better, and inspires them to help, whether that means volunteering at a shelter, fostering strays, or simply giving their own pets a safe and happy home to live in.
More by Lisa Selvaggio
Published September 24th, 2021 12:00 AM