48 Views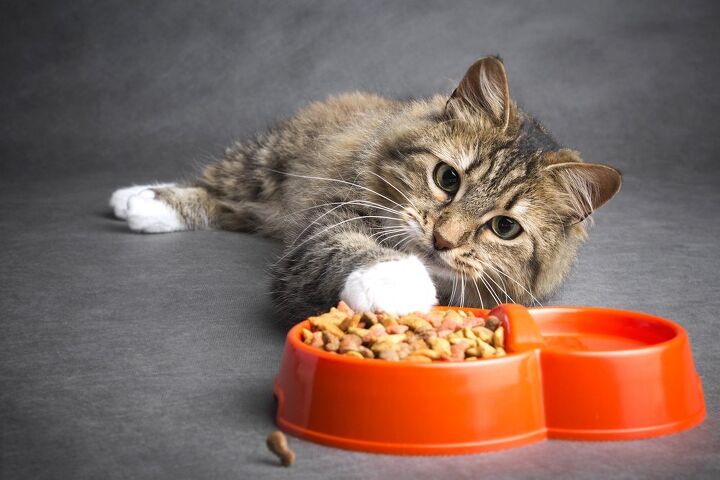 Dry cat food has to be healthy and nutritious for your pet and tasty enough to make sure your kitty has an appetite for it. This is our list of the best dry cat food options for kitties of all ages, shapes, sizes, and health conditions.
Felines can be finicky when it comes to their food: it's difficult finding dry cat food that suits your pet's refined tastes, actually provides all the necessary nutrients and fits within your budget. Kibble is the go-to option for most pet parents, as it is nutritionally complete (if the formula is right!), mess-free, readily available, and most importantly, cats usually love it. However, not all dry cat food is made alike. A lot of popular brands use tons of fillers, artificial ingredients such as colorings and flavors, and many are not suited for a healthy diet. Naturally, this doesn't mean that your kitty wouldn't love munching on those- cats love junk food as much as we do. This is why you need to step up and read those tiny letters on the ingredients list to make sure your pampered furball is getting all the nutrients they need to lead a long and healthy life.
In addition to healthy ingredients in the right ratio, dry cat food should also be tasty to your pet so make sure to take their tastes into account. Some kitties will go wild for fishy flavor while others turn their nose at salmon and tuna and want to eat only chicken-tasting kibble. Add to that a price tag that fits in with your budget, and you've got yourself a winner. The only problem is- there are soooo many types of dry cat food to choose from! The choice can be overwhelming, so we've made a list of the best dry cat food to help you narrow down the choices and fill your pet's bowl with chow tailored to their needs.
With carefully selected premium-quality ingredients and superior formula, Open Farm Pasture-Raised Lamb Grain-Free Dry Cat Food really sets the standard for the competition. Made with real cuts of pasture-raised lamb that's been humanely raised in New Zealand- without antibiotics and growth hormones- and without grain fillers, the formula contains everything your cat needs to thrive. In addition to ethically sourced human-grade protein, there are also locally harvested fruits and veggies including cranberry and apples in the mix as well as natural superfoods, such as coconut oil and pumpkin. Open Farm is all about transparency, so you'll be able to trace the origin of every ingredient using the lot number on the bag- nothing left to chance when it comes to your furbaby's wellbeing. This dry food for cats is suited for all life stages and has a yummy-to-cats lamb taste.
Runner up: Nutro Wholesome Essentials Adult & Senior Dry Cat Food
For complete nutrition of adult cats that will meet the needs of most regular kitties, you can't go wrong with Nutro Wholesome Essentials Dry Cat Food. The formula contains no soy, wheat, or corn, chicken by-product meal, or artificial flavors, colors, and preservatives- instead, the ingredient list includes high-quality protein (chicken), nutritious source of carbs (whole brown rice), and a variety of minerals, and vitamins to support your cat's immune system. Additionally, as this formula is rich in omega 6 essential fatty acids, it will also promote a healthier, shinier, softer coat and healthy skin. To boot, all of the ingredients used are non-GMO and sourced from trusted farmers and suppliers. Available in savory chicken flavor, this dry cat food comes in two variants- for adult cats and seniors.
Customer's choice: Rachael Ray Nutrish Super Premium Dry Cat Food
Most cats love poultry-flavored kibble, and if your pet is among them, then Rachael Ray Nutrish Super Premium Dry Cat Food will be right up their alley. Available in two main protein options- chicken or turkey- it will satisfy the tastes of most kitties, especially when the rest of the formula is considered. In addition to real chicken or turkey, this dry cat food includes salmon to ensure that all the essential amino acids are there to support your cat's immunity. Better yet, the list also includes superfoods and real live probiotics to ensure a healthy gut, which in turn helps promote better overall health. As for the source of healthy carbs, you get to choose between lentils or chickpeas- whatever your kitty prefers.
Best for sensitive stomach: Purina ONE Sensitive Systems Adult Dry Cat Food
Not every kitty can feast on kibble without thinking about consequences: for cats with sensitive skin and stomach, the wrong type of food could lead to a myriad of issues such as vomiting, diarrhea, or incessant itching. Purina ONE Sensitive Systems Adult Dry Cat Food was formulated with precisely such kitties in mind- the blend of specially selected ingredients nourishes sensitive systems. The first ingredient in the formula is real turkey- a cup of this high-quality dry food contains 36 grams of protein! To fortify the formula, there are also various vitamins, minerals, and nutrients added, including antioxidants and essential fatty acids.
Best for seniors: Iams Proactive Health Healthy Senior Dry Cat Food
In their golden years, pets require a diet that's adjusted to their new needs, and Iams Proactive Health Healthy Senior Dry Cat Food is made with a formula that supports an aging cat's body. To keep their vitality, elderly kitties will need a bit more help, which is why this dry cat food has twice the antioxidants when compared to regular formulas. There's also a variety of essential nutrients tailored to the needs of old cats, such as calcium and phosphorus to promote healthy joints and bones, L-carnitine to help prevent obesity which many seniors are prone to, as well as vitamin E to boost the immune response. The first ingredient and the source of protein for this dry food is real chicken- so it's safe to say that most kitties will love the taste of it.
Best for diabetes: Hill's Prescription Diet m/d GlucoSupport Cat Food
Cats with diabetes have to have a special diet that is balanced and doesn't spike their sugar levels, so it's safe to say that regular dry cat food won't cut it for diabetic felines. Formulated by nutritionists and veterinarians, Hill's Prescription Diet m/d GlucoSupport Cat Food is prescribed to diabetic cats as a way to keep their glucose levels optimal and help manage their weight, which can become a huge issue for cats with diabetes. Clinically tested and proven to manage glucose levels and reduce body fat, this formula includes L-carnitine for weight loss as well as a smart formula high in protein and low in carbs. Despite being a prescription food, this kibble is also tasty- the chicken flavor will have your kitty salivating.
Best for urinary tract issues: Wysong Uretic – Dry Natural Food for Cats
Urinary issues are common among cats, and they tend to repeat, which is both frustrating and dangerous if left unchecked. One of the first steps towards keeping your cat's UTIs under control is to switch their diet to foods that prevent so-called struvite crystals from forming and wreaking havoc on your pet's urinary tract. Wysong Uretic – Dry Natural Food for Cats contains all the ingredients needed for this, but the most important is DL-methionine, which makes your cat's urine acidic which dissolves struvites and prevents them. The rest of the formula is quite impressive, too, with 42% protein from chicken and 15% fat, and without any fillers or artificial ingredients. In addition to the fresh, whole ingredients, this formula will also promote better overall health thanks to high levels of micronutrients/nutraceuticals such as probiotics, prebiotics, enzymes, and essential fatty acids.
Best organic: Castor & Pollux Organix Organic Dry Dry Cat Food
If it's a holistic diet for cats that interests you or you simply don't want to worry about the quality of ingredients in your pet's chow, Castor & Pollux Organix Organic Dry Dry Cat Food will be your best bet. Made with organic, free-range chicken and without corn, soy, wheat, or grains, it will strengthen your pet's immune system and meet their dietary needs with the highest quality ingredients. Certified as USDA organic, this dry food for cats is also packed with superfoods such as organic flaxseed, organic cranberries, and organic coconut oil, all of which will give your pet's coat and health a boost. Naturally, as this is organic cat food, all of the ingredients have undergone strict checks and are grown without any pesticides or synthetic fertilizers, and the meat is not treated with antibiotics or added growth hormones. To boot, this kibble also doesn't contain any artificial preservatives. As close to real clean food for cats as it gets!
Best for kittens: Blue Buffalo Healthy Growth Natural Kitten Dry Cat Food
You have to start off on the right foot when it comes to your cat's diet: if you give them high-quality food from the beginning and make sure they have a balanced diet, you can prevent plenty of health issues down the road. Additionally, kittens have to eat special food formulated for their needs- the size of kibble pieces has to be small enough for their tiny chompers and the nutrients appropriate for their minuscule size and growing stage of life. Blue Buffalo Healthy Growth Natural Kitten Dry Cat Food is an excellent option for those that want only the best for their furbaby. Made with real deboned chicken, brown rice, sweet potatoes, and superfoods such as blueberries, cranberries, and flax, the formula has everything you need to support your pet's immune system and more. As it is designed for kittens, it also contains DHA, ARA, and choline for healthy brain and eye development. The formula doesn't contain poultry by-product meals, corn, wheat, soy, artificial flavors, or preservatives.
What to Look For in Dry Cat Food
There are so many formulas and brands out there that it can be really difficult to If you're unsure what to look for in dry food for cats, these are the most important things to check before pouring the kibble in your pet's bowl.
Ingredients
Not all cats need the same nutrients to stay healthy, but most have the same basic requirements. Cat food should be rich in protein- ideally, a single meat source that's listed first in the ingredient list-, contain named fats (those from a known source), and be enriched with taurine, and a variety of vitamins and minerals. Carbohydrates are not essential, in fact, many experts argue that they are not necessary for obligate carnivores such as cats, but if there are carbs in the formula, be sure that they are healthy carbs and not cheap fillers such as corn and wheat.
Flavor
Cats have different preferences- some love fish, others chicken, and poultry, while others won't touch anything that's not beef, and so on. Dry cat food comes in an array of flavors starting from basic chicken, turkey, duck, beef, lamb, and fish, all the way to gamey flavors such as rabbit, venison, or quail.
Special properties
Some cats have health issues that require a special diet: kidney disease, diabetes, urinary infections, and many other health problems could be kept in check with the right type of food. In the case your pet has a medical issue, go for prescribed dry food that is enriched with certain ingredients that could help keep your pet's condition under control.
We are committed to finding, researching, and recommending the best products. We earn commissions from purchases you make using the retail links in our product reviews. Learn more about how this works.

Angela Vuckovic
A proud mama to seven dogs and ten cats, Angela spends her days writing for her fellow pet parents and pampering her furballs, all of whom are rescues. When she's not gushing over her adorable cats or playing with her dogs, she can be found curled up with a good fantasy book.
More by Angela Vuckovic
Published June 30th, 2021 12:00 AM