104 Views
Top 12 Cat Halloween Costumes to Hiss At
October 11th, 2021 12:00 AM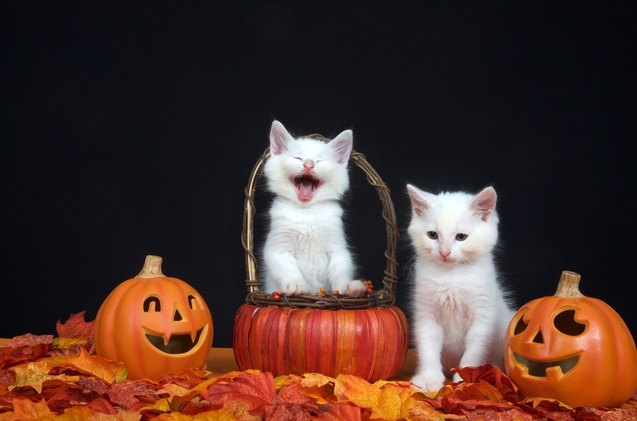 Cats and Halloween just go together… but have you ever dressed your kitty in a costume? Try on one of these cat Halloween costumes – that is, if your feline will let you!
If you can't poke fun of your cat wearing a piece of bread in your social media, is it even Halloween? We don't think so, which is why you need to have this one-piece cat costume that really is the best thing since sliced bread (c'mon, you knew that was coming!).
The simple hook and loop fasteners make it easy to put on and stay on, and your cat will only feel the inner lining of the soft material. Heck, she might even like it so much she won't even wake you up at 2 am by sitting on your head as payback. Okay, maybe she will, because she IS a cat, but at least you'll have had a good-natured laugh (at her expense).
Frisco Lion Mane Dog and Cat Costume
By now, the lion mane costume has become legendary! The elastic drawstrings and sleeve design for your cat's chin makes this one of the easiest Halloween costumes to put on a cat- and that alone is enough to make it a roaring success for most pawrents–pun intended. Of course, with the long-lived love for all things Lion King, you can say that your feline friend is dressed up as Simba, Scar, or Mufasa–anyone with a mane, really. Bonus points if your cat's a ginger tabby, but let's be real…every kitty is king of their own jungle, so the mane just makes it official.
NACOCO Halloween Octopus Cat Cap
This costume brings new meaning to the term…octopussy! Whether you're a fan of puns or not, you'll certainly love this cute Halloween costume for cats (but clearly, an octopussy is a way cooler costume name). It's a soft felt headpiece with adjustable hook-and-loop closures, making it a great choice for cats that aren't comfortable wearing a full outfit. Each of the octopus legs extending from the headpiece is rolled felt, making them flexible with your cat's movements.
For the Khtulhu worshippers or James Bond fans, this Halloween costume will be money well spent- too bad your cat might not share your opinion.
"I 'vant to suck your…catnip?" Hey, whatever your kitty likes, no judging. And, if honest, she's probably gotten a bit of blood here or there in those 'love' taps and 'love' bites and 'love' scratches she's so famous for. That's why this Vampire Cat costume is perfect. The satin vampire cape is super soft and just one piece your cat will need to be Count Catula. The durable chest button design ensures that your cat's costume will stay on , and though your cat may hate you, the extended collar in the back is the piece de resistance.
Your kitty might not like water, but so what? They don't like dressing up either and you're putting them in a costume. So for the sake of some holiday fun, why not pretend your kitty is instead a ferocious attach shark, coming at you with full force to terrify you with their fins.
Okay, or maybe just to laugh at and put in fun poses so you can have a bang-up story on Insta. The hook-and-loop fasteners keep it snug on your kitty, and there's even a leash hole in the back in case your cat wants to take Halloween by storm on land.
So it's obviously near impossible to find a 'scary' costume for your kitty to wear because the reality is that cats are scariest when they're totally themselves at 1:27 am, running around your house like literal bats out of hell.
So why not just go for the cutest animal on the planet instead? A fuzzy, adorable panda costume is just what the Halloween Witch Doctor ordered, we think, and this Fuzzy Panda Headpiece fits the bill. The costume is simple with just a hat, making it a little easier for some cats to accept. The hat ties below the chin, holding it in place while your cat's cuteness attracts the attention of all your neighbors. You just *may* get a little bit of pandafabulous extra cuddles from your cat.
If the two things you love most in the world are Mexican food and your furbaby, you're in luck. This Halloween, your faves can have a mashup–but not in a creepy way. The Taco Bell inspired outfit transforms your feline friend into a literal snack, so there's no doubt this comfortable, padded costume will have your kitty in the center of attention. Easy to put on and available in two different sizes, this cute outfit will fit any feline.
Frisco Dog and Cat Stegosaurus Costume
Again, while this may be a costume for cats AND dogs, let's just admit that there's nothing better than Stegosaurus scales (called scutes, did you know that?) lining up the back of your kitty cat from head to furry tail. We're pretty sure they had costumes in the prehistoric days, right? So why not pay homage with this one? The hook-and-loop fasteners will wrap around your cat in all the right places, and when you watch him walk with the weight of an ancient dino? You'll maybe even feel a little proud before your start laughing your rear off and reach for the camera.
Frisco Walking Teddy Bear Cat Costume
If we're being honest, I'd endure whatever scratching and hissing my cat would throw at me for trying to dress them up just to see them look like a walking teddy bear. Preferably one with an angry face, now when I think about it because that just makes it even cuter. Made from plush material, this costume gives your cat a soft and cuddly look- even while they are trying to rip you to shreds for putting them in this outfit. All jokes aside, even though it's not difficult to put on, this elaborate Halloween costume is a better choice for dressing up pros.
Unicorn Costume For Cats and Small Dogs
Always be yourself, unless you can't be a unicorn. Then always be a unicorn. Of course, this only works if you're human, because cats are more awesome than unicorns. That's just a fact. But that doesn't mean you can't have fun dressing your cat up as a mythical creature for Halloween-complete with a fun rainbow mane for that bit of 'extra' that every unicorn clearly needs. The hook-and-loop strap under the chin will keep the costume on nice and snugly and really?
What's not to love about a Kitti-Corn? Cat-i-corn? Felin-i-corn? Whatever you want to call her. Just get the costume and start the magic flowing.
Are you looking for a little magical fun this Halloween? While your cat may not be taking you for a magical adventure starting at Platform 9 3/4, it certainly will attract the attention of any wizard or muggle at your Halloween party.
The Gryffindor cloak is easy to wear with its soft, breathable fabric. The sizing is based on your cat's neck measurements, with three different sizes available to fit any cat. Partner it with the adorable glasses if your cat is patient enough to keep them on.
Just be cautious… Dressing up a Harry Pawtter may just attract He Who Must Not Be Named to join the festivities too!
Sailor Costume for Cats or Small Dogs
Ahoy, matey! Let's take off to the high seas with this adorable sailor costume. Batten down the hatches and prepare yourself for a sea of Halloween party guests swarming your cat as he or she shows off the dapper necktie and sailor hat. Are you planning on spending Halloween celebrating one-on-one with your cat? This seaworthy costume could make for some fun and imaginative adventures.
The soft polycotton hat and collar is breathable and comfortable for ongoing wear. A Velcro buckle under your cat's chin will hold the hat firmly in place with the assistance of ear slots to prevent it from sliding off. Velcro is also used to secure the necktie, completing the look. The one-size-fits-all design is suitable for cats of all sizes as well as smaller dogs.
How to Introduce a Costume to Your Cat
Is this your first time dressing your cat up for Halloween? If so, she may not be interested in wearing clothing. But this doesn't mean that you can't train her to confidently rock that costume – It's just going to take some time and patience.
The best place to introduce something new to your cat is at home where she's most comfortable. Be sure to offer a lot of praise and rewards throughout the training. This will help to build a positive association with wearing the costume. A great reward that also serves as a distraction is to spread a tasty treat or a little canned food onto a lick mat. Licking the tasty treat off the mat will help to calm and relax her.
The first piece of clothing that most cat owners will start with is a bandana or cape. These items are worn around the neck like a collar, making them more comfortable and far less restricting. From there, you can move to a shirt or vest that fastens around the cat's waist like a harness. Avoid anything that must be pulled over her head early in the training process.
Most cats dislike having anything placed over their heads, or on their heads. For this reason, the last thing that you should consider introducing is a headpiece. Don't be surprised if your cat isn't interested in wearing it at all in the beginning. Start small. Reward her for allowing the headpiece to even touch her head, then move to fasten it. When you can confidently put it on, start building up the length of time that she's wearing it without taking it off.
Cat Costume Safety Tips
When choosing a costume for your cat, steer clear of anything that is overly tight or will restrict her movement. This could leave her feeling trapped causing significant stress or anxiety. Check the inside of the outfit for any pieces that may rub against her or cause irritation. Cats have very sensitive skin, and it doesn't take much to make them feel uncomfortable or cause a skin lesion.
If you're putting a costume on your cat that can be adjusted, don't tighten it up too much. Whether it's around your cat's neck, chest, or stomach, it could cause significant discomfort or even create a dangerous situation.
Check the costume over for any loose strings or dangling pieces. Your cat may see this as a toy and try to play with it or chew on it. Strings that are ingested can quickly become tangled up in your cat's digestive tract leading to serious health complications. Small pieces that can easily be chewed off can be swallowed creating a dangerous blockage.
If you believe that your cat has eaten any piece of her Halloween costume, contact your veterinarian. Explain what you believe she has eaten, how much of it, and how long ago it could have happened. They will be able to suggest the best course of action to make sure that she's going to be okay.

Published October 11th, 2021 12:00 AM