18 Views
The Best Parrot Paraphernalia You'll Squawk Over
February 11th, 2022 12:00 AM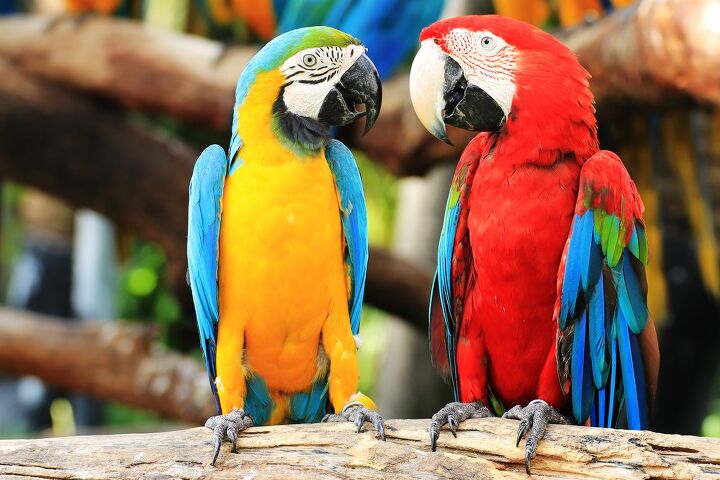 We're wild about birds and their beauty, intelligence…and knack for pooping on everything you love. Here are some products you'll go Cuckoo for!
1. Editor's Choice: Parrot Shower Curtain
You'll fall head-over-claws for this delightful shower curtain. The Amazon parrot, however, will most likely destroy it after spotting it from afar the day it is showcased. Oh well, it looked great while it lasted!
2. Runner Up: Budgie Tote
When hormonal, your once-delightful little birdie will go to great lengths to destroy and poop on everything your hold dear. However, once in awhile, they're on your side–especially when your boss comes over to visit and takes the bird out of their cage and onto the shoulder. Now, just be patient…
3. Best Earrings: Parrot Earrings
It is imperative that everyone know you are parrot-crazy, especially when you're walking around sans birdie on your shoulder. There's a huge selection of parrot-themed earrings available online, from simple and dainty designs to bright and bold lifelike figurines.
4. Best Mug: Black-Headed Caique Mug
Coffee and caique go together like peanut butter and jelly! Well, not really, but this mug is a surefire way to make your caique think you've replaced them with another crazed-looking, hopping friend. CafePress has everything you need!
5. Best Painting: Hyacinth Macaws Painting
No bird-brain house is complete without a few parrot paintings. Having always had a fascination with these beautifully plumed Hyacinth macaws, these definitely take the caique- I mean, cake.
6. Best Towel: JYK Beach Towel
What better place to show off your love of these stunning birds than the great outdoors? Specifically, while sprawled out soaking in some Vitamin D on the beach. Then it's almost like you're right there with the parrots in the picture. Emphasis on the almost.
7. Best Shoes: T.U.K. Parrot Boots

Walking on sunshine has a whole new meaning when you have these fantastic, awesome, fabulous, parrot combat boots. FYI: all of those adjectives were definitely necessary. These bright boots are also vegan-friendly and available in a handful of sizes.
8. Best Scarf: NUWEERIR Women's Mulberry Silk Scarf
Now whether you're a parrot lover or not, here's a product that everyone can appreciate. Breezy and beautiful, this scarf makes a wonderful gift (hint, hint, nudge, nudge). These scarves are made from 100% silk satin which means you'll have to hand wash them, but the soft feel and lightweight construction make it well worth a little manual labor.
9. Best Sticker: African Grey Bumper Sticker
Keep your distance - I've got an African Grey on board! What's great about this sticker is that you can play around with the shape and size to fit your needs. The stickers can be round, oval or rectangular, and you can buy these cut little guys in a pack of 10, 50 or the single sticker.
10. Best Mousepad: Shalysong Watercolor Parrot Mouse Pad
This mousepad is the perfect gift for the quaker-loving computer tech in your life - or if they just do a lot of work from home while their well-behaved quaker dutifully preens herself on their shoulder. Affordable, colorful and functional, what more could you want?
11. Moluccan Cockatoo Phone Case
And finally, for a realistic picture of your parrot in your day-to-day life, here's a Moluccan Cockatoo screaming his lungs out. Don't worry, that's a good sign--it means he's happy.
We are committed to finding, researching, and recommending the best products. We earn commissions from purchases you make using the retail links in our product reviews. Learn more about how this works.

Published February 11th, 2022 12:00 AM