19 Views
Top 10 Halloween Costumes For Dogs
October 1st, 2018 12:00 AM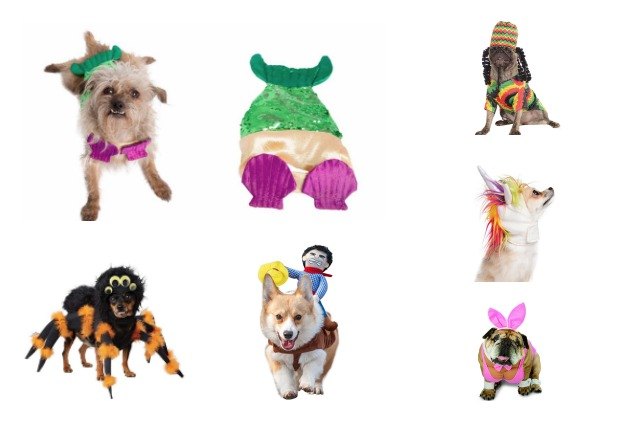 No self-respecting dog would find himself on Halloween without the paw-fect costume, so we've rounded up the Top Ten Halloween costumes for dogs that are guaranteed to ensure a happy Howl-oween!
According to a survey from the National Retail Federation, Americans will spend nearly $9 billion dollars on to celebrate Halloween. And, obviously, that includes dough dished out on our favorite furry friends! The survey found that 18% of pet owners are planning to dress their pets up to celebrate Halloween with them this year, which is up from 16% of pet owners who did so last year. Here are ten fantabulous costumes that you'll want to check out!
1. Unicorn Costume by Petkrewe
Holy horns! Your dog will definitely take the night by the horns wearing this adorable unicorn costume from Petkrewe. It'll fit pups (and kittehs too!) up to 18 pounds, and has velcro for the perfect adjustment. And, every purchase of a Petkrewe Costume ends up helping animals at local shelters all over the country!
2. Mermaid/Man Costume by Petkrewe
And since we're all about helping animals in shelters, another fave of ours from Petkrewe is the Merman/Maid costume. The seashell cups are removable so you can have whatever you want right from the sea in your very own home. The tail is a Petkrewe exclusive design and the sequins go from a luminescent green to seafoam blue. Fancy!
3. Spider Pup By California Costumes
The sweetest little furry spider you ever did see is right behind the multiple eyes of this hilarious Spider Pup costume by California Costumes. And this little spider won't leave behind that nasty, sticky web we always tend to walk into!
4. UPS Costume by California Costumes
Talk about turn-about being fair play! This funny costume is a nice spin for the UPS man–who can be dog's best friend or arch-enemy, depending on the day. Any day your dog is in this costume, though, is guaranteed one to bring smiles to all who see!
5. R2D2 Costume by Rubies
So if there was ever a way to make an adorable robot be even cuter? It would be to take your furry best friend and dress him up as one! This lovable sidekick doggy droid will be the hit of any Halloween night!
6. Hunny Bunny Costume by Rasta Imposta
If you ever wanted to take a hot bunny to a party, here's the costume for your most faithful companion–your dog! Looking like she's set for Hugh Hefner himself, your dog will have all the boys coming to the yard with those…ears.
7. Ride 'Em Cowboy by Naococo
Wheeeew doggie! Your little pardner will want to giddy up with this adorable cowboy costume, complete with a rider who has "Yeehaw!" written all over his face. Made of breathable soft polyester, it'll be comfy and cowboy ready for trick-or-treating!
8. Superman/Wonderwoman by Rubies
Want the world to know your super-pups are on the job? Then you're gonna obviously need to make sure they have their superhero costume ready for them to display their super adorable powers! Whether it's Superman or Wonder Woman, they're set to save the day and literally take a bite out of crime.
Hey 'Mon. Gimme' some dog treats! This rasta-fabulous costume will have your dog chillin' like a Halloween villain while people can't help but break out in some Bob Marley and big smiles.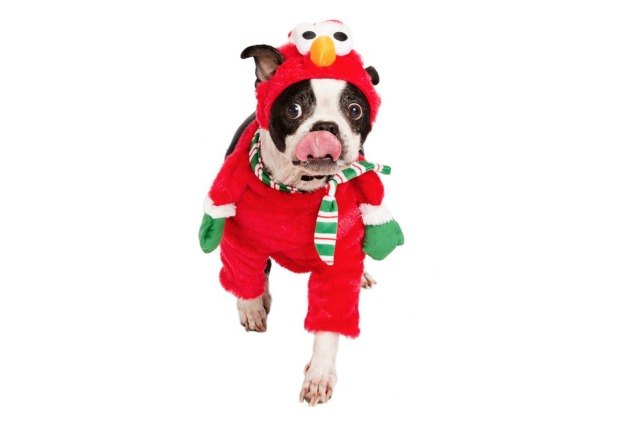 We know, we know…a *tad* bit early for Santa (but really, is it EVER too early for SANTA?) but we just love that Petkrewe has collaborated with Sesame Street to bring our favorite animals to their product line. Lucky for us, Halloween means your pup can be whatever he wants, even if that means Santa Elmo!

Published October 1st, 2018 12:00 AM