30 Views
Best Must-Have Dog Mom Gifts
January 31st, 2022 12:00 AM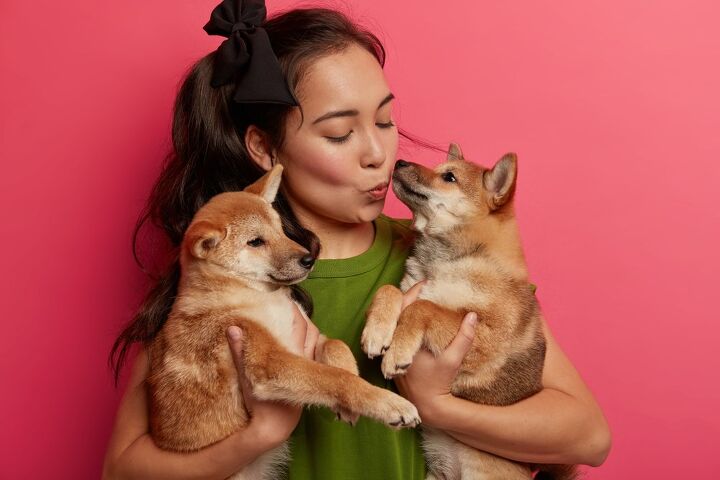 Dog (and pet) Moms deserve recognition, too! That's why we've put together this list of Must-Have Dog Mom Gifts.
The hardest thing about putting a gift guide together is resisting the urge to buy every single item on it for myself (thanks to my self-restraint, I only gave way to one). And it was no different for these Must-Have Dog Mom Gifts. Being a dog mom, I picked things I wouldn't normally purchase, but since it is Mother's Day, I would treat myself to. It's a tough job, but I wouldn't trade it for anything in the world. Still, it would be nice to be recognized, and since Oscar isn't going to make me a crappy macaroni-laden card any time soon, I don't feel guilty about splurging for any of these awesome Dog Mom Gifts.
1. Editor's Choice: HYPOWELL Dog Mom Sweatshirt
There's no better way to end the day than by throwing on your favorite sweater, grabbing a warm drink (or maybe a glass of wine) and snuggling up with your four-legged friend on the couch. These gorgeous sweaters proudly mark you as a dog mom and feel as comfortable as they look. They come in all sorts of fun designs and a variety of sizes. Some reviewers warned the sizes run small, however, so you may want to consider sizing up!
2. Runner Up: Pufuny 12 oz Stemless Funny Wine Tumbler
They say that you're never drinking alone if you drink with the dog and that couldn't be truer. So do it in style with this gorgeous stainless, rose-gold tumbler. It is 12 oz. of pure wine perfection, with double-wall vacuum insulation, and you can even use it for hot chocolate or coffee if you need to drink something hot at a more acceptable (ahem) time of the day.
3. Best for Wine Glasses: Wine Things A Dog's Life
Holy MOLY do we love these wine charms! If you're not sold on the stemless tumbler, maybe these gorgeous wine charms will make you pull your stemware out more often (as if you need enticement!). This set includes six different charms – from their favorite tennis ball to a fire hydrant and a dog bone, your guests will love marking their territory (and wine) with these beauties.
4. Best Purse: Chala Crossbody
This adorable convertible crossbody is the perfect thing to take when you just need the essentials: your phone, your ID, your cash, your cards and your pooch prints! It's a durable vegan leather bag that holds all the essential things when you hit the town, the job or the dog park. It's perfect as a wristlet too at amusement parks or concert venues.
5. Best Boots: NORTY Women's Hurricane Wellie
These 100% waterproof hi-calf rainboots are built from 100% natural rubber and feature a cotton lining as well as a removable insole (score!). They're perfect for rainy days, camping or gardening, and are super easy to clean with their rubber exterior. They have lug slip-resistant tread soles on the bottom so you won't slip when it's wet, and they're the cutest galoshes around. They do run a bit large, but that just means more room to slip in extra fuzzy socks. Anybody wishing it would rain right about now?
6. Best Splurge: Wisdom Panel
You know you always want to get one but you never consider it a time to splurge. Guess what? Mother's Day is the perfect time for a Dog Mama to get her splurge on, and there's so much information in the Wisdom Panel results, you won't think of it as a splurge; you'll think of it as vital medical and health information. The leading dog DNA kit offers insight to ancestry, heredity, and medical traits and predispositions, and it's neat to see connections for your dog.
7. Best Treat Dispenser: Furbo Dog Camera
And, since we're talking about splurging, you know you've also drooled every time you see the Furbo Dog Camera. It's not just a camera; it's a treat tosser so you can interact with your dogs from wherever you are. You can fill it with your pup's favorite treats and play catch remotely. There's also a 2-way Chat feature and barking alert to let your smartphone know if your dog is barking. You know you want it, so go ahead and treat yo' self. And treat your dog while you're at it (we mentioned it's a treat dispenser too, right?).
8. Best Bag: Django Dog Tote
This gorgeous and stylish tote will be a high ride for your pup. It's made of a silky, water-resistant fabric with leather handles for carrying comfort. The Sherpa-enclosed footpad makes sure that your pooch is cozy inside and it can also be removed and washed in the washing machine. There are exterior and interior pockets for all the dog essentials—treats, poop bags and more treats—and there are even a few slots for credit cards and cash of yours in case you want to make it your carry-all tote.
9. Best Mug: Personalized Mom Mug
Is it really Mother's Day if you don't get a coffee mug? (The answer is absolutely not!) We love this mug that tells moms how dogs really feel about them and we love that it's customizable.
You can choose your character's hair color and style, skin tone, shirt, scenery and even the text on the other side of the mug! Once you've pieced together the person, you get to choose from an extensive list of dog breeds and add one or two pups to the picture. And if that wasn't enough, you then get to choose from a handful of coat colors and sitting positions! You can even add angel wings if someone's favorite pooch is no longer here with us but still in your hearts. It's the perfect gift for new puppy mamas and 'seasoned' dog moms alike.
10. Best Bling: Dog Mom Cuff
What else is there to say about this stainless bangle but, "Yes!" a million times over? It says it all with two words and is pretty doggone good-looking on your wrist too. The stainless steel won't fade, rust, turn colors or interact with your skin, and it's a subtle but beautiful way to tell the world who you are.
We are committed to finding, researching, and recommending the best products. We earn commissions from purchases you make using the retail links in our product reviews. Learn more about how this works.

Amy Tokic
Amy Tokic, Editor of PetGuide.com, is a passionate animal lover and proud pet parent of Oscar, a Shih Tzu/Chihuahua cross, and Zed, a Japanese Chin. Her love of animals began in kindergarten, when she brought her stuffed dog Snoopy into class with her every day. Now, she writes about her adventures in pet ownership and tirelessly researches products, news and health related issues she can share with other animal enthusiasts. In her free time, Amy loves perusing used book and record stores, obsessing over the latest pet products available and chasing squirrels with wild abandon (a habit attributed to spending too much time with her pooches).
More by Amy Tokic
Published January 31st, 2022 12:00 AM