9 Views
Best Mother's Day Gifts For Dog Moms
September 9th, 2021 12:00 AM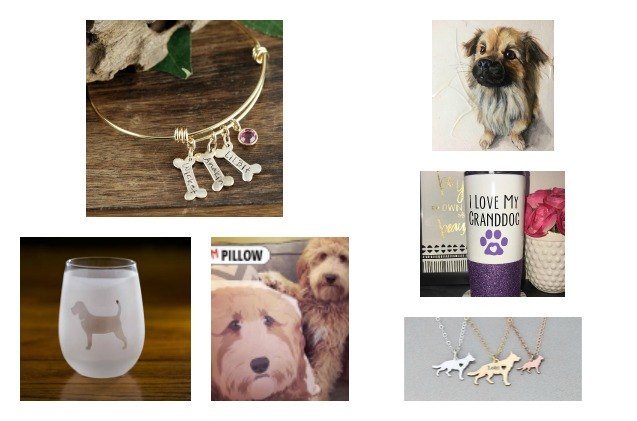 Mother's Day gifts for Dog Moms are better than ever these days, so there's no excuse for getting your favorite Dog Mom a cheesy 'walk the dog' coupon book! Here are some of our favorites!
Before I became mama to a hooman, I was a dog mama, and you bet I expected Mother's Day gifts! There are some pretty fantabulous gifts out there, all of which I want (hint, hint). Check out these amazing gifts:
1. Editor's Pick: Crazy Dog T-Shirt
Shhh.. Don't tell anyone… But for dog moms, it's their furbaby that is their favorite being in the world! If the momma in question is a one with a good sense of humor and a sassy attitude, she will love strutting her stuff in this tee. Made from a poly and cotton blend fabric that's soft and pleasant to wear, the t-shirt is designed and printed in the USA to ensure quality and durability of the print- and these words are definitely ones you want to last. There are 6 sizes ranging from small to 3X- large and 4 colors (dark heather gray, heather pink, heather purple, and light heather blue), so you can rest assured you will find a perfect match for the lucky mom in question.
2. Runner Up: Custom Pet Portrait
These gorgeous, custom acrylic portraits will melt the heart of every dog mom who gets one. The artist brings pictures of dogs to life with brilliant acrylics and on top of that? She donates 10% of all her custom pet portraits and wildlife paintings to the Burlington Humane Society and The Toronto Wildlife Centre. She uses supplies that are free from animal products and testing as well. This is a portrait she did for one of our editors (a rescue from Korea), and sweet Elvin looks picture perfect!
3. Best Jewelry: Personalized Dog Mom Bracelet
This stainless bangle bracelet can be personalized with the names of the nearest and dearest to a Dog Mom's heart. Not only are the adorable bones personalized, they have the birthstone of the dogs as well, and you can get it in silver as well. These Etsy artists are open to customizations as well, so you can make it just perfect!
4. Best Set: Drink My Coffee and Pet My Dog Socks
These socks are the song of my life… put these babies on and Dog Mamas everywhere will nod in agreement as they read how we just want to drink coffee and pet dogs. Pretty sure no truer words have ever been spoken, and all you have to do is sit back and relax while people read your life's story. You can even customize them with your dog's name!
5. Best Glasses: Dog Silhouette Wine Glasses
Talk about impressing your guests (and letting them know your dogs are your life!). These stemless wine glasses are gorgeous and come in various designs so you can mix and match your sets. They have a heavy base that makes sure no waggy dog tails tip them over, and they'll be the highlight of any Dog Mom's wine cabinet. Made from lead-free crystal glass, these stemless wine glasses feature two hand-etched silhouettes of dog of your choice- available options include Golden Retriever, Bulldog ,Beagle, Boston Terrier, Chihuahua, Corgi, Dachshund, Doberman, Frenchie, German Shepherd, Lab, Pug, Rottweiler, or Schnauzer. They are dishwasher-safe and come in a set of two- each glass holds 15 oz.
6. Best Customizable: Custom Pet Pendant
Want to keep your pup close to your heart all the time? Easy peasy with these unique pendants created from your very own dog photos. The artist will custom design a charm from your photo, so if your pup happens to be a mutt, this is the perfect way to capture his essence forever and keep it near always.
7. Best Pillow: COCYBERCOC Custom Pet Pillow
This custom pet portrait pillow will make sure everyone knows who is first in your heart…and on your sofa! This pillow is one-of-a-kind, as it is made based on a photo of your pet: the sublimation printing technology used to reproduce the photo on fabric makes it clear and sharp, but also durable as it won't crack or fade with time. The pillows are made from premium baby velvet and filled with soft fuzzy cotton, so the pillows will be comfy and easy to clean. In addition to customized photos on the pillow, you get to pick if the pillow will have the photo on one side or both sides, and between 5 sizes for each option. The smallest pillow is 12-inch tall and the largest 28 inches.
8. Best Hat: OASCUVER Denim Fabric Adjustable Dog Mom Hat
Who doesn't love a good baseball hat? When you're walking your pooch in the summer, a capa will protect you from the heat and the UV rays, so why not add a bit of flare to it? With a cute dog mom print on stylish distressed cotton denim fabric, you'll definitely be noticed in the dog park. The adjustable plastic buckle back closure ensures that you can still rock your updo and wear a ponytail when you are wearing the har, and the six panel construction with eyelets makes for a snug but breathable fit. There are 12 colors to choose from, and if dog mom print is too plain for ya- there's one design with a corgi butt and one that says 'my dogs make me happy- you, not so much'. Just if you want to spice things up, you know.
9. Honorable Mention: I Love Dogs Seat Covers
Here's the ultimate way for dog moms to let everyone know how much they love their dogs. These make a statement like not much else does! These micro-fiber seat coves will protect your seats from spills, stains and…yes, dog drool too! They're handmade in the U.S. too.
10. Best for Grandparents: I Heart My Granddog Pawprint 16 Ounce White Ceramic Coffee Mug

Published September 9th, 2021 12:00 AM