46 Views
Best Mother's Day Gifts For Dog Moms
September 9th, 2021 12:00 AM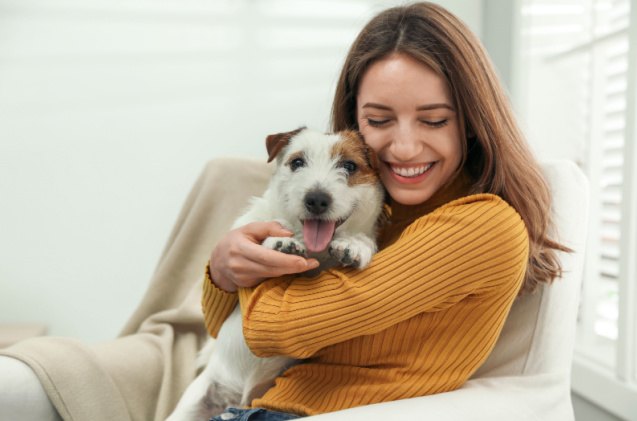 Mother's Day gifts for Dog Moms are better than ever these days, so there's no excuse for getting your favorite Dog Mom a cheesy 'walk the dog' coupon book!
There is no better way to show your love and appreciation for that special dog-loving lady in your life than with a thoughtful and personalized gift! Finding the ideal one can be a bit challenging, however, as every person has different tastes and preferences. To help narrow the search down, we picked ten of the very best Mother's Day gifts for dog moms out there. Check out our favorites!
Editor's Pick: Ann Arbor Funny Dog Lover T-Shirt
What is the ideal way of showing to the world that you are a proud dog mom? Why, a T-shirt that says it for you, of course! If you want to surprise a dog mom with a thoughtful gift and also bring a smile to her face while you're at it, this funny t-shirt is just the thing! With the print "The Dogmother" – a spoof on the classic "Godfather" franchise – this t-shirt won't fail as a funny conversation starter and will always draw looks. Made from 50% polyester, 25% combed cotton, and 25% rayon, this shirt is also breathable, pleasant against the skin, and keeps its form and color even after many washings. And, of course, as the shirt comes in sizes small through to 3XL, you will have no issue finding the right fit for any dog mom.
Runner Up: Maustic Luxury Dog Mom Mug
There really is nothing quite like a cup of hot coffee or tea to start your day with. And dog moms – especially those whose pooches are early birds that need to be walked first thing in the morning – know this all too well. That's what makes this a great gift for any dog mom: sipping your favorite hot drink from a mug with such a cute design is certain to start your day off on the right foot. This luxury set is specifically designed as a Mother's Day gift for dog moms, with the inscription "Best Dog Mom Ever" in bold gold letters. Made from durable high-quality ceramics, this mug comes complete with its matching saucer and a luxurious gold spoon. The eye-catching marble finish is available in two options as the mug comes in both white and pink versions – both equally stylish. That first coffee of the day just hits differently when it's poured into a special mug such as this one.
Customer's Choice: kituzol Dog Mom Throw Blanket
Nothing beats a warm and cozy blanket to snuggle in and cuddle with your pooch. This plush blanket is designed especially for dog moms – the design imitates a classic patchwork look with printed messages such as "Best Dog Mom Ever" or "It's Not Drinking Alone If the Dog is Home". This throw blanket comes in a variety of dimensions and is made of high-quality, durable polyester material. As such, it is superbly warm and great for any occasion. Of course, it is super simple to clean and dry, which is a must when you live with a dog. All in all, if you want a gift that's both cute and practical, you can't go wrong with this throw blanket.
Best Mother's Day Gift for Stressed Dog Moms: Scented Candle for Dog Moms
Sometimes, all that a dog mom needs is a bit of quiet time to relax. And what better way to relax than drawing a bath and lighting a candle to set the mood? This quality scented candle is designed with dog moms in mind, especially those that value their "me time" and need to unwind. Made from 9 oz of natural soy wax, this lavender-scented candle has a 45 hours burn, emitting a soothing herbal fragrance that has a relaxing effect. But that's not what makes it a good choice for a Mother's Day gift for a dog mom – it's the "Best. Dog. Mom." inscription on the packaging. A lil' something you can give to your dog mom friend to serve as a reminder that they are, indeed, the best dog mom there is.
Best Mother's Day Card: Hallmark Special Pop-up Card
Often enough, the best way to convey your wishes and sentiments to someone is to keep it simple and go the traditional route with a classic Mother's Day card. But just because it's a classic gift, it doesn't have to be a boring one – this one-of-a-kind pop-up wish card is a great example. Once opened, it pops up into a lovely three-dimensional diorama of a cute pooch holding a bouquet of flowers. It is also a displayable card, meaning that it can sit like that on your favorite shelf all year long. This simple but meaningful gift is perfect for dog moms and is clear proof that sometimes, even a small present can mean the world to someone.
Best Thoughtful Mother's Day Gift: The Love of a Dog Poem Picture Frame
It is so important to preserve your most cherished memories – and as dog moms have so many memorable moments with their pets, they'll need plenty of space to display them all! That's why this special picture frame is a great Mother's Day gift. Made from real, durable paulownia wood and hinged in a classic "book" design, with a shabby chic, rustic canvas background, the frame stands apart because of the touching poem, dedicated to our four-legged friends, which is on the left side and a place to show off your pretty pooch on the right. What a great way to keep all the memories alive!
Best Customized Mother's Day Gift: A&B Engraved 3D Crystal
Another great option if you are looking for a thoughtful, customized gift to show someone you care is this authentic and unique engraved 3d crystal. If a dog mom you know lost a four-legged companion, this gift could be a great way to help her preserve the memories, but it doesn't have to be a memorial, either – every dog mom loves customized gifts that show off her furbaby. The crystals are all unique as the photo you provide is specifically engraved into them, giving a three-dimensional appearance. This ensures that the gift will be 100% one-of-a-kind! Make someone's Mother's Day special with this gift that will be cherished for years to come.
Best Budget-Friendly Mother's Day Gift: VINCOMIC Doggo Shaped Ceramic Jewelry Holder
Whether it's watches, earrings, necklaces, keys, or anything in between, these knickknacks will always need to be properly kept -– close at hand and all in one place, ready to grab in a second when you're going out to walk your pooch. So why not make that knickknack container cute and dog-inspired while you're at it? If you know a pooch mom that's always losing her keys or loves wearing jewelry, then this dog-shaped ceramic jewelry holder is just the thing. This beautiful piece of home decor is ideal for keeping all sorts of tidbits close at hand and keeping things organized. And did we mention it's adorable, too?
Honorable Mention: Fuzzy Mama Bear Slippers
Mama Bear, the Dog Whisperer, Dogfather – your favorite dog mom might have a few well-deserved nicknames, and she should certainly be proud of them! To let her know how appreciated she is, gift her these comfy and useful fuzzy slippers – not only are they cute, but the dog hair blends in with the faux fur and any dog mom knows that's heaven-sent. Oh, and they're super warm and comfy, too. Of course, these come in a variety of patterns and styles so they don't have to be furry – you can pick anything the dog mom in question likes, from plaid to plain gray.

Published September 9th, 2021 12:00 AM