235 Views
Best 10 Gallon Fish Tanks
February 24th, 2022 12:00 AM
We're committed to finding, researching, and recommending the best products. We earn commissions from purchases you make using links in our articles. Learn more here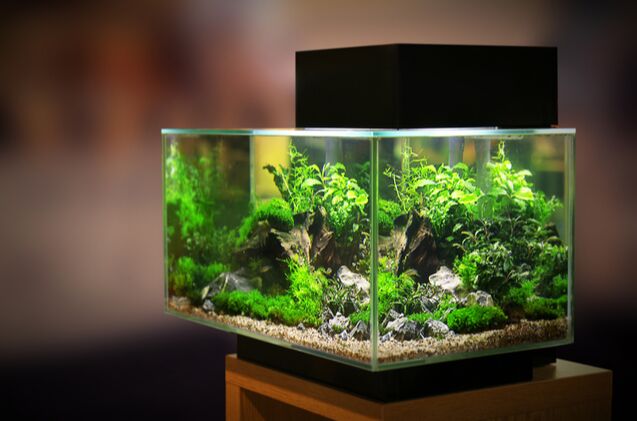 Getting a 10 gallon fish tank is an excellent starting point as it is not overwhelmingly big or too challenging. These are some of the best 10 gallon fish tanks on the market, whether you're a beginner or a pro.
Nothing can be so captivating and immersive than a flourishing fish tank! Aquariums are one of the most popular hobbies, with many people passionate about creating an inviting, attractive environment for their aquatic pets. Create the most intriguing miniature marine environment, fill it with plants or corals, with figurines and tiny divers, and watch your exotic aquarium fish thrive and swim about. Of course, for all this to succeed, you will need a variety of accessories that are vital for such a sensitive environment. Filtration systems, water circulation, special lights, and quality food are just some of the things that you need to have. But even that is not important if you don't have a nice sturdy fish tank to put it all into!
One of the most popular sizes amongst aquarium owners is 10 gallons, as it gives you just enough free space to put inside everything you want without making it look cluttered and crowded. Anything smaller than that, and you really limit your possibilities and can't house many fish. But a 10-gallon tank is optimal if you don't have much space for a huge aquarium but still want something attractive and spacious. Here are some of the best 10 gallon fish tanks to choose from to create a stunning aquarium your fish will thrive in.
1. Editor's Choice: GloFish Aquarium Fish Tank
Your new fishy friends require the very best environment to live in. But in order to fit all the filters and purifiers, as well as all the fauna and decorations, you will need a quite spacious and high-quality aquarium. GloFish is a brand that takes care of everything for you. This special aquarium kit comes in various sizes, and a 10 gallon tank is your safest bet. It is made with durable aquarium glass that boasts great clarity and allows you to enjoy your thriving flora and fauna. But this kit delivers much more than just the tank! It includes a low-profile hood with vibrant and energy-efficient LED lighting that can bring the tank to life. Also included is a Tetra Whisper® power filter with an additional cartridge, a set of GloFish® fluorescent plants, and a special 50-watt aquarium heater and thermometer – all of these goodies and gadgets will help you to set up the perfect beginner fish tank with ease. And not only that: it will look as vibrant and unique as can be! And if we consider that certain aquarium fish can be quite sensitive, this full-fledged kit will give you a key advantage and more chance of success as a beginner. A much better offer than just a plain 10 gallon fish tank that you need to outfit all on your own.
Pros
Unique LED lights and fluorescent plants
Quality power filtration
Quality glass tank
Low-profile hood
Cons
Fluorescent plants might be too much for some people
2. Runner Up: GankPike 10-Gallon Saltwater Aquarium
Setting up the ideal aquarium environment for your fish can include a lot of crucial steps – steps you can't overlook. But thanks to this ideal 10 gallon fish tank from GankPike, you can have a major advantage when it comes to setting up your first tank. It features bent ultra-clear glass that makes this tank ideal for saltwater fish, reef, and coral. Additionally, it consists of a 1.5 gallon back filtration area, plus an 8.5 gallon front viewing area. Another super interesting feature of this tank is its Double Bullnose corners. This gives it a rounded edge that makes fish viewing so much more efficient. Of course, it also looks much more unusual and elegant to boot! Furthermore, the tank comes equipped with biochemical and mechanical filter media, a quality adjustable pump, and a protein skimmer, which will help keep your tank ultra-clean and will guarantee a perfect environment for the fish. But the feature you can't miss is the large aluminum alloy LED light that is perched directly over the tank. It casts a bright light on the fish, illuminating everything for a truly unique display. Of course, you can program it to your liking, starting from the colors to the brightness! With all these accessories at your disposal, this 10 gallon fish tank becomes a perfect beginner's kit for a saltwater aquarium.
Pros
Overhead LED light
Bent rounded edges
Separate 1.5 gallon filtration area
Thick glass
Cons
Overhead light can stand out in the display
3. Best Rimless: LIFEGARD Low Iron Ultra Clear Crystal Aquarium Tank
If you always wanted an ultra-clear aquarium where you can immerse yourself in that miniature aquatic ecosystem you've created, then you know that the key to this is a rimless fish tank! Most tanks feature protective bottoms, large hoods, and all other odds and ends that – although useful – can obstruct the view and distract from the aquarium's inhabitants. LIFEGARD offers an ultra-clear rimless 10 gallon (9.63 GPH) aquarium that gives you an unprecedented view of the fish and the flora in the tank. The tank features "Peninsula" style beveled edges and rimless glass that create a seamless appearance. Needless to say, the glass is extra tough, as durability is essential with fish tanks. One of the unique features here is the special bottom plug. It is designed to make water recirculation and water change simpler and faster. Thanks to this drain you can change the water more often with less work. Also included is a built-in side filtration – positioned at the sides or the back, these filters and direct jet flow pumps will help remove debris and dirt and will keep the water crystal clear. And once you finish your ideal aquarium setup, you can marvel at the view as this ultra-clear tank is totally see-through!
Pros
Peninsula-style beveled edges
Ultra-clear tank
Rimless glass
Durable
4. Best Beginner Kit: Aqueon Fish LED Aquarium
Taking those first shy steps as a new fish owner can be a trying time. One simple mistake and your fish can become sick or even die, and that's the last thing any aquarist wants. Luckily, with a reliable 10 gallon fish tank and a good starter kit, your chance of making beginner mistakes is greatly reduced. And that is exactly why this fish tank is perfect for newbies. First things first: the tank! It is USA-made from top-quality glass that is clear and very durable. For a fish tank, this is very important. But that is just the centerpiece: this kit comes with a low-profile LED hood that protects the fish and has a unique hinged door for quick and easy feeding, and the lights to keep the tank illuminated for better visibility and a happier fish. Also included is a QuietFlow® Pro Power Filter with a medium cartridge – the filter boasts a five-stage filtration system which is quite a big advantage. This is essential for keeping the water in prime condition for the fish, but you can also rely on a 50W preset heater and a unique water conditioner to make everything just perfect. Other goodies include a thermometer, a fish net, and premium fish food to keep you covered in the start.
Pros
Efficient protective hood with an added back area
Powerful 50W heater
Five-stage filtration
Strong glass
5. Customer's Choice: Lifegard Crystal Aquarium with Back Filter
Sometimes, it is best to keep things down to a respectable minimum. And when special aquarium settings are considered, minimalism is often the best choice and the ideal way to fully enjoy the environment you helped create. This unique Lifegard aquarium is made "by-the-book" and that guarantees some useful and basic features. One of the great aspects here is the clear, precision-cut edges with invisible glue joints. This ensures a clear and immersive view of your fish. Of course, the front glass is paralleled with a unique back filtration area. This rear niche covers the entire back of the tank, and thus offers a striking background that will make everything in the tank truly pop! But more importantly, this back filtration area contains all the important goodies, such as the quality submersible pump, the purifying bio balls, both a top and a bottom drain, a quality sponge filtration, and the all-important bottom insulating pad. Armed with all these accessories you can rely on the success of your new fish tank. But best of all, the gadgets are hidden out of sight in this unique back area and won't ruin the setting you created!
Pros
Back filter
Precision-cut glass
No visible glue joints
Sturdy
What are the Most Important Features of a Complete Aquarium Kit?
Your new 10 gallon fish tank is just the first big (and important) step towards the assembly of your very own unique aquarium setting. But it is crucial to know that there are a lot of important things to take care of before you are finished. Exotic aquarium fish can be quite sensitive to changes in the water quality and their environment, so you will need to take special care of all the details. Paying attention to some of these key components from the start will ensure that your fish thrive for a long time! And they can make the work around the tank easier for you as well.
Of course, no aquarium can thrive without a good filtration system. Filters are important for large aquariums and ensure that the water is in optimal condition for the fish. They are most often 3-stage or 5-stage filters and will balance the quality of water. The larger your tank is, the better the filter needs to be. For a 10 gallon tank, it is best to have a 5-stage filtration. Also, it is crucial to find a filter that can be easily cleaned when needed. Replaceable cartridges and filtration sponges can make the process easy and the filtration at its best!
A powerful heater is a key component of fish tanks with a large capacity. If you are getting a 10 gallon tank, you will need one of these. Together with a thermometer, a heater is there to guarantee the water is at the optimal temperature. Fish can be extremely sensitive to overly cold or hot water. Keeping it balanced can ensure that they always thrive. The more powerful the wattage of the heater, the easier time it will have to keep the temperature optimal. Of course, you should always keep an eye on the thermometer and adjust the temperature to suit the species of fish you care for.
No aquarium is complete without great lighting! LED lights can serve so many functions. But most importantly, it is there to create a natural and captivating ambiance that will be liked both by you and the fish. Lighting systems can make everything POP! The corals, the weeds, and the plants will all come to life when light is shined upon them, and mimicking the natural light conditions will help them thrive. Luckily, LED lights are quite energy-efficient and long-lasting, and most importantly, they are totally modular. Adjust them in any way you want, from the colors to the intensity and the ambiance. And remember – if you want to really take your aquarium to the next level, you will need the perfect lighting.
We all know that glass is fragile and breaks when you least expect it to. And here you are, putting many liters of water and sensitive fish inside it! But there is no reason to worry! As a rule, fish tanks are very durable – and they need to be. Make sure that the tank you are purchasing is well made, with thick tempered aquarium glass that won't break easily. As an added precaution, you can opt for a tank with a strengthened bottom or even thick curved edges that make everything much sturdier.
We are committed to finding, researching, and recommending the best products. We earn commissions from purchases you make using the retail links in our product reviews. Learn more about how this works.

Angela Vuckovic
A proud mama to seven dogs and ten cats, Angela spends her days writing for her fellow pet parents and pampering her furballs, all of whom are rescues. When she's not gushing over her adorable cats or playing with her dogs, she can be found curled up with a good fantasy book.
More by Angela Vuckovic
Published February 24th, 2022 12:00 AM