152 Views
Best Saltwater Aquarium Kit
February 20th, 2022 12:00 AM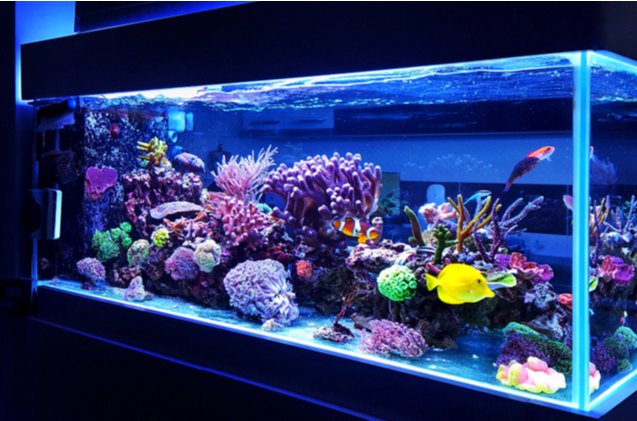 A saltwater aquarium kit lets you create a gorgeous tank without much hassle – they contain everything you need to get started. Read on to find out which saltwater aquarium kits made our list of the best ones on the market!
Aquariums can be a beautiful addition to any home and a rewarding hobby. For basic setups, a small freshwater aquarium works best. But if you want something more advanced – with exotic and attractive fish – saltwater aquariums will be perfect. But where do you start to get a thriving, gorgeous saltwater aquarium? The easiest and most practical way to start your journey into saltwater aquaristics is to opt for a saltwater aquarium kit. These usually contain everything you need to get started – and make your job so much easier.
Take a look at our selection of the best saltwater aquarium kits and find one that will provide the aquarium experience that you have always envisioned.
1. Editor's Choice: Fluval Sea Evo V Aquarium Kit
Fluval's modern and elaborate aquarium kit design has everything you need to get started the right way. The EVO V saltwater kit is a professional design that covers all the basics and gives you and your fish a big head start. The 5-gallon (19 liters) glass aquarium is perfect for saltwater fish and features a multifunctional canopy door for easy access and easy feeding. The aquarium is encased in a sleek, elegant, and unobtrusive aluminum casing, which protects it from accidents. Also, a nifty overhead LED lighting will make everything accented and easily adjustable to your flora and fauna's preference. Fluval made sure that this kit came equipped with a powerful 3 stage filtration system that boasts mechanical, chemical, and biological filter media. The powerful filtration is hidden behind an attractive honeycomb casing. Here's all you need to begin your long aquarium journey!
Pros
Modern and sleek design
Great overhead light
Powerful filtration
No visible components
2. Runner Up: Tetra 55 Gallon Aquarium Kit
Small aquariums simply won't cut it for a proper marine experience and ambiance. A tiny aquarium is good for just one or two fish, but when you want something better, this Tetra 55-gallon tank is superb. It is perfect for numerous fish of different breeds and provides you with ideal possibilities for temperature regulation. The aquarium's edges are protected with aluminum casing, and on top are two wide easy-access hatches. This is a great kit for beginner aquarium enthusiasts, as it is packed full of crucial components. A powerful WPF 60 filter ensures good water filtration, while a 200W heater helps you with the temperature regulation. With the included digital thermometer you can always keep it at optimal values. Alongside great LED lighting, and a few other important items, this aquarium kit is ideal for a quick and no-hassle setup.
Pros
All the basics included
Sleek and minimalistic design
Great size
Cons
The filter could be better
3. Customer's Choice: MarineLand Portrait Glass Aquarium Kit
Sometimes it is great to break away from the classic aquarium setups and try a different layout. This portrait-styled aquarium is a great option. Positioned vertically, MarineLand's unique design has everything needed for the basics, while offering a modern and innovative look. Its special curved edges offer a uniform look at the entirety of the aquarium and its contents. On top is a sliding glass canopy that offers easy access without obstructing the view from the top. Hinged LED lighting will also ensure that you have perfect visibility at all times. You can also choose from daylight and moonlight settings – blue and white LEDs will create unique settings for each one. This saltwater aquarium kit also comes with an advanced 3 stage filtration system that is cunningly hidden out of sight so it won't mar the overall look of your aquarium.
Pros
Hidden powerful filtration
Unique curved glass edges
Conserves space
4. Best Acrylic: SeaClear Aquarium Combo Set
If you thought that aquariums are exclusively made from glass, you were wrong. This unique acrylic aquarium is much clearer than glass, which makes it easy to maintain and ensures a perfect view of all your fish. This acrylic aquarium is also 17 times stronger than the usual glass ones, which minimizes the threat of accidents and spills. It also has a decent capacity of 50 gallons in a horizontal setting, allowing you to get creative with the aquarium setting and the choice of fish. The kit comes with a reflector and an electrical 24" light fixture for the ultimate lighting. Acrylic also provides plenty of designing options, so you can choose from a variety of shapes, including the classic rectangle, a hexagon, or a curved edge "bowfront". Different capacities are also available. One drawback here is that you'll have to find a reliable filtration system separately.
Pros
Plenty of size and shape choices
Much clearer than glass
Lightweight
5. Best for Kids: Koller Products Aquarium Kit
The love of aquariums and exotic fish can begin from an early age. Thanks to this kids-friendly design, your teens can now take a shot at building up their very own aquarium setting. Koller offers a basic and thorough aquarium kit with certain details that are aimed specifically at younger users. Most notably, it is made from crystal clear impact-resistant plastic, which prevents accidental breaks that can happen with glass. It is also a one-piece tank, which dispenses with vulnerable seams and makes leaks a thing of the past. To make things easier for young and beginner users, a powerful filtration system is included. The powerful internal filter can purify water at a rate of 45 gallons per hour. Also included is a reliable LED lighting system that offers 7 dazzling colors to match the taste of every newfound saltwater tank enthusiast. And thanks to the aquarium's small size, this kit is ideal for your child's room!
Pros
One-piece tank
Durable
Great for beginners and teens
Perfect for tiny homes and rooms
6. Best Minimalistic Design: biOrb Cube30 Aquarium
The unique designs from the biOrb brand were always the foremost thanks to their modern and innovative concepts. From circular bowl tanks and complex lighting and filtration systems, these modern designs offer the ultimate aquarium experience. This Cube30 design is a great mix of vertical and horizontal aquariums and is constructed from acrylic. This makes it much stronger and clearer than glass, thanks to its 93% transparency rating. The top eliminates the classic lid and instead offers a unique access hatch for quick and easy feeding. One of the best parts of this aquarium kit is its robust 5-stage filtration system. It covers biological, chemical, and mechanical filtration, and also oxygenation, and water stabilization. And with its long-lasting low voltage LED lighting, this aquarium kit ensures an ideal start to a new marine experience.
Pros
Smooth edges and great visibility
Powerful filtration system
Sturdy and stable
Cons
The access hatch good be better
7. Best for Beginners: Aqueon Fish NeoGlow Aquarium Kit
It is easy to get lost in the detailed and interesting world of aquariums and exotic fish. It is a perfect hobby in many ways! But when you're eager to create a perfect setting of your own, it might be challenging to get things right the first time. This superb saltwater aquarium kit is perfect for beginners. It really covers all the bases. The classic rectangular aquarium is strengthened on top and bottom and features a low-profile hinged hood for easy access and some classy LED lighting. The aquarium is equipped with a 50-watt preset heater to help you regulate the temperature, while an Aqueon QuietFlow Pro filter will keep the water quality in check. Also included in this kit are some goodies to help you with the ambiance – a black background, multi-colored gravel, and 3 vibrant fake plants are all you need for those first steps.
Pros
Covers all the basics
Good water heater
Included decoration elements
8. Best with Overhead Lightning: Marineland Contour Glass Aquarium Kit
Lighting is crucial in an aquarium setting. It creates a natural environment for the fish, but also offers you a clear and atmospheric look at its contents. MarineLand's unique concept is all about the perfect lighting and the perfect view. Roughly cube-shaped, it is different from their similar "portrait styled" tank and features smooth, curved edges that won't break up your observation of the fish within. Overhead is a superb LED rail light that curves and lights the aquarium up from above. Thanks to this unique design, the light can penetrate every corner and light up every detail. The lighting can also be set up for unique daylight or moonlight settings. The tank is positioned on a wide square base for extra stability, and a clear glass canopy on top will ensure quick and easy feeding and access.
Pros
Curved edges for a better view
Rail lighting system
Hidden advanced filtration
9. Best with LED: GloFish LED Aquarium Kit
For the perfect aquarium ambiance, good LED lighting can offer so many benefits. Brighter than old-school lights, LED is ideal for nailing that coveted natural feel and look to an aquarium. This GloFish saltwater aquarium kit ensures you get it right from the start. The kit comes with great blue LED lights that nail that natural look and light up every corner of the aquarium. It also comes with a variety of fluorescent decor, which also helps you achieve a dazzling marine look that matches all your exotic fish. Besides all this, the kit is equipped with a reliable Tetra Mini UL heater, and with a Tetra Whisper 20 filter, which is powerful and quiet. The aquarium is made from durable and scratch-resistant glass and is quite robust. If you were aiming to bring your aquarium look to a whole new level, here's the kit you want!
Pros
Unique fluorescent decor
Great filter system
Bright LEDs
Cons
Robust and heavy aquarium
10. Best with Digital Thermometer: GankPike Aquarium Kit
Fish – especially the exotic ones – can be quite vulnerable to certain water temperatures. This is particularly important if you want a saltwater aquarium. To maintain a balanced water temperature, a digital thermometer is a crucial tool. This small-sized saltwater aquarium kit is ideal for a beginner and helps you maintain a balanced environment for a few fish. The tank is cube-shaped and has unique curved edges for a perfect viewing experience. Most importantly, the kit includes a reliable heater and a digital thermometer, giving you all the control you need over the quality of the water. And together with the superb overhead LED lighting, you can quickly establish a perfect little saltwater aquarium with a regulated quality of water.
Pros
Good heater-thermometer combination
Curved edges
Great lighting
What to Look for in a Saltwater Aquarium Kit?
Setting up an aquarium for exotic and sensitive fish is not as easy as you might think. There's a lot more to it than simply filling a tank with water. For the fish to thrive and enjoy the aquarium environment, you will need to ensure you've considered all of the factors. When purchasing your first saltwater aquarium kit, you want to make sure that all of the important requirements are met, as it will make the process easier and guarantee success.
Of course, one of the most important features is a good filtration system. These can be either 3 or 5-stage filters and will guarantee that the water quality remains balanced and optimal for the fish. Most of them are also easy to maintain and clean, which helps conserve your efforts and your money.
Another crucial component is a water heater. Together with a digital thermometer, it can ensure that the water in your aquarium is always at the optimal temperature. Fish are sensitive to changes in water temperature, so keeping things at an optimal temperature is crucial.
Last, but not least, is a good lighting system. No aquarium is complete with great light. It helps create a natural ambiance, but also makes everything inside the tank easier to admire. Long-lasting LED lights are your best bet – they are super bright and clear, and come in a variety of colors. This is ideal for when you want to achieve a certain look, or to mimic specific conditions a certain species of fish requires.
We are committed to finding, researching, and recommending the best products. We earn commissions from purchases you make using the retail links in our product reviews. Learn more about how this works.

Angela Vuckovic
A proud mama to seven dogs and ten cats, Angela spends her days writing for her fellow pet parents and pampering her furballs, all of whom are rescues. When she's not gushing over her adorable cats or playing with her dogs, she can be found curled up with a good fantasy book.
More by Angela Vuckovic
Published February 20th, 2022 12:00 AM