12 Views
Top 10 Jammin' Pajamas For Your Dog
March 18th, 2021 12:00 AM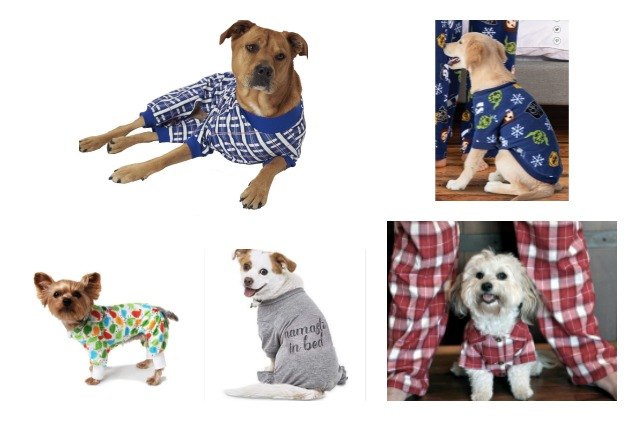 For dogs that want to stay in bed all day, we have just the thing for them. Check out our list of the top 10 pajamas for your dog!
Those cozy days of winter make us want to curl up in our pajamas and chill out as much as we can, don't they? Our dogs love lounging too, and we've found some comfy pajamas they're sure to love! You might think that pajamas are just for night-night, but many pet parents love to let their furbabies lounge in them because it helps reduce shedding and for dogs with skin irritations, can protect from scratching.
Plus, they just look so stinking cute! Ready to load up on the comfy jammies? Check out the top 10 pajamas for dogs we've found!
1. Tooth and Honey Unicorn Pajamas
Unicorns were everywhere this holiday season, and honestly can you blame them with their magical horns and flowing hair? Don't leave your pup without his or her own uni-jammies–these from Tooth and Honey are adorable and come in sizes that will fit even your biggest fur baby!
Think A Christmas Story, but less pink (although you can TOTALLY get pink if you want!) and more adorable for year-round! These soft and fuzzy bunny pajamas will keep your cutie cozy and calm and pretty much the cutest ever. They're surprisingly easy on and off too!
Made from soft and breathable cotton, these pajamas for your pup will make you wish they had them in your size, too. Each pajama set is handmade without spare threads so you don't have to worry about your pup getting stuck on anything. The metal snap fasteners make them easy to get on and off, and the four-legged elastic waist makes sure they fit snug and comfortable. Tony Hoby Pet Pajamas will keep your pet warm during chilly seasons, and they are especially good for smaller dogs that get colder more easily.
The Tony Hoby Pet Pajamas can also help calm an anxious pup as they help them feel more snug and comfortable. They come in a variety of sizes, from XS with a chest size of 13 inches all the way up to XL with a chest size of 20 inches. Be sure to measure your pet before ordering, and order a size up if needed. You can also choose from a variety of colors in this cute and classic stripe design like pink, blue, and orange. They are designed for males and females, so be sure to choose the right design for your pup.
4. Handmade Fleece Onesies
We love these customized, hand-made fleece onesies for your furry friend. The crafter will help you find the perfect material and your dog will thank you over and over for wrapping them up in something so soft and snuggly! Talk about counting sheep to fall asleep!
Want to match your dog? (Of course you do!) These flannel pjs are toasty and handmade, and you can choose fabric that matches the style you and your pooch want to show off together. Traditional or a little wild and crazy, you'll show your sofa the bond you share!
Who doesn't want to wake up to delightful (doggy) donuts? These four-legged furry jammies have an elastic waist so no slouching (and room to grow if too many donuts!) and they're machine washable too!
7. Petrageous Blue Plaid PJs
Several sizes, easy to put on and take off, and bound to keep your pup stylin' through the night (or day–no judging!), these jammies from Petrageous are sure to be a big hit!
Pretty sure that the force is alllllways with doggies, but if you want to add in some for good measure, these Star Wars pajamas from The Pajamagram Company are the best. Soft and cozy, and you can even get matching ones for yourself–adorable, these are! Buy them, you should!
Who says girls can't love dinosaurs? These absolutely adorable Pink Dinosaur pajamas from Leveret roars of girl empowerment- even for your pup. But don't worry, even if she doesn't love dinos there are several other styles and colors to pick from including Blue Dinosaur, Alien, Bird Grey, Fish Tank, Pineapple, Rainbow Unicorn, and Cow Green. They are seriously some of the most adorable dog pajamas we have ever seen!
The Leveret dog pajamas are not only cute but they are comfortable too. They are made with 100% cotton so they are soft, breathable, and flexible. Your pup will be able to move, stretch, and get comfy each night when wearing them. The four legs of the pajamas have elastic so they will stay in place. And the best part? All Leveret design pajamas have the same print in men's, women's, and children's – so the whole family can match!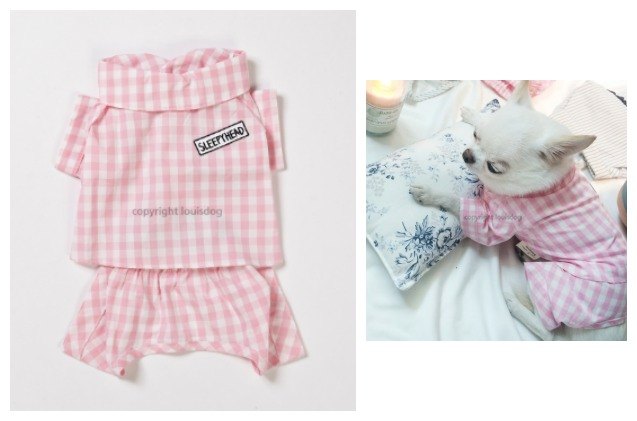 If you really want to go all out for loungewear, why not splurge on organic cotton? They're your best friends, after all, right? These lightweight, organic cotton pajamas are fit for royalty, but your pooch can feel like a Queen (or King!) right in the comfort of your very own home. They're machine washable too!

Published March 18th, 2021 12:00 AM