148 Views
October 12th, 2021 12:00 AM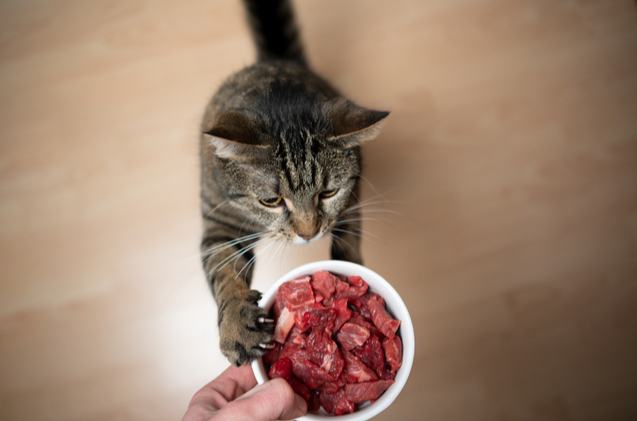 Raw cat foods are a healthy alternative to commercial pet foods laden with artificial ingredients and cheap fillers. Freeze-dried or dehydrated, raw cat foods have limited ingredients with all the nutrients preserved- everything your pet needs to stay happy and healthy.
Unfortunately, a lot of commercial, cheap cat food contains just a fragment of healthy, natural ingredients your pet needs to thrive. Some generic brands offer kibble and wet foods that are chock full of artificial ingredients, flavors, preservatives, and unnecessary grains. What is more, plenty of brands simply utilize corn, soy, and wheat as the main ingredients in their products and not "just" as a filler. A cheap replacement for actual meat, this amount of grains is not really good for your cat's well-being. To ensure your feline friend stays in optimal health, you need to pay special attention to their diet.
One of the best ways to ensure this is to shift to high-quality real raw cat food. Usually, freeze-dried or dehydrated, raw food contains only the choicest ingredients that contain zero artificial additions. Usually, these are bite-sized cuts of chicken, duck, rabbit, turkey, or fish meat, with organs and bones occasionally included. With nothing artificial or unnecessary included, these foods are the best stuff you can serve to your kitty.
By freeze-drying or dehydrating these raw foods, all the essential nutrients are preserved completely. This means that when feeding time comes, your cat will be served with whole foods and lots of protein and vitamins. It's great to know what your pet consumes on a daily basis – and raw cat foods keep no secrets!
1. Editor's choice: Stella & Chewy's Freeze Dried Morsels for Cats
There's nothing better for your pet than a tasty morsel of healthy, raw food. Rich in nutrients and full in flavor, these freeze-dried morsels from Stella & Chewy are an ideal choice for your feline friend. There are several unique options to choose from, including chicken, duck, rabbit, salmon and cod, salmon and chicken, and turkey. A major advantage of this cat food is the fact it's made with 98% of meat, organs, and ground bone! This means that all the goodies, such as vitamins and proteins, remain right where they should – in the food. Just add water, and the food is ready to eat. It's also grain and gluten-free, and a great provider of single-source animal protein. And that's just what's needed for a healthy and well-fed kitty.
2. Runner Up: Freshpet Nature's Fresh Real Food for Cats
Who doesn't like chicken? Cats certainly do, and that's a fact. But getting quality chicken meat directly onto their plates isn't always easy. But thanks to Freshpet Nature's Fresh, this is now super easy. This cat food relies only on the highest quality ingredients sourced ethically and made in the USA (no ingredients from China). It is made with certified humanely raised and vegetarian-fed chicken and contains no gluten, soy, or fillers. Additionally, there are no rendered by-products or meat meals! Just fresh and tasty chicken. And that's exactly what makes this food a great source of protein, vitamins, and essential nutrients. Added to the mix are some veggies that are rich in some much-needed antioxidants and minerals. With such an impressive set of benefits, you can't go wrong with choosing this tasty food for your pet.
3. Customer's Choice: The Honest Kitchen Dehydrated Cat Food
Dehydrating cat food is a great way to preserve the essential nutrients – almost indefinitely! With a longer shelf life and the same rich taste, this is a popular method of providing fresh, healthy, raw cat food. The Honest Kitchen offers delicious and healthy food that is prepared in seconds – just add water. One pack of 6 lbs contains an amazing 5 and a half lbs of quality chicken meat, alongside added sweet potato and spinach- or if you opt for turkey, then you get some pumpkin and kale in there instead. There are no added preservatives, fillers, or by-products: just healthy raw food. Ideal for cats of all breeds and sizes, this food is rich in proteins, healthy fats, fibers, and has no GMO ingredients. With this, it is clear that your cat will be getting only the quality food on the plate!
4. Best Freeze-Dried Raw Cat Food: Northwest Naturals Freeze Dried Food for Cats
Freeze drying is a great way to preserve raw food without it losing any of the nutritional qualities or flavors. Freeze-drying is a process that instantly preserves food and keeps all the nutrients for your pet to benefit from. Northwest Naturals' raw food diet offers a range of protein sources, including chicken, duck, whitefish, rabbit, and turkey. The food is both gluten and grain-free and has no added hormones or artificial flavors. A great aspect of this food is the fact that it contains an amazing 98% of quality meat, with the other 2% being vitamins and minerals. Cut down into savory, chewy bites, these little morsels are an ideal way to introduce a healthy diet into your cat's life.
5. Best Multi-Protein: Nulo Freestyle Freeze Dried Raw Cat Food
When it comes to raw cat food, it's usually just a single ingredient inside. That's all great, of course, but it can be better! Nulo's freeze-dried raw cat food combines two major ingredients and doubles the nutritional value. To choose from, you have turkey and duck, chicken and salmon, and a variety pack. Either one of these includes 98% of quality meat, organs, and bone, and is packed chock full of proteins, vitamins, and minerals. This food also contains an important probiotic GanedenBC30, which supports your pet's digestive system and keeps gut flora in balance. This protein-rich cat food is good for kitties of all life stages and comes in two sizes: 3.5 and 8 ounces.
6. Best Novel Protein: Primal Freeze Dried Nuggets
In the world of chicken, duck, and turkey-based cat foods, rabbit meat is very overlooked. However, cats with food sensitivities are often allergic to common proteins, often poultry or beef, and a novel protein can help eliminate their digestive issues. Filled with important nutrients, proteins, and vitamins, rabbit meat is a great ingredient to include in your cat's diet. Primal's freeze-dried nuggets contain 93% of rabbit meat, organs, and bones, and are free from gluten, grain, soy, or any added hormones. As an extra source of vitamins, Primal included a range of fruits and vegetables including collards, squash, celery, cranberries, blueberries, and others. If your cat is ready for some much-needed changes in the diet, then rabbit-based raw food is an ideal choice.
7. Best Air-Dried: Ziwi Peak Air-Dried Cat Food
A great way to preserve all the quintessential nutrients in meat is air drying. A simple and traditional method of food preservation, it is now rising in popularity in raw cat foods. Ziwi offers this high-quality cat food that has the finest raw ingredients and some really great benefits. It comes with several different meat options: beef, chicken, lamb, mackerel, and lamb, or venison. The meats used in this food are all sourced from free-range animals and make up around 95% of the food contained in the package. This makes it a very protein-rich food, and that contributes to a strong and lean body mass. Ziwi is a brand that placed great emphasis on using only ethically harvested meat from the best New Zealand farms and pastures. This means that there are no grains, soy, hormones, rendered meals, and any other unwanted additions in their products. Only quality, reliable, healthy air-dried meat. A healthy option for every cat!
8. Best Topper: Instinct Raw Boost Mixers
Instinct comes forward as one of the foremost brands when it comes to signature raw cat food. This special kibble topper is a great way to ensure a gradual transition from the classic kibble to stronger raw cat food. That's great for cats that have never had raw food before! This meal enhancer is made from cage-free chicken meat and is packed full of natural proteins. And that is not all – besides the chicken meat and livers, this topper includes a range of healthy veggies and fruits. The whole mix is then freeze-dried, a process that gets rid of the moisture while preserving all the important nutrients within. This is a great method that ensures only the healthiest of foods for your cat. A superb way to transition from classic to raw!
9. Best Raw Cat Treats: Vital Essentials Vital Cat Freeze
Nothing gets a cat purring like treats! These quick nibbles are a great way to reward your cat throughout the day, without interfering with their regular meals. But treats need to be healthy too! Vital Essentials offers a great solution. Their freeze-dried treats are made from nothing but raw food. You can choose from minnows, duck liver, chicken giblets or hearts, rabbit or chicken meat, ahi tuna, or salmon. All healthy foods that contain no artificial additions, no grain, and no preservatives. Besides plenty of protein, these raw cat treats contain great amounts of healthy fats, fibers, fatty acids, and vitamins. All of this makes it a fantastic choice for quick everyday bites!
10. Best Frozen: Raw Paws Frozen Raw Cat Food
Just meat, just frozen- simple yet delicious and nutritious. Raw Paws offers nothing but quality free-range chicken, beef, or turkey meat that is sourced from small family farms. Without any artificial ingredients added, this meat is ground up and frozen for your cat to enjoy. This preserves all the essential nutrients and ensures the healthiest possible meal for your feline friend without much fuss. With a moderate amount of calories and carbs per meal, this food is great for a healthy diet. It contains superb amounts of proteins, crude fats, and fibers. The food contains all the healthiest and juiciest parts of the animals, including meat, gizzards, hearts, and livers. While this might sound unappetizing to you – it ensures that all the vitamins and minerals are delivered straight to your cat's food dish. This includes iron, calcium, and all the other important bits.
What are the Benefits of Raw Cat Food?
Opting for raw cat food instead of the cheap bottom-shelf brands can introduce a whole range of benefits for your cat. Providing your pet with healthy food is essential, and is a task that shouldn't be taken for granted. It's not enough to just offer a plate of food and be done with it: you need to know and understand what your cat needs and what they need to thrive under your care. That's why it is crucial to understand all the benefits that raw cat food brings!
Digestion Improvement
When the quality of food goes up a notch, it's easy to notice the change for the better in digestion, as well. With all the natural ingredients in one place, raw foods introduce plenty of fibers – among other things. And fibers bring balance to digestion, improving the gut flora and the overall health of the digestive tract. If your feline friend has been suffering from indigestion, maybe it's high time for a shift towards raw cat food. Besides, some raw food brands offer added probiotics in their products, which benefits the health even more!
High Protein
As we mentioned, proteins are crucial for your cat's well-being. Cats are obligate carnivores so their body needs protein to function properly, and most importantly, to remain in peak physical strength. To ensure a lean and strong body for your cat, you need to ensure their diet has enough protein. And due to the fact that raw cat foods are almost entirely meat, they contain a superb amount of proteins. With that and the added vitamins and minerals, you will create an optimal supplementation of these key nutrients. And that's a sure path towards a happy and healthy cat!
Allergies Reduction
Commercial cat foods can often trigger allergies and food sensitivities in cats. These can be reactions either to certain ingredients such as protein source or grain, or artificial ingredients such as flavors and preservatives. Before you take your cat for expensive and stressful veterinary visits, it is possible to strike at the root of the problem: a shift in the diet might be all that is needed for recovery. Thankfully, raw cat foods contain virtually zero artificial ingredients, which makes the risk of allergies almost nonexistent, especially if you go for a novel protein. Of course, it is always important to hear what your vet has to say so be sure to consult first: perhaps the allergies have a different source.
We are committed to finding, researching, and recommending the best products. We earn commissions from purchases you make using the retail links in our product reviews. Learn more about how this works.

Angela Vuckovic
A proud mama to seven dogs and ten cats, Angela spends her days writing for her fellow pet parents and pampering her furballs, all of whom are rescues. When she's not gushing over her adorable cats or playing with her dogs, she can be found curled up with a good fantasy book.
More by Angela Vuckovic
Published October 12th, 2021 12:00 AM