537 Views
February 25th, 2022 12:00 AM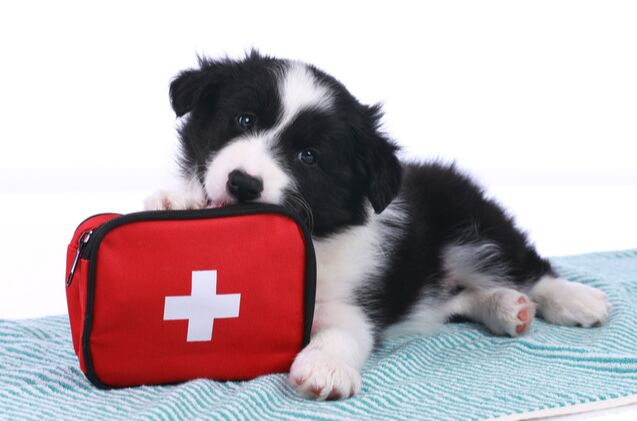 Dog first aid kits ensure you are prepared to provide first aid to your pet in case of an accident – something every pet owner should have in their house and car. These are the best dog first aid kits you can get on the market.
Danger looms on every corner. You never know when your doggo will get in some trouble and get hurt. And if this sadly happens, you need to be able to react quickly and soberly, in order to administer first aid before you are able to take them to a vet. In that case, dog first aid kits are the best solution. They contain all the essentials you might need and can make a big difference in dangerous situations. Here are some of the best dog first aid kits on the market you can get for your pet.
1. Editor's Choice: NM2 Pet First Aid Kit for Dogs & Cats
Uh oh! Your doggo got himself in some trouble? When injuries and scratches occur, it is important to administer some initial first aid, before the vet gets a chance to look things over. That's why first aid kits for dogs are an ideal thing to have by your side – whether in your car, your backpack, or strapped to your bicycle. This all-in-one first aid kit for pets is a great choice: it boasts 60 pieces of medical supplies. This is more than enough for any first-hand medical attention your dog might need. From gauze to bandages, to ice packs and tweezers, this kit has it all. Everything is nicely packed in a small handy bag, which comes equipped with a safety clasp for easy carrying. Also included is a pet emergency care handbook, to give you all the important tips and tricks of caring for your injured pet. What a great way to stay on the safe side!
Pros
60 pieces
Nifty carrying bag
Guidebook included
Carabiner clasp with a handy flashlight
Cons
Does not include styptic powder
2. Runner Up: Kurgo Portable Dog First Aid Kit
Kurgo is a brand that needs no introduction for seasoned pet owners. The quality of this brand is clearly reflected in this amazing dog first aid kit. A thorough and fully-fitted medical pack is designed to serve a variety of threatening situations. With items such as tongue depressors, thermal blanket, gauze rolls, sting relief pads, tweezers, and rubber gloves, this pack makes you ready for any situation. All 50 pieces are packed in a sturdy and flexible carrying bag that has three interior mesh pockets that allow you to keep all supplies organized and in one place. The bag is conveniently sized for easy carrying in your car or bag. Other nifty features include an integrated bottle opener in the bag's clasp (never know when you might need one!) and an easy-carry loop. Organized, well-supplied, and easy to tuck away – perfect!
Pros
A flexible and organized bag
Integrated bottle opener
Portable and easy to store
Cons
The clasp could open on its own
3. Customer's Choice: ARCA PET Cat & Dog First Aid Kit
Arca's dog first aid kit is made to really leave no room for mistakes, as it is one of the most comprehensively filled first aid kits out there, with an amazing 100 pieces included! This really ensures that all situations are fully covered. The kit includes a range of items, from bandages and alcohol pads to tweezers, safety pins, bandages, and a thermometer. Talk about peace of mind! Of course, all of these supplies are neatly housed in a conveniently-sized, shockproof hard case with a ton of great features. The case is made with tough water-resistant fabric and includes a durable double zipper and an easy carrying handle. Two spacious and supported partitions, and an added fold-out sleeve, will hold all the supplies laid out for quick use. If you really want to be ready for any scenario, this is the kit to go for.
Pros
Amazing 100-piece set
Shock-proof hard case
Waterproof storage
4. Best for Emergencies: DaveMed Pet First Aid Kit
It's never wrong to be ready and vigilant. With this incredible first aid kit, you can really cover all the bases and ensure that nothing takes you by surprise. And that's because DaveMed offers this 170-piece kit! Everything you could need is right here. Things like the pill and liquid shooters, adhesive bandages, prep pads, alcohol wipes, and vinyl gloves will ensure that no injury – great or small – will be left untreated. Also included is a useful first aid guide, to sharpen those essential skills. Of course, all of this is housed in a big, durable, carrying case. Made from waterproof and tough material, the case houses every supply and is great to store in the car or at home. But, since it carries an amazon 170 pieces, it is somewhat large and bulky as a result, although that is a small price to pay for being fully prepared for anything.
Pros
Fully fitted out kit
A range of unique additions
Durable bag
Cons
The bag is somewhat large and cumbersome
5. Best for Outdoors: Adventure Medical Kits Trail Dog First Aid Medical Kit
What great fun is an outdoor adventure with your four-legged friend by your side! Exploring the wilds together can be an endless source of fun. But the wilds are treacherous and your pet might end up injured, miles from the first veterinary station. And that is why a doggo first aid kit such as this one is so handy when you're on the trail. Adventure Medical designed this kit exactly for outdoor adventures. This kit is thorough and well-equipped and has anything you could need for a quick reaction. Things such as bandages, irrigation tools, splinter and tick remover, gauze, and syringes will make you prepared for any unexpected injury. All of these supplies are stored in a nifty carrying bag. This watertight and durably Dryflex bag can withstand all the bruises and bangs of an outdoor journey, and still keep everything neatly stored. It also has a label that allows you to write your name and info, as well as the phone number of your vet! And with the included first aid guidebook, this kit is complete and awaiting your new adventure.
Pros
Phone and info labels
Durable Dryflex bag
All the adventure emergency essentials
Cons
Could benefit from more dog-specific items
6. Best for Home: JUSAID Pet First Aid Kit
Every dog owner needs to be ready for anything. Of course, as you and your pet spend a lot of time in the house, it is essential to have a first aid kit stored at home. This 105-piece kit from JUSAID is great to have at a safe and easy-to-reach place. The kit really covers all the bases: from regular items such as gauze and bandages to more specialist items such as a trimmer comb for a quick emergency shave, thermometers, muzzle, and adhesive bandages. All the supplies are organized neatly in a large, but durable carrying back of a classic design. It is great for regular storing inside the house but is waterproof and strong for any other environment as well. Leave nothing to chance with this superb home kit.
Pros
A comprehensive and unique kit
Trimmer comb included
Fantastic for at-home use
7. Best Basic Dog First Aid Kit: Rayco International Pet First Aid Kit
Sometimes, you can't really carry a bulky and large first aid kit in your pack or on your person. For these situations, it is great to have a smaller, basic kit just for emergencies. The kit is obviously smaller than the others on offer – it contains just 45 items, but the basics are still covered. You will have access to essentials such as bandages, gauze, tick remover, tweezers, scissors, ice pack, gloves, elastic bandaging, and many other key components. Of course, all of these items are housed in a small and easy-to-store carrying bag. Compact and lightweight, the bag contains three fold-out sleeves that will keep everything neat and easy to access in a hurry. Great to have in the glove compartment of your car, in your backpack, purse, or even on your person.
Pros
Well laid out carrying bag
All the essentials in one small package
Easy to store and carry
Cons
Not suitable for more serious emergencies
8. Best Universal: Surviveware Comprehensive Premium First Aid Kit
An outdoor adventure can be dangerous for you and your pet, right? When you are out in the wilds with your pet, it is somewhat challenging to carry two separate first aid kits. This Surviveware kit that can serve both you and your pet is a great way to save space. The kit contains 100 pieces of essential first aid items: bandages, gauze, scissors, tweezers, alcoholic wipes, and many other important bits. In an emergency, they can be used for both humans and pets. Every piece is housed in a convenient, and well-laid-out carrying bag. The bag is made from 600D polyester material, which makes it exceptionally durable and waterproof. It also has unique straps that allow you to attach it to various spots for easy and quick access. Also available is a more robust version of this kit with an incredible 200 pieces included! A thorough, versatile kit that will keep both you and your pet covered in any situation.
Pros
100-piece and 200-piece versions
Quality and durable carrying bag
Good for humans and dogs
9. Best Complete Medical Care: Perpetual Pet First Aid Kit
This first aid kit from Perpetual was one of the first designed fully for pets. It carries all the dog-specific items that can really make a big difference in critical situations. Besides the classic items such as bandages, antiseptic wipes, sterile gauze, ice pack, and others, this kit also includes some really unique items, such as the special veterinary "peanut" splint, a bitterant spray, styptic powder, an emergency blanket, and others. With such items close at hand, you can relax and know that you can handle an unexpected injury. All of these nifty things are packed in a unique bag made with 600D polyester. It is water-resistant and highly durable and has convenient compartments to keep every item neatly laid out.
Pros
Unique and special items made especially for dogs
Quality and durable carrying bag
Superbly organized
10. Honorable Mention: AKC Pet First Aid Kit
Sometimes it just isn't convenient to lug around a hefty, 200-piece kit wherever you go. For these occasions, smaller kits are perfect – just to keep you on the safe side. AKC's small and quick use dog first aid kit is ideal for very basic situations. It contains just 46 items that cover all the essentials, housed in a heavy-duty zippered carrying bag. The items inside are basic but good for most emergency situations. You can find gauze, bandages, wipes, scissors, tweezers, cotton swabs, and many other items. The basic contents make this kit easy to carry and store anywhere. And in the case that you need some extra items, you can always add your own to the mix!
Pros
Basics are covered
Easy to store and carry
Durable bag
Cons
Might require additional items
What to Look For In Dog First Aid Kits?
Before you make your choice, you need to consider some essential features that every dog first aid kit needs to have. Without these essential aspects covered, the kit can still leave you inadequately prepared for a dangerous situation.
Number of items
When selecting a first aid kit for your pet, you need to consider the number of items that are stored inside. The higher the number of pieces included, the better equipped you will be. Some basic first aid kits can go as low as 45 pieces per pack, and still be adequate. But anything below this count will leave you wanting.
The essentials
When you select your kit, make sure that it contains all the essential first aid items. Without bandages, alcohol wipes, tweezers, and gauze, you really can't do much. Of course, those kits that contain the essentials – and extra on top – will be the best. Such kits have splints, syringes, shaving combs, muzzles, and a ton of other items that professionals need to have.
Storage
Every dog first aid kit out there comes housed in a carry bag. But not all are the same. For convenience, you'd want a carrying bag that is small, well-organized, and durable. That way you can carry it wherever you go. You can store it in the car, in your backpack, on the bike, or on your person. But when the carry bag is way too large, these options become impossible.
We are committed to finding, researching, and recommending the best products. We earn commissions from purchases you make using the retail links in our product reviews. Learn more about how this works.

Angela Vuckovic
A proud mama to seven dogs and ten cats, Angela spends her days writing for her fellow pet parents and pampering her furballs, all of whom are rescues. When she's not gushing over her adorable cats or playing with her dogs, she can be found curled up with a good fantasy book.
More by Angela Vuckovic
Published February 25th, 2022 12:00 AM