424 Views
February 24th, 2022 12:00 AM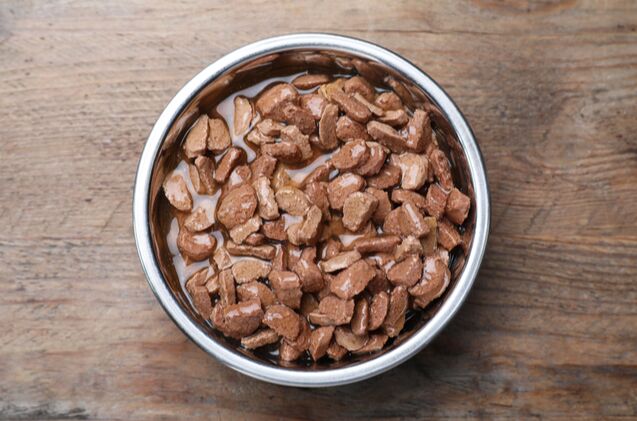 Wet dog food is easier to digest, yummy, and has a high moisture content – what's not to love? Take a look at our selection of the best wet dog foods on the market.
Doggos can be a bit picky when food is considered. Some love that crunchy dry kibble, while others adore savory wet gravy. If your pupper falls into that second category, then this list will be perfect for you. Here are some of the best wet dog foods out there: they are tasty, easy to munch on and digest, and full of those essential nutrients that every dog needs. Whether it's chicken, lamb, or beef, your dog deserves the best. Great as a regular meal, or mixed in with kibble as a topper, these delicious wet foods are hard to resist. And your doggo will eagerly prove that claim!
1. Editor's Choice: Blue Buffalo Wilderness Trail Toppers Wild Cuts
Nothing beats some tasty, choice wet doggo food! If you want to treat your furry four-legged friend right, you can't go wrong with this chow. Blue Buffalo's Wilderness Wild Cuts are the perfect example of what wet dog food is all about. Grain-free and nutritious, it comes in either chicken or beef flavor – with real meat, of course. There are no by-products included, and no artificial ingredients, preservatives, corn, wheat, or soy. This means that what you are getting is the very best and from natural ingredients, to boot. You can serve these wet food packets individually or mix them in with dry kibble to create a new, refreshing texture with an appealing real meat flavor. Either way, you are guaranteeing the very best for your pupper – just like they deserve.
Pros
Rich in nutrients
Savory taste
Great consistency
Can be mixed with dry kibble
2. Runner Up: Purina Pro Plan High Protein
For dogs, high protein foods are essential. They help maintain muscles and contribute to the overall health of your pet. That's why it is important that you pick wet dog food that is as rich in protein as possible. Purina's Pro Plan is just the thing, as it is packed with protein – each can contains 13 ounces of chicken and veggie goodness! Of course, this wet dog food is made with real chicken and real veggies. That way your pet will get all the essential nutrients from a meal: the chicken provides the protein, and the veggies make up for the fibers and the essential vitamins and minerals. You can also choose from lamb, turkey, and beef meats, depending on your pet's preference. Each package contains 12 cans.
Pros
High in protein
Flavor dogs love
Contains real vegetables and meat
Solid 13-ounce portions
Cons
A bit high in calorie count
3. Customer's Choice: NUTRO Adult High Protein Natural Grain Free Wet Dog Food
These nutritious Nutro high protein wet food portions are super savory and full of nutrients that are essential for dogs. Each package contains 24, 100-gram portions, separated into 6 portions of 4 different flavors. These include chicken, lamb, beef, and turkey, each one with its own veggies and additions. Of course, all of these are made with real meat and veggies, and they are grain-free and contain no artificial flavors or preservatives. This is ideal for owners with several doggos with varying tastes or a picky eater that gets bored eating the same flavors each day.
Pros
A great choice of tastes and flavors
Healthy and nutritious
No GMOs, artificial ingredients, or nasty fillers
Made in the USA
4. Best for Picky Eaters: Rachael Ray Nutrish Premium Natural Wet Dog Food
Rachael Ray's unique Nutrish line of dog foods uses only the best and high-quality ingredients to ensure as healthy a meal as possible for your dog. This special package contains six portions of wet food, each measuring 8 ounces. But there is also a bit of variety! Because you get 2 of each unique taste. These are chicken paw pie, savory lamb stew, and hearty beef stew. These are based on recipes created by Rachael Ray, and contain real meat! To make everything even healthier, the portions include added vitamins and minerals, helping healthy development and a strong immune system. Of course, there are no added artificial flavors, preservatives, chemicals, or colors, making these Nutrish bites healthy and light! Not to mention oh so delicious – and perfect for those picky eaters.
Pros
Rich in aromas and flavors
Based on unique Rachael Ray recipes
Added vitamins and minerals
No corn, wheat, or soy ingredients
Cons
Small portions of 8 ounces
5. Best Canned Wet Dog Food: Wag Wet Canned Dog Food
These 13.2-ounce cans are offered in three flavor versions: turkey and sweet potato, beef and vegetable stew, and lamb and vegetable soup. The basis of these tastes is chicken, beef, lamb, and turkey meats respectively, making this food rich in natural animal proteins as well as fibers and vitamins. This delicious gravy with chunks of meat and veggies will be hard to resist for any doggo – no matter how particular their tastes are. The consistency of this food allows you to mix it in with dry kibble for a better taste, or serve it as is. Of course, these tasty meals include no corn, wheat, or soy, and no artificial colors or flavors. This makes them perfectly healthy and nutritious.
Pros
Great consistency
Rich in meats and veggies
Lots of proteins and fibers
Good for digestion
Cons
Could be too "wet" for some dogs
6. Best Renal Support: Hill's Prescription Diet k/d Kidney Care Beef & Vegetable Stew Wet Dog Food
Developed by nutritionists and veterinarians at Hill's, this wet dog food is specifically formulated to help renal and cardiac problems a dog might have. These include issues such as chronic or acute renal failure and other conditions that impair cardiac or renal function. Each portion is made with beef and veggies to support kidney and heart health, boost immunity, and improve joint health – thanks to glucosamine and chondroitin sulfate and therapeutic levels of omega-3 fatty acids. Another great thing about this wet dog food is that it is made with controlled phosphorus and low sodium levels to ensure a diet tailored to the needs of dogs with renal issues.
Pros
Developed and recommended by vets
Made with controlled phosphorus and low sodium
Great for kidney issues
Enriched with therapeutic levels of l-carnitine and omega-3 fatty acids
Cons
Some dogs could be picky over the taste
7. Best Premium Wet Dog Food: Simply Perfection Super Premium Canned Dog Food
This premium wet dog food line from Simply Perfection is all about natural ingredients and eco-friendly packaging. This is reflected in their canned wet dog food, which is healthy, nutritious, and perfect for dogs of all ages and sizes and comes in a recyclable can. On offer is just one flavor, turkey meat, but this lean protein source is a favorite of many pooches. Of course, the number one ingredient of each can is real quality turkey meat, followed by healthy carbs such as sweet potatoes and brown rice, as well as vitamins, minerals, and other trace nutrients, which make the meal balanced and complete. Of course, there are no artificial flavors or preservatives included, and no corn, soy, or wheat as well. Delicious, healthy, and eco-friendly – what more could anyone want?
Pros
Rich in proteins
Real turkey meat
No artificial ingredients
Eco-friendly recyclable cans
8. Best Weight Management: Solid Gold – Fit & Fabulous
Is your dog a bit chubby, overweight, or simply in need of a strict diet? That does not have to mean that they should be deprived of all those tasty meals they always preferred. Solid Gold's diet wet dog food is delicious and hearty – but still light enough in calories and perfectly tailored for dogs on a diet. This is a specially manufactured weight management dog food that has a low fat, low-calorie formula that's instead rich in proteins and fibers that support healthy digestion and weight loss. This nutritious food is made from tasty chicken and veggies such as sweet potatoes and green beans, enriched with a blend of superfoods like flaxseeds, spinach, and fish oil. This formula helps maintain lean muscle, while all that extra fat disappears. And what is left is a lean, healthy, and happy doggo with no weight problems!
Pros
Ideal for weight management
For dogs with sensitive digestive systems
Low fat, low-calorie recipe
High in fiber and protein
9. Best Gravy: PEDIGREE Choice Cuts in Gravy Adult Wet Dog Food
There is no doggo that can resist some of that delicious, savory, and hearty gravy. Made with real chicken or beef, and doused in that irresistible gravy, these conveniently-dosed little packets are true tasty treats. Each package contains 24 packets, split into 6 packets of each unique flavor. These include filet mignon, grilled chicken, chicken casserole, and beef noodle and vegetable flavors. While not as health-conscious as similar products, this Pedigree wet food is nevertheless tasty and nutritious, and can be a great choice if you want to treat your pet to a wet meal every once in a while without breaking the budget.
Pros
Good as a topper or on its own
Contains 24 packets per pack
Plenty of unique flavors
Affordable
Cons
Can contain some artificial ingredients
10. Best Meal Topper: Cesar Simply Crafted Meal Topper
These delicious Cesar wet dog food meal toppers will make any picky pooch into an eager eater! The secret is in all the unique ingredients that make up for some truly delicious fine dining. In a pack of 8 tubs of food are included four tubs of each taste. The main ingredients are chicken, duck, purple potatoes, pumpkin, green beans and brown rice, carrots, barley, and spinach. Each of these ingredients is healthy and rich in proteins and fibers. This ensures proper functioning of the digestive system, as well as maintenance of all those doggo muscles. Needless to say, this food includes zero preservatives, artificial flavors, fillers, colors, or other harmful ingredients. Just basic, healthy ingredients for a simple and delicious meal.
Pros
Variety of flavors
Great for picky eaters
Enriches dry food and makes it tastier
No artificial colors, flavors, fillers, or preservatives
What to Look For in Wet Dog Food?
It is essential to know just what your dog needs to eat and in what amounts. Your vet can provide this info – and you should stick by it. Of course, it goes without saying that all dog food needs to be rich in proteins, fibers, vitamins, minerals, and fatty acids that are crucial for the proper functioning of a doggo. But not all foods contain these, unfortunately. That is why it is important to look for wet dog food that contains the following aspects:
Look for protein count and the amount of fiber and added vitamins and minerals in a packet. You should also ensure that there is a low-calorie count, and minimal (or no) use of artificial ingredients. Fatty acids and healthy fats are also important, and shouldn't be excluded. Of course, look for real ingredients, such as chicken, beef, or turkey meat. These are the richest in proteins. Also needed are vegetables, to give balance to the dish and supplement the other values.
Dogs can be picky about the consistency of food. Try not to opt for wet dog food that is too liquid and thin, as your pet might avoid it altogether. Find a middle ground, where there are real chunks of meat and veggies and a thick gravy that balances everything out.
This is also important, as dogs can be really picky about their food. Don't opt for wet dog foods that claim some unique and weird flavor combos. Stay with the tried and tested natural "classic" flavors, such as beef stew, roasted chicken, or delicious turkey with veggies. Can't go wrong with that!
We are committed to finding, researching, and recommending the best products. We earn commissions from purchases you make using the retail links in our product reviews. Learn more about how this works.

Angela Vuckovic
A proud mama to seven dogs and ten cats, Angela spends her days writing for her fellow pet parents and pampering her furballs, all of whom are rescues. When she's not gushing over her adorable cats or playing with her dogs, she can be found curled up with a good fantasy book.
More by Angela Vuckovic
Published February 24th, 2022 12:00 AM