1.9K Views
Top 10 Best Toys for Puppies
November 14th, 2019 12:00 AM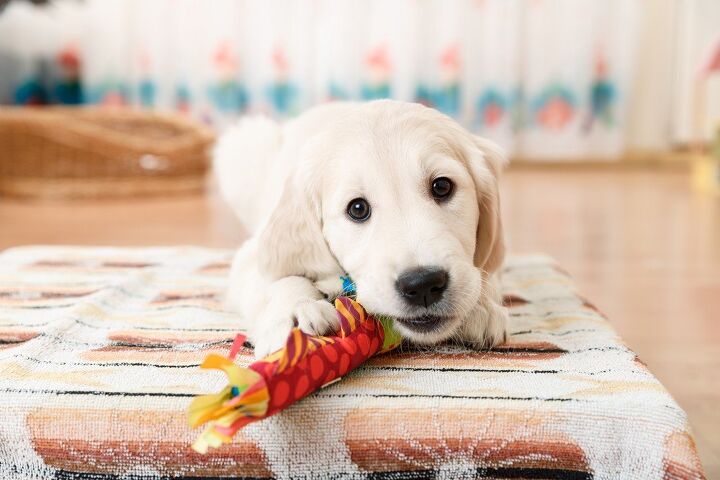 Puppies love to play. But what should they play with? Check out our list of the Top 10 best toys for puppies.
When you're preparing to bring home a new puppy, you have to load up on toys. Puppies love to play, and they have endless energy – toys are a great way to keep a puppy busy so he's less tempted to chew on things that aren't toys, like shoes. But how do you know which toys to choose? The choice might seem easy, but there are certain considerations you should take into account before picking out your puppy's new toys.
First, not all puppies are alike- the only common denominator for puppies is that they are all insanely adorable, but the similarities probably end there. Big, small, feisty, curious, energetic, lazy- same like it is the case with adult pooches, puppies also come in all shapes and sizes, and with different personalities to match it. Needless to say, when you are buying toys for your pet, you'll have to account for those differences and quirks. Not only that it will make sure your puppy is happy with your choice, but it will also give you the best bang for your buck. I mean, a Lab puppy will probably go through a toy meant for toy breed puppies in seconds, and petite dogs won't even be able to play properly with tough and big toys meant for their larger furry friends. And that's just some of the factors you should pay attention to.
Different bells and whistles and factors aside, the starting point for best toys for puppies is that they are made from safe and durable materials. Those tiny puppy teeth are sharp and many puppies have the ability to destroy a toy in a matter of minutes with their single-minded focus. The style of the toy, how much it interests your dog, the size- it will all be for naught if your pooch rips it to shreds before he has the chance to actually play with the thing for a bit. To help you make sure that you're getting toys for puppies that will suit your dog's playing style, age, size, and other needs- check out our comprehensive buying guide for more information. And for a quick selection of the best toys for puppies your money can buy, scroll on to see our top 10 picks!
1. Nylabone Puppy Starter Pack Chew Toys
Puppies chew to relieve the pain of teething, so these puppy-sized chew toys are a great option. This pack comes with three bones, each providing a different flavor or benefit. The chicken-flavored pink bone with nubs is a great choice to start with, as the ridged texture will massage your pet's gums while he chews and soothe his inflamed gums. The white bone is suitable for extreme chewing style and it's an excellent option for all those aggressive gnawers- and the last in the mix is an edible treat in lamb and apple flavor to sweeten the playtime.
2. Outward Hound Hide-a-Squirrel Puzzle Plush
If you're looking for a fun toy for your puppy that will help him use his mind, try this puzzle plush toy. This toy features three plush squirrels and a plush tree where they can hide so you and puppy can play. Stuff the squeaky critters inside the log and watch your eager puppy trying to dig them out by any means necessary. Chewing, nose poking, pawing- everything goes when you're a puppy hunting for plushies!
3. Multipet Plush Dog Toy
Some puppies love having a plush toy to carry around and this Lambchop toy is a great option. It is very soft and has a squeaker inside, which most puppies tend to go bananas for. Just know that it may not be good for puppies who tend to shred toys, as it is meant for gentle play rather than nibbling sessions.
This ball is a unique option for puppies because it provides many benefits. In addition to being a rubber chew toy that helps with teething, it also acts as a food-dispensing toy to keep your puppy busy. And we all know that whenever there are treats around, a dog's interest is piqued, so if you want to make sure your puppy is impressed with his new toy, cheat a bit- and stuff it full of their favorite yummies.
5. Nylabone Teething Chew Tug Toy
Puppies love to play tug-of-war but sometimes it can be difficult to find a toy that works well for you as well as him. This interactive tug toy is easy to hold but also offers teething benefits for your puppy. Not to mention it want get nasty and soggy like a rope toy would after a puppy has done with it- just wipe it clean and it's ready for your next tug-of-war session!
6. KONG Classic Puppy Toy
The KONG brand of dog toys is known for durability and this puppy toy is no exception. The small size is ideal for puppies but the materials are still ultra-strong to stand up to sharp puppy teeth. Not to mention that a spoonful of peanut butter inside their toy would entice any pooch and make playtime that much better! Pro tip: stuff with pumpkin puree or PB and freeze for pain relief during teething.
7. Benebone Real Flavor Wishbone
If you're looking for a durable chew toy that will withstand your puppy's sharp teeth, give Benebone a try. These bones are ultra-durable, completely safe, and filled with flavor. No one ever says no to bacon, after all! Just a heads up, though- even though the flavor seems way too real to your puppy, this is not an edible toy.
Made by KONG, the Wubba toy is great for chasing, chewing, and tugging. It is made from durable ballistic nylon and squeaks to enhance your puppy's enjoyment. To boot, this puppy toy also squeaks so it's a complete experience for your young adventurer. Just make sure not to let your pet gnaw on it for hours- it's not a durable chew toy, after all.
9. Chuckit! Ball Launcher
Nothing is better than a tired puppy, and your puppy will certainly be worn out after an afternoon spent chasing the ball. However, the person throwing that ball- AKA, you- will probably also be worse for the wear after hours of throwing, unless they have some help. With this Chuckit! launcher you can throw the ball all day without tiring yourself out. Just grab and throw and watch your puppy run his butt off in the backyard. It's healthy exercise and fun all bundled up into one!
10. Otterly Pets Puppy Dog Rope Toys
If you're not sure what kind of rope toy your puppy might like, this 5-pack is a great way to start. You'll find rope toys for chewing, tugging, and fetching included – your puppy is sure to love at least one! It's also a great way to have fun toys for different stages of puppyhood- start with the smaller items such as the ball before progressing to larger ropes for tugging.
The Importance of Play and Toys for Puppies
You might think that the only cause for buying your puppy toys is to keep them away from your shoes (OK, OK, and to make them happy), but there's much more to it. While the fun definitely makes up for a big part of playtime, play and toys actually have a far greater significance for dogs than pure entertainment. For puppies, playing helps them develop important life skills and socialize, as well as serve as a great learning opportunity about boundaries and which behaviors and actions are OK and which are not.
Even when they are just a few weeks old, puppies start playing with their mom and littermates, and it helps build their confidence and gain social skills. It doesn't take long before puppies start expressing interest in playing with toys, and most start really enjoying it when they're about a month old. Toys that they can nibble on, balls they can learn to bring back to you, and different simple yet entertaining games and toys are a good choice for a young puppy. Now is the time to teach them how to play fetch or to gently correct them if they are too aggressive in their play since they'll be soaking up everything like little sponges. As they grow bigger, they will be able to have fun with puzzles and interactive toys that will challenge their minds and help them develop logical skills and occupy their mischievous selves at the same time.
Lack of play, both the physical and mental aspects of it, can have a significant impact on your dog's behavior and happiness level. Playing with toys develops a puppy's brain and builds their cognitive skills, give them healthy exercise and a productive outlet to burn off all that pent up energy. It's a great way to redirect your pet's chewing to an object that can be gnawed without consequences, unlike it's the case with your valuables. Lastly, when you're using a toy to entertain your pooch and play with them, the bond between you two is strengthened.
Naturally, there are many different types of toys for puppies out there, each of them serving its own purpose, with downsides and upsides that should be considered before buying. It might seem overwhelming with the sheer volume of puppy toys out there, but once you know what features you need to look out for in toys for puppies, you'll have no problem finding a perfect match for your own pampered pooch.
What to Look for in Toys for Puppies
Based on your puppy's preferences, it might seem like the perfect toy is a smelly old sock or a pair of your favorite shoes. But, luckily, you know better than that! Toys for puppies should be chosen with care for their wellbeing and preferences both, as not all toys that can be found in pet shops are tantalizing enough for a young pooch or safe enough for them to play with. To make sure you're choosing the right type of toy for your new pet, pay attention to the following factors:
Age
The age category "puppy" is a pretty broad one, as it includes those that are just a week old and still spending their time napping and nursing, all the way up to those that are 2 years old. Your puppy might be just a few weeks old when you get them their first toys to play with or you might be looking for something fun and challenging for your big puppy. Make sure that the toy you're getting them is age-appropriate, both because it's a safer bet that the type of toy will actually be interesting for them and because it will ensure that it's not unsafe to use. Not that different than what you'd think about when choosing kids' toys when you think about it!
Size/breed
What works for a Siberian Husky puppy definitely won't for a baby Shih Tzu. I mean, some puppies are bigger than adult dogs- the breed and the expected size of your puppy will have to play an important role in your choice of their toys. Durability and the dimensions differ, so pay attention when picking something cute for your new pet- if the toy is too big, your puppy won't be able to play with it, and if it's too small or fragile for their rowdy play style and size, they can destroy it seconds, or, worse, swallow something and end up at the vet's office.
Durability
Some dogs can be aggressive chewers, but it is particularly frequent with puppies. Even in cases when their teeth can't do as much damage (although you should definitely take those needle-sharp baby teeth serious), with a bit of effort, they can easily destroy toys that are not as well made and durable as quality toys for puppies. Not only that it beats the purpose and wastes your money, but it can be dangerous for your pet, too- gnawed of bits of toys can often seem like a tasty treat to a silly puppy so they could end up swallowing it and get an intestinal blockage. To prevent this scenario, go for age and size appropriate toys for puppies that are made from durable materials, specially chosen to withstand all the nibbling, gnawing, and chewing a lively puppy can throw at them.
Toughness
While it's important for toys for puppies to be durable and able to withstand the eager chewing of your puppy, it doesn't necessarily have to mean that the material in question should be hard and tough. Sure, it makes fast destruction less likely, but your puppy might dislike his new toy if it's too rough on his gums. A good chunk of puppyhood is spent in the teething phase when a dog's gums are sore and sensitive, and the need for chewing that much greater because of the emerging adult teeth- gnawing on toys that are too hard could hurt them, instead provide the relief they seek. When your puppy is changing his baby teeth, go for chew toys designed for their age- it will make sure that the irritation and discomfort they feel during this stage of their life are minimal.
Flavor
In case you think your puppy needs an additional boost to get interested in his new toy(s), or need to make sure the toy will instantly be far more tantalizing than your shoes or sofa legs, flavored chew toys are a great choice. With a range of different flavors from bacon to chicken, these non-edible toys will keep your puppy interested without a doubt- even when they don't seem that much into other toys.
Safety
While the fact that toys for puppies should be shatterproof and size appropriate, these are not the only safety factors to consider when choosing gifts for your new pet. Unfortunately, not all dog toys are up to standards, and you'll have to keep your eyes peeled for any toxic materials that could be lurking in your puppy's toys. Steer clear of plastic that's not BPA-free, or dubious China-made toys with no specifications or safety reassurances.
Appearance
One thing that many newbie pawrents tend to overlook is the appearance of their puppy's toys- or, to be more precise, their similarity with household items they don't want their puppy to destroy. Sure, a shoe-shaped toy might seem like a great substitute for your expensive pumps, but how is your furry baby going to make the difference between Louboutins and pet shop knockoffs? Spoiler alert: he won't. When you want to prevent your puppy from chewing household items and valuables or to redirect their destructive chewing onto an allowed object, the last thing you want is to confuse them with similar-looking objects.
We are committed to finding, researching, and recommending the best products. We earn commissions from purchases you make using the retail links in our product reviews. Learn more about how this works.

Kate Barrington
Kate Barrington is the loving owner of two cats (Bagel and Munchkin) and a noisy herd of guinea pigs. Having grown up with golden retrievers, Kate has a great deal of experience with dogs but labels herself a lover of all pets. Having received a Bachelor's degree in English, Kate has combined her love for pets and her passion for writing to create her own freelance writing business, specializing in the pet niche.
More by Kate Barrington
Published November 14th, 2019 12:00 AM