878 Views
September 12th, 2022 12:27 PM
We're committed to finding, researching, and recommending the best products. We earn commissions from purchases you make using links in our articles. Learn more here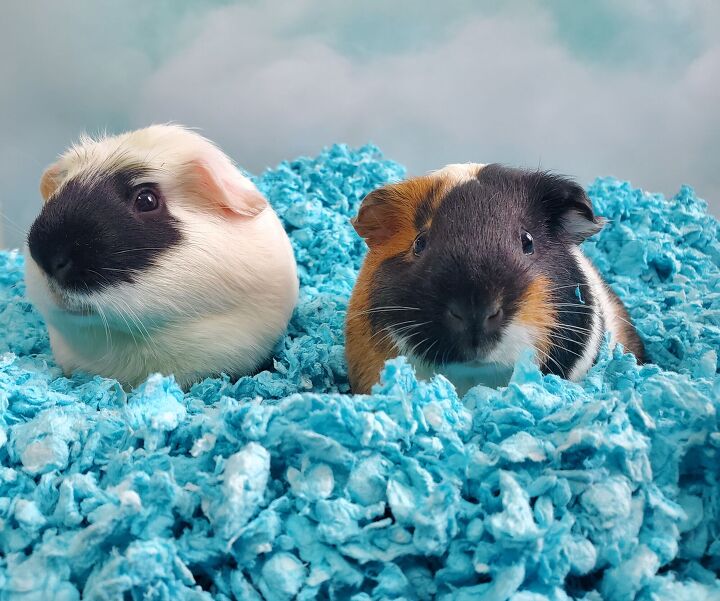 Having a guinea pig as a pet can be a rewarding experience for kids and adults alike – but for these small cute critters to thrive under your wing, you'll need to meet their basic needs for proper housing, a healthy diet, and quality social life.
When it comes to housing, guinea pigs are usually kept in spacious cage enclosures. However, walking on bare cage floors would seriously injure your pet, so it's crucial to provide soft, cushioning bedding that will be nice to walk on and can also absorb their messes in the process.
Of course, there are many different types of guinea pig bedding available, and not every one of them will suit your pet's needs. To help you find the best option for you and your guinea pig friend, we've rounded up the 10 best guinea pig bedding products on the market right now – and put together a comprehensive guide on how to pick the perfect type for your preferences.
Editor's Choice: carefresh 99% Dust-Free Natural Paper Small Pet Bedding with Odor Control
This soft, fluffy paper fiber bedding is ideal for guinea pigs: it is free of harmful chemicals and toxic dyes, two times more absorbent than shavings, and gentle on the tiny feet of your pet. Thanks to its proven odor-control formula, this paper guinea pig bedding also suppresses ammonia odors for up to 10 days – which is a real feat. In addition to helping remove unpleasant smells from your pet's habitat, this type of guinea pig bedding is also 99% dust-free, making it perfectly safe for your companion to use. It comes in colorful sea glass options, white, or natural, and in various size bags to suit anyone's needs and budget.
Pros
Perfectly safe, chemical-free bedding
The odor-control formula prevents bad smells for up to 10 days
Virtually dust-free
Very absorbent
Very soft and gentle on guinea pig feet
Biodegradable and compostable
Various options available
Runner Up: Sunseed Small Animal Bedding
Eco-friendly and biodegradable, this small animal bedding is made from recycled paper – doesn't get any "greener" than that! It is not bleach nor does it contain any harsh chemicals, and on top of that, it's 99.5% dust-free, so it is fully safe for guinea pigs to use, as there are no risks of toxicity or respiratory issues. In addition to being soft and fluffy, this guinea pig bedding is also super absorbent, with the capability of absorbing 3 times its weight in moisture. And, to make sure that those nasty odors are kept at bay, this guinea pig bedding relies on baking soda, which neutralizes and eliminates bad smells completely naturally.
Pros
Eco-friendly recycled paper bedding
Super absorbent and dust-free
Contains no chemicals or harmful substances
Baking soda neutralizes odors
Made in the USA
Customer's Choice: Kaytee Clean & Cozy Bedding
If you want an extremely absorbent guinea pig bedding that's also soft and fluffy enough for burrowing, you can't go wrong with this one. The "secret" of this bedding is the fact that it uses long recycled fiber paper strands, which give it the airy feel and make it possible for the bedding to absorb 6 times its weight in liquids, which is at least twice more than classic wood shavings. This material meets FDA standards and is 99.9% dust free, to prevent respiratory issues in small animals such as guinea pigs. It comes in various package sizes so you can buy smaller packages to try it out or in bulk to keep you stocked up.
Pros
Absorbs 6 times its weight in liquid
Meets FDA standards
Long-strand paper fibers for superior softness and burrowing
Dust-free and fluffy
Solid odor-control
Best Wood Guinea Pig Bedding: PETSPICK Aspen Soft Pet Bedding
While some pet owners prefer wood fiber bedding for their guinea pigs, it's important to know that not all types of wood are safe for guinea pigs – one of the rare options that are suitable is aspen guinea pig bedding. Made from virgin wood shavings, this aspen soft pet bedding contains no aromatic oils that could harm your pet, and yet, it is naturally great at odor control and urine absorption. It will expand to three times its size and absorb twice as many liquids as it weighs, and all that while being virtually completely dust-free. Kiln-dried and chemical-free, this guinea pig bedding is fully safe for your pet to use!
Pros
Natural odor control
Expands to three times its size
No aromatic oils
Absorbs twice as many liquids
Kiln-dried
Best Paper Guinea Pig Bedding: Small Pet Select Natural Paper Bedding
Paper is one of the most common options for guinea pig bedding – it's safe, it's soft, and it's usually cheaper than the alternative. Not to mention that it's fully biodegradable and eco-friendly to boot! This particular paper bedding for guinea pigs is made with unbleached paper fiber, never recycled from print, and free from sludge, deys, or irritants. This means you can be absolutely certain that there are no residual toxins in your pet's bedding! What's more, this guinea pig bedding is quite absorbent and can soak up plenty of liquids before losing its fluff.
Pros
Low dust to reduce the risk of respiratory infections
Virgin paper fiber free of toxins
Absorbs plenty of liquids
Fluffy and good for burrowing
Biodegradable
Cons
Fibers are a bit thin so you need to use more bedding
Best Guinea Pig Bedding Washable: GuineaDad Liner
If you have a sensitive guinea pig that often sneezes or has respiratory issues due to dust in bedding – even when said bedding is supposed to be dust-free – you might want to consider fleece liners instead. They are soft to walk on, highly absorbent, reusable and washable, and most importantly – produce no dust whatsoever! This particular guinea pig cage liner is made from premium materials, such as moisture-wicking fleece on top and absorbing bamboo fiber fill below it, and waterproof backing to prevent any leaks to the cage floor or below it. It comes in various sizes and color options and features a nifty pocket design, to allow your guinea pig to burrow even without traditional bedding in their enclosure.
Pros
Produces no dust whatsoever – ideal for more sensitive pets
Machine washable and reusable for a long time
Made from premium, animal-safe materials
Pocket allows your pet to burrow
Soft cushioning layer for the cage floor
Cons
Dirt can accumulate inside the pocket making it difficult to clean
Best Guinea Pig Bedding for Odor Control: Oxbow Animal Health Eco-Straw Wheat Litter
Keeping your pet's cage free of odors can be a challenge – not all beddings are up to the task and some can absorb bad smells so much so that even after you remove soiled portions of bedding, the odor remains. Not with this guinea pig bedding, though! It is made from wheat grass straw, so it's completely natural and safe for your pets (even if ingested!) and fully biodegradable and eco-friendly, too. It boasts high absorbency powers and exceptional odor control – it eliminates any bad smells naturally, without the use of any chemicals or fragrances. When wet, this bedding expands and clumps together, so you can easily remove only the soiled parts of it and won't need to waste bedding that hasn't been used.
Pros
Completely natural and safe for small animals
Eco-friendly and biodegradable
Natural odor control
Clumps when peed on
No chemicals or fragrances used
Absorbs up to 300% of its weight in moisture
Cons
Can be messy when clumps fall apart
Best Guinea Pig Bedding Cage Liner: Paw Inspired Disposable Guinea Pig Cage Liners
If you are keen on the idea of using cage liners that won't produce no dust at all, but not so keen on the idea of having to wash them on your own, disposable cage liners for guinea pigs are just the thing for you. Easy to use, effective, and truly a great choice if you want to keep your guinea pig's cage mess free without much hassle, these cage liners have 5 layers to make sure your pet always walks on a dry surface and that their messes don't leak through the cage floor. To keep bad smells at bay, these cage liners rely on natural bamboo carbon technology that neutralizes odors and is completely safe for guinea pigs to boot.
Pros
Super absorbent and leak-proof
DrySpeed Technology instantly converts urine into gel
Bamboo charcoal neutralizes odors
Adhesive strips to keep the liner firmly in place
No dust whatsoever
Easy to use and replace
Cons
Some guinea pigs can bite or scratch off pieces of the bedding
Best Guinea Pig Bedding in Bulk: Small Pet Select Natural Paper Bedding Jumbo
If you want to stock up on guinea pig bedding so you won't have to think about it for a while, buy in bulk! This natural paper guinea pig bedding comes compressed in large volume packages – the largest being 178 liters which are then sold in 2-packs and 3-packs, so you'll be all set for a good long while. Made from unbleached, fluffy paper fibers that absorb a lot of liquids before it needs to be replaced, this guinea pig bedding is biodegradable and compostable, and fully safe for your pet to use. It contains no dyes or irritants and isn't made from the recycled printed paper.
Pros
Large packages to keep you well stocked up
Made from virgin fibers
Fluffy and soft to walk on
No dyes or irritants
Biodegradable and compostable
Honorable Mention: Eaton Pet and Pasture Hemp Pet Bedding
Want only what's natural in your guinea pig's enclosure? Hemp bedding is a great alternative to classic guinea pig bedding options as it is much more absorbent than paper, more sustainable, and doesn't produce as much dust as other beddings. It is made from hemp that was grown without pesticides or herbicides, so it's free of toxic chemicals, and can be composted as it is fully biodegradable. It absorbs twice as much as paper bedding but produces almost no dust – making it a great natural choice for guinea pig bedding!
Pros
Made from pesticide-free, herbicide-free hemp
More absorbent than paper
Sustainable, compostable, and eco-friendly
Doesn't produce dust
Made in the USA
What Is the Best Type of Guinea Pig Bedding?
Guinea pig bedding is supposed to absorb moisture from your pet's feces and urine and prevent bacterial growth, as well as provide a soft, cushioning surface for your pet to stand and walk on. What's more, guinea pig bedding should be dust-free, as beddings that produce dust can cause serious respiratory issues for your pet. While there are plenty of litters and beddings that could provide one or two of these aspects, there are not that many that can provide all three – and happen to be safe for guinea pigs.
The most common choices are paper guinea pig bedding, wood shavings (aspen), and fleece cage liners. Each has its pros and cons, and it's up to you to figure out what works best for your budget and preferences – it's important that it's absorbent enough and isn't too dusty, and the rest can vary. What's important to know is what type of guinea pig bedding you shouldn't use – those are wood shavings such as cedar or pine as they release aromatic oils that are toxic to your pet, newspapers, cat litter, hay, or straw.
We are committed to finding, researching, and recommending the best products. We earn commissions from purchases you make using the retail links in our product reviews. Learn more about how this works.

Angela Vuckovic
A proud mama to seven dogs and ten cats, Angela spends her days writing for her fellow pet parents and pampering her furballs, all of whom are rescues. When she's not gushing over her adorable cats or playing with her dogs, she can be found curled up with a good fantasy book.
More by Angela Vuckovic
Published September 7th, 2022 7:48 AM